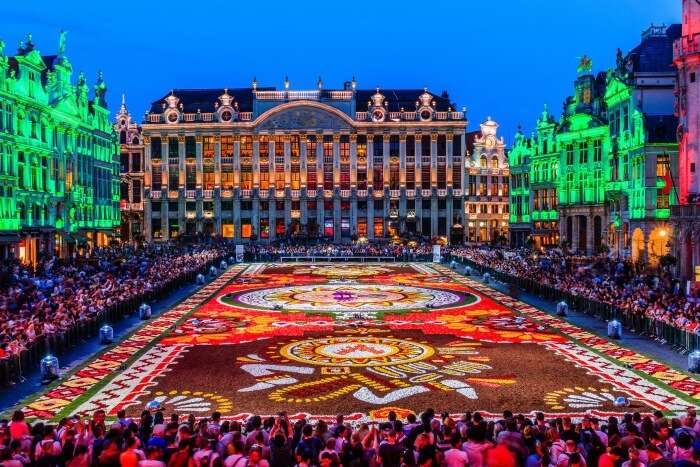 Belgium, a culturally rich country, is a part of western Europe and is known for being home to many medieval monuments. It is a small country with several grand festivals and events happening throughout the year. In fact, this diverse country is known for playing host to some of the most vivid and cheerful festivals in the world that lures in people from all around the globe! Anyone who gets a chance to witness these festivals in Belgium will surely be coming back for more in the year that follows. See the many vibrant festivities and celebrations that take place in this small country that shape its culture and give it such pleasing vibes!
15 Exciting Festivals In Belgium
From the traditional festivals to the more bizarre ones, Belgium lays out the opportunity for an exciting experience for every kind of traveler. The top 10 are listed below.
Boombal Festival – 20th-23th Aug 2021
Rock Werchter – 2nd-5th July 2021
Carnaval De Binche – 23rd-25th Feb 2021
Tomorrowland – 24th-26th July 2021
Salon Du Chocolat Brussels – 14th-16th Feb 2021
Bruges Beer Festival – 31st Jan – 2nd Feb 2021
Brussels Animation Film Festival – 21st Feb – 1st Mar 2021
Flower Carpet Festival – 13th-16th Aug 2021
Ghent Light Festival – Jan 2021
Brussels Food Truck Festival – June 2021
Elrow Town Summer festival – June 2021
Dour Festival – July 2021
Paradise City Festival – June/July 2021
Extrema Outdoor Belgium – 5th-9th June 2021
CactusFestival Belgium – July 2021
1. Boombal Festival

Boombal Festival is the most appreciated folk dance festival in Belgium. The traditional folk music, written by the best local songwriters in Belgium, are presented here. There are several stalls in the Boombal Festival that offer some of the best vegetarian dishes from the local cuisine. Folk lovers from across the world come here to witness this incredible presentation of traditional folk music and dance. During the festival, the whole place gets lit up in colorful lights and the people gather around bonfires.
Boombal Festival Dates: 20th-23th August 2021
Honeymoon In Belgium: Romance Through The Medieval Towns And Charming Castles!
---
Europe Honeymoon Packages On TravelTriangle
Explore the most romantic places to visit in Europe, from Paris to the Venice canals, and from the Greek islands to the Swiss alps. Book customized packages Inclusive of airport transfers, cab, resort, sightseeing, and meals offered by expert agents on TravelTriangle. Book Now!
---
2. Rock Werchter

Rock Werchter was awarded the Arthur Award in the year 2015 for being the best music festival. This is one of the grandest events in Belgium featuring many talented Belgian musicians showcasing their love towards rock music. It started in the year 1974 and has continued to remain one of the best music festivals in Belgium. Many famous and well-known artists have performed here, including Iggy Pop, U2, Muse, Eurythmics, Ramstein, Florence + The Machine, Red Hot Chilli Peppers and Metallica.
Rock Werchter Date: 2nd-5th July 2021
10 Best Norway Restaurants To Try All Delicacies On Your Next European Vacation!
3. Carnaval De Binche

Carnaval De Binche, which started in the 14th century, continues to be the most loved traditional festival in Belgium. This is a three-day long festival which features a confetti spread streets, harlequins, peasants and pierrots who parade along the pathways. The central male figures in this festival throw blood oranges towards the crowd. At the closing ceremony of this event, one can find the sky lit up by fireworks.
Carnaval De Binche Date: 23rd-25th February 2021
10 Beaches In Sweden That Are Worth Going On A Vacation To Europe
4.Tomorrowland

Tomorrowland Festival in Belgium is the best music and dance festival which is visited by people from every nook and corner or the world. This festival is a must for every electronic music fan. It started in 2005 and has been an annual event since then. Tomorrowland Belgium 2021 will be hosted at a park in Flanders to showcase some of the best musicians and performers from all over the world in a comfortable space. It is normal to find thousands of people dancing and swaying to the melodious tunes played here.
Tomorrowland Date: 24th-26th July 2021
Guess Which European City Gets The Title Of World's Most Liveable City This Year!
5. Salon Du Chocolat Brussels

Belgium has always been popular for offering an assortment of Belgian chocolates. Some of the finest and tastiest chocolates can be found in this country at the various shops. Salon Du Chocolat Brussels is the best Belgium chocolate festival and is a must-visit event for anyone with a sweet tooth. One can experience an interactive session with some of the best chocolate makers at this chocolate festival in Belgium. One should definitely visit the Chic & Chocolate Gourmet Walk which is a 500 m pathway filled with chocolate goodies and treats.
Salon Du Chocolat Brussels Date: 14th-16th February 2021
32 Places To Visit In Belgium That Make The Country Irresistible
6. Bruges Beer Festival

Also known as Kerstbierfestival, this Bruges Beer Festival is held annually during the Christmas weekend in the Essen region. This festival accommodates the best spiced, uniquely flavored and blended beers which are freshly brewed during the winter season. This is one of the most awaited Belgium festivals which offers an excellent opportunity to taste a range of the finest beers in the whole of Europe.
Bruges Beer Festival Date: 31st January – 2nd February 2021
A View From This Europe's Tallest Skyscraper Will Leave Your Jaw Dropped!
7. Brussels Animation Film Festival

This is commonly known as the Anima Festival and is conducted annually in the month of February. Thousands of people, especially animation makers, eagerly wait every year for this festival. The main aim of this festival is to encourage talented people in producing computer-generated films and clips. A variety of short and long animated movies are premiered at this festival. Animated movie fanatics gather together during this festival to discuss the latest upcoming animated movies.
Brussels Animation Film Festiva Datel: 21st February – 1st March 2021
Top 9 Places To Visit In Zagreb To Savor The Best Of South Europe In 2022
8. Flower Carpet Festival

This Belgium flower festival is one of the most unique festivals in Brussels. The path leading to the famous Grand Palace is covered in millions of colorful flowers in the form of a magnanimous woven carpet. These beautiful flower arrangements never fail to surprise the onlookers and leave them awestruck. Every year, a specific theme is set and the flower decorations are made accordingly.
Flower Carpet Festival Date: 13th-16th August 2021
10 Beaches In Belgium That You Must Visit On Your Trip
9. Ghent Light Festival

This light festival in Belgium is celebrated every three years in Ghent. The spectacular views of the Ghent city can be enjoyed for free during this festival. Several talented and professional light artists from across the world come here to showcase their talent in this grand event. Several performances and wonderful light-based events are showcased here. This illuminated city looks spectacular during this festival and offers breathtaking views of the entire city.
Ghent Light Festival Date: January 2021
Belgium Nightlife: 5 Ways To Enliven The Dark Hours!
10. Brussels Food Truck Festival

In the past few years, the street food culture in Europe has taken an entirely new shape. Many food truck festivals are being conducted all over Europe and Brussels is picking on this trend by hosting a grand food truck festival of its own. More than 100 trucks gather annually to serve the best of local food from several cuisines. This is a must-visit event in Belgium for the food lovers.
Brussels Food Truck Festival Date: June 2021 (tentative)
10 Beaches In Belgium That You Must Visit On Your Trip
11. Elrow Town Summerfestival

Image Source
Born in Spain, Elrow Town is a legendary party concept that is now coming to Antwerp for the very first time! What will it be all about? Well, we can tell you that it'll be a full blast Rowshow with mind blowing performances, throbbing bass-lines, dazzling performers, stunts by trapeze artists from around the world, eclectic props and toys, as well as stilt walkers who are all going to put on the wackiest show ever!
Produced and organized by the best show people, it's going to be a gala night where you can dance the night away when you're not watching a performance or two. There will be multiple stage setups and performances or live music gigs by over 20 international artists. Book tickets to your dreamland for 2021 right away!
Elrow Town Summerfestival Date: June 2021
9 Enchanting Villas In Belgium For All Those Who Love Luxury & Comfort!
12. Dour Festival

Image Source
This is a bizarre multi-genre festival that has been entertaining people in the Belgian countryside since 1989. Testament to its success, the crowd only keeps growing each year, and it'll sure be a havoc this year as well! Dour Festival has been tearing up and bringing the best talent to the stage for over two decades now and will do no less in 2021.
It was once a single day event with about a thousand people from Belgium attending it, and now you'll find over 225,000 attendees as well as hundreds of artists pouring in to join in the fun from all over the world. To match the level of expectation for this huge crowd, the festival now lasts for up to 5 days and is among the most lit celebrations in Belgium with a diverse range of music from mainstream rock, electronic, to pop.
Dour Festival Date: July 2021
12 Indian Restaurants In Belgium Serving Royal Indian Delicacies
13. Paradise City Festival

Image Source
It truly is a paradise! Don't believe us? Then get yourselves to the phenomenal Paradise City Festival in Perk, Belgium in 2021 to experience a mind-boggling mix of electronic music, dance, food, and international DJs. Hosted at the stages that have once accommodated some of the most reputed clubbing brands of Belgium, this electronic music fest is all geared up to welcome a massive lineup of the most famous names from the industry.
The festive vibes will be enhanced by the stunningly scenic grounds of the historic Ribaucourt Castle where this massive party is being held in 2021, the perfect blend of music and history. What's more, the organizers have extended the duration to three days from two days to accommodate the massive crowd that now turns up for this mega fiesta!
Paradise City Festival Date: June/July 2021
9 Comfortable Homestays In Belgium For Every Kinda Traveler On A Shoestring Budget!
14. Extrema Outdoor Belgium

Image Source
Held in Houthalen-Helchteren, Extrema Outdoor Belgium is a popular electronic music festival that draws music and dance lovers to the northeast end of the country every year. But what makes it one of the biggest celebrations in Belgium? Well, it's the lineups if you ask up. If you wish to see some of your favorite EDM artists and musicians on the same stage performing the best numbers, then you need to get yourself to this festival next June or July.
Their underground house and techno's heavy-hitters will make even non-dancers join the floor! Proudly showing off its tag of being this region's biggest music fest, Extrema has seen an ever-increasing demand for tickets owing to the army of dance and music fans that flock to it.
Extrema Outdoor Belgium Date: 5th-9th June 2021
Top 8 Wedding Venues In Belgium That Are Just Perfect To Take Your Vows
15. CactusFestival Belgium

Image Source
Every music lover's beloved multi-genre music festival, Cactusfestival Belgium is held in Bruges, Belgium every year. This mega fiesta focuses on rock and alternative, and though it's one of the very few single-stage events in the world, it makes sure to blow everyone's mind with what it presents on that one stage.
Also, since the organisers stick to their agenda of keeping a limited number of audience at the festival so that it's safe and enjoyable for all, the tickets are sold out within a week of their release every single time, leaving others with no choice but to wait for the next year. So, make sure you stay tuned to their official website for the ticket sale and grab yours the moment they are out!
CactusFestival Belgium Date: July 2021
10 Best Airports In Europe For An Enjoyable Journey To Your Dream Destination
Festivals in Belgium are celebrated in the most unique and colorful way, adding a vibrant charm to the whole place. After knowing about all these festivals, do you still want to put your Belgium trip on hold?
Frequently Asked Questions About The Festivals In Belgium
How is Ascension Day celebrated in Belgium?
Ascension Day in Belgium falls 40 days after Easter and Catholics celebrate it with tremendous enthusiasm and vigor. It makes the day of the Ascension of Jesus for the people of the Christian religion and is somewhat celebrated the same way as Christmas, with feasts, music, masses, and more.
How is the Carnival celebrated in Belgium?
The Carnival in Belgium is celebrated in much the same way as Mardi Gras in New Orleans or the Carnival in Rio de Janeiro. A colorful parade passes through the town wherein people wear fantastical costumes, most of them speaking against the social norms.
Where in Belgium is Tomorrowland celebrated?
The festival of Tomorrowland in Belgium takes place every year at the recreation area De Schorre in Boom. The frivolous town of Boom is located between Antwerp and Brussels in Belgium.
Do they celebrate Valentine's Day in Belgium?
Yes, Valentine's Day is celebrated in Belgium as well. Every year on the 14th of February, lots of candy, cards, and gifts are exchanged between lovers and many restaurants and pubs give out special deals to couples.
Does Belgium celebrate Halloween?
Yes, Halloween is celebrated in a few villages of Belgium since the other villages focus more on the festivities around All Saints' Day. However, Halloween is not celebrated the same way in Belgium as everywhere else in the world. On this day, you may find the people of Belgium lighting a candle in memory of a dead family member or relative.
---