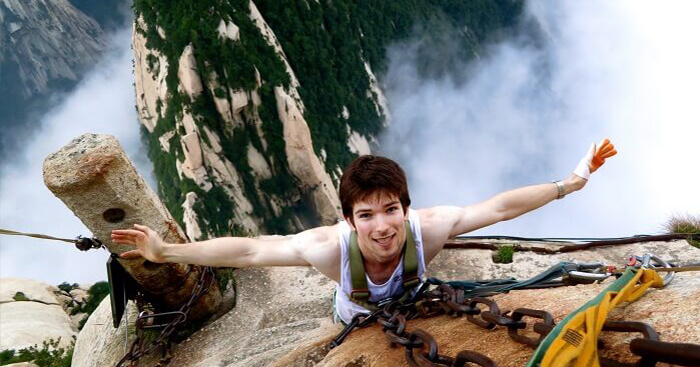 Mount Huashan – the world's most dangerous hike challenges even the most daring thrill-seekers to take on a death-defying and exhilarating adventure.
It consists patches of treacherous stairs, steep mountains, rickety planks, and clumsy iron stairs that do their best to dampen the spirit. No matter how strong, fit and daring, be ready to feel slightly (and we are seriously undermining) dizzy as you look down from a height of 7080 feet, with nothing assuring to cling on to.
Mount Huashan Blends Beauty With Fear
Mount Huashan is one of the five Great Mountains in China. Besides being dangerous, it is home to some beautiful villages and people. Sadly, you won't dare to look at them while holding onto a chain for your life.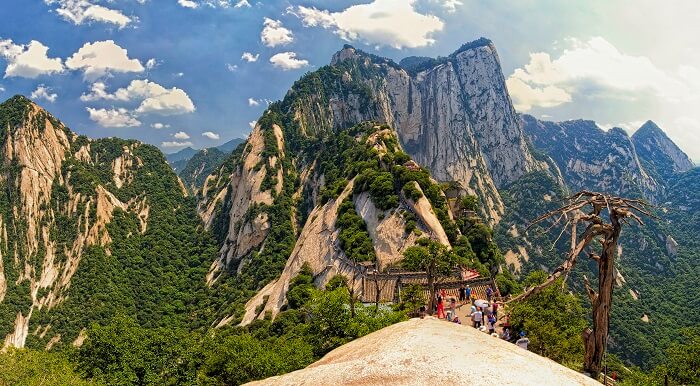 Though steep, the start of the journey is pretty exhilarating. The stairs are frightening, but ironically they are considered to be the easiest part of the journey. At the same time, the daunting stairs are dotted with thatched houses and villages that have cropped up on the mountain's slope.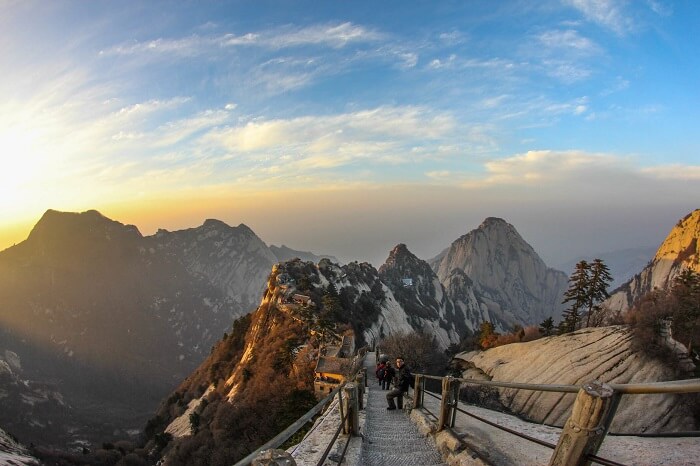 Suggested Read: In Pictures: 15 Most Dangerous Walkways Of The World
What makes Mt Huashan the most dangerous hike?
Take the steep stairs bravely because this is the easiest Mount Huashan hike gets. Various monks and pilgrims have carved the path of stairs and planks for easy accessibility to the holy shrine. The trails were strengthened after it became popular with adventure-seekers and tourists.
While hiking you rely only on your hands and focus to remain safe. And on a path that has just toe-hole cutouts to climb at places, it is a two-way traffic.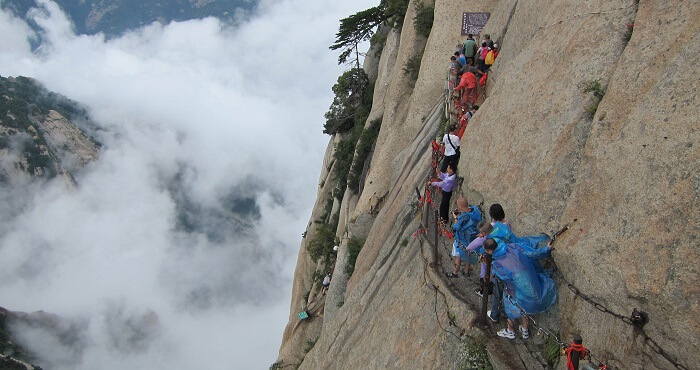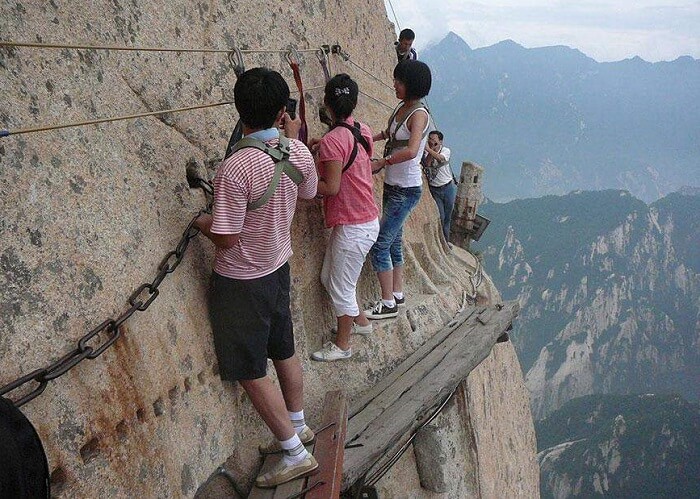 Suggested Read: In Pictures: 25 Riskiest Spots Across The Globe That'll Instill Fear In You Instantly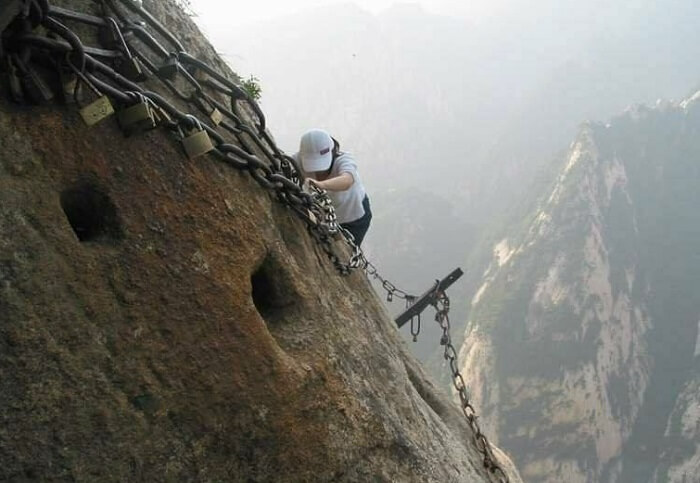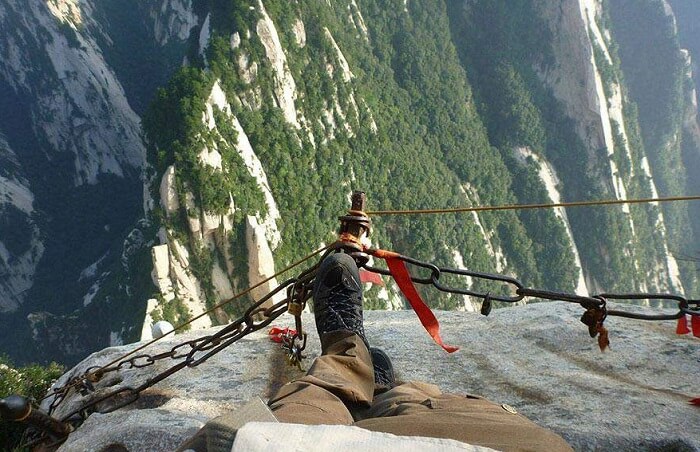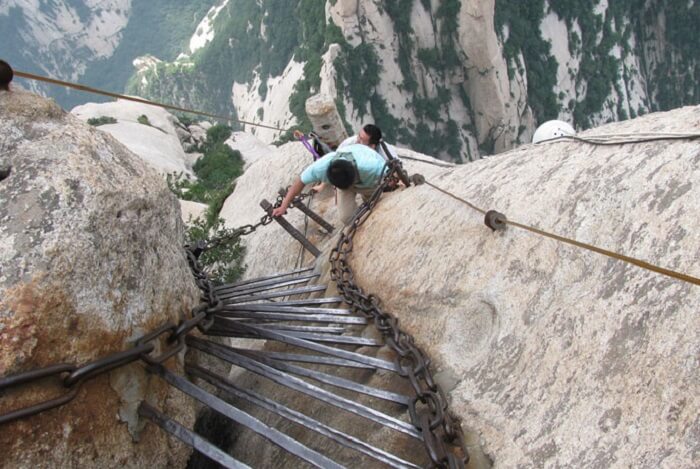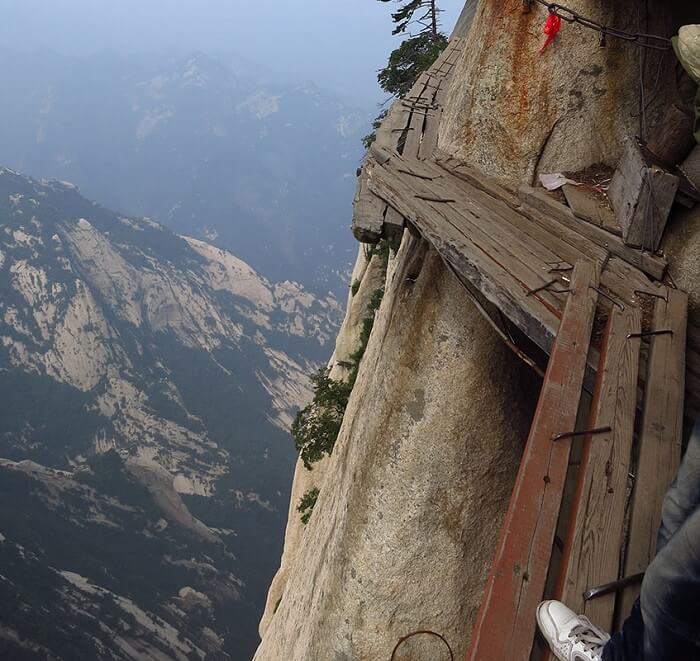 Suggested Read: Chadar Trek: A Complete Guide For That Walk Of Life
So, do only bravehearts go for the scary Mount Huashan hike?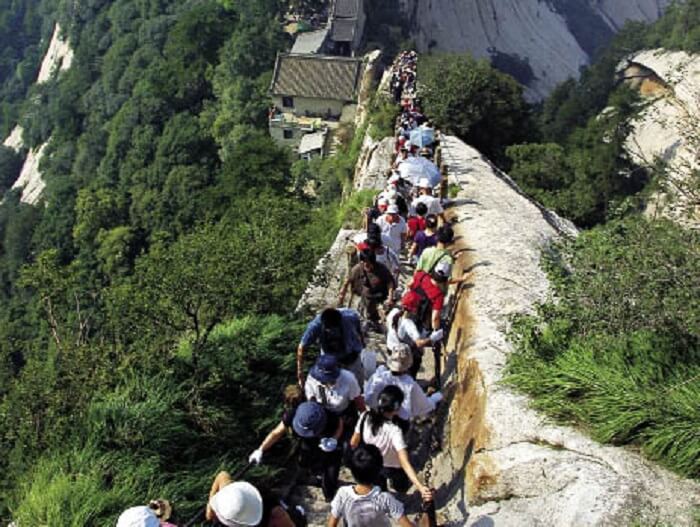 Well, some of them do it for thrill and adventure, but faith could be one motivation too. The Taoist Temple at the top is a holy place since 2nd Century BCE and offers a panoramic view of the valley and the beautiful heritage. But that doesn't make this deadly hike any easier!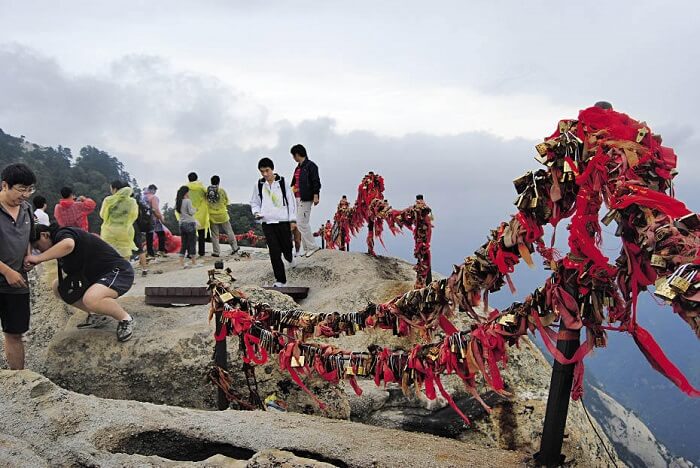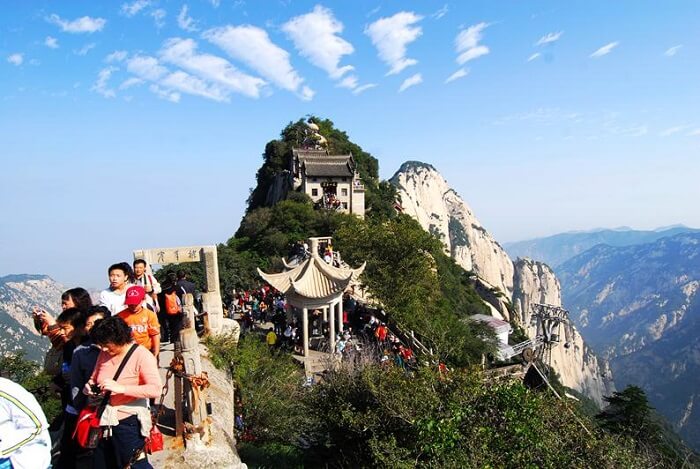 So what are the safety measures?
Safety measures are available, and are suggested for all. Rent a harness for just 5 USD per person. Also, caps and helmet are advised along with a pair of hiking gloves, which prevent your hands from slipping.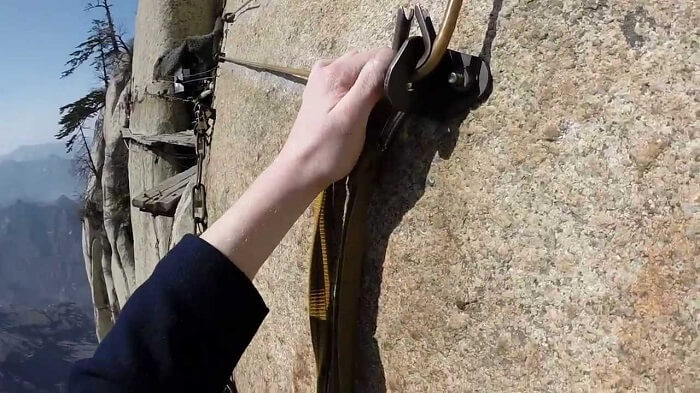 The Route and The Cost
Mount Huashan is 138 km from Xian Xianyang Airport. Take a bus or a train from there to reach to Mount Huashan. The total trekking time is 3-5 hours. If you start the journey in the morning, you can comfortably return by sunset.
Mt Huashan hike costs about 30 USD, depending on the month of the year. Best time to take this hike is from April to October, when the weather is quite pleasant.
So, set to tread the most dangerous and deadliest hike of the world?
Further Read: A Must Watch-5 Girls Ride On The Most Dangerous Roads In The World
Comments
comments