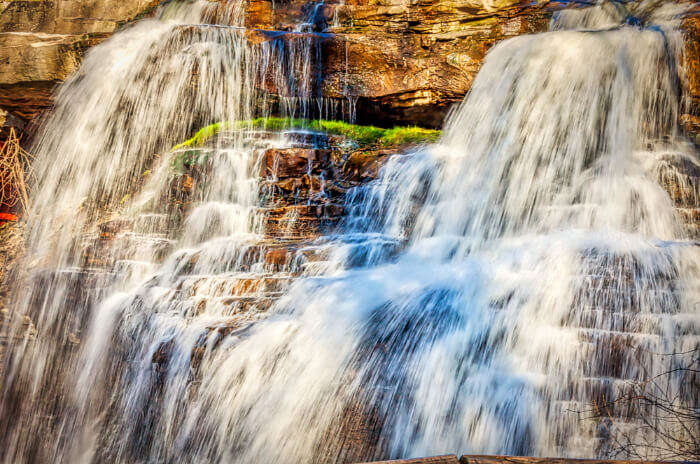 Boston is the city known for its students and splendid educational institutes like the Harvard and MIT. But apart from this the city has another hidden secret in the wilderness of nature. The waterfalls in Boston gives a scenic touch to this bustling city's boundaries. These waterfalls are an abode of the best sights of flora and fauna, along with the sound of the gushing water.
10 Exotic Waterfalls In Boston
Without much ado, let us see what Boston has to offer to nature lovers, flora-fauna enthusiasts as well as first-time visitors with respect to waterfalls.
1. The Cascade Falls
2. Waterfall at Beaver Brook Reservation woodlands
3. Danforth Falls
4. Doane's Falls
5. Royalston Falls
6. Spirit Falls
7. Neponset River Waterfalls
8. The Bash Bish Falls
9. The Elusive Falls
10. Pawtucket Falls
1. The Cascade Falls
Image Source
Situated amidst the Middlesex Fells Reservation, which is a mere two-hour drive from the city proper, this natural waterfall invokes a sense of awe amongst those who visit it. The Middlesex Fells Reservation, of which the Cascade Falls are a part of, is open from 6.30 a.m. to 6.30 p.m. for public recreation. Visiting it during the Spring season, just about when the snow would have melted, is a sight to sore eyes and is indeed the best time of the year to visit it. The fact that this natural waterfall is surrounded by hike trails, a boathouse, a zoo as well as a park exclusively for dogs, makes it the ideal place for those who want to escape from the hustle and bustle of city life.
Location: Cascade Rd, Old Orchard Beach, ME 04064
Must Read: 10 Excellent Museums In Boston To Explore The Artistic Side Of The City!
2. Waterfall at Beaver Brook Reservation woodlands
Image Source
How about a place where one can indulge in what nature has to offer and at the same time, get to play a sport or two with friends? The Beaver Brook Reservation provides exactly this! The ponds and the waterfall in the northern section of this park provide the perfect backdrop for some light-hearted games. Open from dawn to dusk, it also has provision for biking, hiking, and fishing. An athletic field along with a basketball stadium makes visiting this waterfall an enticing place for sports-lovers. The fact that it can be reached within 20 minutes from Boston and the parking is free, means it is always crowded all throughout the year.
Location: 66 Mill St, Belmont, MA 02478, USA
3. Danforth Falls
Less than an hour's drive from downtown Boston, one arrives at the Danforth Falls, which is one of the calmest waterfalls near Boston. This waterfall created by the steam of Danforth Brook falling off a small cliff offers peace and serenity like no other waterfalls in Boston. The major selling point of these waterfalls is that it has not been commercialized, ironic as it may sound. The size of the falls has a part to play in this lack of commercialization and the locals are more than happy to have a waterfall in their backyard all for themselves.
Location: Hudson, MA 01749, USA
Suggested Read: Exciting And Thrilling Day Trips From Boston For A Memorable Vacation In The States
4. Doane's Falls
If you are in Boston or its neighboring towns during the months from April to November, it would be almost a crime to miss out on visiting Doane's Falls. Situated in the rustic town of Royalston, which is famed for its waterfalls, the Doane's Falls is simply majestic. Consider this, it is a 175-foot-tall series of waterfalls which falls down onto a forty-six-acre preserve, are you sold, now? Similar to other waterfalls in and around Boston, it is completely free of charge to visit the Doane's Falls. All those fitness freaks out there must give serious consideration to hike on the 22-mile long loop trail, called the Tully Trail, which covers the rural countryside of three towns – Royalston, Orange, and Warwick as well as the falls.
Location: Royalston, MA 01331, USA
5. Royalston Falls
Image Source
According to the locals, a visit to Royalston is never complete until one visits all three of its famed waterfalls- Doane's falls, Royalston falls and Spirit Falls. The Royalston Falls is yet another natural wonder that serves as an invitation to nature-lovers and adventure-seekers to visit Boston and its neighboring towns. It is free to visit and open from dawn to dusk, so fill up your gas tank and head out to see nature at its best. The eye-catching aspect of these falls is the cylindrically shaped gorge that the water flows down into.
Location: Royalston, MA 01368, USA
Suggested Read: 10 Best Restaurants In Boston That Promise A Gluttony Affair
---
Planning your holiday but confused about where to go? These travel stories help you find your best trip ever!
Real travel stories. Real stays. Handy tips to help you make the right choice.
---
6. Spirit Falls
Image Source
Last but not the least of the trio of waterfalls at Royalston, the Spirit Falls are seasonal and best enjoyed during the Spring season. Along with the Doane's Fall and the Royalston Falls, it is managed by the "Trustees of Reservation", a not-for-profit organization. Like the other falls in this area, it is completely free of charge to visit and what one gets in return is something priceless. There is provision for overnight shelters, just 30 minutes from the falls, something that is used by hikers along the Tully Trail.
Location: Cook-Underwood Rd, Cook, WA 98605, USA
7. Neponset River Waterfalls
Image Source
Before anyone assumes that all the waterfalls near Boston are located only in Royalston, let us introduce you to a man-made waterfall very close to downtown Boston, the Neponset River Waterfalls. Created due to the damming of the Neponset River, this waterfall is just a 15 minutes drive down the I-93 S. For all those American Football fans who frequent the Gillette Stadium from Boston, this waterfall is on your way to see your favorite football team.
Location: Hallet Street, Boston, MA 02124
Suggested Read: Top 15 Hotels In Boston Which Mix Contemporary With Quaint
8. The Bash Bish Falls
Image Source
If one acquires the "Boston Waterfalls Map" from any one of the numerous tourist info-kiosks at the hotels of Boston, one would immediately notice the big bad boy of waterfalls in the state of Massachusetts, the Bash Bish Falls. Situated exactly at the south-west border of the State, one can also easily cross the border into the Taconic State Park in New York and thus lay claim to visiting two states on the same day. The best way to have a pleasant experience is to hike but beware of the steep climb involved. The falls are open from sunrise and close at 30 minutes past sunset, perfect enough to capture the sun-set from atop the falls.
Location: Mt Washington, MA 01258, USA
9. The Elusive Falls
Image Source
The Goldmine Brooks Falls is the actual name of this waterfalls near Boston, christened the elusive falls due to its concealed appearance. Despite it being only 0.1 miles from a major state highway, it cannot be found unless one actively searches for it. Sounds unbelievable, just ask the numerous others who have turned empty-handed in their search for visiting it. Located at the periphery of the Chester-Blandford State forest, these multi-tiered waterfalls are described as plunges and horsetails.
Location: Hwy 20, Chester, MA 01011, USA
Suggested Read: 15 Best Things To Do In Boston That You Just Can't Miss!
10. Pawtucket Falls
Image Source
These man-made falls were once natural waterfalls and were the fishing grounds for the Pennacook Indians. Located in Lowell, on the Merrimack River, this waterfall drops a total of 32 feet. For those history buffs, this fall is of significant importance as the Lowell Power Canal System was set up in this region, thus ushering in America's industrial revolution. The canal system meant the natural Pawtucket falls went dry and the current waterfall is nothing but a loss of elevation which occurs when there is heavy flow topping the dam. Visitors get a good view from the bridge over the Merrimack River.
Location: Lowell, MA 01854, USA
Further Read: 10 Charming Places To Visit In Bruges To Explore The Bewitching City!
So, if you're convinced enough to visit these exotic waterfalls in Boston, then plan your much-awaited vacation to USA with TravelTriangle and capture the enchanting beauty of these nature's abode.
People Also Read:
Austin Waterfalls Arizona Waterfalls Waterfalls in Texas
---
---