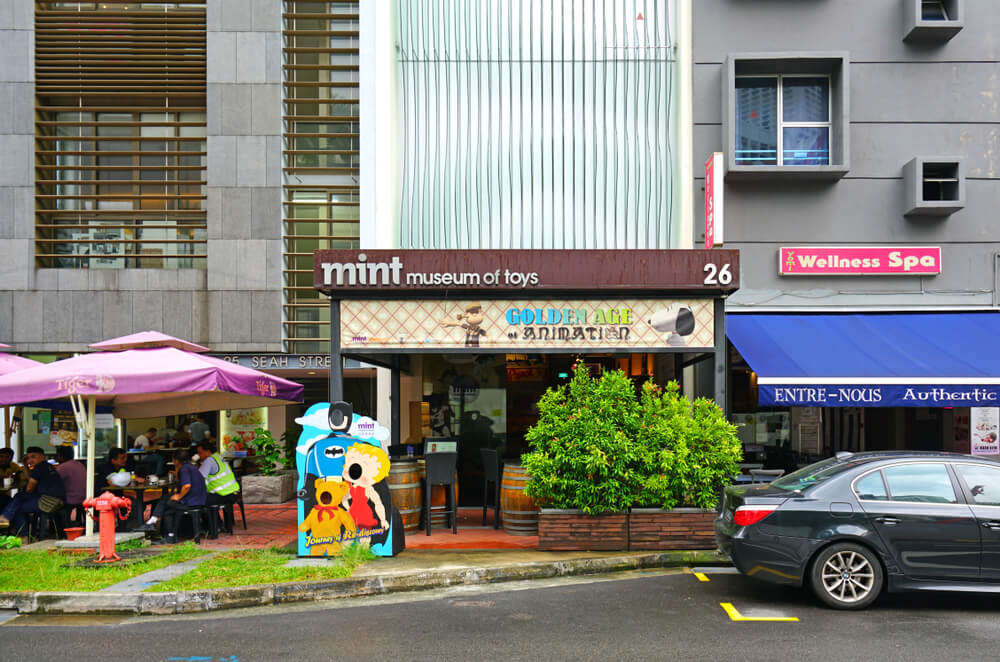 The city hall is a National Monument of The Republic Of Singapore. The building was completed in 1929 and was originally known as building of the Municipal Corporation. Later it was turned into Singapore Judiciary. The historic building has seen the best and worse of Singapore. Thus, it is only fitting that there are a number of museums near City Hall. The first account of Singapore is said to have existed in the third century and was called "Pu Luo Chung". This term loosely translated to "island at the end of the peninsula". This description would be very simple and unpretentious in comparison to what Singapore acquired by the end of the 14th century when it was a part of the empire of Srivijayan. The small island was often called "Temasek", which meant "town on the sea". It was then the point of convergence of many sea routes of Southeast Asia. Wherever there are floating boats of all kinds from places near and far. The legend says that a prince of Srivijaya visited the island and a lion was sighted in Temasek. The prince announced the name of the island "Singapore", which means "city of Lion". However, lions never lived in Singapore and that what he must have seen was a tiger.
After the Japanese surrendered to the British, it was here that the new Prime Minister took the oath and proclaimed the country an independent state. Singapore's merger with Malaysia in 1963 was announced and even the subsequent fall-out was declared here. Hence, it has witnessed the ups and downs that Singapore went through. It was also closed for renovation and was re-inaugurated in 2015 after being merged with the Supreme court of the country and now houses the national art collection in one of the many galleries.
Museums Near City Hall
Check out the museums below for a deeper insight into the history of Singapore. With an area of 720 square km, its size contrasts with its capacity for growth. Singapore is now a rapidly developing manufacturing base. However, the Republic remains the most active port in the world with more than 600 shipping companies, including supertankers, container ships, passenger ships, fishing boats and even wood lighters.
1. National Museum Of Singapore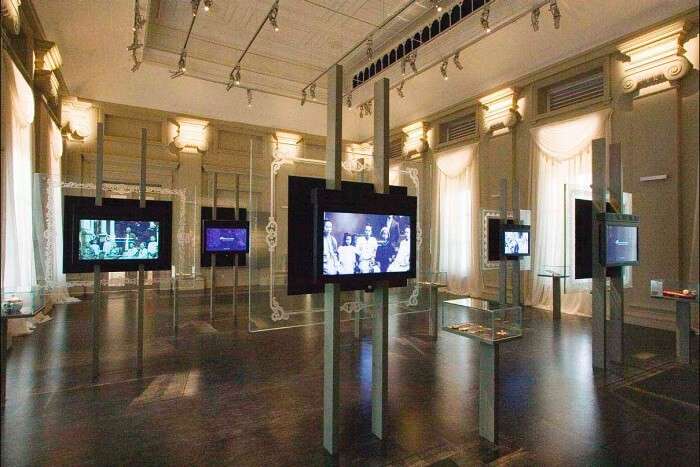 Image Source
This is the place to visit to learn all about the country be it wars, architecture, fashion, designs or culture. Best among the historical museums in Singapore, it takes you through an intriguing journey of fun and information. And its not just a depository of artifacts. There are video montages, interactive exhibits, guided tours, art performances, live galleries and movie screenings.
Quite unconventional with various fun sessions and interactive exhibitions, National Museum is a beautiful amalgamation of all the historical sites in Singapore, at one single place.
Opening hours: 10 am to 6 pm
Entry fee $ 10
Website
                                    Must Read: Blast From The Past: 11 Spectacular Historical Places In Singapore
2. Mint Museum Of Toys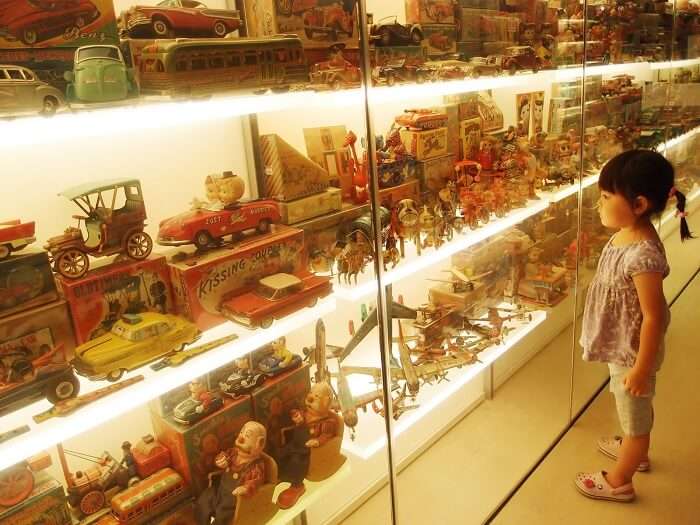 Image Source
The feeling of nostalgia is dominant inside the historical buildings in Singapore. Rows of toys, collectibles and comics will take you down the memory lane. Besides, the information about the era to which they belong is quite interesting.
The Mint Museum of Toys boasts of more than 50,000 vintage toys, of which some are as old as 120 years. Definitely, the museum is a top contender among the quirky historical places in Singapore.
Opening hours: 9:30 am to 6:30 pm
Entry fee: $ 15 for adults and $ 7.5 for children
Website
                        Suggested Read : Blast From The Past: 11 Spectacular Historical Places In Singapore
3. Buddha Tooth Relic Temple & Museum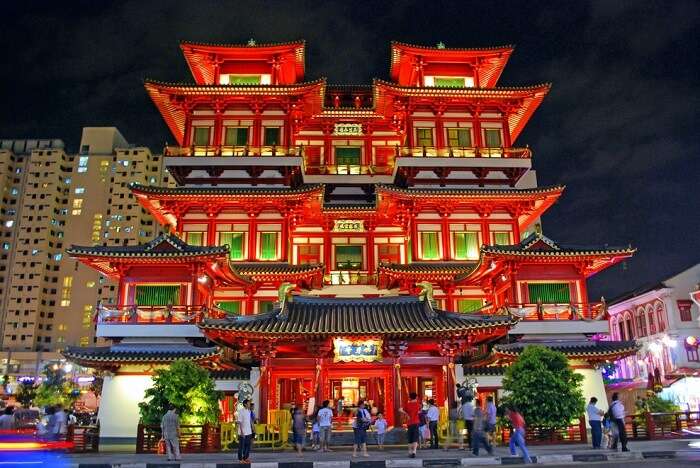 Image Source
This temple and museum was built only ten years back but speaks of a history centuries old. Located in Chinatown, the temple has its architecture inspired by the Chinese Tang dynasty. This place houses the tooth of Buddha, which is considered a holy relic in Buddhism, placingit on every must-visit Buddhist temple list in Singapore.
Apart from that, it is also home to many beautiful artworks related to the life of Lord Buddha as well as a garden and a bookstore.
Location: 288 South Bridge Road, Singapore
Timings: 9 AM – 6 PM
            Suggested Read : 11 Stunning Temples In Singapore You Must Visit On Your Holiday
4. Trick World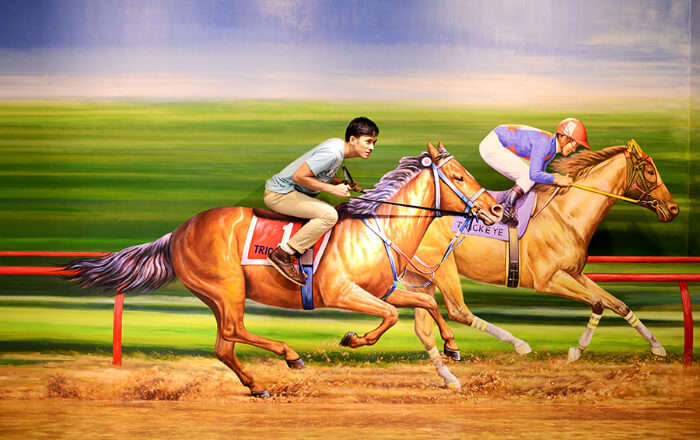 Image Source
The Trick World has some of the most loved Trick Eye exhibits on display. Here you see some of the highly impossible events coming to illusionary realy. Take an ocean ride on the popular mythical Singaporean lion-fish; perform the most difficult postures of professional Ballet dance along with other illusionary dancers; indulge in a horse riding race or challenge a Kung Fu master on a fight. This zone of Trick Eye Museum is rather more artistic than illusionary.
The Trick Eye Museum in SIngapore is open from 10am to 9pm with last admission at 8pm, throughout the year. Following are the ticket prices at the Trick Eye Museum in Singapore:
Adult (13-59 yrs): INR 1800
Child (4-12 yrs): INR 1450
Senior (60 yrs and above): INR 1450
Family A (2 adult + 1 child/senior): INR 5050
Family B (2 adult + 2 child/senior): INR 6500
Note: You can book upto 20% if you book online.
To know what other visitors have to say about the Trick Eye Museum in Singapore, click here:
Reviews
Address: Waterfront @ Resorts World Sentosa, 26 Sentosa Gateway, Singapore 098138
            Further Read : Challenge Your Sense Of Reality At The Trick Eye Museum In Singapore!
City Hall is one of the most important monuments of Singapore. The history of Singapore is closely linked to this monument that has now been converted into a gallery. There are a number of museums near City Hall as well. The nearest MRT station in the area is City Hall MRT Station. There are a number of famous places nearby like Padang, Cenotaph, and St. Andrew's Cathedral. Raffles and CityLink Mall are also nearby. Hence, on your visit to Singapore, do visit these famous places for a 360-degree experience of the country.
---
Looking To Book An International Holiday?
Book memorable holidays on TravelTriangle with 650+ verified travel agents for 65+ domestic and international destinations.
---