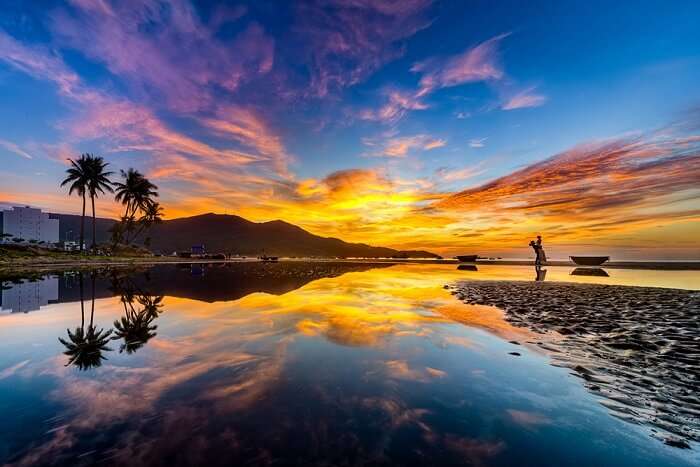 My Khe Beach in Da Nang is believed to be the most picturesque beach in the whole of Vietnam. It is a white sandy beach which is extended to 20 miles. It has been named by the American troops who visited during My Khe Beach Vietnam War. My Khe Beach is famous for various things. It has been listed as the 'World's Most Luxurious Beaches' by the Forbes magazine. So, while you plan to visit this famous destination too, scroll down to know what awaits you in this scenic paradise of Vietnam.
About My Khe Beach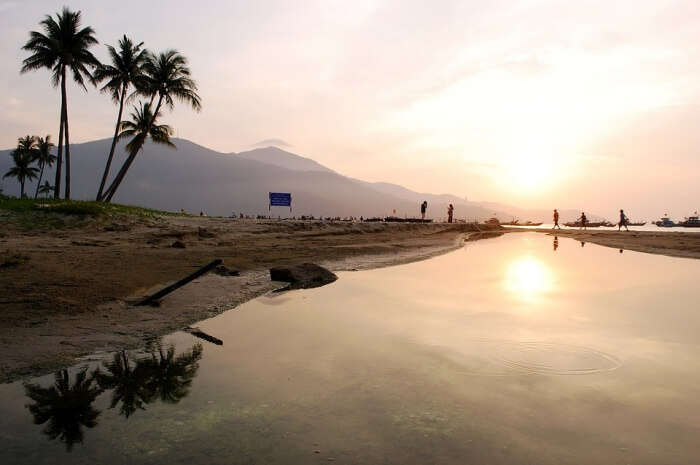 My Khe Beach is famous in Vietnam for its smooth white sand, blue sky, clear and warm water in the whole year, gentle white sand and beautiful areas which are surrounded by coconut trees. The Forbes magazine has selected My Khe Beach as the 'most attractive beach on the whole planet'. This title was given to My Khe Beach after a lot of efforts by Da Nang Lifesaving Association and the Government when they tried to keep the beach clean, maintain the safety of the visitors, provide free entry to the tourists, offering great facilities for accommodation, etc.
The Sunday Herald Sun of Australia declared My Khe Beach's name in the list of 10 most popular beaches in the whole Asia. It is favourable to travel between May and October to My Khe Beach.
Key Attractions At My Khe Beach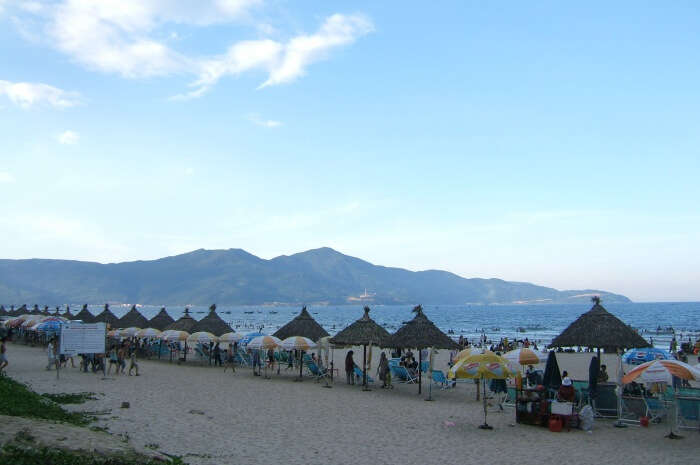 My Khe Beach surf facilities are excellent, and it offers great surfing from September near the shores of Da Nang. This beach came into the spotlight when the My Khe Beach show was broadcasted on American networks which were highlighting the soldiers of US resting, enjoying and playing in Da Nang during the Vietnam War.
Another thing which is famous all over Vietnam is My Khe Beach sunrise and the My Khe Beach sunset. It is favourable and advisable to stay near the beach during the time of sunrise and sunset to get the stunning view. People who are going towards Hue also stop in Da Nang to enjoy the sunrise and sunset at My Khe Beach. The beach looks very beautiful during the time of sunrise and sunset due to its white sand and very clean blue water. A person could sit and relax in the comfortable chair while drinking coconut water and enjoy the sunrise and sunset.
The best thing which people love to do on a beach is surfing. My Khe Beach surf is very famous because of its surfing facilities and also the long coastline. There is maximum surfing seen during the time of winter on My Khe Beach in Vietnam. It is a very adventurous experience to surf in the waves as it is not so easy here. Sometimes there are chances that the waves are very slow and due to which surfing wouldn't be possible. There are even the chances of storms which might help the people to surf through the winds on the water.
Best Restaurants At My Khe Beach
If you're thinking about trying the famous local cuisines around the beach and don't want to wait to find it out later on, here's your chance to explore the renowned restaurants around.
1. Why Roastery Café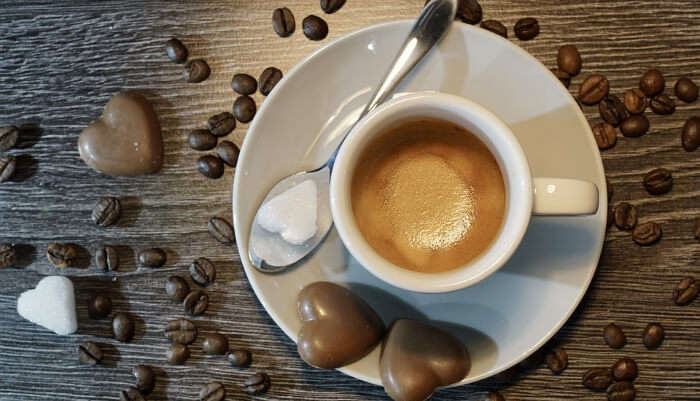 Why Roastery Café is one of the best places to eat and drink on My Khe Beach in Da Nang, Vietnam. It is a café but the coffee made here is not only a cup of coffee, but it is like a feeling. A person feels relaxed and pleasant after drinking a cup of coffee. The start of the day is best when it starts with a coffee from this café. The café is a very quiet place which is very much required sometimes. A person should give a try to local Vietnamese coffee like aromatic tasted beans.
Location: 64 Ung Van Khiem Street, Ngu Hanh Son District, Da Nang, Vietnam
Distance from My Khe Beach: 5 km
Must Read: Tuần Châu Island: The Only Guide You'll Ever Need To Explore This Magical Island In Vietnam
2. Panorama Restaurant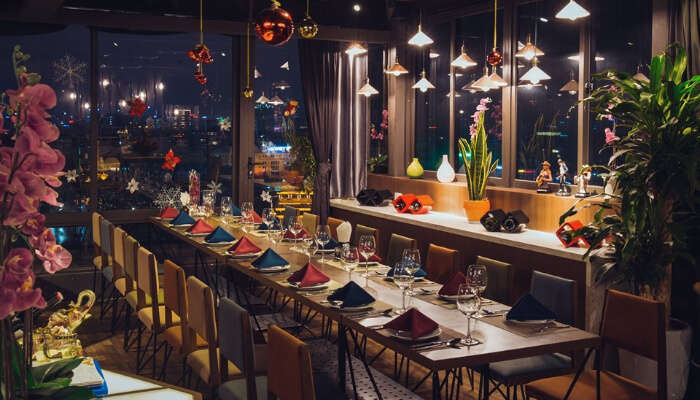 As the name suggests, this restaurant covers various cuisines at one place. The different cuisines available in the Panorama Restaurant are Barbecue, Asian, Gluten-free options, Vegan options and also Korean cuisine. Panorama Restaurant is located on the 15th floor of Royal Lotus Hotel in Da Nang. There are seating arrangements made in the indoors as well as in the outdoors on the terrace. A person gets to enjoy various dishes along with the spectacular views of the ocean and the city from the terrace.
Location: 120A Nguyen Van Thoai Street, 15th floor, Royal Lotus Danang, Ngu Hanh Son District, Da Nang.
Distance from My Khe Beach: 0 km
Suggested Read: Villas In Vietnam: 6 Places To Hit The Sack In Trung Quốc
3. Thung Phi BBQ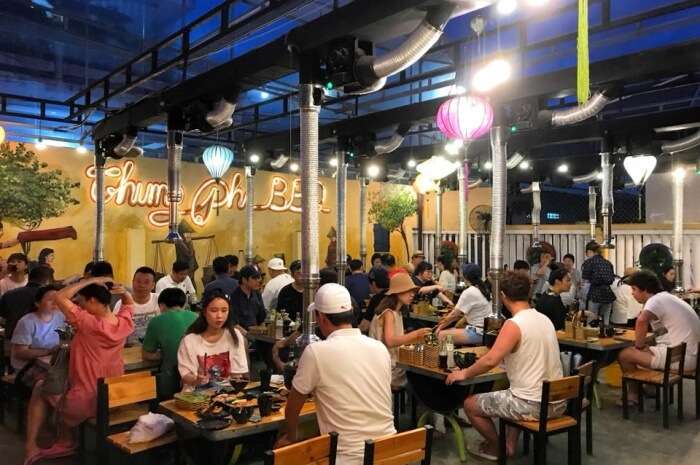 This restaurant is famous for its barbeque and various dishes of barbeque. People specially visit this place to try the barbeque as it is very renowned. The other cuisines served here are Vietnamese, Asian and Gluten free options. The special dishes of Thing Phi BBQ are octopus bbq, seafood bbq, pork belly bbq, etc. This place makes a person feel and experience the culture of Vietnam.
These were some of the restaurants near My Khe Beach to try different cuisines as well as the seafood. The food choices My Khe Beach are very delicious, and one would definitely love the great variety of cuisines available here.
Location: 195/9, Nguyen Van Thoai Street, Ngu Hanh Son District, Da Nang
Distance from My Khe Beach: 0.1 km
Suggested Read: An All Inclusive Guide To Vietnam Military History Museum
How To Reach My Khe Beach
While you maye choose any of the following routes to reach this beach, it is always good to know beforehand for a hassle-free holiday! Take the mode of transport that suits you the best and get ready to enjoy the My Khe Beach activities. Scroll down to know more.
By Flight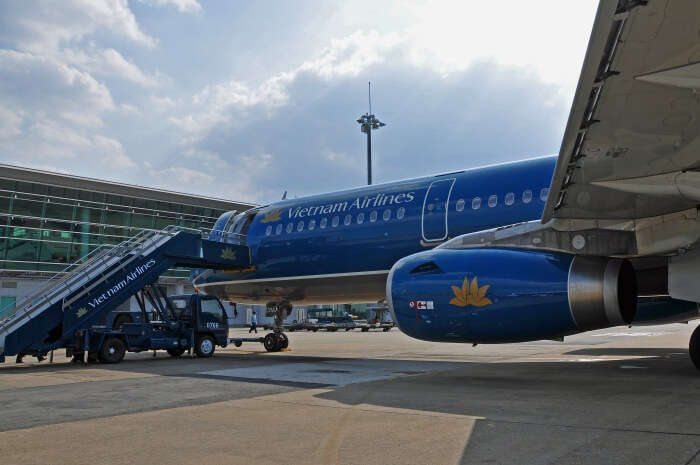 The best option to reach My Khe Beach is By Flight. There are various international and domestic flights to Da Nang by Vietnam Airlines, Jetstar and VietjetAir. The prices of the flight tickets keep on fluctuating, so it is better to keep checking and see the perfect time when the rates are lowest.
After reaching to Da Nang International Airport, a person could take a taxi to My Khe Beach which is only 5 km away from the airport. Or a person could even take a scooter on rent over there.
Suggested Read: 12 Indian Restaurants In Vietnam You Should Visit To Taste Desi Flavours
By Train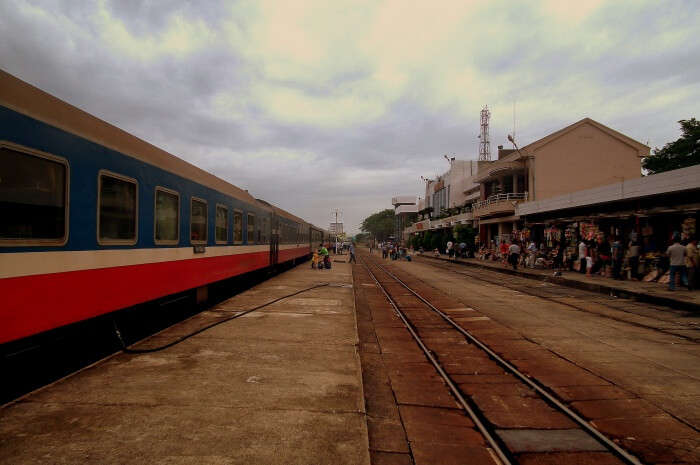 The train named Reunification Express stops at Da Nang. There are scheduled trains to reach Da Nang, but sometimes this schedule is not followed. A person could take the non-stop train to Hanoi, or he could take the local train, but it would take a very long time to reach Da Nang, but it would cost very less.
Suggested Read: A Guide To Vietnam Museum of Ethnology For History Buffs
By Car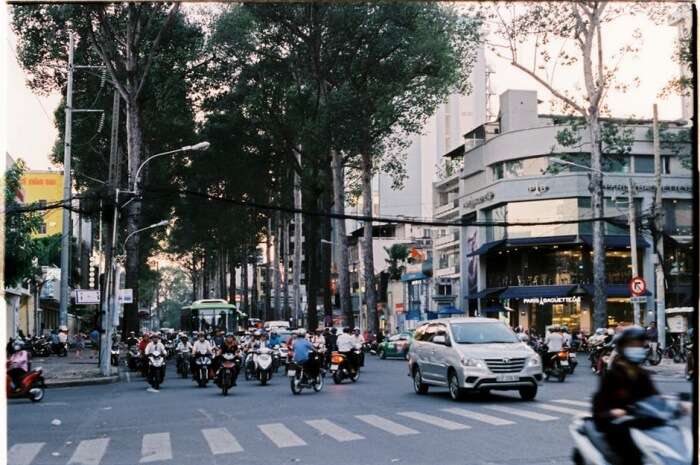 There are several ways to reach Da Nang By Car. A person could hire a car from car rental services near Da Nang International Airport. Then you could take a ride in the car from the airport and reach to My Khe Beach. If a person is coming from the Chan May or Tien Sa seaport then also there are car rental services through which a person could hire a car and reach to My Khe Beach.
By Bus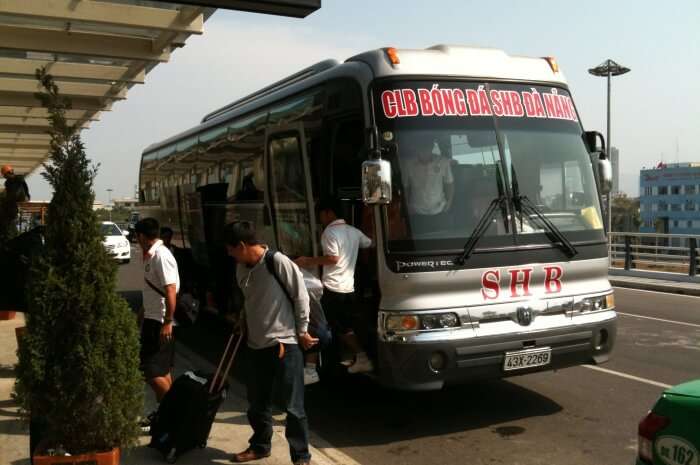 It is not very difficult to figure out your route this place through a My Khe Beach map. From Hoi An, a person could reach Da Nang through a local bus. The frequency of buses at the Hoi An station is every 15-30 minutes. It takes approximately 45 minutes to reach Da Nang from Hoi An in a bus.
Further Read: Phong Nha Cave Travel Guide To Explore This Thrilling Cave Of Vietnam
This travel guide is very useful to a person visiting My Khe Beach for a trip for the first time. My Khe Beach is a great place to travel for everyone who loves beaches with great views. So, pack your bags and plan a trip to Vietnam for a soothing holiday amid the scenic Vietnamese landscapes like never before!
People Also Read
Beaches In Ho Chi Minh City Cambodia Beaches Beaches In Hanoi
---
Looking To Book An International Honeymoon?
Book memorable honeymoon on TravelTriangle with 650+ verified travel agents for 65+ domestic and international destinations.
---