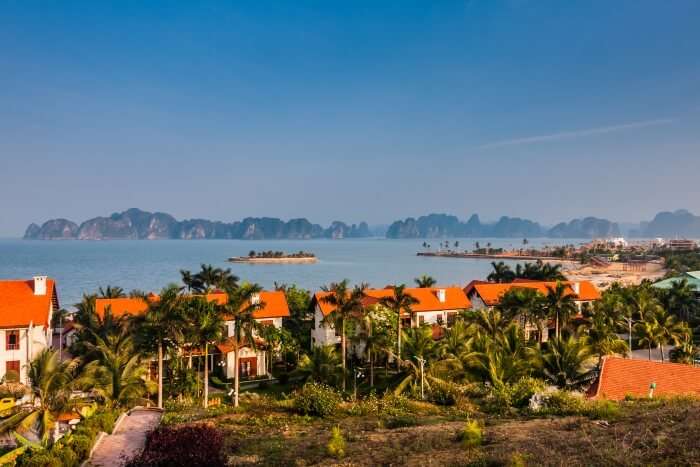 Tuần Châu Island is one of the ancient Islands of Vietnam and has also served as a vacation home for the former President Ho Chi Minh. Tuan Chau is derived from the terms "Linh Tuan" which means a patrolman and "Tri Chau" which means a District Chief. It was a guard station in the ancient times which was largely underdeveloped and isolated till the late 1990s. Located in the northwest of Halong Bay, Tuan Chau is about 8kms from the Halong City. It is well connected with both roads and waterways which make it easier to reach.
Best Time To Visit Tuan Chau
Tuan Chau beach and island resorts are open throughout the year and there are no restrictions to the beach except for the period of July-August which may see sporadic spells of hurricanes, high tides, and storms and may spoil your vacations; though these storms don't last for more than a week.
However, if to experience the best of Tuan Chau Island is on your mind, you should be aiming for a trip around September-November or in March. This is a dry spell with a comfortable temperature that makes it a pleasant time to enjoy the beaches as well as sightseeing along with all the activities which are on the offer.
Since budget traveling is a popular thing to do, and the best time for that would be between May and September. It is an offseason which means you save a lot of money on accommodation, cruise trips and the whole lot of things Tuan Chau has on offer.
All periods have something unique to offer. While the summers are great for water sports, the winters have plenty to offer at the Halong Bay including having a BBQ right at the natural caves. Be careful of the Neanderthals though! *gives a fake devil laughter*
How To Reach Tuan Chau Island
Image Source
Since Tuan Chau is well connected with roads and waterways, it isn't difficult to reach there.
By Road: Once you have arrived in Hanoi, you can take a bus from either or Luong Yen or My Dinh bus stations. Good quality private buses are available in plenty and will take you to Halong City in about 4 hours. If you have a semi-large family travel, you can opt for a minivan which can accommodate around 10-15 people easily. However, if you wish to travel in privacy, there is always an option of taking a private car. Halong City has many cab and bike services available to take you to Tuan Chau center.
By Water: Halong City is connected to Tuan Chau port and there are regular ferries traveling from Halong and Cat Ba to Tuan Chau Island.
By Air: If you are comfortable traveling in a seaplane, there are flights available from Hanoi to Tuan Chau Island which are operated from a local airline named Hai Au Aviation. Seaplanes are very comfortable and safe so don't expect Hollywood styled turbulences.
Must Read: 10 Places To Visit In Da Nang That Must Be On Your Vietnam Itinerary In 2022
What To Do At Tuan Chau Island?
From being a typical isolated Island which was once a vacation home for politicians, Tuan Chau Island has come a long way in the past two decades. There are a plethora of leisurely activities on offer for all age groups and is now seen as a better alternative to the downtown Halong City.
Natural Reserve: Being an Island, Tuan Chau has a diverse natural ecosystem which boasts of natural hills which attract plenty of hiking, trekking and camping lovers from within as well as out of Vietnam.
Animal Planet: There is a whole new marine world a little away from the sea at the Tuan Chau Island. Once you reach there, you will be surprised to see sea lions, dolphins, seals and the dreaded crocodiles (inside a strong guarded space which they can't breach, you can't either). Apart from sea life, there is a circus which is open every day except Monday. No Monday Blues for the circus animals, never.
Beach Fest: Sand lovers are in for a treat at Tuan Chau Islands where they can expect soft sand and cool water at both the beaches which are on either side. No matter which side of the Island you are on, it doesn't give you a stepped treatment. Soft sand for everyone.
Water Sports: We understand that not everyone likes to lie down in the sand till eternity, it does get a little monotonous after a while. For that, Tuan Chau Island has plenty of water sports available at the recreation park where you can get drenched to the hilt with motor racing, canoeing, parachuting, water skiing, water slides, etc.
Sight-Seeing: Tuan Chau Harbour offers cruise services for sightseeing at the breathtaking Halong Bay which is one of the new 7 wonders of the world. Imagine going to Vietnam and not doing this. Sightseeing services are also available with canoes, boats, and choppers. There is everything for everyone there.
Suggested Read: 10 Best Places For Shopping In Hue On Your Vietnam Tour
Where To Stay At Tuan Chau?
There are plenty of resorts and lodges which are available to people on the basis of their choice and budget. While Trip Advisor suggests Paradise Suites as their best choice, there are several other very good hotels such as La Paz Resort Halong, Tuan Chau Seaside Hotel, etc.
1. Paradise Suite
It is an upmarket 4-star property with well-designed and furnished suites. It is about 11 km from Halong Bay and 2kms from Thien Cung cave. If you wish to travel a little far, Long Tien temple is 18kms from there. The rooms are plush and full of luxury. You will love to chill out in the private pool there. Also, the food served there is authentic Vietnamese.
Location: Tuan Chau Island, Quảng Ninh 200000, Vietnam
Price: Roughly INR 4000 per night
Suggested Read: Enjoy Authentic Vietnamese Hospitality In These 10 Cheap Homestays In Hanoi
2. La Paz Resort Halong
It is a modern style construction in front of the beach and carries the colonial hint of styling. It has relaxing rooms which offer beautiful bay views. It is about 2 km from the ferry terminal and is at the identical distance from Dau Go Cove. Large hallways and big windows are the highlights of this place that will offer you unspeakable luxury on your trip to Haling Bay.
Location: Đường Ngọc Châu, Tuần Châu, Thành phố Hạ Long, Quảng Ninh 200000, Vietnam
Price: INR 2400 per night
3. Tuan Chau Sea Side Hotel
This is a casual 3-star property across the street from Halong Bay. It is at a comfortable distance of 2 km from the best attraction of Tuan Chau Island. The water slides and thrill rides for adults and children alike are a little far (13kms) from the property. The property is all modern and beautiful; you will love the plush beds and separate water activity side along with the seafood and Oriental cuisine they offer.
Location: Khu Nam cảng tàu du lịch quốc tế, Tuần Châu, Thành phố Hạ Long, Quảng Ninh, Vietnam
Price: INR 2500
There are plenty more properties on offer and we suggest you check with your trusted sites.
Suggested Read: These 8 Waterfalls In Vietnam Are Beautiful Enough To Sweep You Off Your Feet!
Where To Eat At Tuan Chau?
Even though your hotel would have a decent restaurant with a bar with all sorts of local Vietnamese culinary gems available for you, there is still a room to check out these restaurants in Tuan Chau.
1. 1958 Restaurant
A quiet restaurant with a wide variety of good food should be on your list if you are a relaxed traveler. It serves great seafood and grills. So, mark this restaurant in your must-visit places to add a zest of authentic Vietnamese to your trip. From hot tea to stir-fried noodles, the taste will leave you wanting more when you are in Halong Bay. We hope you do give it a try.
Location: E19 – E20, Halong Bay, Tuan Chau Island, Vietnam
Price: Ranges from INR 250-2000 for two
Suggested Read: New Year In Vietnam: 14 Experiences For A Lit Beginning Of 2022
2. Sandy Bay Beach Bar & Restaurant
A little away from the beach, after enjoying a day in the sandy haven. It is quiet and peaceful so you can have food in peace without having to worry about staff waiting to accommodate the waiting queue. The mushrooms and oysters will leave you licking your fingers. We are sure you would love the vibes of the restaurants as well. This is one of the best things to do in Halong Bay, Vietnam.
Location: Ngoc Chau Street | Tuan Chau Island, Halong Bay, Tuan Chau Island 200000, Vietnam
Price: INR 400-2200
Further Read: Paragliding In Vietnam: Top 10 Places That Are Perfect For An Enthralling Vacay In 2022!
There are several other fine dining spaces for all kinds of people. There is a plenty to do here for nature enthusiasts, beach and food lovers. Needless to say that watersports are in plenty at Tuan Chau Island and Halong Bay, which is why they are an important addition to any trip to Vietnam.
---
Comments
comments