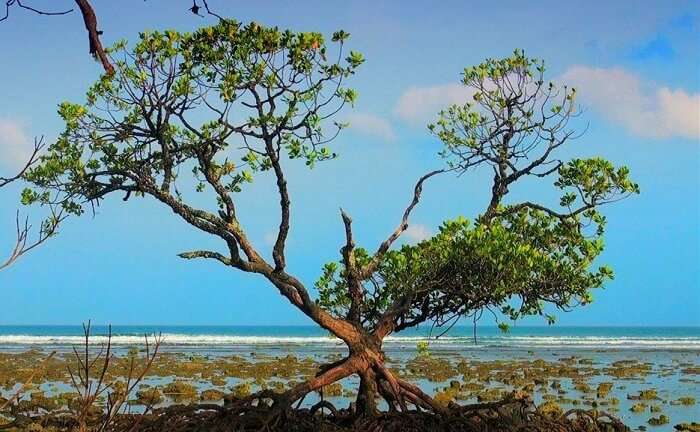 Being an archipelago of hundreds of islands, Andaman is undoubtedly rich in natural attractions, wildlife, and biodiversity. Owing to the rich marine life, fascinating coral reefs, and a spellbinding underwater world, the National Parks in Andaman are counted as one of the favorite places for wildlife activists, photographers, and conservationists. However, experience how these National Parks in Andaman and Nicobar Islands that are scattered all over the Indian Ocean, leave no stone unturned in casting a magical spell on all the travelers.
The Rich & Refreshing National Parks In Andaman
Scroll down and take your pick out of these amazing national parks that you can explore in Andaman.
1. Mahatma Gandhi Marine National Park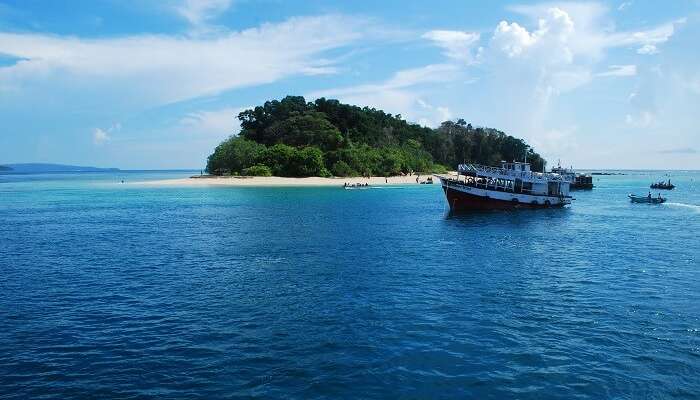 Suggested Read: Cruise To Andaman: Guide To Fares And Ferries From Kolkata, Chennai, Vizag
The Mahatma Gandhi National Park is located near the Wandoor Beach of Port Blair, and is a popular tourist destination for its colorful marine life, lively coral reefs, and snorkeling sites. It is a man-made park wherein one can witness a variety of flora and fauna, and some of the endangered species like the water lizard, wild boar, and sea snakes. Other than that, the national park is spread across 15 islands that features beautiful mangrove creeks, and tropical rainforests.
Location: SH8, Andaman and Nicobar Islands
Timings: Tuesday to Sunday – Open 24 Hours; Closed on Mondays
---
Andaman Holiday Packages On TravelTriangle
Indulge in snorkeling or scuba diving to see magnificent coral reefs or stay in beach resorts at Havelock island. Visit Port Blair, Ross Islands, Neil Islands, Gandhi marine park, and Cellular Jail. Book memorable holiday packages on TravelTriangle.
---
2. Mount Harriet National Park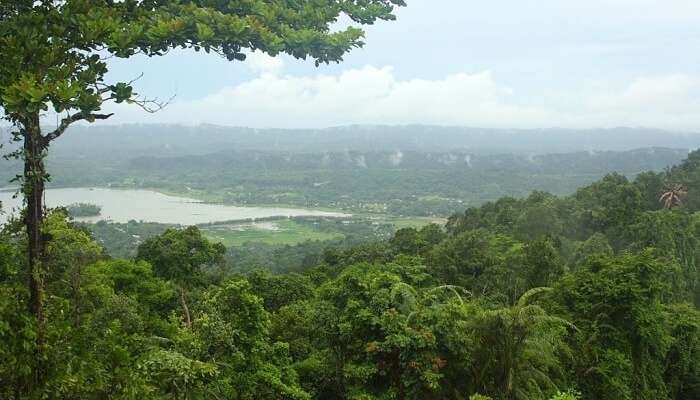 Considered to be one of the well-known national parks in Andaman, the Mount Harriet National Park is considered to be the most exotic and one of the most visited national parks on the island. Spread across an area of 46 square kms, it set at a height of 383 meters and is a home to very few species like that of Andaman wild pigs, turtles, and robber crabs. For those who wish to spend a amidst the wilderness, can avail the facilities of the Forest Guest House too.
Location: Hope Town, Port Blair, Andaman and Nicobar Islands 744107
Timings: Monday to Sunday – 7 AM to 5 PM
Entry Fee: INR 10 per child (Indian), INR 25 per adult, and INR 250 per person for foreigners
Must Read: His Super Adventurous Trip To Andaman With Kids Will Give You Awesome Tips To Plan Yours
3. Campbell Bay National Park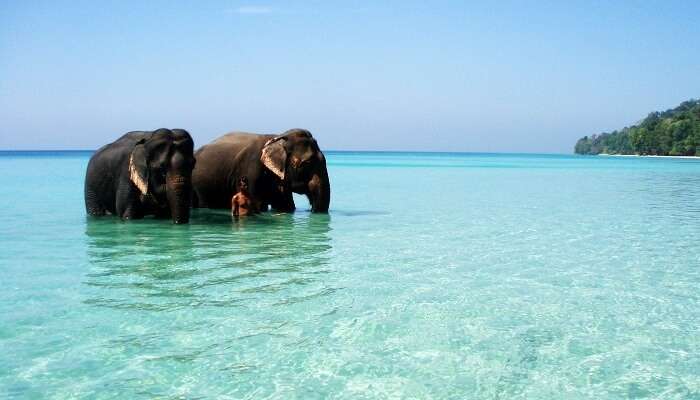 Suggested Read: 7 Top Sea-Facing & Beach Resorts In Port Blair, Andaman
Located at a distance of about 190 kms from the Sumatra region of the Indian Ocean, the Campbell Bay National Park extends across an area of 426 square kms. Being rich in aquatic life, this bustling national park is a home to species like Megapode, crab-eating Macaque, Nicobar Pigeon, and Giant Robber Crab. However, for those who're looking forward to get up & close with nature, the park authorities also offer camps and cabin facilities for an adventurous day out.
Location: Island of Great Nicobar, Nicobar Islands
Timings: 12 AM to 12 Noon
4. North Button Island National Park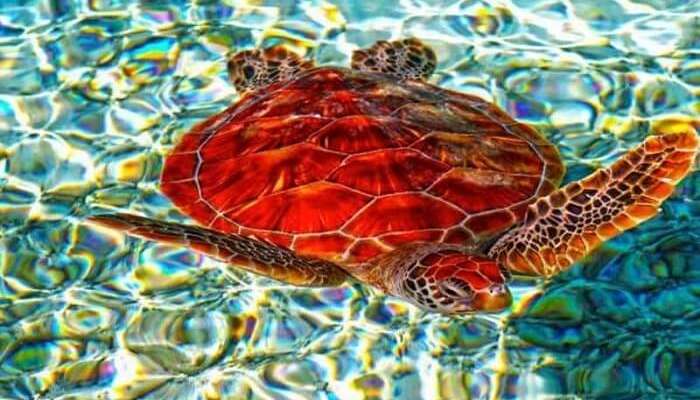 Of the many famous national parks in Andaman and Nicobar Islands, the North Button Island Park is a must-visit one. Spread across an area of 114 square kms, this park attracts tourists from all over the world for its rich presence of diverse animal species. Best explored during the months from December to March, spot endangered species like the dugong, water monitors, dolphins, and many more.
Location: North Button Island, North Andaman Island, India
5. Saddle Peak National Park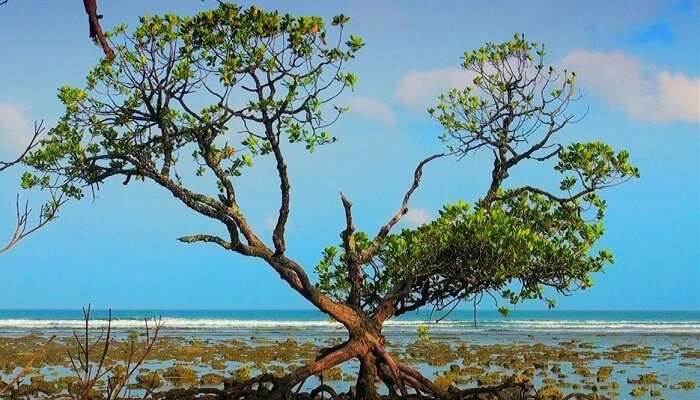 Suggested Read: Scuba Diving In Andaman: 15 Unexplored Sites To Unravel The Colors Of The Ocean
Spanning across an area of 85 square kms, the Saddle Peak National Park lies in the northern part of the Andaman District. Housing rare species of flora and fauna like the wild pig, Andaman hill myna, imperial pigeon, water monitor lizards, and saltwater crocodiles, this park is also a retreat for trekking lovers as it offers an 8-km long trek from its entry to the peak of the mountains.
Location: Saddle Peak, North and Middle Andaman, Islas Andamán y Nicobar, India
Timings: Monday to Sunday – 4 AM to 5 PM
6. Galathea National Park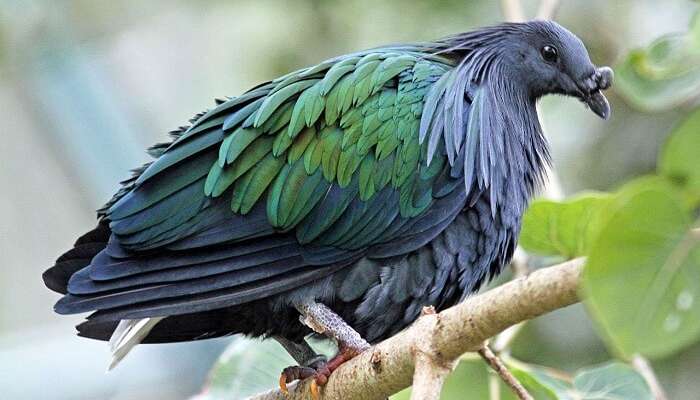 Established in the year 1992, the Galathea National Park is located on the island of Great Nicobar and is a part of the Great Nicobar Biosphere Reserve. Habitat to different species of birds, and animals, this park is separated from the Campbell Bay National Park by a 12-km wide forest buffer zone. There is the provision of the watchtowers in the forest for animal lovers from where they can get the sight of various species like the giant leatherback turtle, pythons, malayan box turtles, and so on. Moreover, the national parks also offers great sites for adventure activities like snorkeling, scuba diving, boating, sea walks, etc.
Location: Island of Great Nicobar, Nicobar Islands
Timings: 12 AM to 12 PM
Further Read: 6 Villas In Andaman That Guarantee A Gorgeous Stay And Sunset!
Showcasing the nature's magic and beauty at its best, include these national parks in Andaman to make your journey even more memorable. And for an hassle-free experience, let TravelTriangle plan your Andaman holiday while you get to chill and relax throughout your vacation.
Frequently Asked Questions About National Parks In Anadaman
Q. How many national parks are there in Andaman and Nicobar Islands?
A. There are nine national parks in Andaman. Among the 9 National Parks of Andaman and Nicobar Islands, Mount HarrietNational Park is the most exotic and one of the most visited national parks.
Q. Which is the smallest national park in India?
A. Smallest National Park in India is the South Button Island National Park of Andaman and Nicobar Islands having an area of 0.03 sq km. Mandla Plant FossilNational Park of Madhya Pradesh has an area of 0.27 sq km which makes it the second smallest National Park of India and the smallest NP in mainland India.
Q. How many national parks are in Arunachal Pradesh?
A. There are eight Wildlife Sanctuaries, one Orchid Sanctuary and two National Parksin the state of Arunachal Pradesh covering an area of 9,488.48 sq km.
Q. Which is the largest national park in India?
A. Hemis National Park is the largest national park in terms of area. It covers around 3350 sq km and is located in leh district of jammu and kashmir. But Jim CorbettNational Park Jim Corbett National Park is one of the most popular wildlife destinations in india.
Q. Which one is the state bird of Andaman Nicobar Island?
A. The Andaman Wood Pigeon is the State bird of Andaman Islands. It is found only in the Andaman & Nicobar Islands. The pigeon being endemic to these islands lives in the dense evergreen forests. The bird colour is a mixture of darkish slate grey in the upper side and light blue grey underneath.
Q. How many national parks are there in J&K?
A. Wildlife in Jammu and Kashmir is as vivid as this wonderful state itself. The state government, till now, has brought about 15,806 sq. km. are under its wildlife protection scheme and runs 5 National Parks, 14 Wildlife Sanctuaries and 37 Conservation Reserves under its Protected Area Network.
Comments
comments