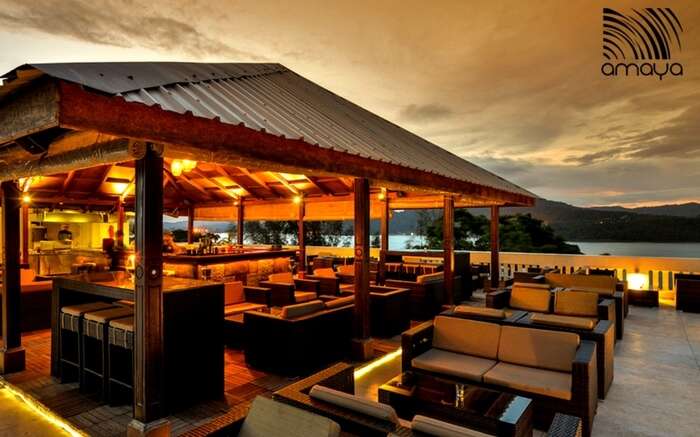 Far to the Southeast of India located in the midst of Bay of Bengal lies Andaman – an exciting island destination packed with soft sugar-white sea beaches, secluded environs, and pleasant climate. But to see all your tropical fantasies take shape you need to look for a perfect retreat. There are dreamy sea facing and beach resorts in Port Blair that open up to magnificent galleries and some breathtaking views. A leisure stroll around the resort area, local seafood delicacies, and ocean's unique preserve make almost all Andaman trips memorable. Beach resorts in Port Blair are few, but plenty of quaint sea-facing resorts – mostly in standard and budget category, make up for the lack.
13 Sea Facing Resorts In Port Blair
Not exactly on the beach, these resorts located in the close proximity of a sea beach are equally endearing.
Peerless Sarovar Portico
The Oceanus Resort
Fortune Bay Resort Island
SeaShell
Hornbill Nest Resorts
Sea Princess
Sinclair's Bay View
Palm Grove Eco Resort
Sun Sea Resort
Fortune Resort Bay Island
Wild Grass Resort, Andaman
Hotel Sentinel
Megapade Resort
1. Peerless Sarovar Portico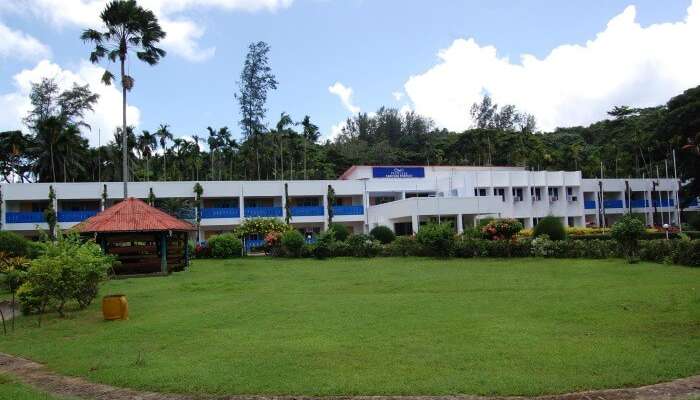 Located by the Corbyn's Cove Beach, Peerless Sarovar Portico Resort is the perfect place to be if you are looking for a cozy stay with the views of sea and horizon. Coconut palm trees and lush tropical evergreen forest around makes for the perfect company. It's here that you won't miss the city life one bit. A glittering dining hall with attached bar and a well-equipped fitness center is the added luxury for all the fellow travelers. 50 appointed rooms, all at your disposal make the right choice if you have stay or meeting on your mind. Besides, the food here is amazing. Don't miss out on awesome Chinese and Continental cuisines.
Suggested stay: Executive Room for all latest amenities and tastefully designed interiors
Tariff: INR 3700 per night onwards
Website | Reviews
Suggested Read: 16 Places To Visit In Port Blair In 2019: The Best Of History, Nature, & Beauty
2. The Oceanus Resort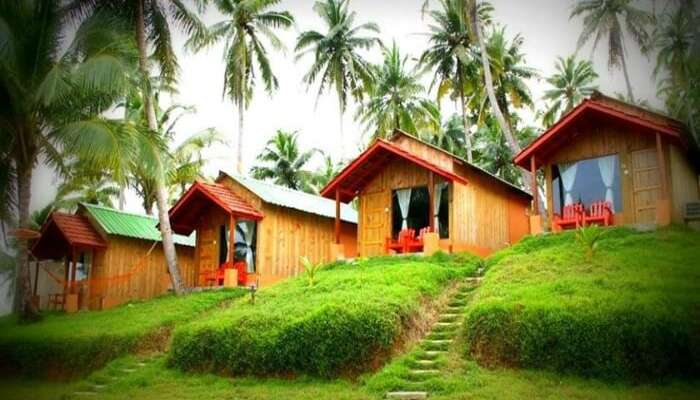 If you live for views, look no further! The Oceanus Resort is your ideal beach view resort in Port Blair. Distinguished for picture-postcard locations around, forest views, and spectacular sunrise views, the eco-friendly resort is the perfect place to be. 9 well-appointed rooms are up for the grabs while the in-house eateries – Whale Bay Restaurant and Morrison Bay Restaurant – serve lip-smacking local delicacies. The 2-star rated property is at a stone's throw distance from the sea shore and has sea facing rooms. Chidiya Tapu at a distance of 25 km from the resort is one of the prime attractions towards the southern tip of Andamans.
Suggested stay: Deluxe rooms for uninterrupted sea view and private sit out
Tariff: INR 5800 per night onwards
Website | Reviews
Suggested Read: Port Blair Honeymoon Guide 2019: For An Experience As Unique As Your Love Story!
3. Fortune Bay Resort Island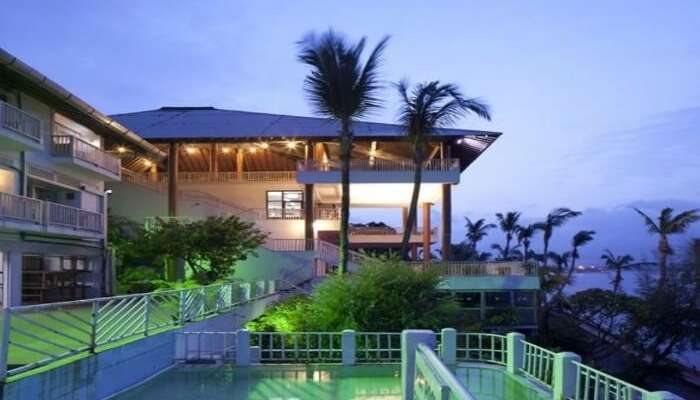 One of the properties of Fortune group, the Fortune Bay Resort is efficiently adept with overwhelming views and pristine blue sea water. Lighthouse overlooking the resort only add to the aesthetic beauty of the resort that has a range of modern amenities and services to offer. Swimming pool, airport transfer, and a well-stocked restaurant/bar are the added luxuries offered to the patrons. No wonder Fortune Bay features among the top 5 resorts in Port Blair.
Suggested stay: Standard room for all the modern amenities
Tariff: INR 6500 per night onwards
Website | Reviews
Suggested Read: How Spending 6 Days In Andaman Gave Our Married Life A Great Start And Was Perfect!
4. SeaShell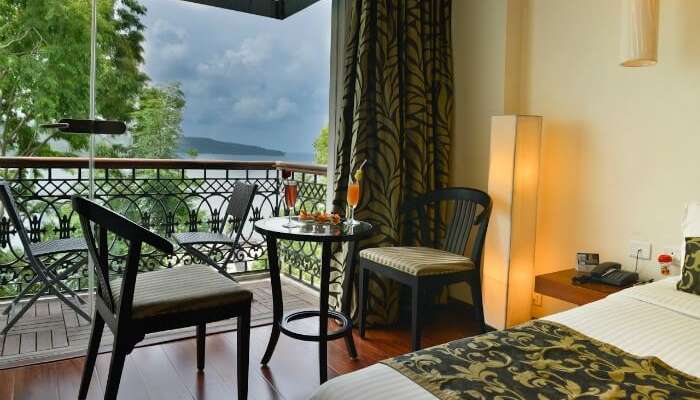 One of the premier beach resorts in Andaman, the SeaShell Port Blair is stationed atop the Marine Hill in Port Blair. It's one of the most strategically placed seaside resorts that offer a panoramic view of the Port Blair city. Rooftop lounge, banquet facilities, and a multi-cuisine restaurant serving a range of gastronomical delights make this resort more fascinating. Beverage and good food topped with the horizon view on a candle-lit night is a dreamy setting for every romantic couple. A candle-light dinner in Amaya – the rooftop lounge is not to be missed!
Suggested stay: Deluxe Rooms for spacious accommodation and private sit-out where you can enjoy uninterrupted sea breeze
Tariff: INR 9000 per night onwards
Website | Reviews
Best beach resorts in Port Blair
A stay in these top resorts gets you exclusive access to beaches with fascinating nature views.
5. Hornbill Nest Resorts
A government-run budget resort in Port Blair, Hornbill Nest Resort is wonderfully placed in the hilly terrains of Andamans, overlooking Corbyn's Cove Beach. It is a superb beach resort in Port Blair – it is affordable, well-maintained, and has rooms with sea facing balconies. A perfect option for budget travelers, the Hornbill Nest is value for money when compared to other private Port Blair beach resorts. The food here is quite simple and hygienic and there is no reason why you wouldn't consider it for an ideal budget accommodation.
Suggested stay: Rooms with sea facing balcony
Tariff: INR 600 per night onwards
Reviews
6. Sea Princess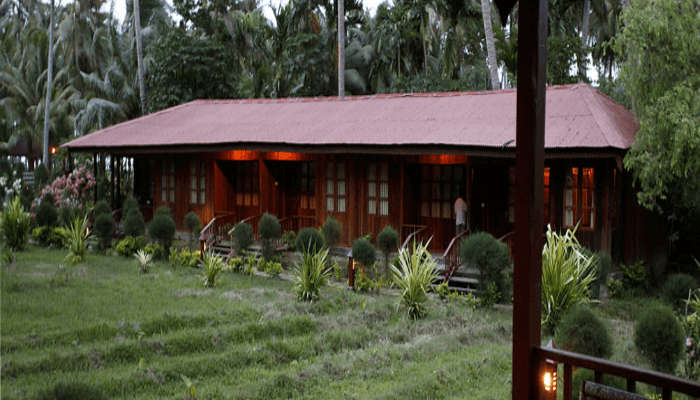 Sea Princess Port Blair is a great beach resort in Port Blair, located on the Wandoor Beach – one of the most popular beaches in Andaman. It is a cozy haven with prompt service and brilliant wooden interiors. Sea Princess also offers travelers some of the most exciting things to do in Andaman. Water activities like snorkeling, Scuba diving, and beach hopping can be enjoyed.
Suggested stay: Beachfront Suites for uninterrupted sea views and private balcony
Tariff: INR 7000 per night onwards
Website | Reviews
7. Sinclair's Bay View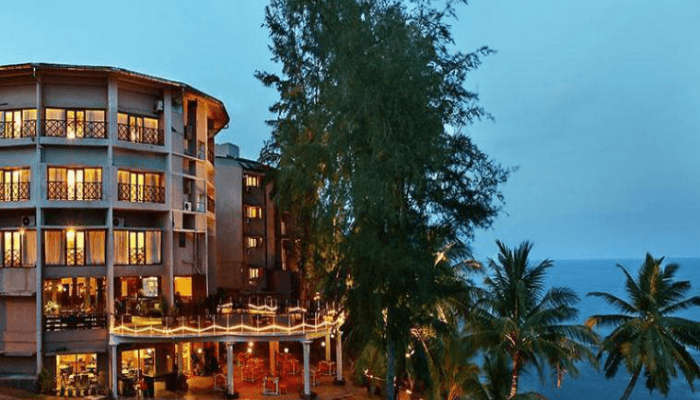 See the sea waves crash on the shore as you stand on the balcony of one of the rooms of Sinclair's Bay View. As you look over the infinite view, a feeling of riding the waves while cruising towards the sunset would fill you from inside. And this is precisely why this is the best beach resort in Port Blair.
At Sinclair's Bay View, uninterrupted vistas are ably complemented by the state-of-the-art decor. Sea Deck is a specially designed space where you can eat, play board games and make yourself feel aboard. Water sports facilities and tropical rainforest around, make it one of the perfect beach resorts in Port Blair.
Suggested stay: Premier Suite for spacious rooms and views of Bay of Bengal and horizon
Tariff: INR 8500 per night onwards
Website | Reviews
8. Palm Grove Eco Resort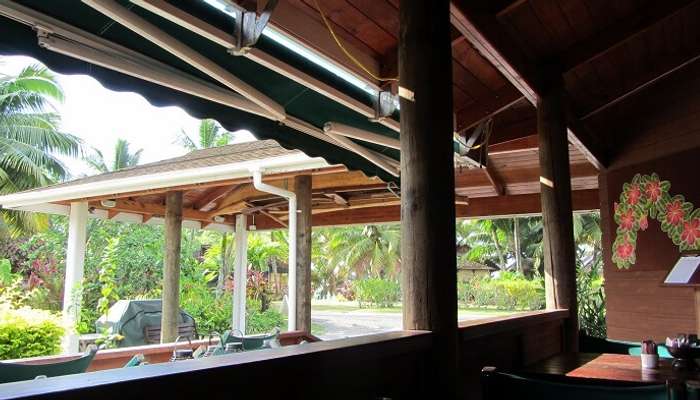 Awarded for promoting ecotourism in the most luxurious way, the Palm Grove Eco Resort is one of the star category resorts. This is one of its own kind of resort where not only the surroundings boast the concept of eco-friendly but the dining, bar, maintenance are also made keeping the environment in mind. There are spacious wooden cottages which offer a luxurious stay in the lap of nature.
Suggested Stay: The tree cottages are the highlight of the resort which offers a unique stay experience.
Tariff: Starting from INR 3,000
Website | Reviews
9. Sun Sea Resort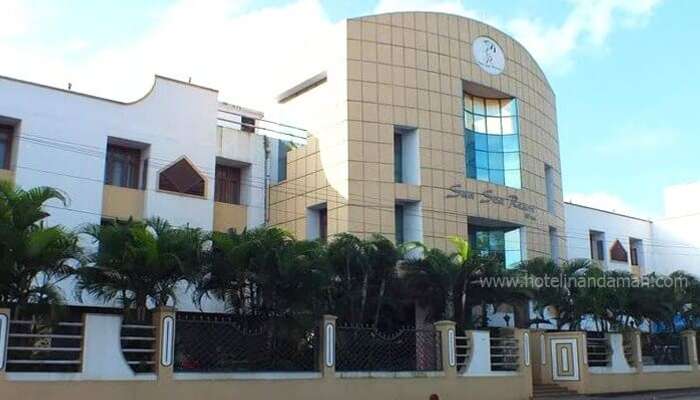 Located close to the airport and bus stand, Sun Sea Resorts is a luxurious retreat which offers a lavish stay. This place keeps the travelers close to Ross Island and Jail Kalapani. With comfortable accommodations and offering all the best amenities, this resort is a perfect retreat to enjoy a perfect vacation. There is a multi-cuisine restaurant and Purple Bar which offers a vast variety of food and beverages.
Suggested Stay: Executive Suite Room
Tariff: Starting from INR 3,500
Website | Reviews
10. Fortune Resort Bay Island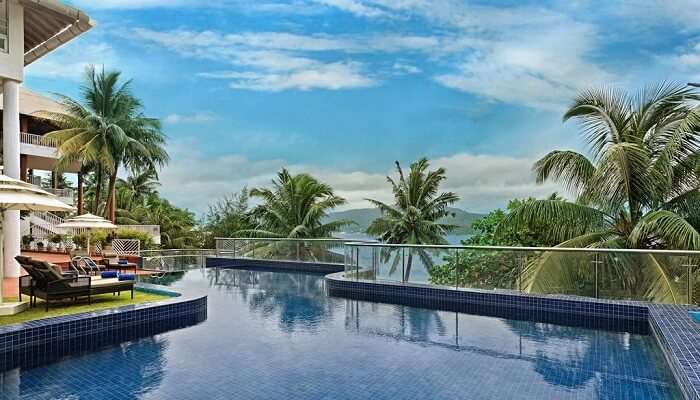 If you're looking for a luxurious stay option, your search will definitely end here. Resting close to the world's last outposts of natural rain-forest islands. Facing the pristine blue waters, this luxurious retreat is one of the best beach view resort in Port Blair. Located at a distance of 15 minutes from the airport, this lavish hotel boasts a beautiful architectural style and all the basic amenities.
Tariff: Starting off at INR 10,000
Website | Reviews
11. Wild Grass Resort, Andaman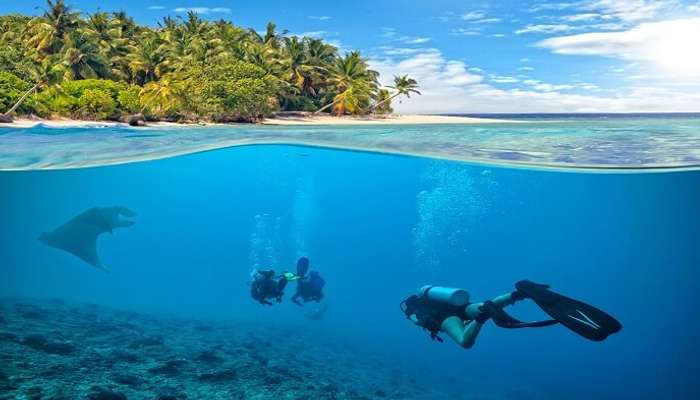 Settled at the southern end of the island, Wild Grass Resort rests at the end of the island of the Chidiya Tapu Beach. Offering a beautiful view of the forest and relaxing retreat, this lavish resort keeps the travelers close to nature. This is also a perfect location to trek and explore the waterfalls in the vicinity. Alongside this, there is a vast bird sanctuary which is home to a variety of birds. Known for its beautiful surroundings, this resort is one of the most beautiful resorts in Port Blair.
Tariff: Starting off from INR 3,100
Website | Reviews
12. Hotel Sentinel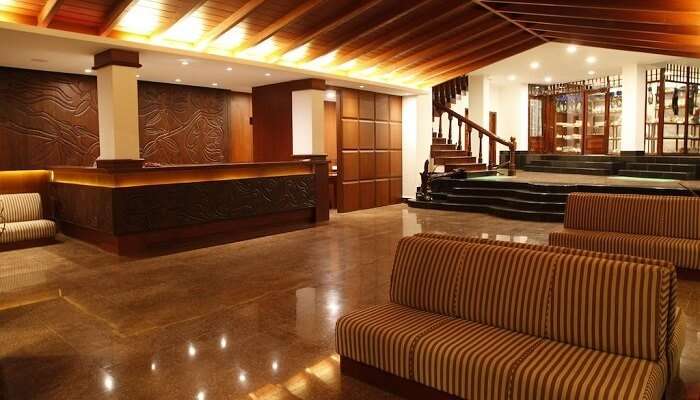 Offering a space to experience a luxurious getaway, Hotel Sentinel is one of the best resorts in Andaman. Boasting a vast array of adventures and fun-filled activities, this place got its name from a local tribe of Andaman. Featuring a contemporary ambience, this resort is worth a stay with all the fancy interiors and delicious seafood.
Tariff: Starting off from INR 9,000
Website | Reviews
13. Megapade Resort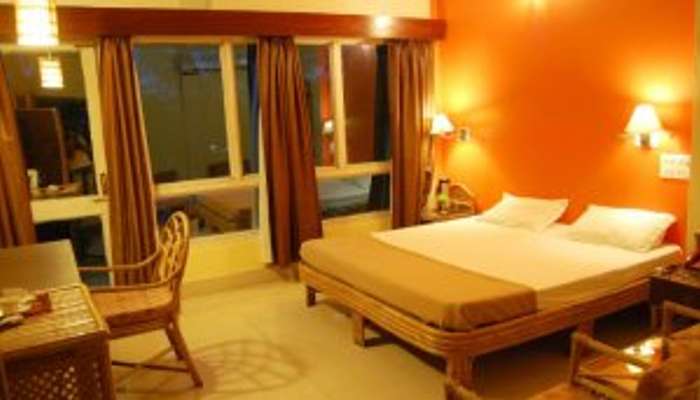 This is one of the best holiday beach resorts in Port Blair. Located just 4 kilometers from the airport, Megapeda Resort is set amidst lush green hills. The resort covers an area of 7.5 acres of land and is therefore highly spacious. Enjoy the breathtaking view of the seascape of Bay Of Benga. You would also get to see Port Blair Harbour. The resort gets its name from a rare endemic scrub species, the Nicobar Megapode.
Tariff: Rs. 7500 to Rs. 3600
Website | Reviews
Further Read: 15 Things To Do In Port Blair That Will Urge You To Plan An Andaman Holiday Now
Adorned with nature's mystic charm from all around, these Port Blair beach resorts have the power to elevate your beach holiday phenomenally. Start with planning an Andaman trip with your family, friends or partner.
Comments
comments