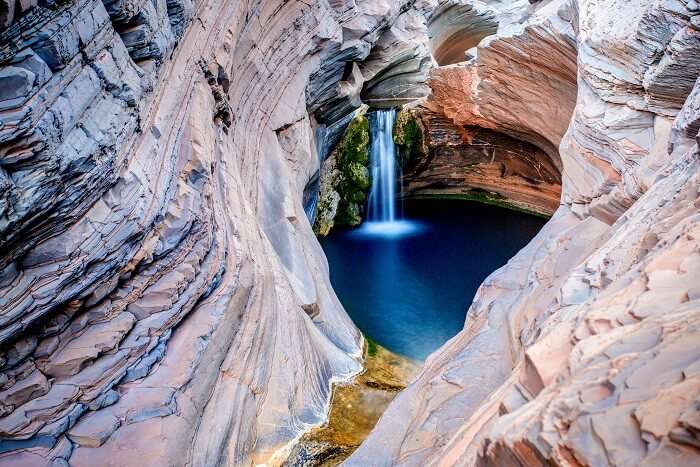 Gorgeous cascading falls, red coloured cliffs, majestic peaks, and endless bushwalking trails are some of the attractions that the national parks in Australia boast of. And beauty isn't all, these national parks have a lot more excitement in store for you. Enjoy the most exotic pool of biodiversity and learn about the aboriginal cultures from the natives themselves as you step into these havens of wilderness. Spend a relaxing vacation away from the city rush or immerse in adventure activities like surfing, caving, hiking, and mountain biking, among other activities.
The Top 10 National Parks In Australia
These national parks are a trove of flora and fauna along with breathtaking scenic views. Listed here are our best picks covering all of Australia:
1. Daintree National Park
Daintree National Park bordering The Great Barrier Reef is amongst the top Queensland national parks. The Daintree runs the longest for around 450 km from Mossman in the south to Cooktown in the north. It is divided into Mossman and Cape Tribulation, and is the oldest rainforest in the world, leaving behind even the Amazon rainforests. It offers easy breezy walks to adventurous climbs for all kinds of visitors. Daintree houses a pool of biodiversity and some unique creatures you won't find anywhere else like Southern Cassowary, Daintree River Ringtail Possum, Buff Breasted Paradise Kingfisher, Lesser Sooty Owl, Ulysses Butterfly, Boyd's Forest Dragon, and Spotted-tailed Quoll.
Best time to visit: May to September
Distance from Cairns: 124.9 km
How to reach:
Nearest airport – Cairns Airport
By Road – self drive or hire a cab
Must Read: Your Complete Guide To Hamilton Island – Know Everything About This Australian Paradise!
2. Port Campbell National Park
Explore the fascinating history of Australia as you walk into this haven of lush greenery and exotic seascapes. Hike up to the cliff tops and walk around the grasslands soaking in sights of the stunning flora and fauna of southern Australia. The top attraction here is the Twelve Apostles, which are the limestone stacks off the shore of this national park. Close to it is another attraction of the park, the Loch Ard Gorge. This gorge is a sight so pretty with a picturesque bay and an inlet of translucent water that it almost seems illusionary. Walk along the white sands as the waves crash along the coast and enjoy sights of plenty of bird species. Look out for Emus, Pelicans, Peregrine Falcons, and Black Swans.
Best time to visit: Year-round
Distance from Melbourne: 229.5 km
How to reach:
Nearest airport – Melbourne Airport
By road – self-drive or hire a cab
Suggested Read: Gold Coast Nightlife: 10 Clubs Where The Party Goes On All Night, All Day
3. Blue Mountains National Park Sydney
A walker's paradise, this world heritage site has almost 140 km of scenic walking trails. It offers both a peaceful retreat to its visitors as well as an expanse full of adventures. One can enjoy activities like hiking, mountain biking, caving, horse riding, abseiling, and rock climbing here. Those who just want to lay back can relax by the beautiful waterfalls and pristine lakes. This national park is a pool of diversity where one can spot Koalas, Kangaroos, and Brushtail Possums amongst other fauna. Gaze at the interesting old stone paintings and absorb the aboriginal heritage of this park as you walk along these scenic nature trails.
Best time to visit: Year-round
Distance from Sydney: 62.4 km
How to reach:
Nearest airport – Sydney Airport
By train – Central Railway Station to Springwood, Wentworth Falls, Leura and Katoomba Railway Stations
By road – self-drive or hire a cab
Suggested Read: 10 Adventurous Theme Parks In Australia To Beat The Heat & Quench That Adrenaline Rush!
4. Freycinet National Park
Occupying a great part of the Freycinet Peninsula, this national park is home to pink granite peaks, sequestered bays, sandy white beaches, and exotic birdlife. The sights and activities it has to offer to make for a great Tasmania holiday. Enjoy the short and long walks along the trails and sunbathe at the pretty beaches for hours. Relax in total bliss as your eyes soak in the blues of the turquoise oceans stretching for miles together. Take a short walk to the Cape Tourville lighthouse for panoramic views of the surrounding locale. Enjoy your own piece of paradise at the Honeymoon Bay Beach which is a perfect little romantic lair.
Best time to visit: December to March
Distance from Melbourne: 690 km
How to reach:
Nearest airport – Melbourne airport
By ferry – Port Melbourne to Devonport
By road – Hire a taxi
5. Royal National Park
If you are looking for an escape or a getaway from Sydney, then the Royal National Park, Australia is the place to count on. The entire 27 km can be covered in a single, yet a very long day trek. But you can always spend a day more as the park offers accommodation and camping sites. Go bushwalking on the beautiful coastal tracks of this second-oldest national park of the world. Walk across the sandstone cliffs, enjoy the views of the coastal crags, and surf at the beaches. The lucky visitors might even spot whales during the winters.
Best time to visit: March to May
Distance from Sydney: 36 km
How to reach:
Nearest Airport – Sydney airport
By road – Self-drive or hire a cab
Suggested Read: 15 Best Hotels In Australia For Those Who Want Nothing But The Best!
6. Flinders Ranges National Park
Walk into the wilderness at this extremely beautiful park, from our list of South Australia national parks, encompassing the red and orange cliffs and fossils from millions of years ago. Absorb the stunning sights as the indigenous guides enrich your knowledge about the local customs and cultures. There are a lot of camping spots around the park to enjoy the true experience of living in and amongst the wild. Enjoy the spectacular views at the Rawnsley Lookout and the Stokes Hill Lookout. Drive through the Bunyeroo Gorge and enjoy the rocky roads and clear creeks on your way.
Best time to visit: May to October
Distance from Adelaide: 472 km
How to reach:
Nearest airport – Adelaide airport
By road – Self-drive or hire a cab
7. Karijini National Park
The ancient rambling gorges, secret pools, and cascading waterfalls tumbling down into pools define this Western Australian national park. Karijini National Park is among the best national parks in Australia. You can enjoy a dip under the Fortescue Falls after scenic walks through the bushwalking trails, as well as pay a visit to the Karijini Visitor Centre to learn all about the aboriginal culture. If you are looking for adventure then try the challenging 10 km hike to Mount Bruce and enjoy the vistas of the Hamersley Range. Dawdle among the wildflowers that you'll find the northern bluebells in full bloom if you are traveling between June and September!
Best time to visit: May to September
Distance from Perth: 1475.4 km
How to reach:
Nearest airport – Perth airport
By road – Hire a car hire from Paraburdoo and Newman
Suggested Read: 15 Scintillating Islands In Australia That You Must Check Out On Your Tour Down Under
8. Great Sandy National Park
The Great Sandy National Park is divided into two sections of the Cooloola and the Fraser Island. Experience nature and the pristine waters as you canoe along the Noosa River. You can also go fishing at the Kin Kin Creek and Noosa River. Do not forget to wear your walking shoes as the park offers a great number of bushwalking trails. The Melaleuca woodlands and the pockets of rainforests you'd walk through are definitely a treat to sore eyes!
Best time to visit: Year-round
Distance from Brisbane: 160 km
How to reach:
Nearest airport – Brisbane Airport
By road – Self-drive or hire a cab
9. Litchfield National Park
If you are looking to enjoy stunning landscapes, then Litchfield National Park, Australia is just a short drive from the city of Darwin. It is a terrain full of beautiful waterfalls and scenic landscapes. Enjoy a refreshing swim at the Florence Falls while you are here. The other spectacular falls in the region are the Wangi Falls and the Tolmer Falls. Another unique attraction in the park is the magnetic termite mounds that can be spotted while you're driving along the park's main road. If you are looking for some seclusion then take a walk along the Tabletop Track but do not forget that it is closed during the wet season.
Best time to visit: Year-round
Distance from Darwin: 115.5 km
How to reach:
Nearest airport – Darwin International Airport
By road – self drive or hire a cab
Suggested Read: Shopping In Australia: The Answer To What And Where To Buy During Your Tour Down Under!
10. Kakadu National Park
Kakadu, a world heritage site, isn't just a national park but a living cultural land which is a link between the Aboriginal conservators and the realm they have tended for generations. Kakadu is a treasure trove of Aboriginal art sites, out of which the Ubirr's rock art must not be missed as it is considered amongst the best in the world! Explore the park with an indigenous guide as you wouldn't want to step into the mouth of a croc lurking for its prey! Enjoy the wetlands, streams, and sandstone slopes as you wander into this beautiful national park. Also, it is the largest national park in Australia.
Best time to visit: April to October
Distance from Darwin: 150.8 km
How to reach:
Nearest airport – Darwin International Airport
By road – Self-drive or hire a 2WD or 4WD vehicle in Darwin
11. Wilsons Promontory National Pakr
Image Source
This hidden gem is one of the best national parks in Australia. The pink colored boulder mountains, azure blue waters, and white powdery sand will leave amazed and stupefied. This park is famous among camping lovers and bushwalkers. So, it is suggested you book your spot in advance. Located on the southeast peninsula of Melbourne, there is an abundance of wildlife to discover on this island which includes kangaroos and wombats.
Best time to visit: December-January is the most crowded time
Distance from Melbourne: 225 km
How to reach:
Nearest airport: Melbourne Airport
By Road: Take a public transport bus till Fish Creek from Melbourne and then hire a taxi to complete last 50 km leg of the journey.
Australia National Parks Map
Further Read:10 National Parks In France For The Perfect Escapade Into The Wilderness
Enticed to drift into the lands of grace, adventure, tranquility, and wilderness of these beautiful national parks in Australia? Book your trip to Australia with TravelTriangle right away!
Frequently Asked Questions about National Parks in Australia
What is National Parks pass in Australia?
A National Park pass in Australia entitles you to unlimited access to all national parks in Western Australia. The pass is valid for one vehicle, with up to 12 legally seated people.
Which are the national parks located in Western Australia?
National parks located in Western Australia include: 1. Karijini National Park 2. Purnululu National Park 3. Nambung National Park 4. Kalbarri National Park 5. Cape Range National Park
---
Looking To Book An International Honeymoon?
Book memorable honeymoon on TravelTriangle with 650+ verified travel agents for 65+ domestic and international destinations.
---