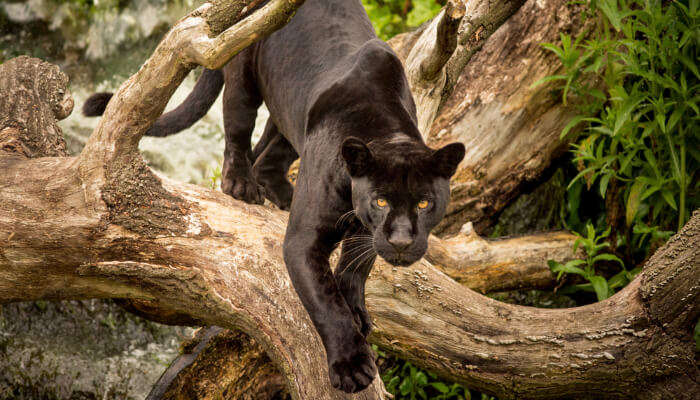 Goa is much more than just beaches, parties, and hippie culture. This happening destination is home to a diverse range of flora and fauna that bring a large number of the world's wildlife enthusiasts and nature lovers here every year. Set in the Western Ghats, Goa's thick jungles, expansive marshes, alluring hills, glistening lakes, and meandering rivers provide shelter to an overwhelming range of plant, animal, and bird species that are sure to blow your mind. So, when you visit again, make sure you venture into these national parks in Goa that will make you fall in love with a side of Goa you never knew existed!
7 Eminent National Parks In Goa
Explore these fascinating wildlife sanctuaries and national parks of Goa that will bring you face to face with its wild side!
1. Bhagwan Mahavir Wildlife Sanctuary
Bhagwan Mahavir National Park in Goa is the most famous national park and nature reserve in Goa. spread over a whopping 240 sq. km of area, this is a protected reserve located in the lush Western Ghats. Home to the famous Dudhsagar Waterfalls, this area is known for its unspoiled vegetation that constitutes tropical evergreen, semi-green, and moist deciduous forests with a few sparkling streams meandering through them.
Other than this elegant waterfall, this forested area is also home to the Dhangar nomadic buffalo herders who live in harmony with the flora and fauna of this beautiful sanctuary. The core area of this wildlife sanctuary park takes up an area of about 107 sq. km and was declared a protected national park in 1978. Now known as the Mollem National Park in Goa, it's an adventurous hub with jungle safaris, night safaris, bird watching, and various forest trails for hiking.
Fauna: Gaur, Panther, Spotted Deer, Sambar Deer, Mouse Deer, Barking Deer, Wild Boar, Porcupine, Wild Dog, Leopard Cat, Bonnet Macaque, Common Langur, Jungle Cat, Civet, Flying Squirrel, Malabar Giant Squirrel, Pangolin, Slender Loris, Tigers (occasionally), King Cobras, Python, Krait, Viper. The avifauna includes Indian Black Woodpecker, Malabar Pied Hornbill, Paradise Fly Catcher, Fairy Blue Bird, Wagtails, Barbets, Great Indian Horn Bill, Kingfishers, Shrikes, Emerald Dove, Grey Jungle Fowl, Blue Mormon, Common Jezebel, Common Mormon.
Location: Goa 403410
Opening hours: 8 AM – 5:30 PM
Best time to visit: October to March
Must Read: 9 Interesting Museums In Goa: Tour The Ancient Showcases In 2022
2. Bondla Wildlife Sanctuary
This is amongst the smallest wildlife sanctuaries and national parks in Goa and is spread over an area of only 8 sq. km. It's the favorite spot of all nature lovers and wildlife enthusiasts who visit Goa owing to the fact that it is home to over 150 species of birds and a large variety of animals and plant species.
Bondla Wildlife Sanctuary is an excellent spot for a family outing with young children who wish to see animals at close range in their natural habitat, and also because the park offers various fun avenues like a zoological park, a huge deer park, and a botanical and rose garden in its premises. Lying in the foothills of the lush Western Ghats, the Bondla reserve is located just 50 km from the city of Panjim in Goa.
Fauna: Leopard, Panther, Sambar Deer, Spotted Deer, Hog Deer, Barking Deer, Mouse Deer, Wild Boar, Porcupines, Scaly Ant Eater, Malabar Giant Squirrel, Indian Bison, Indian Peafowl, Pythons, Vipers. The avifauna includes Common Grey Hornbill, Golden Backed Woodpecker, and many more.
Location: Usgao-Ganjem VP, Goa 403105
Best time to visit: December and January
Opening hours: 9 AM – 5 PM
Suggested Read: Sao Joao Festival In Goa In 2022: Soak In The Spirit Of Celebration!
3. Netravali Wildlife Sanctuary
Located in Sanguem Taluka of eastern Goa, this pristine wildlife reservation covers an area of about 211 sq. km and boasts of an enormous range of flora and fauna, luring in wildlife enthusiasts from around the world. It draws its name from the Netravali tributary of the Zuari River that flows through this forest and makes up for an extremely important source of freshwater in this region.
It's one of the most photogenic national parks in Goa owing to some really enchanting and dreamy foliage constituting of deciduous, semi-evergreen, and evergreen forest types as well as a massive variety of butterflies like Black Rajah, Gaudy Baron, and Malabar Tree Nymph! You can easily get here via a taxi or hired vehicle from the nearest airport in Dabolim.
Fauna: Black Panthers, King Cobras, Giant Squirrels, Slender Loris, Malabar Tree Toad. The avifauna includes Great Pied Hornbill, Nilgiri Wood Pigeon, Grey Headed Bulbul.
Location: Verlem, Goa 403704
Best time to visit: October to March
Opening hours: 8:30 AM – 4:30 PM
4. Cotigao Wildlife Sanctuary
The forest cover of Cotigao Wildlife Sanctuary located in the Canacona area of South Goa is so thick that sunlight rarely ever reaches the ground. It's among the most fascinating national parks in Goa with tall trees and some rare species of plants. A prominent name in the list of national parks in Goa, Cotigao reserve attracts a huge number of nature lovers and botany enthusiasts owing to its vast and diverse range of flora.
It attracts adventure enthusiasts with its eight nature trails ranging from 500 meters to 5 km. It's one of the most peaceful and untouched wildlife sanctuaries in the region and is just 12 km away from Palolem Beach. You can even stay at the forest department's rest house here once you've obtained the required permit from the Deputy Conservator Of Forests in Panaji.
Fauna: Monkey, Wild Boar, Gaur, Flying Lizard, Golden-Back Gliding Snake. The main avifauna includes Malabar Trogon, White-Bellied Woodpecker, and Velvet-Fronted Nuthatch.
Location: Canacona Taluka, Khotigao, Goa 403702
Opening hours: 7 AM – 5:30 PM
Best time to visit: October to March
Suggested Read: 17 Luxury Villas In Goa: Ditch Hotels For An Intimate Escape In 2022
5. Mhadei Wildlife Sanctuary
Charming waterfalls like the Vazra Sakla Waterfalls and the Virdi Falls are a prominent feature of the Mhadei Wildlife Sanctuary. It's a well-known biodiversity hotspot that has been tagged as an area of high endemism by Conservation International. It was recently declared a tiger reserve after a number of tigers were sighted in the area over a considerable period of time. In fact, it has been proposed to make Mhadei a part of the Project Tiger Reserves.
In terms of flora, the Mhadei sanctuary is also home to over a thousand species of flowering plants as well as a huge variety of endemic orchids. It's one of the best national parks in Goa for birdwatchers, bird photographers, ornithologists and has been awarded the title of an International Bird Area. The park has more than 250 resident and migratory bird species here other than over a hundred species of butterflies.
Fauna: Tigers, Indian Gaur, Barking Deer, Sambar Deer, Ruddy Mongoose, Asian Palm Civet, Black-Faced Langur, Leopard, Sloth Bear, Black Panther, Dhole, Mouse Deer, Jungle Cat, Indian Pangolin, Slender Loris. The avifauna includes White-bellied Blue-flycatcher, Malabar Parakeet, Nilgiri Wood-pigeon, Malabar Grey Hornbill, Rufous Babbler, Grey-headed Bulbul, Crimson-backed Sunbird.
Location: Valpoi, Goa 403505
Opening hours: 8 AM – 5 PM
Best time to visit: December to February
Suggested Read: Plan A Honeymoon In Goa In 2022 And Ride The Myriad Waves Of Romance
6. Salim Ali Bird Sanctuary
Salim Ali National Park in Goa is the only bird sanctuary in all of Goa and spans over an area of 1.8 sq km. The sanctuary is essentially a mangrove swamp that is located on the western tip of the Chorao Island along the Mandovi River. It's a nature's paradise with a variety of local and migratory species that attract birdwatchers, bird photographers, and ornithologists around the year and delights them with its enormous range of exotic and rare birds.
The park has a watchtower to allow bird watchers to get a better look at the winged visitors of the park. However, the best way to explore this park and its chirpy residents is by taking a boat ride along the Mandovi River. And the only way to visit the park is by taking prior permission from the Chief Wild Life Warden of the Panjim Forest Department. In order to get here, all you have to do is take a ferry to the island of Chorao and walk to the reserve area from the Chorao ferry wharf.
AviFauna: Varieties of Eagle, Drongo, Kingfisher, Egret, Heron, Kite, Myna, Curlew, Sandpiper, Redshank, Hoopoe, Woodpecker, Bittern, Red Knot, Snipe, and Avocet.
Fauna: Jackal, Crocodile, Fox, Python, Planktons, Mudskipper
Location: Chorao Island, Ilhas, Ribandar, Goa 403006
Opening hours: 6 AM- 6 PM
Best time to visit: Year-round
7. Anshi National Park
The Anshi National Park in Goa is also referred to as the Kali Tiger Reserve and is essentially one of India's most eminent protected reserve forests. Lying in Uttara Kannada district of Karnataka state, the Anshi National Park isn't really a part of the Goan district. It is located a few kilometers away and its boundless natural beauty makes it a great spot for a day trip from Goa. it's located very close to Dandeli Wildlife Sanctuary as well as the Bhagwan Mahaveer Wildlife Reserve of Goa.
Located in the Western Ghats and a part of the Nilgiri biosphere, Anshi is a true paradise with lush evergreen forests, rare plant species, and a rich fauna, all of which are sourced by river Kali and its tributaries. Some of the prominent attractions in this forest area include the Syntheri Rocks, Ulvi Temple, and the Kali River Dam. Other than wandering amidst the rich foliage and spotting animals and birds, visitors can indulge in a number of activities here like rock climbing, mountain biking, rafting, kayaking, camping, jeep safari, trekking, and bird watching.
Fauna: Black Panther, Elephant, Tiger, Indian Bison, Sloth Bear, Indian Wild Boar, Bonnet Macaque, Northern Plains Gray Langur, Gray Slender Loris, Barking Deer, Mouse Deer, Sambar Deer, Spotted Deer, Wild Dog, Jackal, Jungle Cat, Leopard, Civet, Mongoose, Flying Squirrel, Porcupine, Indian Giant Squirrel, Pangolin, King Cobra, and Viper. The avifauna includes Ceylon Frogmouth, Hornbill, Asian Fairy Bluebird, Stork, Ashy Woodswallow, Black-crested Bulbul, Blue-headed Pitta, Brahminy Kite, Broad-billed Roller, Crested Serpent Eagle, Golden-backed Woodpecker, Sri Lanka Frogmouth, and Yellow-footed Green Pigeon.
Location: Kodthalli, Karnataka 581187
Distance from Goa: 123.7 km (2 hours 56 minutes)
Opening hours: Open 24X7
Best time to visit: November to June
Further Read: 41 Best Places To Visit In North Goa In 2022 For A Kick-Ass Beach Holiday!
Doesn't this just make you want to gallivant away Goa right this instant? Well, don't think too much and just book an adventure-packed holiday in Goa for an action-packed affair in its wilderness. Discover exotic flora and fauna as you ride into these dauntless and evergreen wildlife sanctuaries in Goa with your adventure-loving pals.
People Also Read:
National Parks In Himachal Pradesh National Parks Of Madhya Pradesh National Parks In Assam