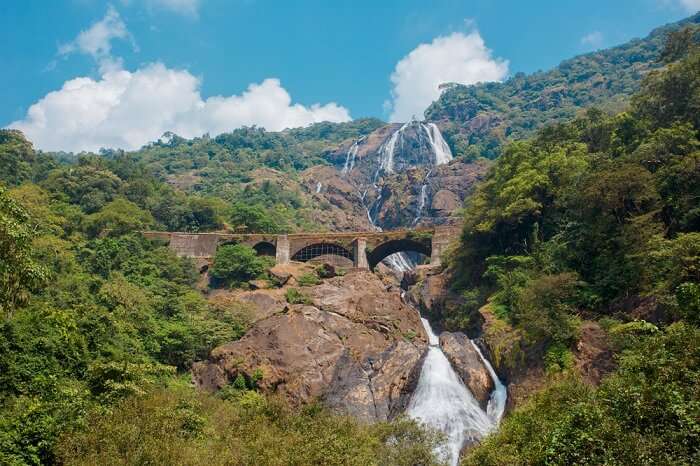 The riveting brilliance of God's creation is depicted in the startling marvel of Dudhsagar waterfall. Strategically located on the Goa-Karnataka border (but mainly in Goa), the gorgeous waterfall attracts thousands of tourists to its bounty. The gushing water from the streams creates an illusion of milk flowing through the mountains. As if a background out of Michelangelo's painting, it exudes power and beauty. The strong currents and rushing sound of water subdue all other unnecessary chatter from your mind. A light shower from the Dudhsagar waterfall on your face can make all the chaos of life seem insignificant.
Best Time To Visit Dudhsagar Falls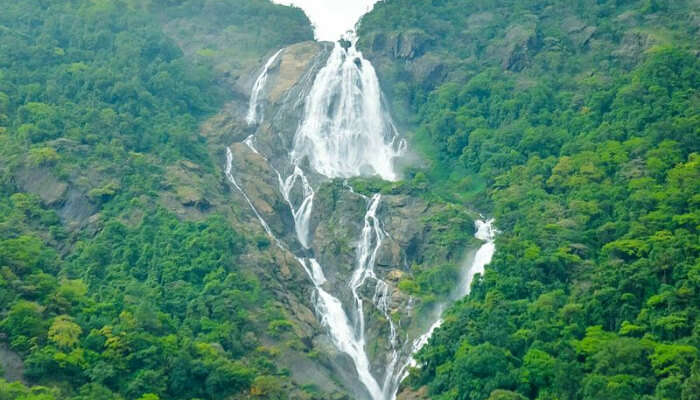 Image Credit: Lizloy from Wikimedia
The best time to visit Dudhsagar waterfalls depends on what you want to encounter at these magical streams or the club of streams. October to June will give you pleasant weather and gushing, tamed water in the waterfall. Monsoon months from July to September see furious, yet exquisite water flow.
Must Read: 13 Essential Goa Travel Tips You Must Abide By To Make Your Vacation Happening And Memorable
Geographic Description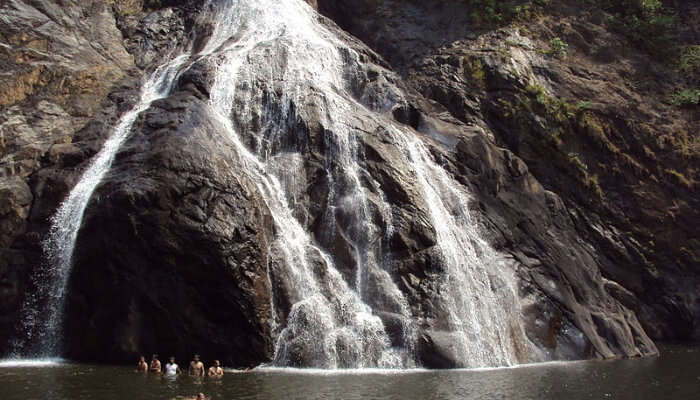 Image Credit: Jagadhatri from Wikipedia
The three streamed, the four-tiered waterfall is the fifth highest waterfall in India with a staggering 600-meter height to its attribute. Accessible only by train or on foot, Dudhsagar is one of the finest and most pristine pieces from nature's collection. The first sight of the milky white waterfalls can spell-bind even the direst of people. It is as surreal as an oasis of water, right in the middle of Thar Desert. Dotted with rich vegetation on every side, here, only the excited and enthusiastic eco-tourists will be your companions. Other times, the local villagers will engross you with their acumen and warmth. More often than not, Indian macaques try to befriend you.
The railway track is the perfect vantage point to appreciate this magnificence. And the view is splendid as the vapour arising from the exuberantly gushing water forms a painting of clouds descending to witness the awe-inspiring falls. You can look at good 200 m up to the fall and down to the green lake in the luscious Bhagwan Mahavir Wildlife Sanctuary, which is a decent 100 m downwards from the track. The foam of water at the base of waterfalls gives it an ethereal aura. The green puddle is a good picnic spot where you can take a swim and have a fun day with your family and friends.
Suggested Read: 7 Unexplored Beaches Near Vasco Da Gama That You Must Check Out On Your Next Trip To Goa
Myth And Legends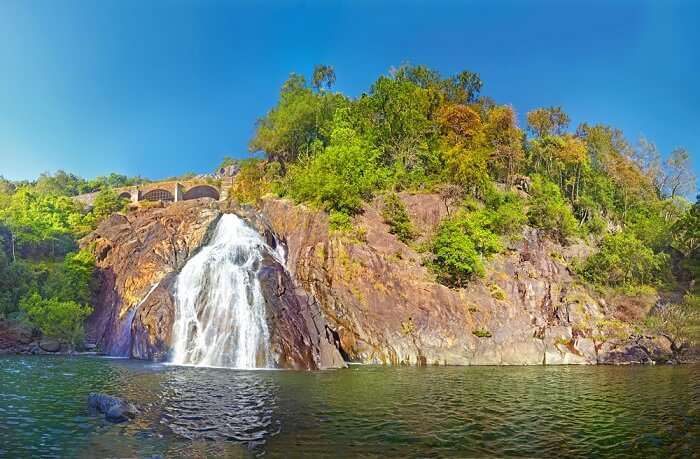 Fables state that there was a beautiful princess who used to love taking a bath in a lake near her abode, presently Dudhsagar. In her bathing ritual, it was given that she would finish her bath with a drink of sweetened milk in her gold mug. One fine day when she was out having bath in the lake, she noticed a charming prince gazing at her from afar. She immediately spilled the milk in the water to bar his view through the crystal clear water of the lake. It is said that it is her mug of milk that is flowing endlessly in the streams of the waterfall, hence the name 'Dudh'sagar waterfall. To this day, nothing has been unable to take away the fall's pristine whiteness. It is said to signify the virtue and modesty of that pampered princess, till date.
Suggested Read: 15 Best Casinos In Goa Where One Can Try Their Luck On Board!
---
Looking To Book A Holiday Package?
---
Best Places To Visit Near Dudhsagar Waterfall
Here is a list of the most famous places to visit near Dudhsagar Waterfall that you must add to your itinerary. Keep scrolling down and read along to know more about them!
1. Tambdi Surla Temple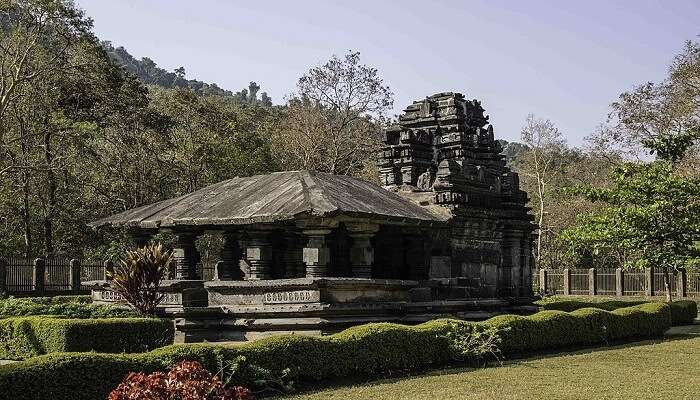 Image Credit: Mahabalaindia for Wikimedia Commons
Famed as the Mahadeva Temple, Tambdi Surla Temple was built in the 12th century. Mahadev temple is one of the most beautiful places to visit near Dudhsagar Waterfall for all nature lovers. Constructed in Kadamba style, this gorgeous temple is one of the prime temples that attract a lot of Hindu devotees all year round. You can marvel at its marvellous structure and attend the grand celebrations held every year on Mahashivratri. This place can be easily reached from the Dudhsagar railway station.
Distance From Dudhsagar Waterfall: 30 Km
Location: Near Bhagwan Mahaveer Wildlife Sanctuary, Sanguem, Surla, Goa
Suggested Read: Trekking In Goa: 14 Trails That Are Ideal For An Adventurous Experience
2. Bhagwan Mahavir Wildlife Sanctuary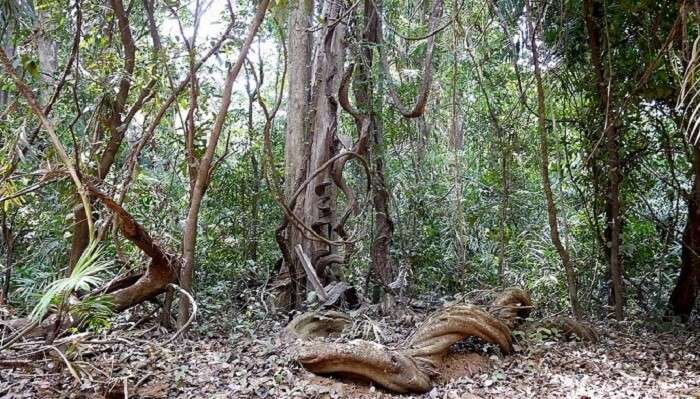 Image Credit: Dinesh Valke for Wikimedia Commons
Bhagwan Mahaveer Sanctuary and Mollem National Park are located in Sanguem taluk, Goa. If you are up for having an encounter with the wild animals then this is the perfect place for you. You can reach this wildlife sanctuary in 17 minutes by a car from the waterfall. If you are interested in hiking then you can walk your way to this sanctuary and reach in 1 hour. You can spot mammals like barking deer, wild boar, Bengal tiger, and wild dog. You can also spot various vibrant species of birds like emerald dove, greater Indian hornbill fairy bluebird, and golden oriole.
Distance From Dudhsagar Waterfall: 4.7 Km
Location: Goa
Suggested Read: 10 Yoga Retreats In Goa That Will Let You Be In Touch With The Spiritual Realm
Things To Do At Dudhsagar Waterfalls
Here is a list of the most exciting activities that you must try while you are exploring Dudhsagar waterfalls. Keep scrolling down and read along to know more about them!
1. Castle Rock Trek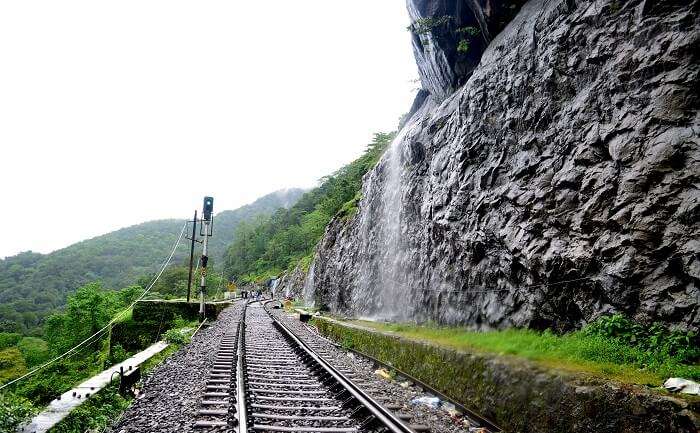 The trek is 14 km long and usually takes around 5 hours from end to end. The scenic beauty that surrounds the track is hypnotizing. There are several tunnels and railway crossings that you would have to traverse during your trek. Usually a trek of easy to moderate density, it is one of the most scenic treks near Mumbai and Pune.
Suggested Read: Goa Carnival Is Here To Make You Go Bonkers
---
Planning your holiday but confused about where to go? These travel stories help you find your best trip ever!
---
2. Kulem – Dudhsagar Waterfall Trek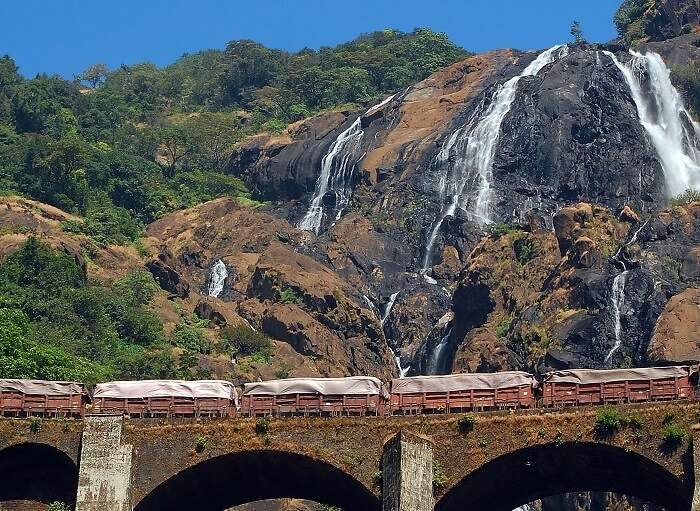 Kulem – Dudhsagar Waterfall Trek is a 12 km long trek which takes you around 4 hours to cover, and 5 hours if you take several pit stops to capture the surrounding beauty in your camera. The mud trails which you take for the trek are slippery so you need to be careful while taking them. Although in the midst of wilderness, these mud trails can be your perfect picnic spot with friends.
Suggested Read: 41 Awesome Places To Visit In North Goa For A Kick-Ass Beach Holiday!
3. Camping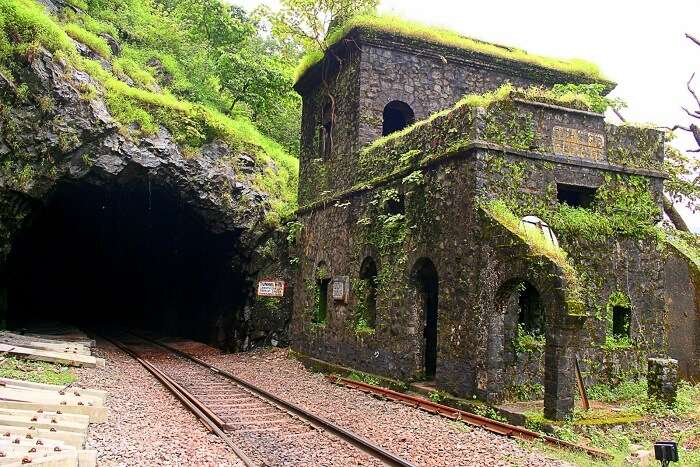 Hidden amidst the wilderness of Dudhsagar, is an adventure camp – Castle Rock Adventure Camp. Bunker beds, calm surroundings, next to a non-existent internet connection, serene playgrounds, and various trekking expeditions define this camp. Right next to all the hoopla, this can be your hunting ground of you are looking for a truly offbeat destination in India. You can spend your night here for a measly INR 150 onwards per night. The food and other amenities may add up to extra cost, but be assured that it won't amount to much.
Suggested Read: 32 Hidden Places In Goa: Explore The Unexplored Side Of Goa
How To Reach Dudhsagar Waterfalls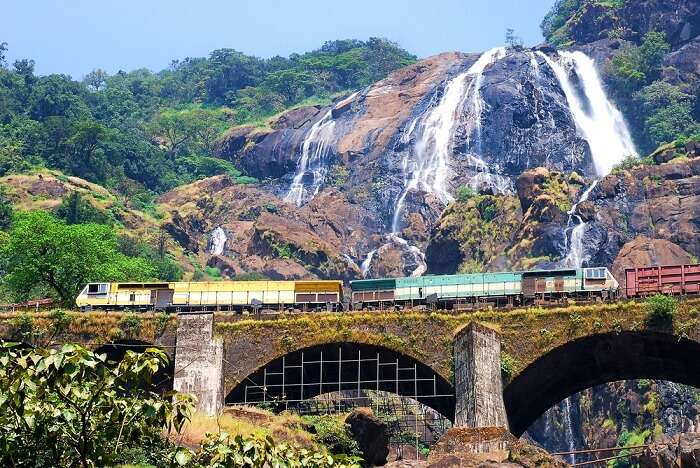 There are three ways – by train, by jeep, and on feet – to reach these illustrious waterfalls. While extremely different, yet these routes are graced with stunning beauty and their own set of attractions.
By Train:
If you are traveling to Dudhsagar by train, pick any of the three options:
The first option is to take a morning train from Madgaon in Goa to Kulem. From Kulem, hop on to a goods train to reach your destination. Although the stop is unofficial, request the train driver and he might oblige you.
Alternatively, take a train to Castle Rock station and get off in the nearest tunnel to the Dudhsagar waterfalls.
Take a train to Sonalium Railway Station, which is hardly a few km from the Dudhsagar waterfall.
P.S. Don't confuse the Kulem with Kalem, as these stations are at opposite ends.
By Road: If you prefer going to Dudhsagar by road, take a jeep from Kulem to Dudhsagar on the mud trails. It'll take you to the base of the waterfall in less than an hour. One jeep can accommodate 6 to 8 people at a time, and the cost would come out to be INR 450 per person. However, this is the least thrilling of all the available options.
By Trekking: The last and most rewarding, yet arduous way to reach is to trek to Dudhsagar. There are two tracks which you can take as per your convenience.
Further Read: 15 Crazy Festivals In Goa You Need To Witness Atleast Once In Your Lifetime
Enough of the fables! So, are you ready to explore this exquisite, hidden beauty soon? If you are all excited then you should plan your vacation in Goa right away. Dudhsagar waterfall will make for an excellent spot for a blissful vacation. Do comment below and let us know how your trip turned out to be!
For our editorial codes of conduct and copyright disclaimer, please click here. 
Frequently Asked Questions About Dudhsagar Waterfall
Why is Dudhsagar Waterfall famous?
This majestic waterfall is famous for its enticing beauty and the white waters gushing through the steep and vertical edges of the mountains makes it a dream-like place. The place is ideal for nature lovers and photographers.
What is the best time to visit Dudhsagar Waterfall?
The waterfall is offers spellbinding views during monsoon which lasts from June to September. However, if you wish to capture the true beauty of this waterfall then plan your visit soon after the monsoon season. November and December months are also ideal for planning a getaway to Dudhsagar Waterfall.
Can we go for picnic at Dudhsagar Waterfall?
Yes, you can surely plan a picnic to Dudhsagar Waterfall. During monsoon the flow of water rises and it is advisable to check weather forecast before planning a trip during monsoon season.
Is it safe to visit Dudhsagar Waterfall?
Yes, it is safe to visit Dudhsagar Waterfall. If you are planning your visit during monsoon then do check the weather forecast before planning a visit.
---
Looking To Book An International Holiday?
---
People Also Read:
Waterfalls In Rajasthan Waterfalls In Gujarat Waterfalls In Calicut