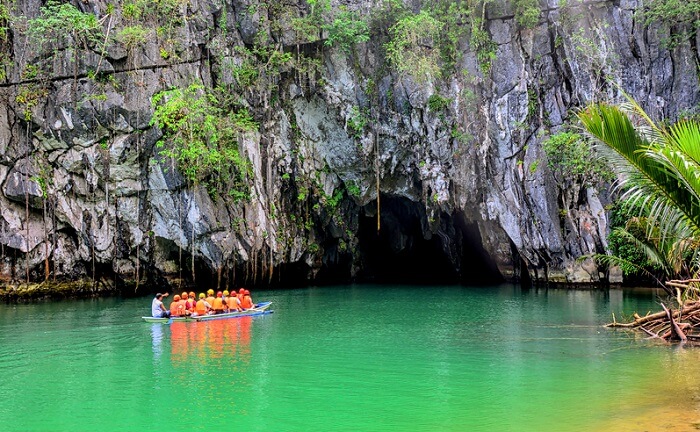 Home to more than 7000 islands, the Philippines has innumerable picturesque attractions for every type of traveler. While that already makes it a paradise for nature admirers, what makes it a haven for wildlife enthusiasts are the national parks in the Philippines. Brimming with natural beauty and thrilling experiences, these parks are the ultimate spots to visit if you're an explorer at heart.
And since there are more than 30 parks in the country, here are the 10 best to begin your adventurous journey with!
10 Best National Parks In The Philippines That You Must Visit!
1. Calauit Safari Park
Located on Calauit Island just off the coast of Palawan, this safari park is a renowned game reserve and wildlife sanctuary in the Philippines. From an array of flora to a diverse fauna, you can witness everything here. But, the park is most popular for being home to hundreds of giraffes. And so, wildlife spotting is one experience that definitely wouldn't be disappointing if you visit here.
Ideal For: Wildlife spotting and photography
Location: Busuanga, Palawan, Philippines
2. Puerto Princesa Subterranean River National Park
Suggested Read: 15 Exotic Resorts In Philippines For A Spectacular Beach Vacation
Home to exotic wildlife and an ideal habitat for biodiversity conservation, this is not just one of the top 10 national parks in the Philippines, but is also one of the famous World Heritage Centers as named by the UNESCO. From capturing spellbinding sights to experiencing the most thrilling adventures, you'd surely have the best time here.
Ideal For: Zip lining, taking a river tour, and beach activities
Location: Puerto Princesa, Palawan, Philippines
3. Hundred Islands National Park
Housing more than a hundred mushroom-like islands, this national park is the most unique place to see in the Philippines. And while there are actually innumerable isles in the southern Gulf, only three of these are open to tourists such as the Governor's Island, Quezon Island, and the Children's Island. All three of these are perfect for having a family outing and a memorable experience.
Ideal For: Camping, snorkeling, and enjoying an aerial view of the region
Location: Alaminos, Pangasinan, Philippines
4. Aurora Memorial National Park
Suggested Read: 5 Hotels In Philippines To Satiate Your Luxury Cravings
Another protected area, which is located between the Sierra Madre mountain range, this national park is the best place to visit if you're looking for a peaceful escape. Apart from bird watching and wildlife spotting, another great thing to do at the eco-tourism destination is witnessing the important rainforests of the region.
Ideal For: Bird watching, nature walk, and wildlife spotting
Location: Aurora, Philippines
5. Biak-na-Bato National Park
Located a few kilometres away from San Miguel Bulacan, Biak-na-Bato is nature's most paradisiacal gem on earth. Being home to unique rocks & caves, tranquil rivers, spectacular waterfalls, hiking trails and more, this park is so kick-ass that no list of national parks in the Philippines can ever be completed without counting it on it.
Ideal For: Hiking, photography, and sightseeing
Location: Doña Remedios Trinidad, Bulacan, Philippines
6. Caramoan Peninsula National Park
Suggested Read: Philippines Honeymoon: Come, Raise A Toast To The World's Prettiest Island Country
Situated in the Bicol region, the Caramoan Peninsula is one of the best national parks in the Philippines. Gorgeous limestones, serene white sand beaches, sparkling rivers, and everything that can please the eyes can be found here. If you want to treat the adventurer within, this is hands down the best place to be!
Ideal For: Snorkeling, Island hopping, spelunking, and more
Location: Presentacion – Caramoan Road, Caramoan, Luzon 4429, Philippines
7. Libmanan Caves National Park
Popular across the world for its spellbinding caves, the Libmanan Caves National Park in the Philippines ought to be on your bucket list. Its 18 varied cave systems offer the perfect opportunity to witness the wonders of nature at their best. And just in case you're a spelunking lover, make sure that of all these you definitely take a tour of the labyrinthine caves.
Ideal For: Spelunking, hiking, and witnessing the hidden waterfalls
Location: Libmanan, Camarines Sur, Philippines
8. Mounts Iglit–Baco National Park
Suggested Read: 10 Best Beaches In Philippines For The Love Of Sun, Surf, And Sand
Surrounded by the twin peaks of Mount Iglit and Mount Baco, this national park on Mindoro Island has gained fame as an ASEAN Heritage Park. While there's a lot to see and do here, the most enchanting experience is to spot the endemic Tamaraw, which is an endangered large mammal. Apart from this, there are also a few indigenous plants in the park that are worth witnessing.
Ideal For: Mountain climbing, wildlife spotting, and photography
Location: Sablayan, Mindoro, Philippines
9. Fuyot Springs National Park
Located at the foot of the Sierra Madre mountain range, the Fuyot Springs National Park is the ultimate place to visit if you're looking for a surreal escape. Its waterfalls are captivating and wildlife is awe-striking. But what makes it more special is the endless number of adventurous experiences here, which are so soul-stirring that you wouldn't want to leave for home.
Ideal For: Waterfall hiking, spelunking, bird watching, zip lining, and more
Location: Ilagan City, 3300 Isabela, Philippines
10. Minalungao National Park
Suggested Read: Nightlife In Philippines: An After-Dark Abode For Party Lovers
Situated in the province of Nueva Ecija, the Minalungao National Park is the most popular tourist attraction in the Philippines, especially for enjoying a budget holiday. With innumerable blissful and thrilling experiences in store, this park is where you need to be if all you wish for is a one-of-its-kind vacation. vacation!
Ideal For: Cliff diving, rafting, zip lining, hiking, and more
Location: General Tinio, Nueva Ecija, Philippines
A national park that lets you calm the adventurer in you or the one that treats the nature admirer in you – where would you head first? Do let us know in the comments below.
Comments
comments