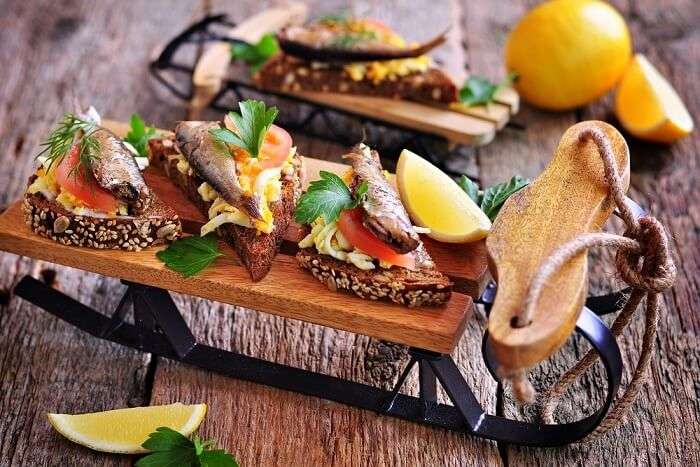 Situated in the Northernmost tip of Europe, Estonia lines the shores of the Baltic Sea and shares its border with the Gulf of Finland. This small country in Europe has a number of varied nature terrains ranging from beaches to impenetrable forest areas. The country is also rich in history and culture that can be seen represented in their local cuisine as well. If one is tired of wandering around the numerous castles and museums of the country, one should take a break and get a taste of Estonian cuisine in any of the following Estonian Restaurants. Scroll down to know what makes these restaurants find a place in this list.
6 Most Popular Estonian Restaurants
Can't wait to try the mouth-watering cuisine of Estonia on your trip? That is why we have brought you some amazing options for restaurants you can try them out right here.
1. Altja Tavern

This amazing restaurant is found nestled in the Lahemaa National Park a few kilometers away from the capital, Tallinn. As the name suggests, the interiors of the restaurant are designed like a medieval tavern with farming equipment lying around in the corners depicting the nearby fishing village. Even the cutlery used to serve and eat the wonderful Estonian dishes is made out of clay which gives the customers a feel of the 18th century. Altja Tavern is one of the best restaurants in Estonia that serve simple and authentic Estonian cuisine. The restaurant also comes with a play area for the kids and a courtyard perfect for family picnics.
Location: Altja, 45408 Laane-Viru County, Estonia
Cost for two: INR 1000
TripAdvisor rating: 4/5
Must Read: Experience Estonia Nightlife At Its Best By Visiting These 15 Places
2. Restaurant Ribe

This Estonian restaurant in Tallinn displays sophistication and warmth. The restaurant is located in the bustling Old Town square and impresses the customers with its contemporary interiors. Established in the early years of the millennium, this restaurant is famous for its Estonian and other Nordic region cuisines. The restaurant gives the utmost importance for the quality of food and thus cooks its dishes using the fresh garden and seasonal produce. The menu is always a 4-course set menu that is subjected to changes frequently. Yet, some of the must-haves from this restaurant is the mushroom ravioli, beef tartare and the green tea ice cream.
Location: Vene 7, Tallinn 10123, Estonia
Cost for two: INR 1500
TripAdvisor rating: 4.5/5
3. Restaurant Juur

Among the most unusual Estonian restaurants, Juur is known for its creative and bizarre food presentation and combination. The interiors of the restaurant are designed with taste and elegance. The restaurant uses all the seasonal and fresh meat/ vegetable produce to create a traditional European or a Scandinavian dish with a modern twist. The dishes are always presented in such a way that they seem to be a reproduction of the country's landscapes. Needless to say that the menu changes as and when Tallinn's seasons change. Some of the innovative dishes one should try here are the baked fish, duck and lamb chops. It is also highly vegetarian and vegan-friendly.
Location: Valukoja 10, Tallinn 11415, Estonia
Cost for two: INR 1500
TripAdvisor rating: 4.5/5
Suggested Read: 12 Best Places To Visit In Estonia In 2022 For Seeking The Ultimate Adventure
4. Tammuri Farm Restaurant

This cleverly planned farm restaurant serves food that is nothing short of Estonia Michelin restaurants. The European and Estonian dishes in this restaurant are prepared using the freshest produce from their own farm. The traditional cuisine is given a contemporary twist that seems to be well accepted by the locals. Located in the Tallinn city center, the restaurant transports one to the charming countryside and serves the most delectable food. The ambiance of the restaurant represents a hunting farm from the early 20th century. It consists of a fireplace, a live grill and an intimate atmosphere. Their bar menu consists of a wide selection of wine and innovative cocktails. Some of the must-try here are the sauerkraut soup, lamb dishes and the chocolate bomb.
Location: Muehuerivahe 27B, Viru Street 11, Tallinn 10140, Estonia
Cost for two: INR 2000
TripAdvisor rating: 4.5/5
5. Von Krahli Aed

It is one of the rare restaurants in Estonia that give importance to organic European and Estonian cuisine and succeed in making it utterly delicious. It is the go-to restaurant for all the veggie lovers but it also serves some of the best-minced meat meals. The interiors of the restaurant represent a wealthy Estonian home with regular home furniture and decor all around the place. The ambiance of the restaurant is warm and intimate with low ceiling lights and glowing table lamps. It provides a perfect environment for a romantic or a private evening. It also serves a variety of beer along with the appetizing dishes. One is sure to leave this restaurant delighted by the food and service.
Location: Rataskaevu 8, Tallinn 10123, Estonia
Cost for two: INR 2500
TripAdvisor rating: 4.5/5
Suggested Read: 17 Fascinating Things To Do In Estonia For An Extraordinary 2022 Trip
6. Sfaar Restaurant

This unique restaurant in Tallinn is an urban establishment that serves the old-school Estonian and European food. The restaurant architecture is inspired by Italy and so are most of their dishes. The conventional food is given an Italian twist that surprisingly works very well. The interiors are designed as a part cafe and part resto with lots of greenery set up inside. The dishes that come to the table are fresh and colorful. The restaurant is quite famous for its brunch menu that also includes a lot of vegetarian dishes. Healthy and fresh dishes seem to be their motto. One can try their delicious trout, beetroot and cheese salad and some amazing desserts made from natural ingredients.
Location: Mere Puiestee, Tallinn 10111, Estonia.
Cost for two: INR 1500
TripAdvisor rating: 4.5/5
Suggested Read: 11 Popular Estonia Beaches For A Refreshing Beach Vacation
Estonian Food Facts

Though Estonia likes to experiment with its traditional cuisine, there are certain Estonian food facts one should know before visiting the country.
1. Bread Luck: Bread is known to be the staple food for the people of Estonia since ancient times. They believe in following certain rules when concerned with bread in order to retain their bread luck within the house. Bread luck basically represents wealth and prosperity in Estonia. So one should be careful not to cut a warm bread with a knife, place it on the table or drop it.
2. Mustard infiltration: Traditional Estonian cuisine is low on oriental spices but one might get overwhelmed with the amount of mustard the Estonians use in their dishes. If one is not a fan of the strong acidic taste of mustard, Estonian dishes are probably not a valid choice. It is considered to be medicinally effective for most of the minor ailments. Not just the locals ingest mustard but also use it as a bath product.
3. Blood sausage: The locals believe in utilizing every bit of what nature provides us with. This holds good to the livestock as well. As gory as it may sound, traditional Estonian cuisine includes even the blood of the butchered animal. One of the famous dishes served during Christmas is the blood sausage that is cooked until the meat turns black and then served with mustard.
4. Shashlik: It is not known till today how this Armenian dish happened to become the National dish of Estonia. One can find the cafes, restaurants, and bakeries filled with different types of shashlik during the Midsummer's eve. Binge on the various versions of shashlik if one happens to be in Estonia in the summer.
Suggested Read: 15 Offbeat Destinations In Europe In 2022 That Are Straight Out Of Fairy Tales
How To Reach Estonia

Estonia can be reached from all of the world's major cities. Many major airlines from Delhi have a direct flight to either of the three Scandinavian countries from which one will have to catch the Estonian Air to reach Tallinn. The best countries to have a connecting flight from India are Amsterdam, Denmark, and Paris. One can even hop on a ferry from Norway or Finland. Apart from these, a few intercountry trains run between Estonia and the major cities of Europe.
Further Read: Long Weekends In India 2022: Ways To Enliven Your Vacay Vibes Safely In The Post-Lockdown Era!
This small country located in the isolated sector of Northern Europe has a charm of its own. The countryside and surroundings of this modern country are mesmerizing and worth a visit. The numerous castles and beaches aside, Estonia offers some of the best culinary escapades to tourists. The above-mentioned Estonian restaurants are an experience more than a place that serves food. Book your getaway to Europe with TravelTriangle and explore the unusual aspects of this European country.
---
Looking To Book An International Holiday?
Book memorable holidays on TravelTriangle with 650+ verified travel agents for 65+ domestic and international destinations.
---