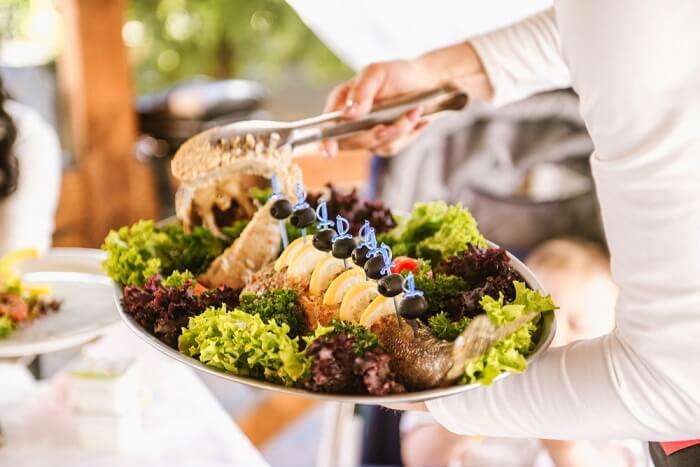 Varna is a Bulgarian province sitting along the coast of the Black Sea in the east. After serving as a port city for the most part of the century, Varna has changed its focus on attracting tourists as it houses Bulgaria's finest art galleries and museums. While the seaside area is lined with resorts and bars, the city center focuses on preserving relics and ruins from the Roman, Greek, and the Ottoman era. The archaeological museum and the summer palaces are the must-visit places when in Varna. The seaside park is home to various Varna restaurants that serve exquisite food.
10 Best Varna Restaurants
Let us discover a few remarkable restaurants in Varna along the coast that offer nothing short of authentic Bulgarian fare on your platter.
1. Buongiorno Pizza and Pasta
Labeled as one of the best Italian restaurants in Varna by the happy customers, Buongiorno is a must visit restaurant when in Varna. The chef of the restaurant hails from Sicily and believes in cooking with passion and the freshest produce. Its location by the sea allows the chef to prepare the best seafood pasta dishes. The pizza doughs are hand knead and baked in a wood fire oven. The staff is very courteous and the menu is vegetarian-friendly. Some of the desserts such as tiramisu and affogato are always on high demand.
Location: Pl. Petko R Slaveykov, Varna 9000
Cost for two: INR 2000
TripAdvisor rating: 4.5/5
TripAdvisor Reviews
Must Read: 13 Beaches In Bulgaria You Must Visit For A Laidback Experience In 2022
2. Staria Chinar
One of the best Bulgarian restaurants in Varna, it is known for serving the traditional Bulgarian food in the city center. Owing to its proximity to the sea, the restaurant utilizes a lot of sea produce to prepare their dishes. This restaurant is definitely not friendly to vegans and vegetarians. Located at a walkable distance from the city railway station, the restaurant is always packed with both locals and tourists alike. The must-try dishes from this restaurant include lamb chops, pork ribs and venison meat. Apart from the traditional meals they also serve contemporary European and Serbian food.
Location: Preslav street No.11, Varna 9000
Cost for two: INR 1500
TripAdvisor rating: 4.5/5
TripAdvisor Reviews
3. Parmy Family Restaurant
Located along the waterfront promenade in the Picadilly Park, Parmy Family Restaurant is a perfect choice for those looking for a place to relax with loved ones. It is a part of a chain of restaurants in Bulgaria. This family restaurant has garden seating where one can enjoy some quality time catching the sea breeze. They are the best fish restaurants in Varna and even excel in producing rich desserts. Squid and seafood broth are the best sellers in the restaurant. The portion sizes are adequate and they even customize food according to one's dietary needs.
Location: Morska Gradina, Varna 9000
Cost for two: INR 2500
TripAdvisor rating: 4.5/5
TripAdvisor Reviews
Suggested Read: 21 Spectacular Places To Visit In Bulgaria In 2022 That Are A Treat To Your Eyes
4. Mr Baba
Mr Baba is one of those restaurants in Varna, Bulgaria that has a large fandom not just in the city but even the neighboring ones. The restaurant is known for its seafood platter and other European delicacies. The restaurant is mainly recommended for lunch and its location by the sea impresses every foodie. The restaurant has been a part of the various local culinary institutions for their study and inspiration. It also serves wine and beer to go along with its delicious risotto and pasta dishes. The prices are reasonable considering their portion size.
Location: Primorski, Varna 9000
Cost for two: INR 2000
TripAdvisor rating: 4/5
TripAdvisor Reviews
5. Villa Marciana
This high-end restaurant in Varna is known for its ambiance and the quality of food that they serve. This is among those nice restaurants in Varna that is situated in an old villa that has been revamped to a Michelin star restaurant. The interiors are very classy and aristocratic while the food is very delectable. The restaurant follows a serious dress code of smart casuals/formals. It is situated at a prime location which helps it in luring customers for the best culinary experience. The luxurious restaurant is known to serve a few unusual dishes such as shark fillets. The desserts add to the perfect dining experience in this opulent restaurant.
Location: Padina, Varna 9136
Cost for two: INR 6000
TripAdvisor rating: 5/5
TripAdvisor Reviews
Suggested Read: 12 Things To Do In Bulgaria That Will Keep You Engaged Throughout The Trip
6. Indian Restaurant Ganesh
Best among the few Indian restaurants in Varna, Indian restaurant Ganesh stands apart for its intimate restaurant atmosphere. It is a small restaurant located in one of the quiet corners of the suburban area that serves the best tandoori rotis and kadai side dishes. The ambiance is a bit homely with minimal furniture and spicy food. It also has a good collection of wine and rakias to go with the Indian delicacies. The spices used in the dishes are exclusively imported from Asia. This Indian restaurant is sure worth a try when visiting Varna.
Location: Premorski street No 27, Varna 9000
Cost for two: INR 1500
7. Di Wine Restaurant and Wine Cellar
Di Wine restaurant and Wine Cellar is one of the best Varna restaurants that is known for its extensive list of wine. It is also a steakhouse but with a twist of elegance. It is a fine-dining restaurant perfect for a romantic evening given that they have more than 700 varieties of wine in their cellar. The fish and the almond chicken are one of the fast moving items on the menu. Reservations are strongly recommended here. The restaurant is a bit expensive but the palatable food makes up for it.
Location: Bratya Shkropil Street 2, Varna 9000, Bulgaria.
Cost for two: INR 4000
TripAdvisor rating: 4.5/5
TripAdvisor Reviews
Suggested Read: 10 Villas In Bulgaria That'll Ensure You Have A Luxurious Stay
8. Gostilnitza Chuchura
This restaurant has the most amazing interiors in Varna. The ambiance of the place reminds one of the middle age countryside inns with huge wooden cartwheels lying around and a picket fence surrounding the restaurant. The restaurant is confined to a small place in the city center and specializes in European food and barbeque items. It is one of the halal restaurants in Varna that use the meat cuts for their barbeque dishes. The restaurant is very budget friendly and perfect for tourists.
Location: Street Dragoman 11, Varna 9000
Cost for two: INR 1500
TripAdvisor rating: 4.5/5
TripAdvisor Reviews
Suggested Read: 15 Offbeat Destinations In Europe In 2022 That Are Straight Out Of Fairy Tales
9. Red Canape
Red Canape is one of the swankiest restaurants in Varna that is known for it's out of the box presentations of food. It mainly specializes in Mediterranean and European cuisine and thus one can expect colorful plates of food on their table. The restaurant is very accommodative for those with special dietary requirements. It is one of the well-known brunch spots in the city. The menu is subjected to changes depending upon the season and yet the restaurant does not fail in serving exquisite food. The T-bone steak and the ravioli are some of the must-try dishes here.
Location: Knyaz Boris, Boulevard 65, Varna 9000
Cost for two: INR 3000
TripAdvisor rating: 4.5/5
TripAdvisor Reviews
10. Happy Bar and Grill
Happy Bar and Grill is a sushi bar that also serves some palatable European cuisine. It is a part of the oldest restaurant chains in Bulgaria. The interiors of the restaurant transport one to Asia with dark furnishings and traditional seats. The bar is big on serving some of the finest beer in the country and the prices are very reasonable. It is a good restaurant to dine in if one is looking for some Asian fast food. Steak and chicken fillet are some of the must-order dishes here.
Location: Knyaz Boris, Boulevard 65, Varna 9000
Cost for two: INR 3000
TripAdvisor rating: 4.5/5
TripAdvisor Reviews
Further Read: Long Weekends In India 2022: Enliven Your Vacay Vibes!
Considering the rich cultural and historical background of the Varna province, these restaurants thrive to serve the best food to the people visiting the city. Most of the Varna restaurants master in Bulgarian food but there are sufficient ones that provide for tourists from other continents. These restaurants have been curated carefully considering their location, culinary specialization, and budget. Take a trip to Europe with the help of TravelTriangle today and enjoy a good vacation on the Bulgarian seaside.
---
Looking To Book An International Holiday?
Book memorable holidays on TravelTriangle with 650+ verified travel agents for 65+ domestic and international destinations.
---