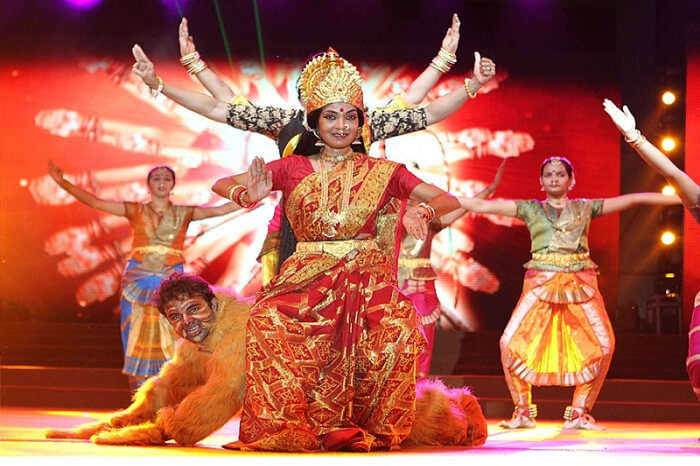 Navaratri is a nine-night celebration in which the Mother Goddess Durga is honoured in her 9 prominent forms. According to Hindu mythology, Goddess Parvati adopted the form of Durga to defeat the demon Mahishasura. On the tenth day of the festival, Dussehra, a celebration of good triumphing over evil, takes place. The Navratri Celebration is, therefore, one of the most auspicious festivals of India. It is, however, celebrated very differently in different parts of India.
Navratri Celebrations: 7 States In India To Look Forward To
As each state prepares to celebrate the day in its own unique style, the Navratri Festival, which lasts nine days and is filled with pleasure and energy, inspires people all around the country. Travellers from all over the world visit India to celebrate Navratri and you also shouldn't miss the 2021 Navratri Celebrations.
Let's look at some of the ways to celebrate Navratri and understand its significance.
1. West Bengal, Assam, Bihar and Odisha

Image Credit: Devansh for Wikimedia Commons
Navratri is celebrated as "Durga Pooja" in the eastern part of India, and is mainly celebrated on the last four days, namely- Saptami, Ashthami, Navami, and Dashami. Temples have life-size clay idols of the Goddess Durga showing her fighting the monster Mahishasura, which are exquisitely sculpted and ornamented. These idols are then worshipped for four days before being immersed in the river. These five days of puja are for relaxing, spending time with family, and visiting several Durga puja pandals, each with its own concept and energy, and, of course, a beautiful and life-sized idol of the goddess Durga. Some pandals are extravagant, with elaborate lighting and music systems, while others are more modest and exquisite. Attending the Maha Aarti every evening with the sound of the dhol in the background is a favourite element of the puja, and many people fall into a trance-like state as a result.
9 Ideal Places To Visit In West Bengal In June Which Will Complete Your Bucket List
2. Tamil Nadu

Image Credit: Kamala L for Flickr
Unlike the other states, Tamil Nadu has its own way of celebrating Navratri by worshipping the deities of Durga, Laxmi and Saraswati. Each of the deities have three days set aside for them. During these nine days, people go to relative's houses to worship the life-sized dolls and to exchange gifts. Gifts are usually bangles, bindi, and different kinds of jewellery presented to married women; it signifies the Goddess Durga. Kolu is the most fascinating ceremony, which involves adorning a homemade stairway decked up with dolls that are claimed to be passed down from generation to generation.
3. Maharashtra

Image Credit: Dipankan001 for Wikimedia Commons
In Maharashtra, Navratri is a very personal and spiritual experience, what makes it different from the others is that they perform a specific rite known as Ghatasthapana on the first day of Navratri. In a container, a little bed of mud is prepared. A water filled clay pot is placed in the centre of this. Goddess Durga is represented by this vessel. Grains are seeded and allowed to grow in the soil surrounding the pot. Five jowar stalks are also placed on top of the saucepan. Women carry out various ceremonies and donate fruits, flowers, leaves, and other items to this pot for nine days. Some people also have a Kali Pooja honouring the Goddess. People from all over the world come to Maharashtra and Gujarat only for this festival.
27 Honeymoon Destinations Near Mumbai For Those Romantic Short Trips
4. Karnataka

Image Credit: B Balaji for Flickr
In Karnataka, navratri is called "Naada Habba" and is observed in the same manner as it was in 1610. The last day of Vijayadashami, commemorates the good over evil when Goddess Shakti fought and destroyed the monster Mahishasura on this day. The state of Mysore, ironically, was named after Mahishasura. Elephants are paraded through the streets of Dashami, and exhibitions and fairs are conducted throughout the state. People go to temples to worship and exchange gifts just like in other states. This one should be on your bucket list of witnessing one of the best festivals in the state.
5. Gujarat

Image Credit: anurag agnihotri for Wikimedia Commons
In Gujarat, Navratri is a much-anticipated day when worshippers fast for nine days and devote themselves to the devotion of Maa Shakti. Aarti around the sculpture of Goddess Shakti, prayer tributes to Goddess Durga, and the famed folk-dance of Garba highlight the days and nights. Garba dances, exciting dandiya nights, mouth-watering festive food, and Durga's gorgeously decorated temples all entice discerning travellers. During the festival, Ahmedabad, Baroda, Surat, Gandhinagar, Patan, and many other places are some of the ideal places to visit. So be prepared to be a part of a surreal event the next time you visit during Navratri.
8 Fascinating Things To Do In Vadodara That Let You Taste The Good Life In Gujarat!
6. Rajasthan

Image Credit: Tanuj_handa for Pixabay
This becomes the focus of all interest and thousands of people rush to the large ground to celebrate. To commemorate the triumph of good over evil, a 72-foot-tall effigy of Ravana is burned, together with Kumbhakarana and Meghnad. It's one of India's tallest effigies. After that, a 20-day fair takes place. The mela heralds the start of a heady period. Afterwards, the city comes alive, with people dressed in exquisite traditional garb, children dancing on the ground, people offering their prayers to Goddess Durga, and an indomitable spirit that pervades the entire region. Moreover, many devotees pay their respects to Sheetla Mataji on this occasion and host fairs in small villages.
7. Kerala

Kerala celebrates Navratri a little differently than the other states. They worship Goddess Saraswati and keep books in front of the idols for a few days before returning them on the festival's final day. The last day is supposed to be more important since a pooja is held and musical instruments and animals are also worshipped. Every year, the wonderful celebration of Navratri is witnessed at the Mullakkal Bhagavathy temple in Alleppey. Kumari Pooja is a Hindu ritual in which infant girls are reverently revered as goddesses. Dancers known for their outstanding performances dance on the colourful pattern while the portrait is gradually removed from the floor. The 'Bommai Golu Festival,' where old ladies read Devi Bhagavatham, the ancient Sanatana book loudly in addition to defining their 'Bommas' on 'Oottupura,' is another highlight of the Navratri in this temple. The celebration is intertwined with Kerala's own indigenous culture and traditions, and any passing traveller who gets a glimpse of it is in for a heartfelt experience.
15 Awe-Striking Churches In Trivandrum You Should Definitely Visit This Year
Despite the fact that each region celebrates the day in its own unique style, Navratri is a time when communities join together and diversity thrives in a special unity, with happiness becoming the primary medium of communication between people of many ethnicities and languages. This year, Navratri celebrations will be for 8 days due to the hindu calendar overlapping. You can book your upcoming tour to these interesting celebrations with TravelTriangle.
For our editorial codes of conduct and copyright disclaimer, please click here.
Frequently Asked Questions about Navratri Celebrations
Which city is famous for celebrating Navratri?
Kolkata, West Bengal is known to be famous for celebrating Navratri. The Durga Puja during the last four days are known to be famous among travellers and tend to visit Kolkata during this occasion.
When is the Navratri in 2021?
This year Navratri will be celebrated from 7th October 2021 to 15th October 2021.
Is it safe to go to Navratri celebrations during COVID times?
It is safe to travel during these times however, you must read the state guidelines before travelling and get fully vaccinated. Also, wear masks at all times, sanitize your hands and avoid going to crowded places.
Which are the best places to visit during Navratri?
Mysuru Dussehra - Palace, Durga Puja in Kolkata, Garbha and Dandiya in Ahmedabad, Ram Leela in Varanasi, VaishnoDevi Temple visit in Katra are some of the places known to celebrate Navratri in a grand manner.
Where can I go in Kolkata to celebrate navratri?
Bagbazar, The sindoor khela, Kumartuli Park, Ballygunge Cultural Association, Suruchi Sangha, Ekdalia Evergreen are some of the places where you can visit to celebrate Navratri.
Where can I go in Ahmedabad to celebrate navratri?
YMCA Club, The biggest city of Gujarat covers dozens of Garba places along the S.G Highway of Ahmedabad, Garba at GMDC Ground, Rajpath Club, CEPT University, Street (Sheri) Garba of Ahmedabad are some of the places navratri celebrations take place annually.
Where can I go in Mysore to celebrate Navratri?
Mysore Palace is where the royal procession takes place and is a must-visit when travelling to Mysore during navratri. Apart from this, also don't forget to visit the Dasara Exhibitions held in Mysore.