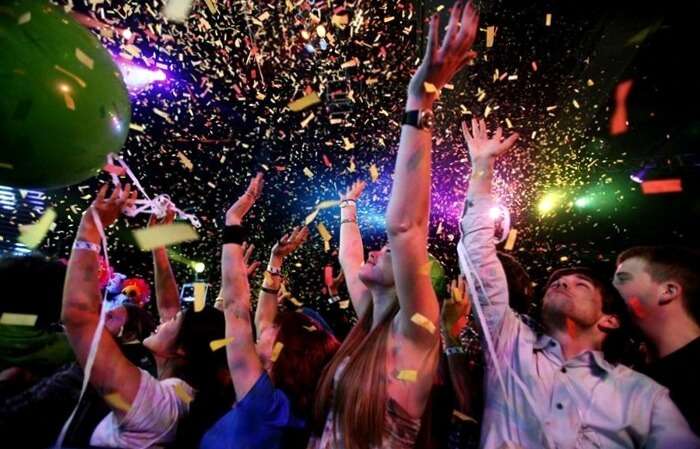 Irrespective of how the year goes, new year's eve is one moment all of us eagerly wait for. And it wouldn't be wrong to say that with so many parties and events taking place around the country, the most happening ones are organized in Pune. Yes, the coolest city is known for being the best ground for party-hoppers and memory makers. Attending a new year party in Pune is surely a one-of-its-kind experience, and we can vouch for it!
From pubs to clubs and cafes to restaurants, every place has a kick-ass event organized to put a sweet ending to the year, and an unforgettable beginning to the new year. Take a look at these 15 places that are popular for organizing the best 31st party in Pune:
15 Top Places For New Year Party In Pune
So, while you're visiting this gorgeous city around the time of New Years, why not check out the famous places for the eve too? Take a look at these places to party the night away amid the stunning landscapes!
15. Paasha Lounge at JW Marriott
One of the popular lounges in the city, Paasha is one top-notch place to visit for witnessing the best new year party in Pune. This rooftop venue lets you groove to the hottest music in town right under the stars, and party with your loved ones like never before. Head to this resort if you are searching options for the best New Year 2019 parties in Pune.
Price: INR 13,000 per couple
Location: JW Marriott Hotel, Senapati Bapat Road, Pune
Suggested Read: 10 Most Romantic Restaurants In Pune For An Idyllic Dinner Date
14. The Westin
Known for hosting the classiest dinners and parties in each of its restaurants and bars, The Westin lets you shake a leg like Shakira. Apart from great music, it also offers unlimited drinks and buffet to make it the most memorable night of your life.
Price: INR 13,000 per couple for Prego and Mix@36, INR 12,000 per couple for Seasonal Tastes, and INR 10,000 per couple for Kangan
Location: 36/3-B Koregaon Park Annexe, Mundhwa Road, Ghorpadi, Pune
13. The Flying Saucer Sky Bar
The night of the 31st party in Pune is usually loaded with the crowd, and music too loud. If you're looking for a party that is away from the city noise and traffic, The Flying Saucer Sky Bar is the ideal place to visit with your loved ones. With the best house music in the city, this place makes it impossible for one to hold onto his or her seat for long.
Price: INR 7,000 per couple, and INR 3,999 for a stag accompanied by a couple
Location: 9th Floor – Terrace, Lunkad Sky Vista, New Airport Road, Next to Dorabjee, Viman Nagar, Pune
Suggested Read: 8 Enticing Resorts In Pune For Couples To Revive, Rejuvenate, And Rekindle Romance!
12. Swig
With sparkling interiors and classic music, SWIG is amongst the top Pune new year party places you can consider for calling it an eve in style. It serves your favorite drinks just the way you like and makes sure you party throughout the night.
Price: INR 2,500 per couple
Location: 28/2, SBI Training Centre, North Main Road, Koregaon Park, Pune
11. 10 Downing Street
Of all the new year events in Pune , the magical evening lit up with fireworks, bar jugglers, dancers, and laser show makes it the best party place to let your hair down. Apart from the special attractions, it also offers unlimited scrumptious food & drinks with the best DJs playing in the house.
Price: INR 4,000 per person
Location: 101-102, City Point, Street 17, Boat Club Road, Sangamwadi, Dhole Patil Road, Pune
Suggested Read: 10 Places In India To Celebrate New Year At Least Once
10. The Orchid
Live music, popular DJs, unlimited food and drinks, fun games, and much more – the new year party organized by The Orchid at its crystal ballroom last year offered it all. It not only organized a theme party, but also made sure that everyone celebrated the 31st December party in Pune in the most kick-ass way possible. So, just imagine how cool it would be this year!
Price: INR 5,000 per couple
Location: Pune-Banglore Road, Near Balewadi Sports Complex, Balewadi, Pune
9. Smoke on the Water
If you're looking for 31st December party places in Pune for hosting your own party, then this exclusive rooftop and poolside restaurant is the best place in the city. With a starlit ambience and soothing music, Smoke on the Water creates an ideal backdrop for celebrating a new beginning.
Price: You can contact the hotel management for inquiring about the prices for a group party.
Location: The Central Park Hotel, Bund Garden Road, Agarkar Nagar, Pune
Suggested Read: 8 Thrilling Adventure Sports In Pune & Around
8. Ignite at Courtyard by Marriott
With a lavish party and a cool DJ night, Ignite lets you put an end to the year just the way you like. Great music, classy ambience, unlimited drinks, and delectable buffet are only a few of the reasons that make it an evening to remember!
Price: INR 7,000 for access to the junior cabana, INR 10,000 for premium cabana, and INR 3,499 for stag entry
Location: Courtyard By Marriott, Rajiv Gandhi Infotech Park, Phase 1, Hinjawadi, Pune
7. The Irish House
A happening disco party, great music, unlimited appetizers and drinks, and a midnight champagne toast is pretty much what makes the new year's eve at The Irish House a class apart experience. Head here without any second thoughts if you're looking for a lavish yet subtle celebration.
Price: INR 2,000 per person
Location: 2nd Floor, Phoenix Market City, Level 2, Nagar Road, Viman Nagar, Pune
Suggested Read: 12 Hacks For A Kick-Ass New Year In Goa In 2019 Without Burning A Hole In Your Wallet
6. Blue Frog
From masquerade parties to live performances, this popular place lets you experience the best new year celebration in Pune . The classy lights and music by the best DJs in town makes it irresistible for anyone to not step on the floor.
Location: Ishanya Mall, Arcade 6, Opposite Golf Course, Off Airport Road, Yerawada, Pune
5. Hard Rock Cafe
Hard Rock Cafe is one place that would never disappoint you, especially if it's new year's eve. Happening crowd, perfect ambience, and mind-boggling music by renowned DJs would leaves one grooving. Though, what takes the party experience a notch higher is the toothsome food and refreshing drinks here!
Price: INR 3,500 to INr 8,000
Location: 81/82, East Main Road, Koregaon Park Extension, Pune
Suggested Read: 9 Reasons Why Pune Is More Kickass Than Mumbai
4. High Spirits
Known for organizing the best gigs, live music performances, theme parties, and also the new year events in Pune , High Spirits is one place you must visit if you believe in 'partying like there's no tomorrow'. It lets you bring the crazy alive, and have fun in the most memorable way.
Location: 35, A 1, Near ABC Farms, KP Annexe, Mundhwa Road, Mundhwa, Pune
3. Penthouze
Being the best nightclub in the city, Penthouze not only gives a real glimpse of the nightlife in Pune , but also lets one bid a perfect farewell to the year. Everything from the ambience and view from the club to the food and music in the house is breathtaking and absolutely soul-satisfying. New Year parties in Penthouze Pune are something to look forward to.
Location: Rooftop, Onyx Tower, Next to Westin Hotel, KP Annexe, Mundhwa Road, Mundhwa, Pune
Suggested Read: 15 Utopian Romantic Places In Pune And Around
2. Mi-a-mi at JW Marriott
If your idea of a new year party in Pune includes luxurious feel and unique experience, then this club is the most appropriate place to be. Its underground garage like ambience gives just the right feels, and the best DJs playing popular hits make it an evening you'd cherish forever. If you like to party, you ought to come to this place for new year celebration near Pune.
Price: INR 12,000 per couple
Location: JW Marriott Hotel, Senapati Bapat Road, Pune
1. Stone Water Grill
This restaurant cum lounge is certainly the most famous, high-end, and exquisite place to party on new year's. The grand buffet here serving international cuisines and foot tapping music makes it an ideal spot to visit for kick-starting another great year with your loved ones. It is one of the best places near Pune for new year celebration.
Location: 81/82, Pyramid Complex, KP Annexe, Mundhwa Road, Mundhwa, Pune
Tips For Partying In Pune
While Pune is a safe and cool city, make sure you're around familiar faces while partying anywhere in the city.
Every restaurant or lounge has special offers and coupons for new year's. Look out for them well in time and grab the best deal for yourself.
Avoid carrying too much cash or valuables with you.
Read about the events happening around in advance and then decide accordingly about the type of party you wish to attend.
New year party in Pune with free entry is highly unlikely unless you choose to host a house party.
Prefer smart casuals or comfortable party wear.
Buy your new year party passes in Pune in advance before they run out.
Party hard!
Further Read: Pune Nightlife: 14 Places That Bring This City To Life Every Night
While there's still time for 2019 to kick in, make sure you have the ideas for the new year party in Pune sorted. In case you want to ditch parties, plan a trip to awesome places to have a memorable new year vacation. Also, don't forget to check this space out for updated information about all the events happening in the city on the eve of 31st December.
Comments
comments