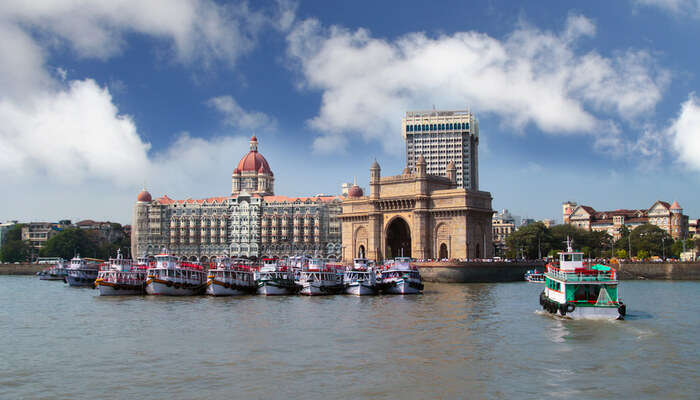 While Lonavala is known for its mixed landscape and is a perfect weekend getaway, its proximity to the Arabian Sea also makes it appropriate to plan a beach holiday while you are in Lonavala. While most of the beaches are not in Lonavala itself but they are mostly just 3 hours drive from it. You can very easily get up in the morning and pack your swimming gadgets and head to any of these beaches and return in the night. While in Lonavala, you can experience the best of its hills and lakes, you can even plan a weekend getaway to one of these beaches near Lonavala so that way you get the best of both worlds.
10 Best Beaches Near Lonavala
Here are some of the best beaches near Lonavala which one must visit when they plan a vacation to Pune and enjoy a relaxing time.
1. Juhu Beach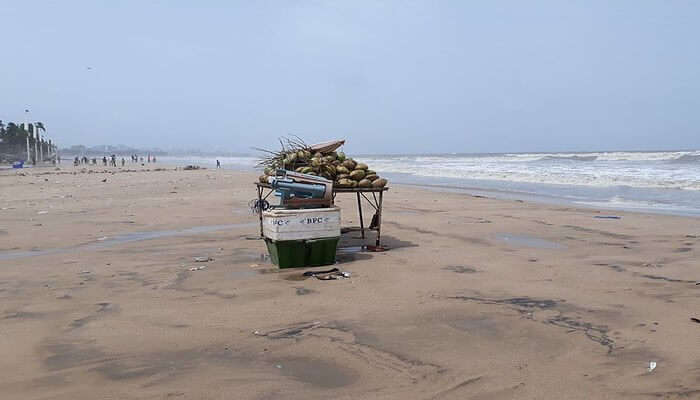 Image Source
This is one of the most famous beaches in Mumbai and is known for its vast and serene sea view. It is one of the beaches that are in the center of the city and you will find people here almost all the time of the day. This beach also counts to be one of the longest beaches in the city and stretches around six km in length. This beach is mostly popular for the street food that is available here along the coast. While sitting on this beach you can watch most of the aircraft taking off because of its proximity to the Mumbai International Airport. Also, nearby places include a visit to the famous ISKCON temple which connects this beach to the city.
Distance from Lonavala – 97 km
Must Read: 20 Best Resorts In Lonavala: Embark On A Getaway From Mumbai And Pune In 2022!
2. Gorai beach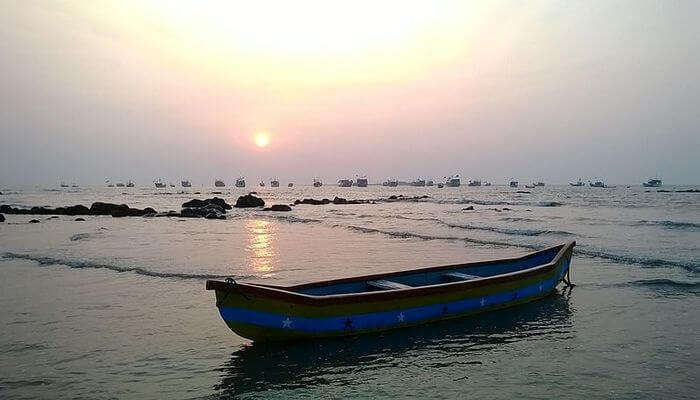 This beach is also in Mumbai however, is located in the northeast part of the city. The beach is mostly popular for its sunrises and sunsets and local seafood that is available on its coast. To reach this beach either you can drive down to this beach or enjoy a ferry ride to this beach from Borivali. Both have their pros. This beach provides you that solace in case you want to spend a lonely day in solitude at the beach. However, on weekends, even this beach sees a lot of crowds, but weekdays are mostly empty. This beach is also a famous picnic spot for people around Mumbai and they often travel to this place with their stuff and spend their entire day here.
Distance from Lonavala – 120 km
Suggested Read: 20 Best Villas In Lonavala To Spend A Luxe Vacation In The Hills
3. Marve Beach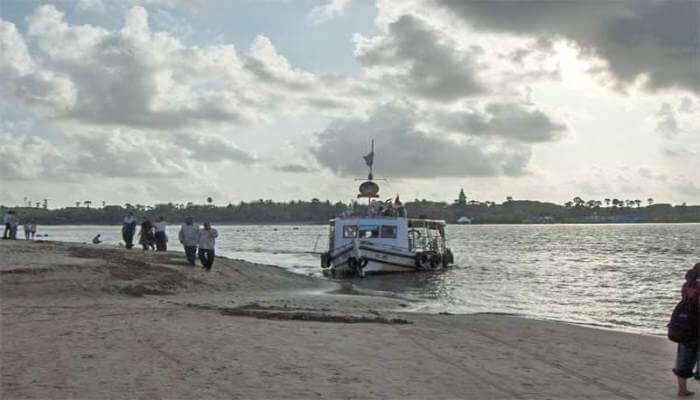 Image Source
This beach lies in the outskirts of the city and still has that raw beauty untouched by industrial pollution and city hustle. Though this beach is small and narrow but is an ideal place if you wish to stroll around on the beach of an extremely beautiful beach. Swimming in this beach is not recommended though as it is dangerous to swim here due to fast sinking sand and swiftly moving sea currents. But it's quite a place to spend some lonely moments here looking at the horizon. The place is also adorned with beautiful villas and properties which mostly belong to the elite class of the city. This beach also scores high on cleanliness and very less effect of pollution can be seen here.
Distance from Lonavala – 108 km
Suggested Read: 20 Finest Places To Visit In Lonavala In Rainy Season In 2022
4. Madh Island Beach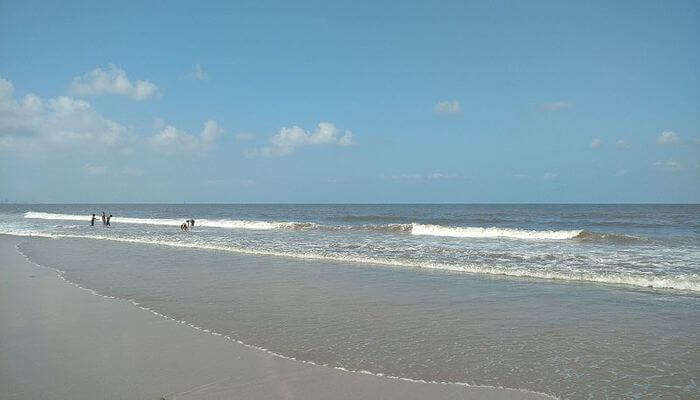 Image Source
This beach is quite popular amongst the tourists and people around the city spend quiet time here on this beach. This beach is quite popular because of the amazing view that this beach provides because of the Arabian Sea in the west and Malad Creek on the east of it. The beach is very well connected to roads and has very easy access. It is popular for parties and celebrations which often take place here. You can even use the shacks on the sides of this beach to spend your day. The place is also known for the food, especially seafood that is available here. Mostly you can find elite class kids hanging out on this beach and partying in those food joints during evening hours.
Distance from Lonavala – 114 km
Suggested Read: 6 Best Places For Water Sports In Maharashtra You Must Experience In 2022!
---
Planning your holiday but confused about where to go? These travel stories help you find your best trip ever!
---
5. Aksa Beach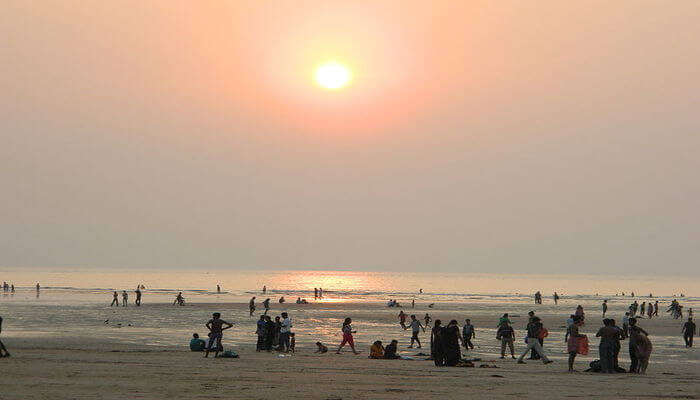 This beach became quite popular with the song picturized on Salman and Priyanka and is popular amongst the couples. The beach lies in between Borivali and Malad stations. You will need to drive around 10 km from any of those stations. This beach is quite famous for its solace and hence is popular amongst couples. You will rarely find visitors coming to this beach. It is famous for a stroll along the coast through water-based activities that are banned on this beach, it is a danger zone in that sense. While strolling and chatting with your partner on its coast you can collect the little treasures that swift waves come and leave along the coast. This place is a heaven on earth in some sense.
Distance from Lonavala – 110 km
Suggested Read: 22 Absolutely Breathtaking Places To Visit In Monsoon In Maharashtra In 2022
6. Versova Beach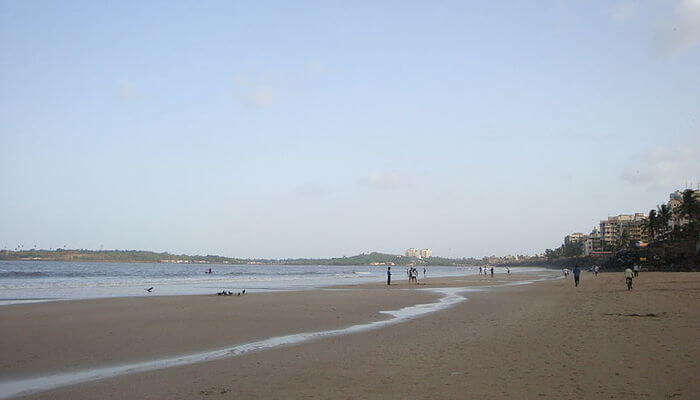 This is an extension of Juhu beach and lies along with the suburban areas of Andheri. This beach is also not that populated in terms of visitors and is near Versova village which is also a popular fish market. People often come here to see how fishermen work around the day to catch the fishes and some come here to watch the sunsets on the horizon. You can even board one of the fishermen's boats to have the entire experience of fishing on this beach. However, you need to take permission from that fisherman. If he is having a good day, he won't say no to you. This beach is a very popular 'Ganpati Visarjan' Spots in Mumbai. This beach is mostly secluded from visitors and you will find fishermen only during morning hours, so it also provides good solace in terms of privacy. But not as much as other beaches mentioned above due to its proximity to the village.
Distance from Lonavala – 96 km
Suggested Read: The Staircase Waterfall In Maharashtra: A Hidden Gem That We Bet You'd Love To Explore!
7. Girgaum Chowpatty Beach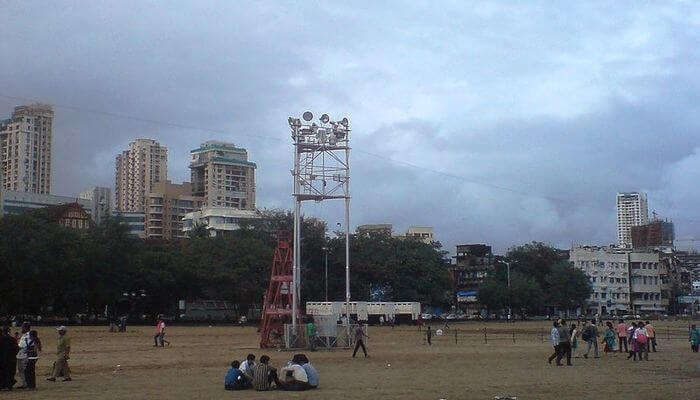 Image Source
This is a public beach along with the Queen's necklace and is near Marine Drive in Girgaon area. The nearest railway station is the Charni Road railway station. This beach is in the southern part of Mumbai and is famous for city life. It is close to Charni Road station is quite popular for the roadside restaurants located here. The place is quite crowded during the evenings and holds a significant value for the Ganesh Visarjan spot on the 10th day of the festival that is Ganesh Chaturthi. The place is quite a popular spot amongst the city people and is always crowded. It has also got a good line of shops along the beach for branded clothes and items. The beach is quite popular for the city skyline that is visible from this beach.
Distance from Lonavala – 97 km
Suggested Read: Top 10 Restaurants In Maharashtra For Tasting The Best Foods Of This Indian State
8. Dadar Chowpatty Beach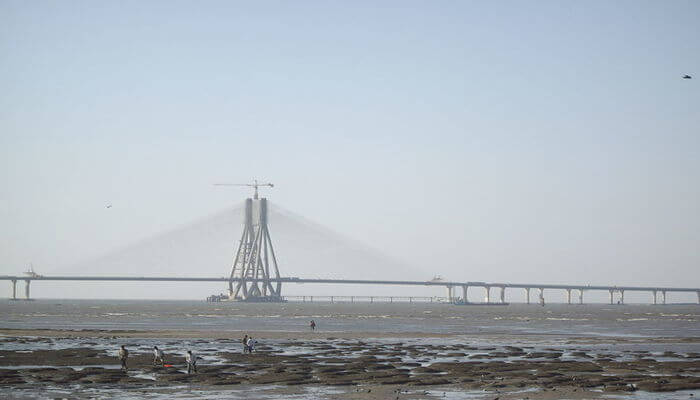 This beach is one of the best beaches in the Dadar area and is in very close proximity to Shivaji Park. Unlike other beaches, you won't find any food stalls around this beach and is only famous as jogging ground in the morning hours. It's a long beach with little sand to sit along the beach and people only come here to stroll along the coast and were sunsets. It's a picturesque beach and you can even play on the sand along the coast. It's one of the favorite places amongst kids' who love to build sandcastles. Many yoga and aerobic classes are also run along the beach by professionals. You can even play volleyball along the coast of this beach or join any group that is playing along the coast. Morning and evening hours are rushed by these joggers however at other times you can get those peaceful vibes along the coast of this beach. The best time to visit this beach is during winter months, which are October to March.
Distance from Lonavala – 90 km
Suggested Read: 23 Best Hill Stations In Maharashtra That'll Leave You Speechless On Your Next Trip In 2022
9. Uran Beach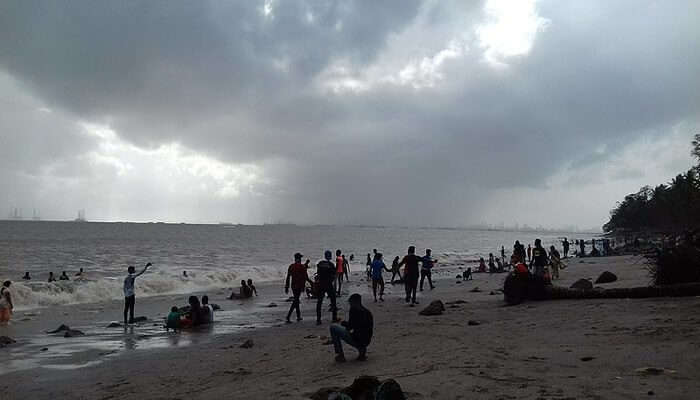 This beach is in Navi Mumbai and lies between Panvel and Karjat. This is a quiet place to spend your day along the coast and is a perfect destination to break away from the city hustle. This is one of the best places to relieve your stress from daily populated and polluted city life. People come here and sit along the coast to view the sun and sea play around with each other in proximity to sand and how all three mingles together to give you a pristine look. Along the coast, you can also visit the ruins of Karanja fort and a distant view of South Mumbai which makes people of the Mumbai lose their often-occupied mindset to this place's peaceful vibes.
Distance from Lonavala – 83 km
Suggested Read: 30 Forts In Maharashtra That Will Let You Experience Its Rich Heritage In 2022
10. Kalamb Beach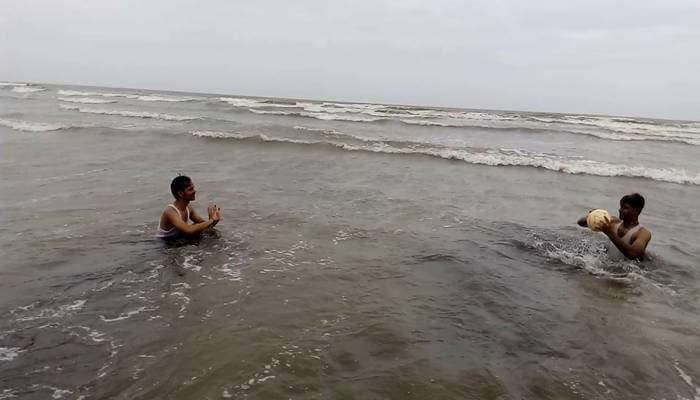 Image Source
This beach is in the outer circle of Mumbai near Nalasopara and is a paradise that is yet unexplored. People are often found here lying on the sand, lazing around in the bright sun. One can even utilize small hammocks along the coast to take small naps and enjoy food along the coast to make their day worthwhile. This is a perfect place to spend your Sunday afternoons where you don't need to cook your food and you can spend your entire day as you like along its coast. Other places to explore near Kalamb Beach are Marine Drive, Gateway of India, Colaba Causeway, Siddhivinayak Temple, and Haji Ali Dargah. The temperature is moderate around 25 to 30-degree centigrade all year along and is one of the best places to spend your whole day amongst Mumbai Beaches.
Distance from Lonavala – 129 km
Further Read: The New Fossil Park To Open In Maharashtra Will Help You Relive Your 'Jurassic Park' Memories!
With so many to choose from, you can select any of the beaches near Lonavala to spend your day. You can enjoy the sun, the sand and the water on these beaches with the pristine essence of these beaches. Most of these beaches serve fresh coconut water and many have their special food stalls. They are perfect destinations to spend some time with the family of your partner. So now when you plan a vacation to Maharashtra, make sure to enjoy a time like never before at this hill station located away from the city.
Frequently Asked Questions About Beaches Near Lonavala
What is the best time to visit these beaches?
Though they are good to visit any time of the year, one should avoid visiting them during monsoons as it could be quite dangerous. The best time to come to these beaches is during winter months from October to March.
How to reach these beaches?
The best way is to drive your way to these beaches from Lonavala. However, if you are already in the city, then there are several options available like local trains and ferries to reach these beaches.
What all things we can do on these beaches?
You can stroll along the coast, then you can also enjoy Mumbai's street food and seafood. One can play various games like volleyball, etc. along the coast. You can also just stroll around and collect seashells. That will refresh you.
Are there any water-based sports available along these beaches?
Yes, some of the popular beaches like Juhu Beach offer water-based sports. However, one should partake them only under expert guidance and should avoid going into the water when they are alone.
Why is Kalamb Beach so famous?
This beach is a long and secluded beach and people often come here to unwind and relax their day off. Also, you can find the black sand along this beach which is very rare.
What part of the sea touches these beaches?
Most of these beaches are along the Arabian sea and are a treasure along with the fast-paced city life of Mumbai. You can stroll along with them and cut off from city life at any time of the day and spend some lonely time on these beaches.
What are other things to do while you are on one of these beaches?
You can visit nearby places if you don't want to spend your entire day on these beaches. Mumbai is a small city with many treasures to explore.
Are there resorts along these beaches?
Well, most of the five-star hotels in the city are located along the beaches. You can s specifically ask for a seaside view while booking. Also, some budget hotels are available and there are seaside resorts and villas available to book for a specific time.
---
People Also Read:
Beaches Near Alleppey Beaches Near Pune Beaches Near Coorg
Comments
comments