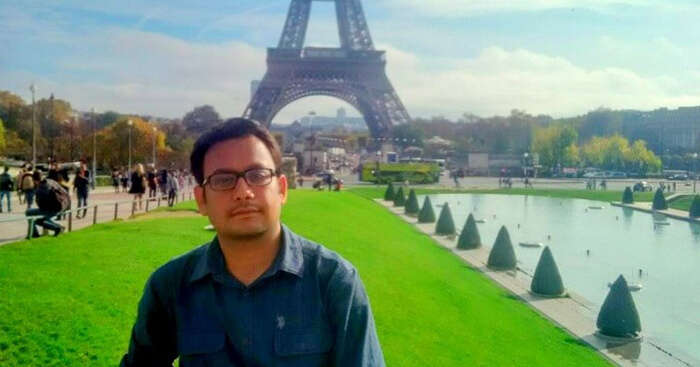 Niket Kandoi talks about his solo trip to Paris, Nice, Monte Carlo, and Cannes. Describing his experience as a journey of self-discovery, he shares his amazing story with us. Having booked his package from TravelTriangle, Niket was more than satisfied with the itinerary and arrangements that included his hotel, transfers, and sightseeing all for a cost of INR 44,300.

My tryst with travel started when I was in UK for three months about two years ago. I was lucky to explore the country at that time and those sweet memories of discovery are still fresh in my mind.
This time, the story was different. I was in Amsterdam for official training and since it was about to get over, I was wanting to visit Switzerland before going back.
I asked around in my circle of friends for all those wanting to join me but couldn't find any travel companion. Since, as a CA, I really don't get much time to travel, I decided not to miss my chance and ultimately chose to do a solo trip in Paris!

After deciding on the destination, I now wanted suitable land packages for my stay and sightseeing in the city. After going through various travel portals, I finally chose TravelTriangle since they offered me the cheapest package along with the most suitable itinerary matching my requirements.
Thus, the journey began.
Day 1: Paris – Landing in the city of love

I reached Paris from Amsterdam by 11 AM and my hotel from the train station by 1 PM. After resting and freshening up, I started for Eiffel Tower and reached there by 3 after a 15-20 minute walk from my hotel.

It was magnificent to witness the monument of love and true to its fame, I did see everyone being affected by its romantic charm since everyone around me was in love. I clicked a lot of pictures and stayed in the vicinity till 5:45 PM when the tower was properly lit.
After seeing the tower in its full glory, I then left for the cruise which started between 7-7.30 PM. It was a 1-hour cruise and during this time, I saw the beautiful city in all its glory. I came back at around 9 and after having dinner, decided to retire for the night.
Day 2: Paris – Exploring the city of love

This was the day where I covered a lot of places. I had metro passes for commuting and my first destination was the Champs-Élysées, a shopping street that had some the best retail boutiques in the country.
Next was the Le Louvre Museum where I saw the painting of the most beautiful women in the world – Mona Lisa.
I also visited the famous Notre-Dame Cathedral and it was beautiful beyond imagination. Later on, I also visited an art gallery called L'ile aux Images and it was an interesting experience.
After a one hour break during which I clicked a lot of photos, I went to the Montmartre, which again was lit up beautifully!
In fact, by the time I was returning, every famous spot in the city was lit and it was mesmerizing to witness the city in such a way. I was in love with the whole colorful romantic ambience that Paris offered.
12 Museums In France Where You Get To Be A Part Of Its Glorious History
Day 3: Paris – Exploring the city of love

I did the Hop on Hop Off ride this day and revisited almost all the destinations that I had seen in the past 2 days. This was a two-hour ride and after I was dropped at Eiffel Tower, I stayed there in the vicinity since I had already checked out of the hotel and had a 5 PM train to Nice.
I reached Nice at around 10 PM and this time, my hotel – Best Western Riviera was very close to the station. It was a huge beautiful hotel and after checking in, I retired for the night.
10 Most Popular Europe Trips To Plan 2022's Ultimate Escape
Day 4: Nice – The city of beaches

Nice is famous for its beaches and so, after freshening up in the morning, the first thing I did, was going to the beach. Unlike the usual beaches, this one was a beach where instead of sand there were pebbles, the water was clear and it offered a perfect ambience for me to relax. I could see a lot of people enjoying the winter sun in all its glory.
Serene and less crowded, I had the opportunity to interact with a lot of people here. Later after staying in the pebble beach for some time, I returned back to the hotel for I was scheduled to visit Monte Carlo also.
12 Things You Don't Need On Your European Packing List

I witnessed luxury and opulence in its prime in Monte Carlo. My journey to Monte Carlo Casino was mesmerizing since I had to cross a beautiful hill surrounded by trees.
The casino itself was full of rich people and their ultra luxurious rides. I clicked a lot of pictures here and would never forget the number of luxury cars I saw here. It was mind blowing and I almost felt as if I was the part of the famous James Bond movie "Casino Royale".

Next visit by me was to a place called Eze, I saw a perfume making factory here. It was fascinating to see how different ingredients are combined to make the perfect fragrance that ultimately entices your senses. This place was all about perfumes and cosmetics and I loved shopping here since the prices were almost half of their retail price.
Later, I went back to my hotel and called it a night.
Day 5: Cannes – Exploring Cannes

I decided to go to Cannes this day since a lot of local people had told me to visit this destination, located some half an hour away from the train.
Cannes was beautiful and unlike Nice, it had sandy beaches instead of the pebble ones. I spent around 4-5 hours there on the beach alone it was during this time that I felt a little lonely. But it was also a time for some self-introspection and I ultimately ended up liking the peaceful surroundings that I was a part of.
My flight to India was scheduled from Nice the next day and that is how the trip ended.
DO NOT Leave For Europe Without Packing These 8 Things

I feel this trip of mine was a perfectly balanced one. I experienced romantic vibes and love in Paris. The sightseeings in this city took me back in time and I will always cherish the precious moments spent in this city.
Nice, and Monte Carlo on the other hand; showed me a leisurely side of life. A side that is full of free time, money and extravagance. I am glad to have witnessed this part of the world, for I now know what success looks like. Cannes turned out to be a truly introspective experience and I loved the fact that in this busy world of thought, I could get some "Me" time. It was quite relaxing and energising from the inside.
The Moments Captured On Her Romantic France Holiday Are Better Than Your Greatest Fantasy!

In an overall sense, I loved my trip to Europe and given a chance, I would love to come back here for another adventure.
High Points –
The romantic and rustic ambience of Paris took me back in time.
I loved how Eiffel Tower was lit up.
Nice was an amazing experience and I really liked it for its serenity, calmness, and of course the beaches.
Monte Carlo was an epitome of opulence and luxury and I am glad to have witnessed this side of life, away from all the hustle.
Cannes was perfect for self-introspection and indulging in serenity.
Finding vegetarian food was not a problem at all since there were a lot of international joints like Subway and
Mcdonalds available at every nook and corner.
Low Points –
The hotel in Paris was quite small and so was the room I was given.
Be extra cautious and aware in Paris.
Paris is really expensive when it comes to shopping.
Tips to future travelers – In your life, always do a solo journey and if you get the opportunity, choose Europe.
21 Best Places To Visit In France In Winter 2021-22 For A Blissful Holiday Experience!
Experience magic as you discover Europe! If you too want to plan an exciting trip to this beautiful destination, head over to TravelTriangle and customize your own Europe itinerary.