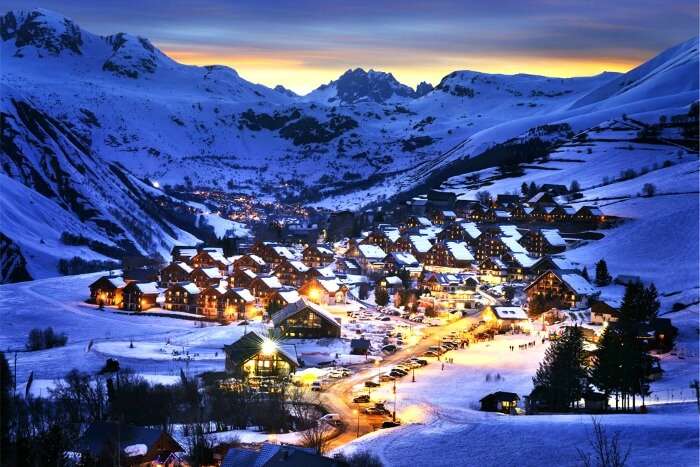 Summers in France inspires poetry, spring inspires romance, and winter? What about winter? If you have never been to France in winters, then you are missing out on a whole lot of things, one of which is having the country to yourself.
It does depend on the month you are planning to go there, but from November to February, you are sure to find some of the best things to do in France in winter. With tourist season over, France belongs to the French again, and this is your chance to be one of the locals. Take a look at the places to visit in France in winter, and what you can do while there:
15 Best Places To Visit In France In Winter
France becomes a beauty in the winter season. If you are planning to visit France during winters then feel blessed for seeing the country in its one of the best forms. Here are 15 best places to visit in France when winter comes:
1. Paris – The Obvious Choice
Paris is magical in any season, but in winter, clad in a sheet of snow, the trees, the Seine and the Eiffel take on new hues. Drop in at Galeries Lafayatte for a glimpse of the fabulous Christmas tree decked with gold ornaments. Winters are also the perfect time to indulge the ice ballerina in you, with the ice rink at Champs-Elysées being an inviting place to kick up some ice.
Closer to Christmas, entire Paris is garlanded with fairy lights, and streets are bordered by fresh cut pines, decorated with festoons and ornaments. A more enchanting sight is not to be found elsewhere! Truly one of the best cities to visit in France in winter.
Must Read: 10 Best Things To Do In Bordeaux 2018 That Will Make You Fall In Love With This French City
---
Europe Holiday Packages On TravelTriangle
Explore the most beautiful places to visit in Europe, from Paris to the Venice canals and from the Greek islands to the Swiss alps. Book customized packages by expert agents on TravelTriangle. Inclusive of airport transfers, cab, resort, sightseeing and meals. Best holiday experience Guaranteed. Book Now
---
2. Nice – One Of The Nicest Escapes
Enjoy the Nice Carnival, which takes place for more than two weeks. Watch the huge floats go by, and take part in the bataille des fleurs, the Flower Parade. When visiting you must stay till the end, the flowers are plucked out and rained on the pedestrians, a sight you should not miss. Oh and don't forget to take a ride on the giant winter-only Ferris wheel, in Nice. It is one of the best places to visit in France in winter.
Suggested Read: 10 Places To Visit In Bordeaux: Enjoy The Historical Drama With A Sip Of French Wine
3. Nantes – Indulge Into Classical European Music
If you are a classical music lover, then France is the place to be during winters. The Classical Music Festival in Nantes, La Folle Journée is the place where performers from all over the world come together to play music just the way you like it! Surely, this is among the best cities in France to visit in winter to witness the magic of music.
Suggested Read: 10 National Parks In France For The Perfect Escapade Into The Wilderness In 2018
4. Menton – The Lemon Fest Awaits
If you are heading to Menton during winters, there is scarcely a thing you could do more right. The fabulous Fête du Citron, or Lemon Festival in Menton is a thing of beauty. Floats, statues and figurines of all sizes are set up in the centre of town for two weeks, and all of them are made of lemons and oranges. The festival takes place towards the end of winters, and usually marks the arrival of spring. The opportunity to witness the fruity-colored fest in Menton is just one of the many perks of spending winter in France.
5. The French Alps and the Pyrenees – Escape To The Snow
Among other places to see in France in winter, The French Alps have got be the most magnificent sight to look at in winters. January to February is the perfect time to enjoy winter sports in France. One can enjoy a whole smorgasbord of snow related activities, such as cross-country skiing, snowshoeing, ice climbing, ice rappelling, downhill skiing, dog sledding and snowboarding. If you would rather watch than take part in it, the Snow Polo event held every January in Megève, a popular ski resort village.
Must Read: 10 Best Ski Resorts In France
6. Roquemaure – Embrace Spirituality
If you find yourself in France during February, near St. Valentine's Day then why not pay a visit to the village of Roquemaure, where the town church holds the mortal remains of the patron saint of lovers, St. Valentine! On the 14th of February, these relics are taken out of the vault and carried around the town in a procession. The Festou di Poutoun, the festival of the kiss, is also held around this time, on the weekend nearest to Valentine's Day. This is one of the most romantic places to visit in France in winter.
7. Monaco – Twirl As You Ice-Skate
The Stade Nautique Rainier III in Monaco, a huge outdoor swimming pool is transformed into an ice rink of epic proportions. There is also the option of going ice-karting, with 6 laps. Now, where else would you get the chance to go ice-karting, and zoom up to never-before speeds! Also, the pool is close to the harbor, thus giving you views of huge yachts, Monte Carlo and of course, the Mediterranean Sea. Ice-skating is one of the must-do things to do in France in winter.
8. Perigord – Titillate Your Tastebuds
Although no longer indigenous to France, black truffles are still a delicacy that many associate with Perigord, a special region in the country. The best time to enjoy the freshest French winter black truffles is from December to March, with January and February being the time when they reach the pinnacle of their taste and fragrance. Go ahead, indulge your appetite!
Suggested Read: 15 Incredibly Charming Places To Visit In France
9. Camargue – Bird-Lover's Paradise
Camargue, in summers full of locals and tourists on camping trips, tells a different story in winters. It falls on the migratory route, and is a haven for bird lovers since several species of birds spend the winter season here, making it one of the most magical places to visit in France in winter. A particular favorite are the pink flamingos, whose plumage becomes ever more vibrant during this time of the year, preparing for their annual mating ritual.
10. Corsica – Scale The French Mountains
Maybe you have seen too much snow, and enjoyed your share of skiing, but if you do find yourself in during winter in France, then head over to Corsica for a milder climate. With fewer tourists around, you can enjoy hiking, mountain climbing, and hunting, as well as a sunny Christmas!
11. Bordeaux – Too Much Wine Is A Myth
Being in Bordeaux is one of the best French cities in winter (or anytime during the year!); it is a special treat, especially for wine lovers. Although you won't get the chance to enjoy watching in wine yards in full bloom, you will have your choice of wine at hand. There are several wine tasting festivals going on during the winter months, and this can be your chance to have the place practically to yourself since the tourist season is almost over.
12. Aquitaine – For A Warmer Winter
So, once you've played around in snow, you would definitely be on a lookout for a warm weather if you're visiting France in winter. This beautiful place is famed for its surfing scenario which indeed is buzzing around the year, specially in Moilets beach. The sunny beaches of Aquitaine are picture-perfect and are great for lazy unwinding as well,making it one among the best places to visit in France in December. It acts as a gateway to Bordeaux and Dordogne. Also, don't forget to attend Carnaval de Periguex and Festival du Film at Sarlat if you're around here during winter.
13. Provence – A Cozy Paradise
Located in Southern France, Provence enjoys a peaceful, crowd-less winter season with temperature ranging around 14 degrees. This means you can enjoy a cozy time on your French vacation without worrying about massive tourist crowd around. The buzzing Christmas market will have you in the best of your moods! Provence is a lovely pick if you're looking forward to further head to Nice and Marseilles. This is one of the ideal places visit in the South of France in winter.
Suggested Read: 6 Day Trips From Marseilles Offering The Best Of France City Tour!
14. Bloise – The Gothic City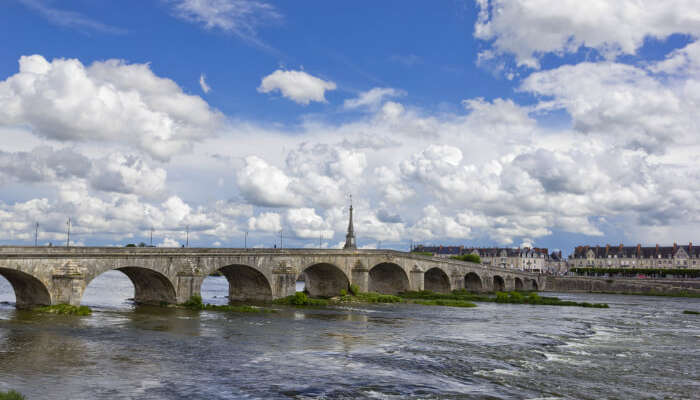 Bloise is a hillside city sitting proudly on the banks of River Loire. This place has a late Gothic vibe with with old cathedral and cobbled streets. The royal palace – Chateau Royal de Bloise has beautifully ornated chambers, paintings and sculptures from the 16th to 19th century. The city is a perfect go – to during winters when the windy atmosphere highlights the city giving it an antique feel. Gazing at the slow flowing river, standing on the bridge creates a romantic moment for you and your loved one.
15. Beaune – A Walled Town In Burgundy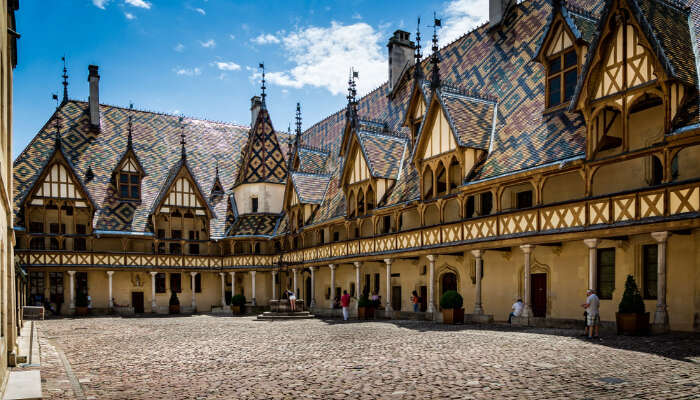 Beaune is a walled town in the heart of the Burgundy wine-making region in France. This place is best to be visited in the winters as it has many good cosy restaurants. Its the perfect time of the year to warm-up and enjoy with France's finest red wines and hot dishes like Beef Bourginon and Coq au Vin. Also visit the architecturally astonishing Hotel-Dieu.
Further Read: 15 Picture-Perfect Places To Visit In Paris For A Dreamy Vacation At This French Capital!
France is beautiful in any season, and the best part is it seems to be different in every one of these seasons! But winters are special; they give you a feeling of being at home in this tourist hub. Plan a trip to France in Winters, to get the best French experiences. Let us know in the comments below and share this with your travel mates.
Frequently Asked Questions About Places To Visit In France In Winter
Q. Which are the best places to celebrate Christmas in France?
A. Paris, Toulouse, Morzine, Montbéliard, are some of the most popular places to celebrate Christmas in France where you can experience bustling boutiques and unique ambience that add to the festivities of the season.
Q. Is the Eiffel Tower open in December?
A. Yes. The Eiffel Tower in December is open from 9:30 am to 11:45 pm. The last entry to the tower is at 11 pm, and for the top at 10:30 pm.
Q. Does Paris have Christmas markets?
A. Yes. Paris has a number of Christmas markets where major shopping events are held from November onwards. Some of the most popular ones are Marché de Noël at Notre Dame, Le Village de Noël at Les Halles, Abbesses Christmas Market at Montmartre, Village de Noël at Champs de Mars, Village de Noël at La Défense, Alsatian Christmas Market at Gare de l'Est, and Marché de Noel at Saint Germain des Prés.
Q. What do you wear in France in winter?
A. Winter Skirts and Dresses paired with wool tights, boot socks, and a pair of boots would be a perfect choice of clothing for the frosty winter days in France. Wool skirts , thin sweaters, and a nice thick scarf would be great to tackle a day of sightseeing in France.
Q. How cold does it get in France during the winter?
A. The average temperatures during winters in France range from 32° F to 46° F and average summer temperatures from 61° F to 75° F.
Q. Which city in France has the mildest winter?
A. French Riviera is known to be the hottest city in France, hence this is where you can expect the mildest temperature during winter season. Other than the mentioned place, Aquitaine and Provence are also recommended if you are looking for warm winter vacation.
Q. What is the best time of year to visit France?
A. Spring (April to June) and Fall (September to November) are considered perfect times for visit France. During the mentioned seasons, the weather can vary from place to place but the crowd is generally lesser. However, France is a year-round destination, you just have to pick your destinations carefully!
Q. Where are the best places to travel while in France in December?
A. Provence is a lovely place to visit in France in December, as you can visit the Christmas markets that are not flocked with heavy tourist crowds. However, if you are up for a snowy Christmas experience, then you must head to the French Alps and the Pyrenees.
---
Looking To Book An International Holiday?
Book memorable holidays on TravelTriangle with 650+ verified travel agents for 65+ domestic and international destinations.
---
Comments
comments