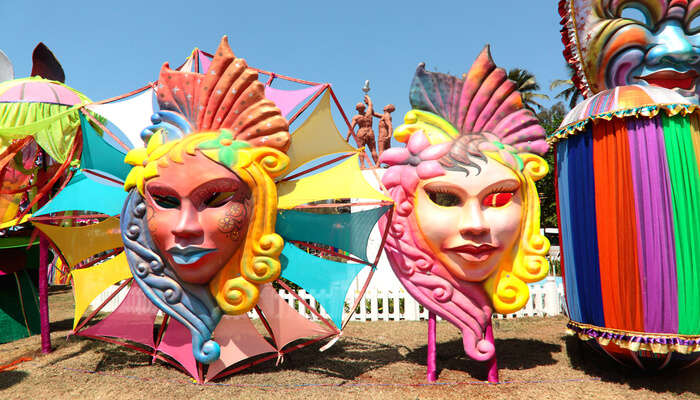 Goa is always a delight for those who love beaches and parties. However, Goa in winter are more charming and eventful than any other season in the 'party state'. If you have planned a vacation in Goa in the year-end or beginning of the year and wondering what to do to make you holiday exciting, then don't worry. These exciting events and festivals have got your back. Make your Goa trip a wonderful affair by attending any or all of these events instead of just wasting your time hopping from shack to shack and beach to beach.
Weather In Goa In Winter

The winter season in Goa continue from November to February. The temperature during the day hovers around 30 degrees Celsius and drops down to as low as 18 degrees in the night. January is the coldest month in Goa. however, there is still a lot of sunshine and no rainfall. All these factors make an excellent time to be in Goa in winter.
Visiting Goa in winter is both the best and the worst thing. Though the weather is amazing and you get to attend numerous EDM parties and events to attend, it is also the peak season of tourism in Goa. Not only is it crowded but you also pay higher rates for hotels, flights, etc as compared to the other months.
Goa In Winter: Events & Fests
Goa in winter is a happening time to take a trip because of the events and festivities. Mark your calendar with these events if you want to have the best experiences.
1. Sunburn Festival

Yes, sunburn festival is back this year after the government's approval to give you the best EDM concerts in India. Any house and techno lover will have Sunburn on his or her list. So, if you happen to be in Goa in winter, make sure you attend the dopest music event in India. There is a quirky lineup of cool house and techno artists to keep you in your groove throughout the festival. The event takes place at Vagator Beach every year. So, that is where you should be too.
When: 27 Dec 2022
Tickets: INR 3,750 onwards
Must Read: 9 Interesting Museums In Goa: Tour The Ancient Showcases In 2022
2. Mando Festival

If you want to know the Goan culture from up close and personal, then you should attend Mando Festival in Goa in winter. Mando is a splendid dance performance based on the theme of love. Men and women wear beautiful costumes and gracefully dance to the tunes of violin and mud percussion instrument. The tradition has been going on for 30 years in Goa and is an integral part of their culture and heritage.
When: TBA
Suggested Read: Sao Joao Festival In Goa In 2022: Soak In The Spirit Of Celebration!
3. Supersonic Festival

Have had enough of Sunburn? Then you should head to Supersonic Festival in Goa incepted by none other than one of the most famous DJs in India, Nikhil Chinappa. Expect international artists playing at the event and making you go crazy with their fine music. All the EDM and party lovers head to Candolim to have the best time of their lives bobbing their heads to house and techno music.
When: February
Suggested Read: 17 Luxury Villas In Goa: Ditch Hotels For An Intimate Escape In 2022
4. St. Francis Xavier's Feast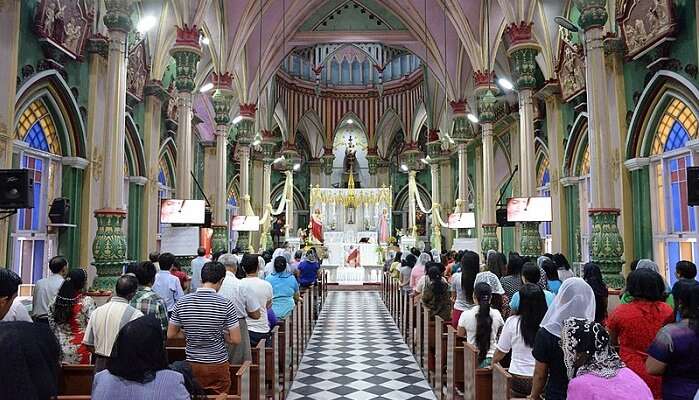 Every year on December 3rd, the feast of St. Francis Xavier is celebrated in commemoration of St. Francis Xavier. It was the day when the holy saint died and was buried. The day is celebrated all throughout Goa with large scale festivities and events. Thousands of people come out to be a part of the festivities. It is truly a lively time in Goa. If you have an interest for Goan Christian culture, then you may find this event fascinating.
When: 03 December
Where: Churches in Goa
5. Goa Sunsplash

Sunsplash is the biggest reggae music festival in India and there should be no excuse for not attending it. The two-day long event features some of the best reggae music artists. If you are a fan of reggae or like to explore different music scenes, then you are going to love being here. Enjoy dancing to the cool music on the white sands of Ashwem Beach.
When: 10-12 January 2022
Tickets: INR 2,000 onwards
Suggested Read: Plan A Honeymoon In Goa In 2022 And Ride The Myriad Waves Of Romance
6. Tattoo Festival

Are you a lover of tattoo? Then you have no reason not to attend the Tattoo Festival in Goa. It may sound an unusual event but it is fun, nevertheless. The festival is attended by both international and India talent where you will find stalls, tattoo galleries, and artwork on display. If you are a tattoo artist, then this seems like a great convention for you attend and network with other people from your profession.
When: 17-19 January
Suggested Read: Christmas Celebration In Goa Is The Perfect Way To Soak In The Festivities In 2022!
7. Goa Tribal Festival

Goa is not just a party state that you take it to be. There is more to culture and heritage and Goa than you are aware of. Goa Tribal Festival seems like a great opportunity to educate yourself about the indigenous talent and heritage of the state. Held in Quepem, Tribal festival is where tribal communities display their artwork and tasteful handicrafts. From clothing to handicrafts to local delicacies, you have everything there.
When: 10-15 January 2022
Further Read: 41 Best Places To Visit In North Goa In 2022 For A Kick-Ass Beach Holiday!
If you thought Goa in winter was going to be epic, then you are wrong. It is going to be sensational that too if you attend these events and have the most happening vacation in Goa one can ever have. What are you waiting for? Call your friends and start making plans now if you don't want to miss out on fun. The sooner you plan, the better the deals you get.
People Also Read: