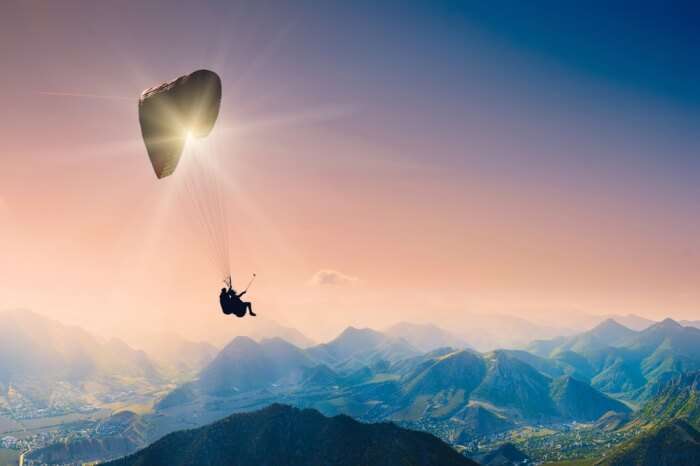 Darjeeling, a beautiful small town nestled in the woodlands of the Himalayas in West Bengal, is a paradise for travelers seeking a destination to help them get closer to nature along with experiences that would make their heart race.
Looking at the birds flying high in the limitless sky and wishing to join them is something that everyone has wanted at least once. Now is the chance to witness the juxtaposition of calmness and wildness of foothills of the forest-clad Himalayas from amongst the clouds up high. Pleasant cold breeze brushing against your skin, warm blood rushing in your body, your breath going heavy with heart pumping out of your chest, nature, and architecture of the city looking like beautiful miniatures, paragliding in Darjeeling is an escapade for all the human beings who are always looking out for a thrill. Find below a little guide to help you answer a few questions that might have popped up related to this ever so exciting sport.
Best Time For Paragliding In Darjeeling

In order to enjoy the experience to the fullest without any hindrance, it is best to go for this adventure activity in Darjeeling between the months of April and June or in the month of October. Owing to the wind patterns and weather conditions being too chilly, paragliding is avoided during peak winters. Taking all the mesmerizing and exquisite views in that the city has on display requires the weather to be clear and unblurred.
---
Looking To Book A Holiday Package?
---
2 Paragliding Places In Darjeeling
The mystic adventure of gliding high from the sky to the grounds of Darjeeling can take place from two major routes of the town.
1. St Pauls To Lebong Route

This route commences from a high peak in Darjeeling at Jalapahar area, allowing you to witness the aerial view of architectural marvels of the main town and city's breathtaking naturescapes before landing on the public ground. St Paul's is one of the most sought after paragliding point in Darjeeling.
Average Cost: INR 3,000 for 15 minutes (Approx)
Must Read: Darjeeling Nightlife: Enjoy A Laidback Evening In These Bars & Pubs On Your Vacation
2. Tukvar Tea Garden To Jaumney

This gliding route begins from the hilltop of Tukvar Tea Garden. Dense, mesmerizing tea gardens with a white river flowing alongside, Himalayan wildlife and lush forests as your view makes this adventure soothing and a treat to your eyes. The glider lands on Jaumney grounds.
Average Cost: INR 3,500 for 15-30 minutes (Approx)
Suggested Read: 5 Best Cottages In Darjeeling Where You Can Soak In Ultimate Bliss & Luxury
Types Of Paragliding In Darjeeling

Darjeeling offers only tandem paragliding where a certified instructor from a reputed adventure corporation accompanies you on your thrilling adventure. After getting the hang of a few tips and safety lessons, you are ready to take off to satiate your adrenaline rush. Just hold on to the glider as you are taught and focus on the picturesque landscapes as your view because the piloting of your glider would be taken care of by the instructor himself. Following prerequisites are required to ensure you are eligible for paragliding.
It is important for the paraglider to be fit and weigh between 45 kgs to 85 kgs.
People who are free from any diseases can easily go for paragliding in Darjeeling.
People with asthma or heart disorders are advised to avoid this sport.
It is wise for the paraglider to be mentally prepared for the trip as you'll be gliding down from hundreds of meters above the ground.
Suggested Read: Fly Like A Bird: 30 Gorgeous Places In India For An Exhilarating Paragliding Experience
Price And Duration Of The Flight
Prices are often a subject of worry amongst many travelers, especially those traveling on a budget. Every adventurer wants to have an experience of a lifetime without burning a hole in their pockets. But the sense of flying with the birds, witnessing the town from high above, feeling like on top of the world is worth every penny. Cost of paragliding in Darjeeling is around 3500 INR per person for an adventure flight of 15 minutes, irrespective of the route you choose. Paragliding is open on all the days from 9 am to 4 pm in the evening. It is normally closed during winters due to unfavorable weather conditions.
Suggested Read: 5 Best Street Foods In Darjeeling That Speak Of Its Rich Culture!
Tips For Paragliding In Darjeeling
As much fun and thrilling paragliding might be, it is always better to be prepared for this sport. And for the same, here is a list of tips that one should keep in mind when going on this adventure-
Be sure of the weather conditions when booking your slot for paragliding.
Do not let competency or overconfidence take over as one tends to divert from the right path.
Be mentally prepared as being under-confident is no less dangerous than being cocky. Make sure you can handle the height as the chances of fear taking over and mind-numbing are high.
Ensure that you inspect and monitor all your paragliding equipment before you take off on the adventure.
Listen to the tips and lessons of your instructors carefully. They are all certified and trained to help you have a hassle-free adventure.
Do not carry any valuables on your flight. Leave your jewelry, mobile phones, bags, and other belongings on the ground.
Research about the sport beforehand so that you have a clear idea about what you are getting yourself into.
Further Read: 10 Instagrammable Cafes In Darjeeling For All Coffee & Music Lovers!
If you have your questions answered then what are you waiting for? Plan your vacation to Darjeeling, and experience a combination of calmness and thrill amongst the Himalayan forests under the limitless sky. Also, you can share your sagas at travelogues@traveltriangle.com with us and let us know about your adventurous escapes!
People Also Read
Paragliding In Gangtok Paragliding In Kalimpong Paragliding In Nepal
---
Looking To Book An International Holiday?
---