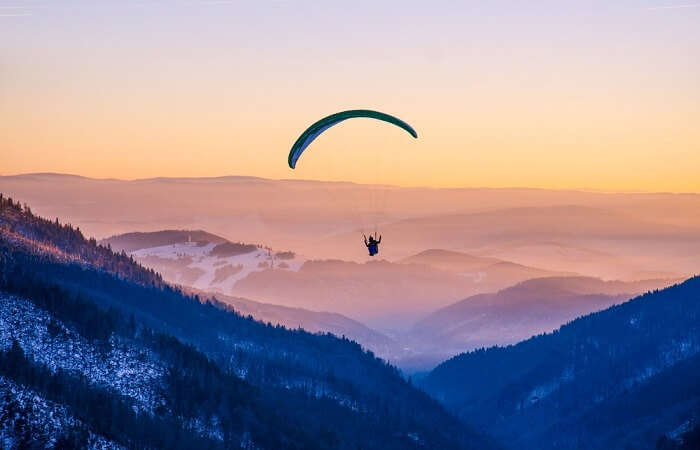 Flying like a bird high up above in the sky from where you can see almost everything and everyone stayed only a fantasy until the adventurous experience of paragliding came to the world. With numerous places on the globe today, you can indulge and finally live your fantasy for real now. But, if you're short of money or cannot go too far but really wish to indulge in this experience, paragliding in Gangtok is what you need to add to your bucket list right away!
Being one of Northeastern's charming cities, Gangtok offers a proper adventure-packed experience to all those travelers whose feet itch on the ground. But if different kinds of questions like 'How much would it cost?' and 'Where can I do it?' are popping up in your head right now, hold the thought because we have got you covered! Here's a handy guide that will help you plan a perfect adventure for your next Northeast trip.
Top Reasons To Do Paragliding In Gangtok
There are more than one reason for indulging in paragliding in Gangtok, Sikkim on your next trip. Nothing matches the thrill of trying a session or two of paragliding in Gangtok and nearby areas. Here are a few that would assure you to go ahead for the adventure!
Breathtaking view of the Himalayas
Soaring high above the gorgeous valleys
Bird's eye view of the beautiful city of Gangtok
An unpolluted clear route
Accompanied by well-trained professionals
Absolute safety
Best Time For Paragliding In Gangtok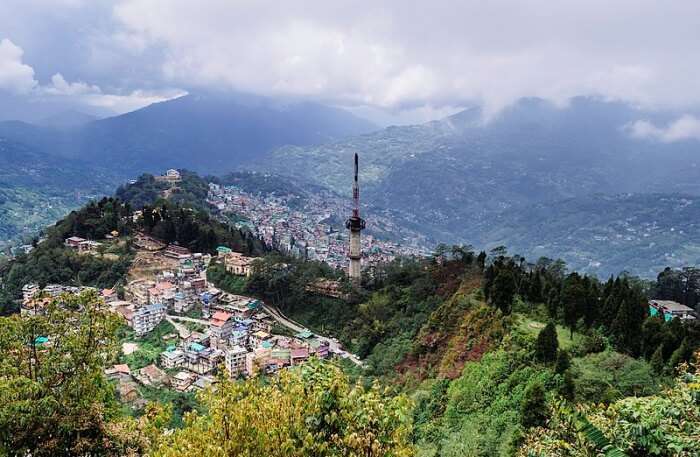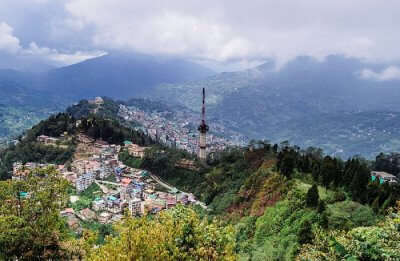 Unlike most experiences, it is best to do paragliding only when the sky is clear and the weather is good so that you can enjoy an unobstructed view of the natural beauty that this city flaunts. The ideal time for paragliding is between the months of March to June and September to November. The weather during this time is quite pleasant and the sky stays clear most of the time. Besides, the price of paragliding in Gangtok is nominal during this time, which makes it even better to indulge in this adventure sport during these months to ensure you have an economical tour.
Must Read: 15 Resorts In Gangtok That You Must Stay At On Your Trip
Types Of Gangtok Paragliding Tours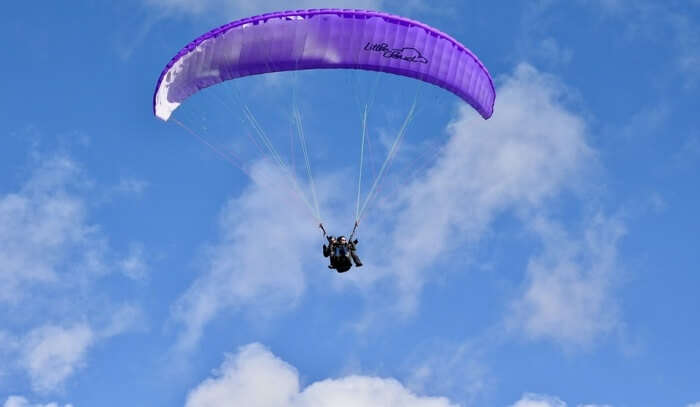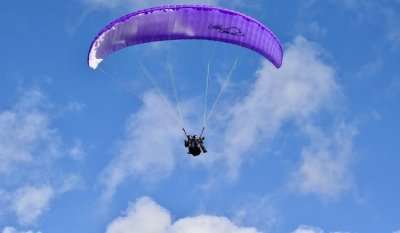 While most of us love heights, some of us are a bit afraid. But, fortunately, that wouldn't turn into a reason for missing out paragliding in Gangtok. The city offers tandem gliding in two forms; medium fly and high fly. Timings for paragliding in Gangtok are different for each of the fly.
The first flight is Medium Fly, wherein you will fly at an altitude of 1,300 to 1,400 meters and the flying shall last for around 5 to 10 minutes. During the medium altitude flight you will get the views of Himalayan ranges accompanied with views of Gangtok; city of Sikkim. The take-off site for this type of flying is Baliman Dara.
The second type of paragliding flight is the High Fly wherein you will fly at an altitude of 2,200 meters. However, unlike the Medium Fly, you can enjoy flying for around 20 to 30 minutes in High Fly flight. Needless to say, the landing and take off locations for both the flights are different. You can enjoy the views of Kanchenjunga ranges, snow-covered peaks, and Tashi point. Bulbuley Dara is the take-off site for high altitude flying.
Suggested Read: Fly Like A Bird: 30 Gorgeous Places In India For An Exhilarating Paragliding Experience In 2022
Best Places For Paragliding In Gangtok
There are only two locations in Gangtok where you can enjoy paragliding. However, the offices operators for booking your flight during your trip can be found at multiple locations. Some of the best places for paragliding at Gangtok are listed below.
1. Baliman Dara – Resithang Village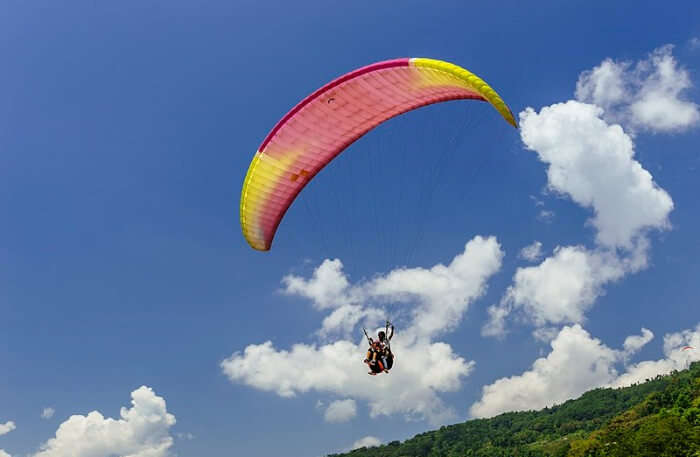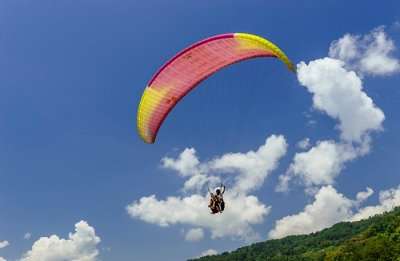 This place is located near the city and serves as a take off point for the Medium Fly flight. It is situated at an altitude of around 1,400 meters and you can enjoy a beautiful view of the whole town. However, the landing point is the stadium field of Reshithang Sports Village. It is also one of the best places to visit in northeast India.
Starting price: INR 1,000/-
Location: Lower Sichey Near Bhanjkhari Waterfalls, Ranka Road, Gangtok, Sikkim 737101
Suggested Read: 31 Incredible Places To Visit In Gangtok With Your Family And Friends In 2022
2. Bulbuley Dara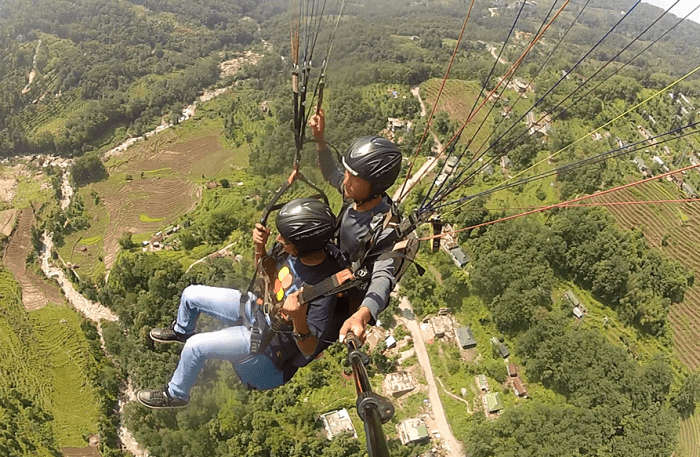 Located further up from the Reshithang Village, this place is the take off point for the High Fly flight. It is situated at a height of 2,200 meters and offers an unobstructed view of nature's mesmerizing beauty in the city of Gangtok. This is one of the best places for paragliding at Gangtok.
Starting price: INR 1,200/-
Location: Bulbuley Dara, Gangtok, Sikkim
Suggested Read: 11 Adventure Sports In Gangtok That Bring You Face To Face With Raw Nature
Paragliding Cost In Gangtok
Price is often a concern when it comes to indulging in experiences that seem too adventurous or fancy. While some of us stay unaffected by it, some travelers like to manage their budget accordingly. But irrespective of what the case is, believe us, Gangtok's paragliding tour is something you should experience at least once in your life. And as far as the money is concerned, believe us, this experience is worth every dime.
The cost for paragliding in Gangtok varies on the type of flight and place you pick. For instance, a medium-fly ride costs around INR 2,500 per person, whereas a high-fly ride can cost around INR 4,500 per person. Also, if you make your bookings in advance, the activity operator can also arrange a pick up and drop for you from your hotel.
Suggested Read: 24 Things To Do In Gangtok In 2022 To Experience North-East Like Never Before
Tips For Paragliding
Be too sure about the type of paragliding flight you choose, keeping in mind your comfort with heights.
Make sure you book your Gangtok paragliding tour in advance and on a day which is expected to have a great weather with a clear sky.
Check all the paragliding rates in Gangtok before choosing one and making the bookings.
Wear comfortable clothes that are also not too loose enough along with shoes.
Don't just do Paragliding for the sake of doing it. Read and research about it a bit or just use this guide well and make an informed decision about which place in Gangtok you wish to paraglide.
All the pilots who accompany you for the flight are well trained and experienced. Do listen to their instructions carefully.
Leave all your valuables like jewelry, watch, money, and mobile at the take off point.
Explore the take off route area to get a better understanding of what's around and above.
Make sure you have your required paragliding equipment on and your harness is tightly tied.
If you want to get pictures clicked or a video made, request at the take off point or the tour centre so that get yourself in trouble of clicking selfies. Most of the times, the cost of paragliding in Gangtok includes the price of pictures.
Make sure you are physically fit and have no medical issues. In case you do, please consult your doctor beforehand and ensure that your trainer is informed about it.
Also, don't forget to check out our comprehensive Covid-19 guide to learn more.
Further Read: 30 Places To Visit In India In April 2022: Beat The Heat This Summer Like A Pro!
Now that you know all about this adventurous experience, plan your trip to Northeast with TravelTriangle without any delay. After all, it is the best time for paragliding in Gangtok! Also, don't forget to come back and share your experiences with us at travelogues@traveltriangle.com. We would love to share your experience with our fellow travelers.
For our editorial codes of conduct and copyright disclaimer, please click here. 
Frequently Asked Questions About Paragliding In Gangtok
Where we can do paragliding in India?
There are several places for paragliding in India. You can opt for paragliding in Gangtok, Manali, Bir Billing, Mussoorie, Ranikhet, Panchgani, and Shillong.
Where can I do paragliding in Darjeeling?
Some of the best spots for paragliding are St. Pauls andTukvar Tea Garden.
What is tandem paragliding?
The passenger flies with a certified pilot where the person is only sitting inside the harness and not operating any functions. Those who just want to get a view can choose a tandem flight. All safety measures are taken by professionals to ensure there is no risk.
Who are not allowed to take paragliding activities?
Pregnant women, those with fractures or heart ailments are not allowed to take these flights. Ensure you have no fear of heights and no other health ailment when you are taking these flights.
Can do enjoy paragliding without initial training in Gangtok?
Yes, Gangtok is one of the places in India that provides safe tandem flights where the passenger needs no basic training.
What is the age limit for paragliding?
You must be 16 years or above to enjoy paragliding. A few operators set the age limit to 10 years and above. You have to check with the tour operator for the age limit.
What is the best time to enjoy paragliding in Gangtok?
You can enjoy paragliding from March to June or between September to November in Gangtok. The weather is mostly pleasant and cool during this time and it is not too chilly to let you enjoy long flights.
At what height can you fly for a medium flight in Gangtok?
You can fly at a height of 1300 to 1500 meters in Gangtok. It costs nearly 2500INR per individual flight. A medium flight lasts for 5 to 10 minutes.
What are the advantages of taking a high flight in Gangtok?
You get a bird's eye view of the Gangtok city, see the stunning view of the Kanchenjunga mountain range, and soak into the beauty of these mountainous landscapes. You fly at an altitude of nearly 2200 meters and for 15 to 20 minutes and land at a different site a few kilometers away from the take-off site.
People Also Read:
Paragliding in Darjeeling Paragliding In Uttarakhand Paragliding In Bir Billing