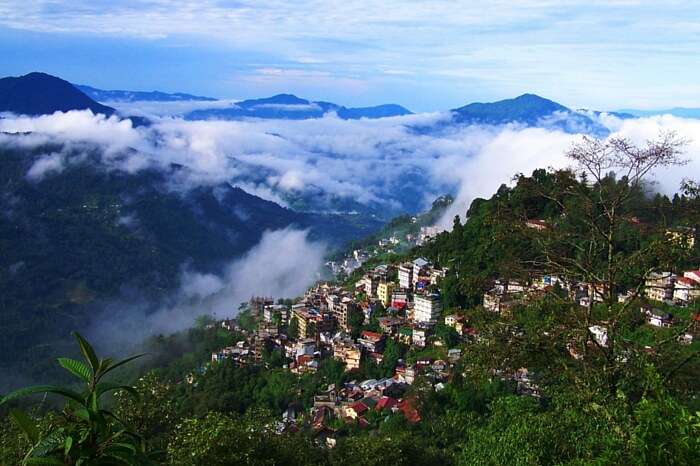 If you are a traveler, I bet you don't need alcohol or weed to stay high. There are places on Earth that drug you enough to leave you stoned for a long time. Gangtok, Sikkim is one such place that sits pretty in the lap of the Himalayas and offers surreal sceneries that you can't refuse. Besides sceneries, there is a wide range of things to do in Gangtok. From chilling at gorgeous hilltop hotels to sitting by the serene lakes and gushing waterfalls, there are ample things to enjoy during your trip to Gangtok that will catch your fancy instantaneously. Though the city doesn't belong to the group of happening cities in India, these tourist attractions in Gangtok make it one of the most sought-after cities of Eastern India.
20 Things To Do In Gangtok In 2020
Check out the 20 essential activities that must be on top of your list while planning your itinerary to the capital city of Sikkim. Have a look at the craziest things to do in Gangtok and take your pick:
Cable Ride – Witness Gangtok At A Glance
Yak Safari – Take A Closer Look At The Mountain Animal
Mountain Biking – Satiate The Adrenaline Rush
River Rafting – Meet The Waters Of Gangtok
Paragliding – Feel Like You Are On Top Of The World
M.G. Marg – Dine
Tashi View Point – Enjoy Sunset
Lal Bazaar – Buy Souvenirs
Tsuk La Khang Monastery – Visit
Hanuman Tok – Take A Walk Through History
Pemayangtse Monastery – Explore
Rumtek Monastery – Visit
Seven Sisters Waterfall – Explore
Nathu La Pass – Stop By
Tsongmo Lake – Visit
Shingba Rhododendron Sanctuary- Explore The Nature
Ranka Monastery
Khangchendzonga Biosphere Reserve- Explore
Mt Katao- Skiing
Menmecho Lake- Visit
1. Cable Ride – Witness Gangtok At A Glance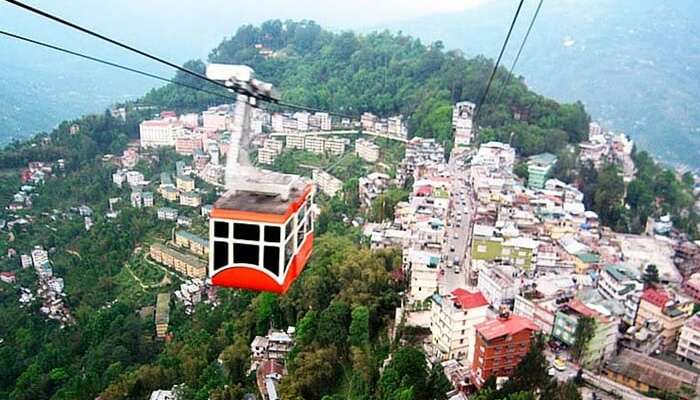 This is a kilometer of zig-zag thrill that starts from Deorali and takes the visitors to Tashiling. Offering a bird's eye view of Gangtok, it is one of the most famous things to do in Gangtok city and top-rated among Gangtok tourist attractions.
It is a double-cable zig back ropeway, in which each cable car can carry up to 24 passengers only. There are no seats in the cable car, so you need to stand. The 1 km long ride (2 km to and fro) has three stations – the first station is at Deorali near Institute of Tibetology; the next station is Namnang; and the topmost station is in Tashiling, close to the Secretariat.
You can disembark anywhere but a 2-way ride is highly recommended. The ticket price includes two-way ride and awesome views, both ways, are guaranteed. Further, this 7-minute ride is not limited to the complete city view only; if the weather is good, brace yourself for a glorious view of Khangchendzonga.
Timings: 9:30 am – 4:30 pm
Ticket price: INR 110 per adult and INR 70 for child below 6 years (free below 3)
Video camera charges: INR 100 (additional)
Location: Deorali, Gangtok
Must Read: 22 Best Honeymoon Places in India for the Summer
---
Sikkim-Gangtok-Darjeeling Holiday Packages On TravelTriangle
Visit Sikkim and explore Yumthang valley, Tsomgo Lake, Gangtok, Nathula Pass, and Pelling. Experience peace and tranquility while exploring Buddhist monasteries, snow-capped mountains, and wildlife sanctuaries. Book packages inclusive of airport transfers, cab, resort, sightseeing, and meals.
---
2. Yak Safari – Take A Closer Look At The Mountain Animal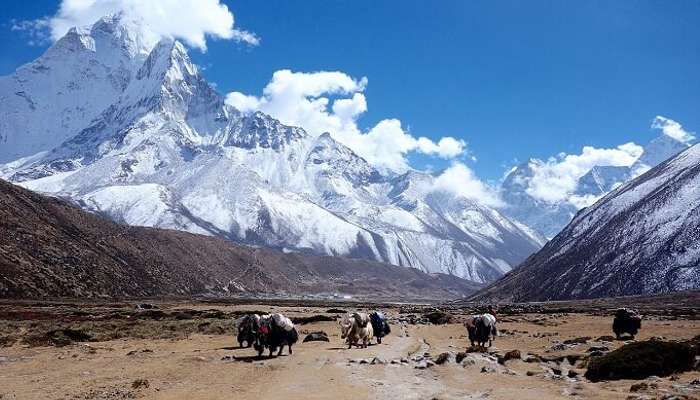 Yak Safari makes for a unique experience among all the top things to do in Gangtok. A ride that slowly and steadily takes you to places in and around Gangtok while you firmly hold on to the hump of this huge mountain animal. As you move through the craggy terrain, amid the angelic beauty of Sikkim, the joyride gets into you completely.
Organized in different parts of Sikkim, Yak Safari is an unforgettable and one of its kind experience. The popular trails are Dzongri area and Tsomgo lake. Go up the mountain for a ride around the Tsomgo Lake and dont miss a photo session atop the Yak!
You can plan your safari as per the duration of stay there. Usually, the yak safari comes in a 3 to 5-day itinerary which can be planned according to your availability.
Location: Dzongri, Gangtok
Suggested Read:Trip To Nathula Pass: A Once In A Lifetime Vacation Worth Taking
3. Mountain Biking – Satiate The Adrenaline Rush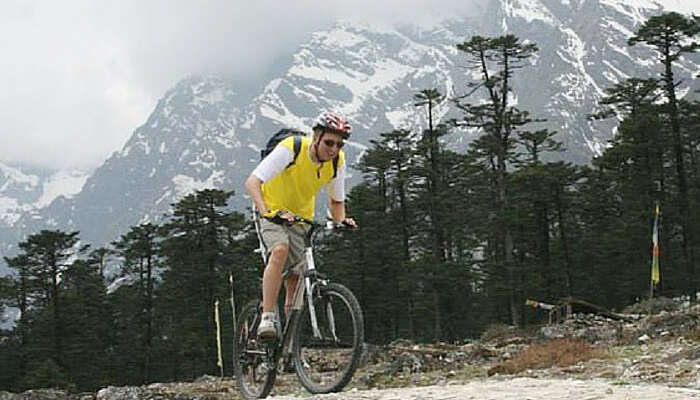 Gangtok has been a treat to mountain bikers, thanks to the grueling tracks that have turned into a biker's delight. One of the best things in Gangtok for adventure lovers, mountain biking in Gangtok boasts of routes that trigger adrenaline and offer a lot of thrill.
The complete activity ranges from a period as short as four days to full-fledged 15-day trekking as well as biking expedition. Most trails are carved out to help you experience the best of forests, villages, monasteries, rivers, waterfalls, and biodiversity in Gangtok.
Location: Some of the existing popular routes for mountain biking is:
Gangtok- Phodong- Rangrang- Dikchu Makha- Sirwani- Temi
Gangtok- Rumtek- Sang- Sirwani- Temi- Namchi- Jorethang- Melli
Gangtok- Rumtek- Sang- Sirwani- Temi- Namchi- Namthang- Rangpo
Charges: Depending on the operator and the route, the charges can vary a lot. Starting cost is INR 8,000 per person, and can also go up to INR 15,000.
Suggested Read:10 Beautiful Resorts In Gangtok
4. River Rafting – Meet The Waters Of Gangtok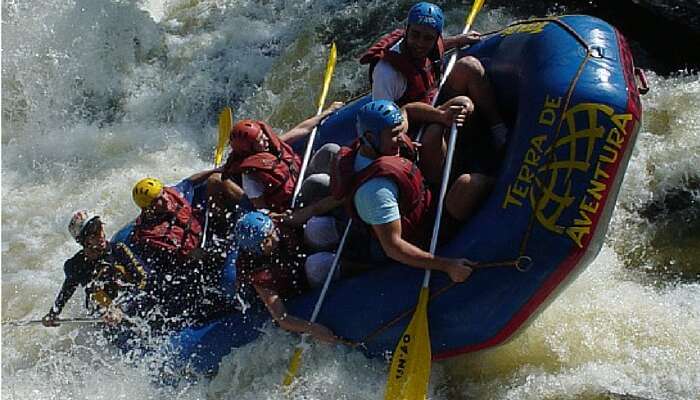 River rafting in Teesta river is one of the many adventurous things to do in Gangtok, Sikkim. The fact that the rapids of Rangit and the Teesta rivers are graded at the international level at I to IV, makes the rafting one of the finest rafting stretches in the world. The turbulent water of Rangit with its multidimensiona rapids provide the rafters enough challenge and adventure. The river courses through gorges and valleys that offer picturesque spectacles and make rafting a truly memorable experience.
Over the years, many campsites have sprung up along the banks of River Rangeet, a tributary of River Teesta. They offer overnight stays with camping, bonfires and a full day of rafting.
Location: Some of the popular routes are:
Makha-Rongpo (Shortest Route)
Dikchu-Teesta Bridge (Intermediately Long)
Dikchu-Kali Johra (Almost five hours long)
Bordang-Melli (More than five hours)
Charges: River rafting in Teesta will cost you anything between INR 500 – 1000 per person. Charges vary according to the route and the operator.
Suggested Read:Darjeeling In December: Here's Why Wanderers Love Hills More In The Winters
5. Paragliding – Feel Like You Are On Top Of The World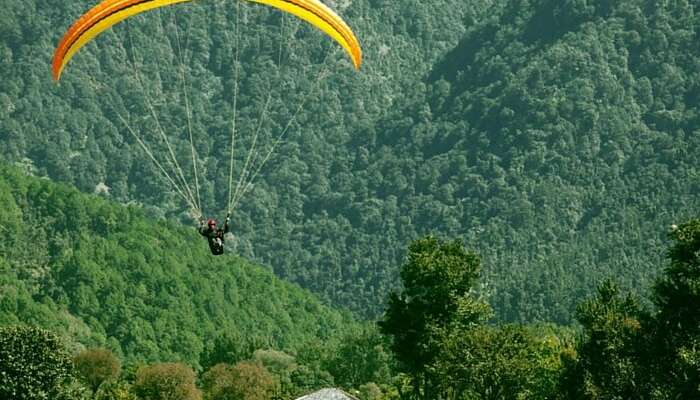 We were not born with wings but the desire to fly never really left our conscious. It made us reach out for a substitute and we fondly called it a paraglider. Paragliding is one of the adventurous things to do in Gangtok has become immensely popular given that it boasts of breathtaking views of the Himalayas and the vivid nature in its backdrop.
To go paragliding in Gangtok you really dont need to be a pro. There are plenty of operators, and all of them offer complete safety. A certified pilot accompanies all enthusiasts, thus taking care of the entire flight and its navigation.
Location: The starting point for Medium Fly (1400 m altitude, 5-10 mins) is Baliman Dara, and for High Fly (2200 m altitude, 20-30 mins) is Reshithang village.
Charges: Between INR 2000 and 5000, varies from operator to operator
Suggested Read:10 Popular Places To Visit In Shillong In 2018 That Will Treat Your Eyes, And Calm Your Soul!
6. M.G. Marg – Dine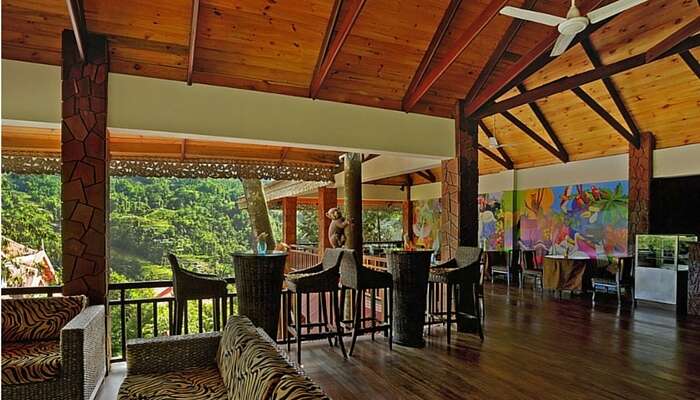 M.G Marg in Gangtok is considered the town center of Gangtok that houses some spectacular restaurants, food joints, and cafes. The two of the most popular ones are 9'INE Native Cuisine and Bakers Cafe on MG Marg, and trying their lip-smacking food is one of the most indulgent things to do in Gangtok.
9'INE Native Cuisine is widely popular for its Tibetan cuisine. You can feast on delicacies like Momos, Sikkimese Set Meal with Chicken, Fermented Soybean, Dim sums, and Mushroom Kachi. It primarily serves Asian, Tibetan, and Nepalese cuisines and is a must visit restaurant in Gangtok.
At Bakers cafe, you can sip on your favorite beverage, while sitting on the window-side table and gazing at the picturesque valley from the glass window. This cozy Western-style cafe is known for its strong espresso, refreshing lemon iced tea, croissants, baguettes, paninis, pizzas, hot dogs, and pastries.
Location: M.G. Marg, Gangtok
7. Tashi View Point – Enjoy Sunset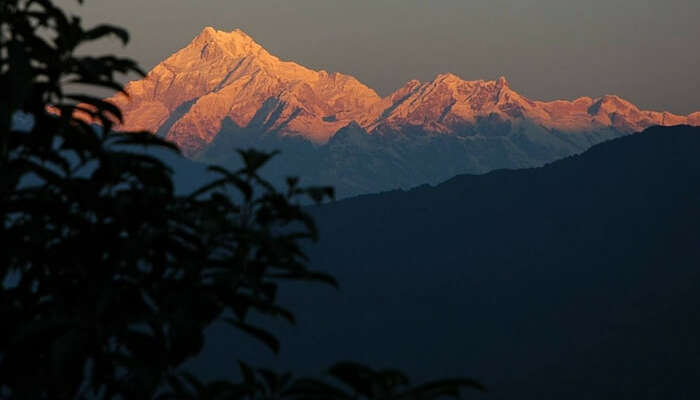 Relish the snow-capped mountains from close quarters amid floating clouds from Tashi View Point. It is located in Tashi, about 8 km from Gangtok. The point is one of the tourist attractions in Gangtok and offers an exceptional view of Kanchenjunga snow peaks on a clear day. Tashi View Point is known for its gorgeous sunrise as well as the mild sunset. As the day progresses you will find the peaks illuminated by changing the color of sun rays. To savor the alluring beauty of the place you must reach the point before 5 am.
On the mountains on the opposite side, you can see the Phodong and Labrang monasteries. From road level, you need to climb steep stairs to reach up to the circular viewing area. It can easily accommodate about 15-20 people at a time. There is no entry fee, however, youll have to pay Rs. 10 extra to get a closer view of the peaks with binoculars and telescopes already placed there. If you love mountains, capturing this sunset in your camera is certainly one of the best things to do in Gangtok.
Location: Tashi
Suggested Read: 8 Magical Winter Road Trips In India If You Like Some Chills & Thrills!
8. Lal Bazaar – Buy Souvenirs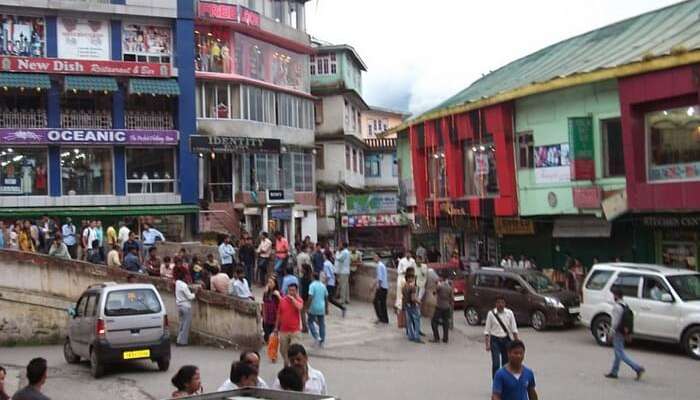 Lal Bazaar is a congregation of local artisans and farmers of Sikkim where they assemble to bargain, gossip or sell their commodities. The Bazaar makes for an ideal spot for shopping in Gangtok. On Sundays, Gangtok's Lal Bazaar is a melody of colors where ethnic groups from different villages gather. Lal Bazaar is located just below the M.G Marg and is at a walking distance from most of the hotels in Gangtok.
You can easily find various utility things in the marketplace. The smell of dried fish, vegetables and cheese permeates the air as you venture along the bylanes of the market. The bustling bazaar makes for an ideal place for taking photographs of the local vendors selling their commodities.
Location: Lal Bazaar, Gangtok
9. Tsuk La Khang Monastery – Visit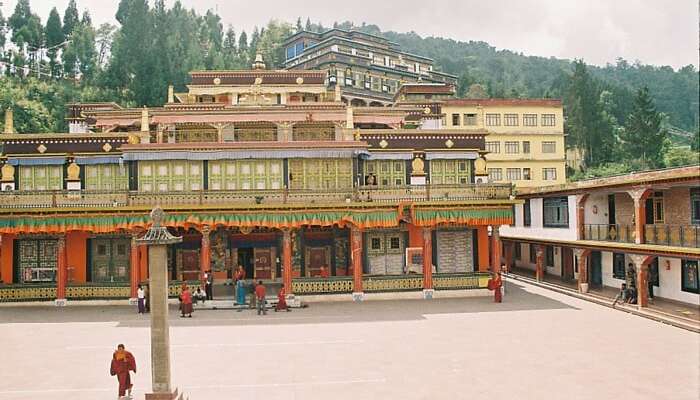 Of all the places of importance, Gangtok is well known for its monasteries. They are thousands of years old and house some of the oldest living disciples of Lord Buddha. A day tour covering the famous monasteries is among the best things to do in Gangtok in June for architecture and history lovers.
Overlooking the colossal mountain range, the Tsuk La Khang Monastery is located in the complex of Royal Palace. One of the major places of worship and assembly for the Buddhists, this monastery is a two-story edifice that houses a wide collection of works of Buddhist scriptures. Every corner of this monastery is adorned with the wooden sculptures which are crafted in the form of Snow Lion's Head. Murals and altars decorate the walls of the monastery.
Location: Royal Palace Complex, Gangtok
Suggested Read:Note Down These Best Things To Do On An All Boys Trip To Sikkim, Gangtok, And Darjeeling!
10. Hanuman Tok – Take A Walk Through History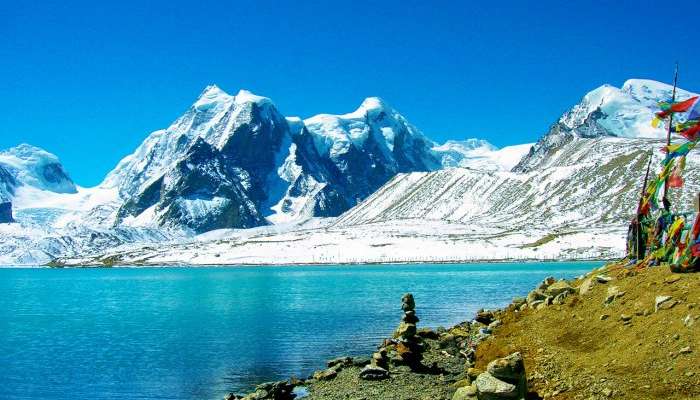 Sitting pretty at an altitude of almost 5500 feet, Gangtok offers some of the most surreal and out of the world places which are indeed a treat to the eyes. Though the complete city is extraordinary in its own way, there are places that stand out of the league. Plan a day tour dedicated to sightseeing, covering tourist attractions.
At an altitude of 7,200 ft and at a distance of 11 km from Gangtok town, Hanuman Tok offers a breathtaking view of Kanchenjunga range. The legend says that Lord Hanuman took rest for a moment at this place when he was on his way to Lanka from the Himalayas.
Location: 11 km from Gangtok town
11. Pemayangtse Monastery – Explore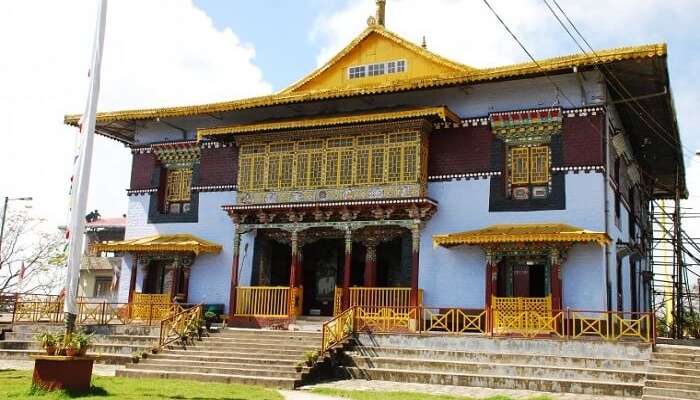 Located at a distance of about 2 km from Pelling is Pemayangtse Monastery-the principal monastery belonging to Nyingma sect (one of the four sects of Tibetan Buddhism). This monastery is thinly populated with a headcount of little over a hundred monks. The monastery boasts of snow-capped mountains in its backdrop and serene valley dotted with fluffy clouds. Also, it features exquisite paintings, sculptures, and statues of different deities in the main building which remains a major source of attraction for the onlookers.
Location: Sikkim
12. Rumtek Monastery – Visit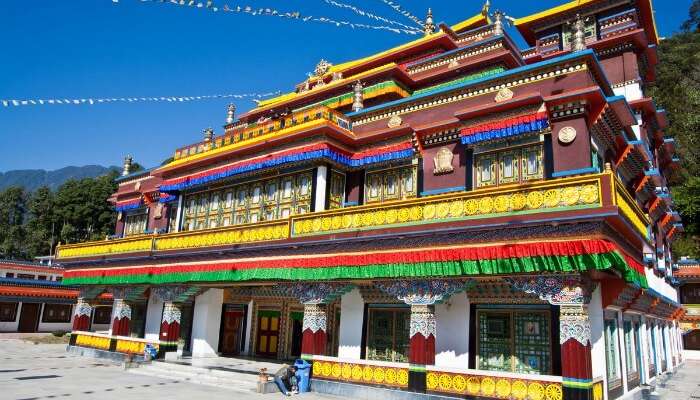 Located in Rumtek, 23 km away from Gangtok town, Rumtek monastery is one of the largest in Sikkim and belongs to the Kargyu sect of Buddhists which originated in the 12th century in Tibet. The architecture of the monastery is one of the finest in the world and resembles the original one in Tsurphu, Tibet. From the gate at the base, it requires an uphill walk (about half a kilometer) to reach up to the main monastery which boasts of a picturesque surrounding.
Location: Surphu Labrang Pal Karmae Sangha Dhuche, Dharma Chakra Centre, Sikkim 737135
13. Seven Sisters Waterfall – Explore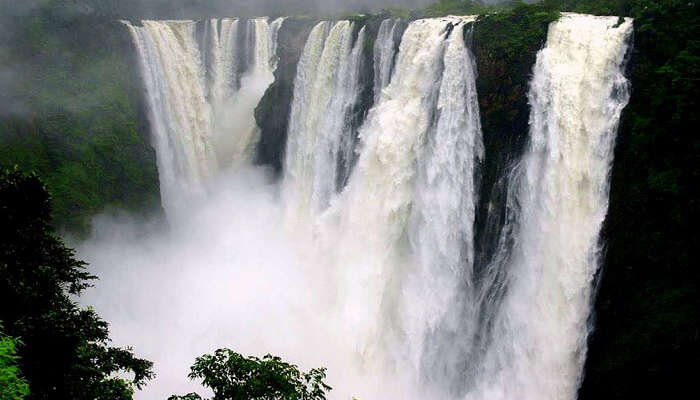 You can spend the entire day watching the clear blue, pristine waters of Seven Sisters Waterfall cascading down the mountains and not be bored. The waterfalls are surrounded by forests from all sides. The destination is a perfect place to relax and enjoy the view. As the sun starts to set, the sight becomes even more magical. You can arrange a small picnic with your family and friends there too.
Location: National Highway, North Sikkim, Gangtok
14. Nathu La Pass – Stop By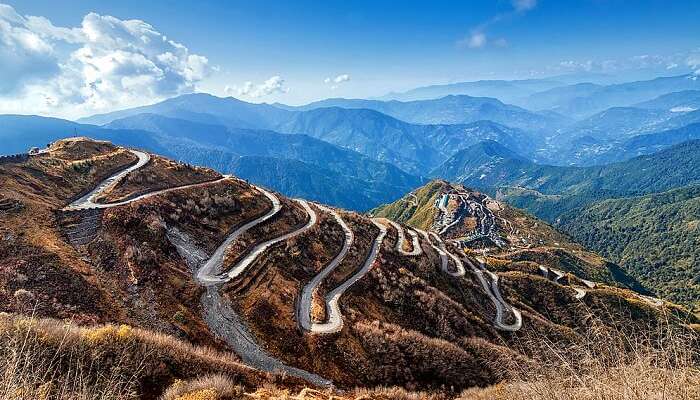 At an altitude of 4300 m, Nathu La Pass acts as one of the 3 links between India and China. The place also has historical relevance because it was the place through which the ancient silk route used to operate until 1962. You can also catch a glimpse of the fenced Indo-China border few meters away and you can spot both Indian and Chinese soldiers guarding the border. It requires a full day trip from Gangtok to visit Nathula. The trip is usually combined with visits to Tsomgo Lake and Baba Mandir.
Location: 54 km east of Gangtok
15. Tsongmo Lake – Visit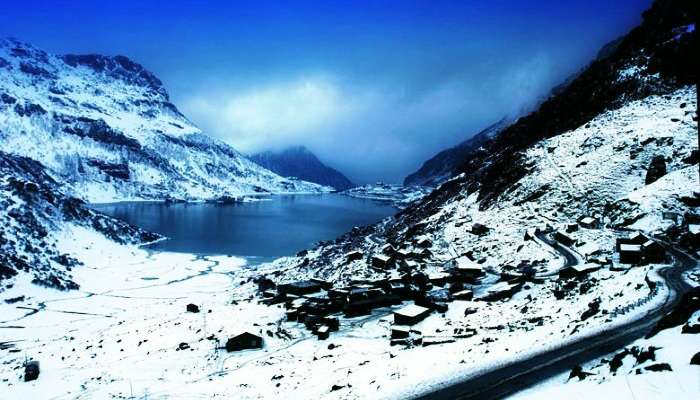 Tsomgo Lake or Changu Lake, is a glacial lake in the East Sikkim region, some 40 km from Gangtok. The fact, that the elevation of the lake rises from 5000 (Gangtok) feet to 10,000 feet in a span of 15 km, makes it one of the most exciting rides ever. It is enveloped by majestic mountains from all sides and offers unmatched serenity to travelers.
Location: Jawaharlal Nehru Road, Tathangchen Area, Gangtok
Suggested Read:20 Scintillating Places To Visit In Gangtok!
16. Shingba Rhododendron Sanctuary- Explore The Nature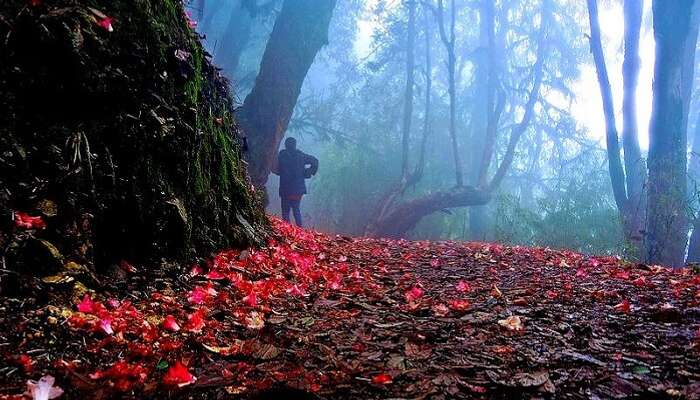 Exhibiting the nature at its best, Shigba Rhododendron Sanctuary comes alive during the spring season in Sikkim. Nestled amidst the hills of Himalayas, visiting this location leaves every traveler awestruck by virtue of its vibrant and appealing colors. This sanctuary houses an intriguing and fascinating collection of forty different species of rhododendrons.
These woody, colorful plants flourish and bloom well during the spring season and attracts flocks of tourists every year. Apart from the impressive and expansive variety of rhododendron, the sanctuary is also home to hot springs and alpine meadows, amalgamating various wonders of mother nature and offering an overwhelming experience to man kind. With the floors being covered by lush greenery, this sanctuary makes a perfect escape for those who are seeking to get closer to nature.
Location: Yumthang Valley, Gangtok
Suggested Read: Shopping In Sikkim – Top 5 Places To Shop For Handicrafts & Souvenirs In Sikkim
17. Ranka Monastery- Pray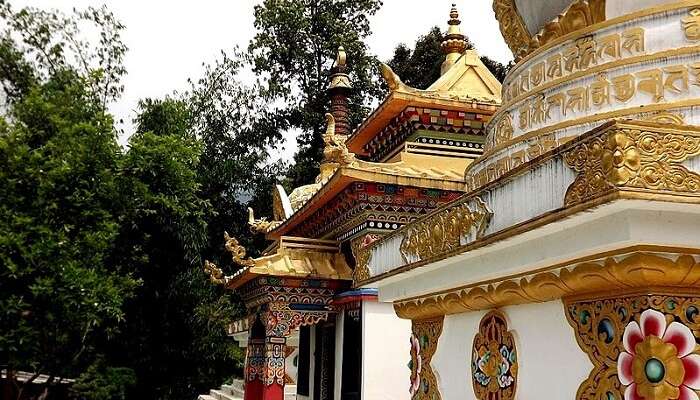 Offering extremely picturesque views, Ranka Monastery is an ideal place for those travelers who are seeking to take a road less taken. Being relatively new as compared to other monasteries in Sikkim, Ranka has earned itself a significance amonst Bollywood film makers.
Nestled amongst the forest-capped mountains with foliage greener than ever, Ranka monastery houses a great series of prayer wheels, a massive courtyard, and a stunning pagoda top. This monastery oozes out the essence of tranquility and spirituality. The terrace, located outside of the prayer hall, offers mesmerizing views of the mountains and sun setting, spreading hues of orange, yellow, and red all over.
The souvenire and gift shops constructed right next to the car parking allows travelers to carry some token of love for the friends and family back home.
Location: 20 km from Gangtok town
18. Khangchendzonga Biosphere Reserve- Explore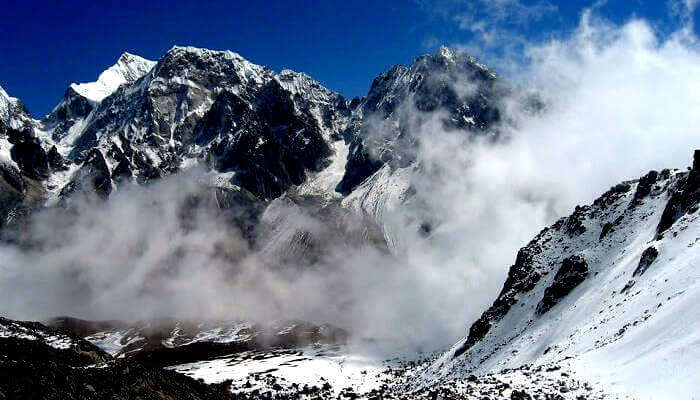 Sitting with Nepal on its west and Tibet on its north-west, Khangchendzonga Biosphere Reserve is one of the most interesting and important places in Sikkim. Housing one of the highest ecosystems, this Reserve is one of the famous worlds 34 biodiversities.
Massive, natural forests and economic activities like agriculture, animal husbandry, poultry farming, and much more, Khangchendzonga has earned itself a place on the list of UNESCO World Heritage Sites.
Covering a massive ground and mountain area, this Reserve has high cultural values and houses a fair amount of mountains, peaks, lakes, shrines, stupas, hot springs, caves, and much more. Apart from these marvels, the Reserve is also home to rare and endemic speices of alluring flora.
Location: 31 A National Highway, Gangtok
Suggested Read:Sikkim Travel Tips – Everything You Need To Know For An Amazing Sikkim Tour
19. Mt Katao- Skiing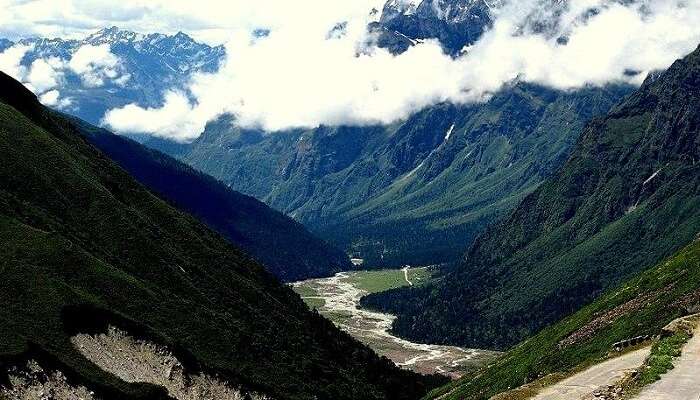 Image Source
Acting as a perfect spot for those travelers who are seeking to engage in adventurous escapades, Mt Katao is sitting around 15000 feet above the sea level. Offering travelers with various adventurous sports such as snow tubing, skiing, snowboarding, and much more, this location is nothing less than paradise on earth for thrill seekers. However, since this peak is a part of military base, one needs permits from the Indian Army to conquer the peak.
The floors of this mountain range are covered with the gorgeous and attractive flora such as poppy, rhododendron, primula, and many more. By virtue of its location high above the sea level, the Mt Katao is capped with snow almost throughout the year, making it appealing for the nature admirers as well.
Location: Lachung, Gangtok
Suggested Read: 5 Adventure Sports In Gangtok That Bring You Face To Face With Raw Nature
20. Menmecho Lake- Visit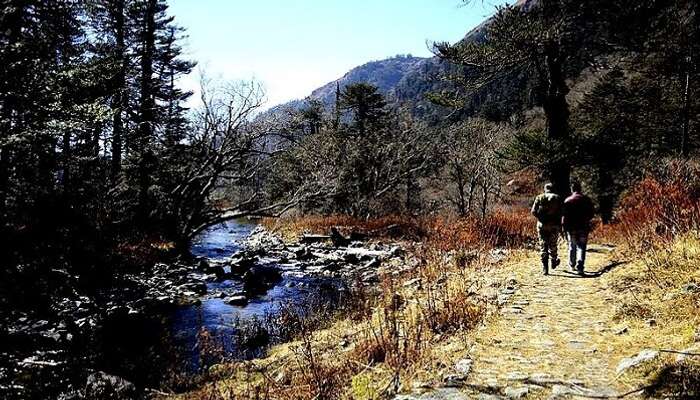 Image Source
Nestled between the mountains and exquisite pine forests, Menmecho Lake is a high altitude lake that receives its water from the surrounding icy mountains. With lake being crystal clear and sand covering the floors of lakes shore, this location oozes out the beachy vibes set amidst the snowy mountains, taking away the breath of travelers.
The beauty of the lakes and Nathang Valley, the changing colors of Menmecho Lake, picturesque views of the mountains, and the aura of peace surrounding this location makes travelers fall in love with itself easily.
Location: 60 km from Gangtok town
Further Read: 8 Magnificent Temples In Sikkim One Must Visit For Spiritual Solace
With this ready reckoner of best things to do in Gangtok, there is enough fodder for tourists and adventure enthusiasts to plan an unforgettable trip this northeastern beauty! When are you planning a trip to Gangtok? Book a trip at the earliest to avail exciting deals and discounts. You will have the time of your life here and will not be disappointed by the plethora of things that Gangtok has to offer you.
Frequently Asked Questions About Things To Do In Gangtok
Q. What are some of the adventurous things to do in Gangtok?
A. One can go for paragliding, trekking and mountain biking which are the best adventurous things to do in Gangtok. If you are looking for exciting things to do in Gangtok in November which are adventurous as well then Yark safari is the best option for you.
Q. What are the things to do in Gangtok at night?
A. There are many live music clubs in Gangtok which you should definitely visit to enjoy the nightlife of the city.
People also read:
Honeymoon in Gangtok and Darjeeling Shopping in Gangtok Restaurants in Gangtok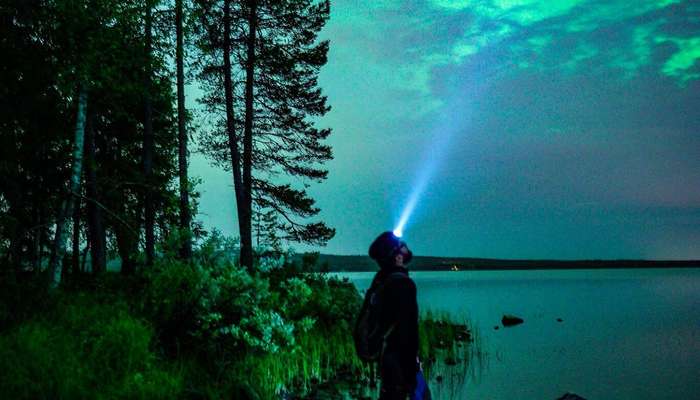 Comments
comments