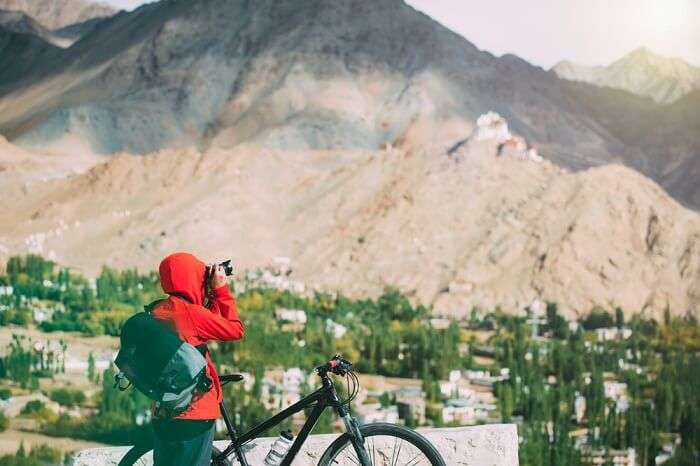 Its perfect setting amidst the Himalayas with spectacular views of the Kanchenjunga, its warm and friendly people and ample opportunities for adventure sports in Gangtok, make Sikkim's charming capital an ideal vacation destination any time of the year.
Gangtok is not just one of the most scenic hill stations in the country but also a major centre of Tibetan Buddhism and a popular base for adventure enthusiasts. From hiking through the majestic Himalayan passes to soaring in the sky on a hang glider, the city's high adventure quotient beckons travellers from across the country. Here's a lowdown on the Gangtok adventure sports scenario which will tell you that no matter what adventure in Gangtok will go on.
Best Time To Visit Gangtok For Adventure Sports

The most ideal time to visit Gangtok for all kinds of activities, be it adventure sports, sightseeing, or simply relaxing, is from March to June when lush Rhododendron flowers bloom, and then from late September to November when you can get clear views of Himalayan peaks. The average temperature during this time stays at around 15°C and is suitable for sightseeing and engaging in adventure activities in Gangtok.
You can also visit from October to February to experience snowfall, but then you'll need to pack well for cold weather as the temperature during this time in Gangtok tends to go below 0°C.
11 Best Adventure Sports In Gangtok
Gangtok offers a large number of adventure activities that makes the trip worthwhile. If you are wondering what all Gangtok adventure sports you can try, then don't wonder anymore. Here are your answers. Just pack your bags and get going.
Teesta River Rafting: Feel The Adrenaline Rushing
Paragliding: Soar Above Picturesque Valleys
Hang Gliding: The Thrill Of Flying Like A Bird
Mountain Biking: Get Off The Beaten Track
Trekking: On Wondrous Himalayan Trails
Caving: Explore The Unexplored
Yak Safari: Witness Stunning Views
Ropeway Cable Ride: Bird's Eye View
Mountaineering: Extreme Sports
Rock Climbing: Test Your Limits
Helicopter Ride: A Ride To Remember
1. Teesta River Rafting: Feel The Adrenaline Rushing

Often called the lifeline of Sikkim the Teesta river gushing through this natural paradise offers one of the most thrilling experiences of river rafting near Gangtok. Sitting in your raft, oars in hand and lifejacket safely belted one can feel the rush of adventure even before setting off on this thrilling ride. While you manoeuvre through the mighty rapids and feel the thrill of one of the most fierce adventure activities in Gangtok, you also get a chance to witness picturesque landscapes that pass you along the river.
Best Places for River rafting in Gangtok: Makha town near Gangtok for an 11km rafting circuit, Triveni point near Teesta Bazaar
Price: Teesta river rafting cost starts from INR 900/person
Tip: Be strapped in to the safety gear at all times and make sure you do not try extremely dangerous rapids if you're not experienced in river rafting.
Must Read: 20 Most Spellbinding Places To Visit Near Gangtok In 2022
2. Paragliding: Soar Above Picturesque Valleys

There are a few experiences as thrilling as soaring in the skies while soaking in the breathtaking views as you glide along like a free bird. One of the most popular adventure sports in Gangtok, paragliding is an experience to remember. Adventure companies offer tandem flights with experienced pilots for a safe and exhilarating experience. With excellent launching ridges as well as surreal views of the Himalayan valleys and villages, paragliding in Gangtok is amongst the best in the country.
Best Places for Paragliding near Gangtok: Tashi View Point, Bojoghari village, Pangthang
Price: A medium flight lasting around 10 minutes begins from INR 2500/person. A GoPro video recording incurs additional cost.
Tip: Do not engage in this feat if weather conditions are bad and wind speed is more than what it should be.
Suggested Read: Gangtok Honeymoon: A Handbook About This Ultimate Paradise In Sikkim!
3. Hang Gliding: The Thrill Of Flying Like A Bird

Image Source
Though very similar to paragliding yet a lot more thrilling, hang gliding is another one of the best adventure sports in Gangtok you must not miss out on. A recent addition to Sikkim's adventure offerings, hang gliding is all about truly experiencing the joy of flying over mountains, valleys and colourful hamlets strapped to the bird-like wings. Piloted flights are available for the first-timers while experienced adventure junkies can opt for solo flights for that exhilarating experience of freely gliding over picturesque landscapes.
Best Places for hang gliding near Gangtok: Jorethang
Price: Starts from INR 2500/person. GoPro camera recording incurs additional cost.
Tip: Make sure you only approach a certified and experienced hand gliding agency for this adventure.
Suggested Read: 22 Cozy Budget Hotels In Gangtok For Your Exhilarating Trip To Sikkim
4. Mountain Biking: Get Off The Beaten Track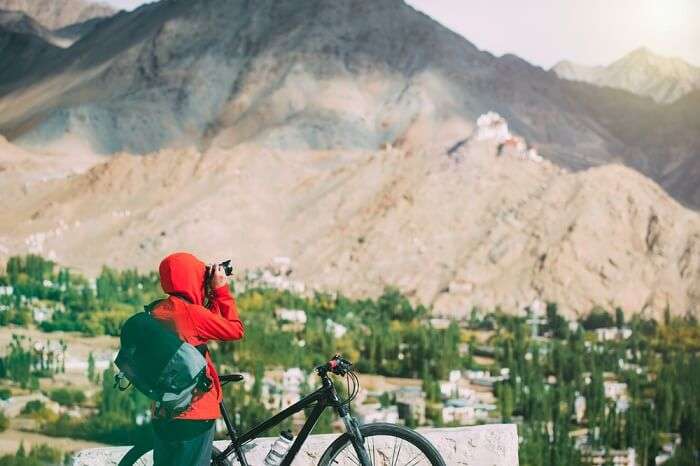 There is no better way to let a place unravel its secrets than biking through the countryside off the beaten path. The rugged mountainous terrains and dramatic Himalayan landscape around the city make mountain biking an exciting option for adventure sports in Gangtok. You can bike along the myriad trails in Sikkim, soaking in magnificent views, interacting with the local villagers for a taste of Sikkim's culture while feeling the rush of adventure meandering along the valleys.
Best Places for Mountain Biking near Gangtok: The Gangtok-Rangpo, Gangtok-Melli and Gangtok- Temi biking trails are great to experience the magic of Sikkim.
Price: Mountain bikes are available for hire or provided by professional mountain biking tour operators.
Tip: Make sure all safety gear like helmets, knee pads, and elbow pads are in place and your bike has been recently serviced before you begin.
Suggested Read: Gangtok Food: 5 Scrumptious Dishes To Try On Your 2022 Vacay!
5. Trekking: On Wondrous Himalayan Trails

Nestled amidst the Himalayan ranges, Gangtok is the perfect starting point for many treks and hikes across the mighty peaks and passes while witnessing the unspoilt natural beauty all around. Each one of these treks offers breathtaking views of the snow-clad mountains, and takes you through pristine valleys, gushing waterfalls, tranquil monasteries and blooming rhododendrons (during spring). Trekking is anyway a great option for those who are looking for some thrilling yet relaxing adventure in Gangtok.
Best Treks around Gangtok: The Sandakphu trek, Dzongri trek, Goechala trek, Green Lake trek, Yumthang valley trek, Versay trek, and Lhaba Tarum Tsachu trek are amongst the most popular ones. For professional mountaineers, the Kanchenjunga trek is an adventure to remember for a lifetime.
Price: Starts from INR 15,200/-
Tip: Keep a tab on weather updates at all times and do not go on the trek if the forecast predicts rain.
Suggested Read: 31 Incredible Places To Visit In Gangtok With Your Family And Friends In 2022
6. Caving: Explore The Unexplored

Ever wondered if you could explore what is hidden within the mighty Himalayas? If yes, caving is what you should definitely indulge in when in Gangtok. Right from one of the most holy caves of the Himalayas, Gangtok is a destination that has plenty of adventurous and thrill reeking activities with caving being one of the top ones. These caves given one a chance to be a part of long treks and embrace what nature has to provide throughout their journey. If you are a believer of god, you can also pay homage to the local deity.
Best Places for Caving in Gangtok: North Lha-ri-nying Phu
Price: INR 6000 onwards
Tip: Make sure you travel light as the journey around the caves can be as long as three days!
7. Yak Safari: Witness Stunning Views

There is nothing better than enjoying and taking in every view of the beautiful Gangtok, and there is no better way to do that other than taking a Yak safari in Gangtok. Yak safari will take you on a stroll through the gentle but steep slopes to the Tsomgo Lake. This safari will give you a chance to experience the beauty of this region in its raw form.
Best places for Yak safari near Gangtok: Tsomgo Lake
Price: INR 450
Tip: Carry warm clothes and sunglasses
8. Ropeway Cable Ride: Bird's Eye View

When in Gangtok, you should not miss the ropeway cable ride. Gangtok ropeway is a lifetime experience that cannot be replicated anywhere else. It is a 1km zig-zag ride that takes the visitors from Deorali to Tashling offering amazing aerial views of the town. It is a 7 min ride that gives stunning views of the Khangchendzonga on a clear and sunny day.
Price: INR 60 for adults; INR 30 for kids
Tip: The ride starts from 9.30 and operates till 4.30 pm so choose a time slot accordingly.
9. Mountaineering: Extreme Sports

Although a relatively new activity, it is one of the best adventure activities in Gangtok that one should indulge in. Gangtok is home to some of the most amazing peaks that provide a perfect opportunity for mountaineering. If you are in Gangtok and looking for an extreme sport, this is it. Best time for this activity is from September through November.
Best places to go mountaineering: Frey's peak, Lama Wangden, and Brumkhangse are some of the best peaks for mountaineering.
Price: INR 15000 for eight member team
Tip: Mountaineering requires to get a permit from Indian Mountaineering Institute
10. Rock Climbing: Test Your Limits

Rock climbing is one of the most popular adventure sports in Gangtok. Rock climbing is the perfect activity for those who are physically and mentally strong. This activity demands agility, capacity, and perfect balance from the climber. Needless to say, this is not for the faint hearted. Extensive training is required before climbing and the gears are provided by the operators.
Best places to go rock climbing: Bulbulay Dara is the perfect place for this activity.
Price: INR 10000
Tip: Training is required before you start climbing,
11. Helicopter Ride: A Ride To Remember

Helicopter ride in Gangtok is one of the best things to do if you want to experience Gangtok and its beauty. The ride will offer amazing views of the Himalayan ranges and will let you witness majestic mountains, treacherous rivers, expansive valleys, and green forests. The helicopter will give a bird's eye view of the town and its surroundings.
Price: INR 9500
Tip: Always follow the instructions of the experts. Inform immediately in case of any discomfort.
Further Read: Those 8 Handpicked Places To Visit In Gangtok In June That Reek Of Serenity From Every Corner!
Gangtok has many more exciting experiences to offer for those seeking thrill and adventure in this beautiful state. From Yak safaris to cable car rides and Caving opportunities, there is something for everyone looking for a brush with adventure. And to experience it all and more, plan a Sikkim trip with TravelTriangle and include all these adventure sports in Gangtok in your customized itinerary.
Disclaimer: TravelTriangle claims no credit for images featured on our blog site unless otherwise noted. All visual content is copyrighted to its respectful owners. We try to link back to original sources whenever possible. If you own the rights to any of the images, and do not wish them to appear on TravelTriangle, please contact us and they will be promptly removed. We believe in providing  proper attribution to the original author, artist or photographer.
Frequently Asked Questions About Gangtok Adventure Sports
Q. What is the best time to visit Gangtok?
A. Although this gorgeous destination attracts tourists around the year, the best time to visit the place, considering it's high altitude, are autumn months. The months from September – October and March – June are considered to be the best.
Q. Can I try adventure sports in Gangtok?
A. Yes, there are many adventure sports in Gangtok that you can try. Be it river rafting or paragliding, mountain biking or trekking and even hand gliding, there are so many activities in Gangtok that will give you a sudden adrenaline rush.
Q. What is the nearest airport to Gangtok?
A. The airport that is most conveniently located and closest to Gangtok is the Bagdogra International Airport. The airpost is 128 kilometres away from Sikkim's capital city.
Q. What is the best thing to shop in Gangtok?
A. There are many things you can buy in Gangtok. Buddhist prayer flags and figurines, Tibetan carpets, Sikkim Tea, wall hangings and semi precious stones are some of the most popular items that you can buy in Sikkim. 
Q. Does it snow in Gangtok?
A. Although winter in Gangtok is extremely cold and chilly, snowfall is not something that is common. However in places at a higher altitude such as Nathula Pass and Tsomgo Lake, you will find snow and there is heavy snowfall.
Q. What is Gangtok known for?
A. Gangtok is well known for its picturesque landscapes, beautiful valleys and the serene views it offers. It is also famous for the warm and friendly locals and Gangtok food too is well known, the scrumptious delicacies that are a part of it's cuisine are something you must try.
Q. Is Gangtok worth a visit?
A. Yes, gangtok is most certainly worth a visit. In fact, it is one of the most beautiful places you will visit. It offers awe-inspiring views and if you are an adventure junkie then you should definitely not miss out on this place.
Q. Is Gangtok safe?
A. Yes, Gangtok is completely safe. However, it is better to take the road leading to Gangtok during the day as it's safer and more convenient.
People Also Read:
Adventure Sports In Manali Adventure Sports In Mangalore Adventure Sports In Jaisalmer