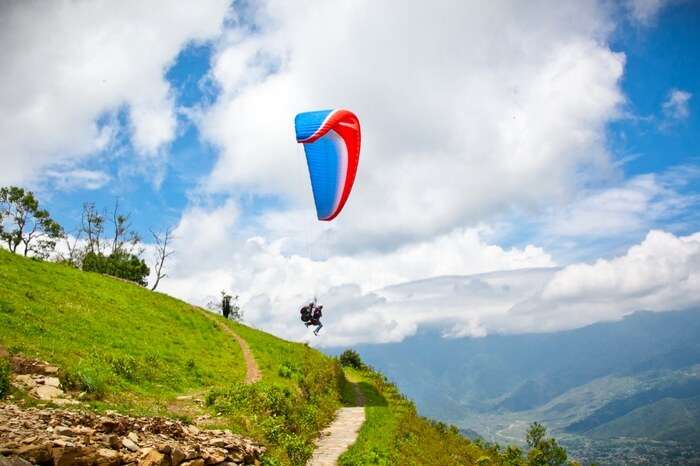 Live your dream of soaring like a bird in the sky and cruising among the clouds. Paragliding in Khajjiar is certainly the most sought after adventure activity in Himachal. The quaint village tucked in the Chamba district of Himachal Pradesh acts as a perfect weekend getaway from Delhi. It is also a completely hassle free destination to live your dream of flying without the rumbling noise of motors deafening your ears.
Khajjiar is an offbeat travel destination where you can plan a weekend trip, relax, unwind, savor the moments, behold the majestic Kailash, and come back with a refreshed mind.
Quick Links To Navigate The Guide
1. Paragliding In Khajjiar – An Exhilarating Experience
2. Best Time To Visit Khajjiar For Paragliding
3. How To Reach Khajjiar
4. Paragliding In Khajjiar – The Perfect Weekend Getaway
5. Itinerary For Weekend Trip For Paragliding In Khajjiar
6. How To Take The Flight For Paragliding?
7. Safety Checks For Paragliding
Paragliding In Khajjiar – An Exhilarating Experience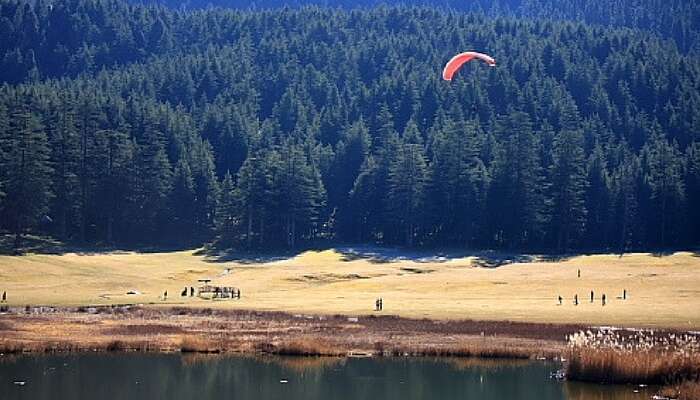 Paragliding in the valley of Khajjiar is particularly curated for adrenaline junkies. Experience the unmatchable thrill of walking the precipice and taking a leap from a scary height above the ground. Savor the long cherished dream of flying with both arms stretched outwards, basking in the moment, occasionally dashing into a pine tree, and escaping with minor bruises. The thrill of paragliding in Khajjiar – also known as Switzerland of India, is unmatchable.
Best Time To Visit Khajjiar For Paragliding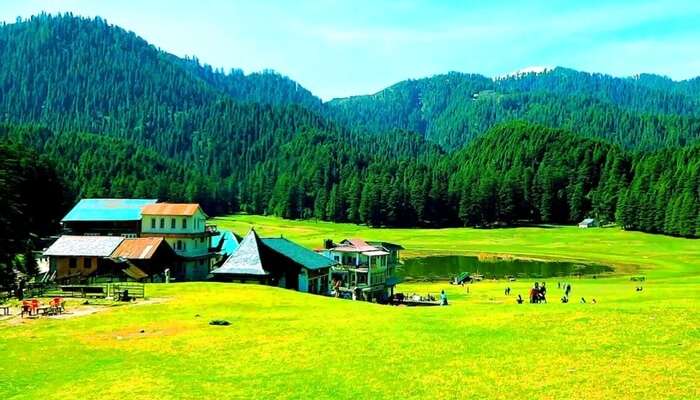 Khajjiar is a 1-hour ride from Dalhousie and is frequented by travelers from across the world throughout the year. March – June, September, and November – December are the best months to plan a paragliding trip to Khajjiar.
Khajjiar is located at an altitude of almost 2000 meters above the ground and often experiences snowfall during winters. Make no mistake and carry sufficient winter clothes. Thermal innerwear, full sleeves thick jacket, and woolen monkey cap must be carried along.
How To Reach Khajjiar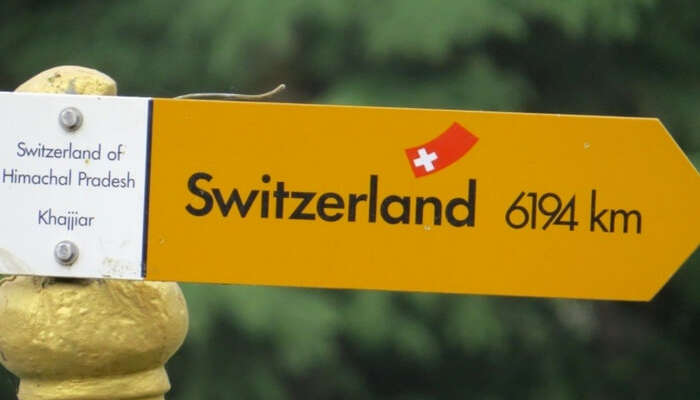 Khajjiar is a part of the Chamba district and is located at a distance of 24 km from Dalhousie. It can be easily reached by taking various means of transport, including flight, train, bus, cab, and bike.
By air: Gaggal Airport in Dharamsala, the nearest airstrip, is located at a distance of 122 km from Khajjiar. The airport is well connected with other major airports in India. From airport, cover the remaining distance by a cab.
Time taken: Delhi to Dharamshala by flight: 1.5 hours; Dharamshala to Khajjiar by cab: 4 hours
By train: Pathankot, at a distance of 118 km, is the nearest railhead to Khajjiar and is located at a distance of 480 km from New Delhi. Take a taxi to reach Khajjiar from the railway station.
Time taken: Delhi to Pathankot by train: 8.25 hours; Pathankot to Khajjiar by cab: 3.3 hours
By road: Direct buses ply from Delhi to Dalhousie. This is an overnight journey. Upon reaching Dalhousie, you can take a cab to reach Khajjiar. On the contrary, Khajjiar can be easily reached from Chandigarh, located 325 km away, after taking a direct bus from Chandigarh to Khajjiar/Dalhousie.
Time taken: Delhi to Dalhousie by bus: 7.25 hours; Dalhousie to Khajjiar by cab: 45 minutes
However, taking a direct cab from Chandigarh or Delhi to Khajjiar is the most preferred way of reaching this hill station. It is fairly economical, quite comfortable, and decently quick. The difference between the time of travel in a personal vehicle and a bus could be as high as an hour & a half and depends majorly on the halts that the bus takes.
Time taken from Delhi to Khajjiar by a private hired cab: 10.5 hours
Paragliding In Khajjiar – The Perfect Weekend Getaway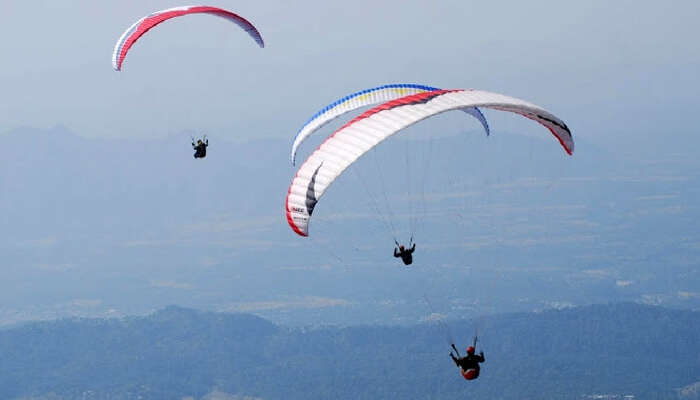 A weekend trip for paragliding in Khajjiar is a 1 night and 2 days experience. A paragliding trip will cost you anything between INR 3000 and INR 4000.
Most organizers keep the first day for sightseeing & some light activities and the second day for paragliding. The reason is a simple one. Most tourists start on Friday and are able to reach Khajjiar on Saturday morning, sometime past 8 or 9 o'clock. Paragliding in Khajjiar, however, is best experienced early morning, before the sun comes up bright & hot.
Suggested Read: A Quaint Weekend Getaway To Renuka Lake In Himachal Pradesh
Itinerary For Weekend Trip For Paragliding In Khajjiar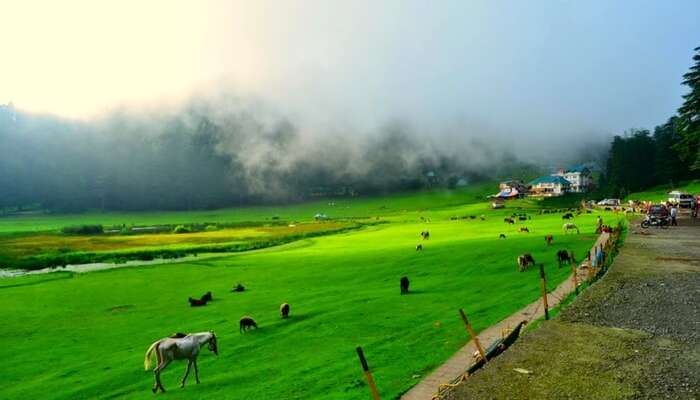 Day 1: Reach Dalhousie in the morning. Khajjiar boasts of plenty of stay options where you can plan your stay for the next couple of days. Pick an accommodation that you like the most, take some time to freshen up, and then head for a glorious breakfast. Post that, you may head out for sightseeing in and around Dalhousie & Khajjiar.
Dainkund Peak, Kalatop Wildlife Reserve, Panchpula falls, & Mall Road are some of the places to visit in Dalhousie near Khajjiar. Also, Golden Devi Temple, Shiva Statue, Khajjiar Lake, Khajji Nag Temple, and Tibetan handicrafts center are some of the picturesque and heartwarming places around. Explore the beauty & heritage of Khajjiar and return to the hotel after sunset for dinner and overnight stay.
To make the night more exciting, you can plan a bonfire or a barbecue with friends or fellow campers. Let the food and fire set up the night for you!
Day 2: Have an early breakfast and then reach the paragliding spot. The challenging adventure, where you jump from a height of almost 7000 feet and fly for almost an hour & a half, is going to be the highlight of the day. You will be directed to the paragliding spot by organizers, which is a 1 km trek uphill from the base site.
Return journey:
After you are done with paragliding, embark on a return journey to Dalhousie and further back home.
How To Take The Flight For Paragliding?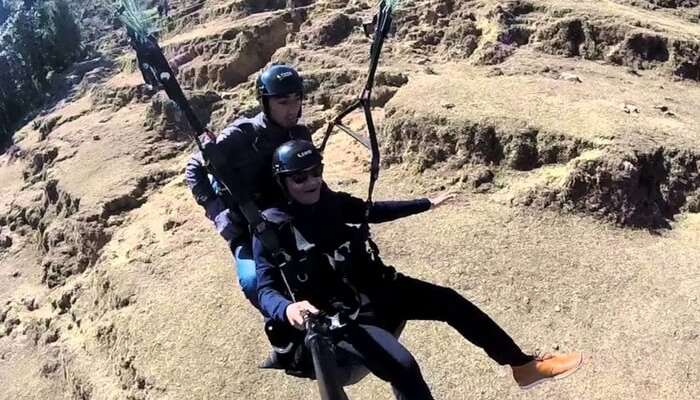 After you make it to the top, an enchanting view of mount Kailash (yes, that's the holy abode of Lord Shiva) enthralls you with its majestic presence. The pilot, who also operates the parachute, stands right behind you to guide you through the basics and initial procedure. He also accompanies you during your entire flight.
Once you reach the site, the helping crew will help you put on the gears and the equipment.
Your pilot will then guide you on how to operate the equipment and important things to keep in mind.
Stand 10 steps away from the cliff from where you are supposed to take off with the pilot. Start taking steps towards the cliff as soon as he asks you to run. Two other people will help you by holding the parachute from both the sides until it lifts you in the air. By that time you'd have already crossed the precipice to find yourself suspended amidst clouds, flying with birds!
Getting there is always easy. But making it safely to the ground is a challenge. After maneuvering your way through the valley, you are ready to make a descend to the open area next to the pine trees and looming mountain peaks. Since the pilot is there with you, there is not much to worry. In most cases, it is a safe landing and the experience, in the end, is worthwhile.
Safety Checks For Paragliding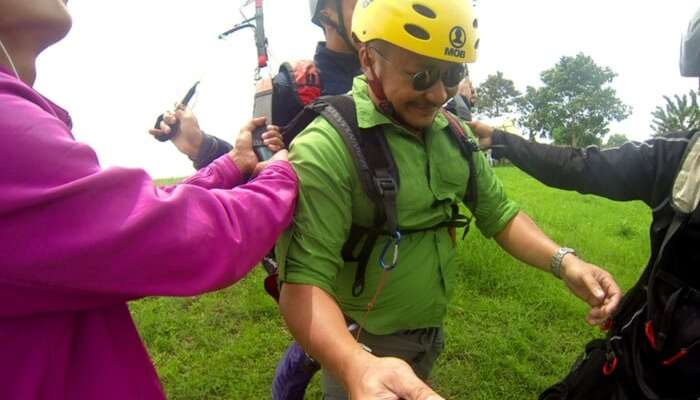 There are people to help you out with the para-glider and then there's a pilot to run you through the initial checks and basic precautions. The most prominent security checks include:
Putting on the safety belt
The jacket must be tightly buttoned/zipped up
Shoelaces must be tied properly
Hair must be neatly tied up
While your operator will provide you all the necessary equipments, it is a good idea to wear comfortable running shoes and well-fitted clothes
Further Read: 15 Amazing Places To Visit Near Delhi For New Year Celebrations 2017
Birds are born with wings, but humans are born with a desire to fly. Paragliding in Khajjiar is the perfect weekend getaway wherein you can taste the adventure of flying on your own with both hands stretched outwards!
Frequently Asked Questions
Q. Is there paragliding in Dalhousie?
A. Paragliding is emerging as one of the most popular adventure sports amidst the travelers. Yes, there is paragliding in Dalhousie and it costs around INR 1500 per person, giving travelers an opportunity to witness the surreal landscapes surrounding Pir Pinjal Mountain.
Q. How far is Khajjiar from Dalhousie?
A. People traveling to Dalhousie usually take a trip to Khajjiar as well by virtue of its location being just 21.6 kilometers away. It takes around 1 hour to reach Khajjiar from Dalhousie.
Q. What is special in Khajjiar?
A. Also known as 'mini-Switzerland of India' Khajjiar is one of the most serene and mystical places to visit in Himachal Pradesh. The magnificent amalgamation of forests, meadows, pastures, and lakes makes this destination nothing less than paradise on earth.
Q. What is the best time to visit Khajjiar?
A. Although Khajjiar is an all-year destination, welcoming travelers with open arms, the best time to visit Khajjiar is during the summer season i.e. from March to October.
People Also Read:
Paragliding In Gangtok Paragliding In Darjeeling Paragliding In Uttarakhand
Comments
comments