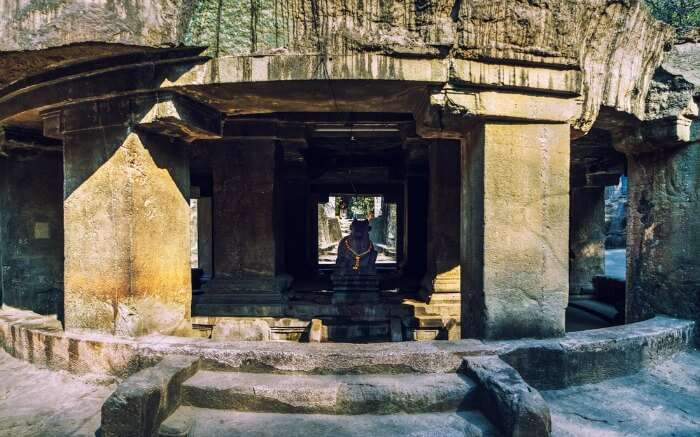 There are caves that you fear to enter but not all of them are scary! Some of them look like a fantasy and bear the light within. Pataleshwar Cave Temple in Pune contains the treasure that not many of us are lucky finding. Right in the heart of the city! Yup, this protected heritage site, carved out of a single rock, is a magnificent monolithic creation located in Pune
Thronged by a number of devotees and explorers, Pataleshwar Temple is of religious relevance to Hindus. With all those carvings and miniatures drawn on its wall, the centuries-old temple is a treat to the eyes. Spend some peaceful moments or sit in a corner and connect with the almighty, this temple is indeed an astonishing find that would leave you spellbound during your next trip to Pune.
History & facts about Pataleshwar Cave Temple

Pataleshwar Caves Pune is dedicated to Lord Pataleshwar – a name dedicated to Shiva. 'Patal' translates to 'underworld', and 'Ishwar' translates to 'Lord'. Inside the caves, there is a temple dedicated to Lord Shiva and Nandi, which was made from an excavated monolithic rock during the reign of 'Rashtrakuta Dynasty' in 8th century AD. Passages, circular Nandi Mandapa, and massive pillar are the noticeable features of the conserved site.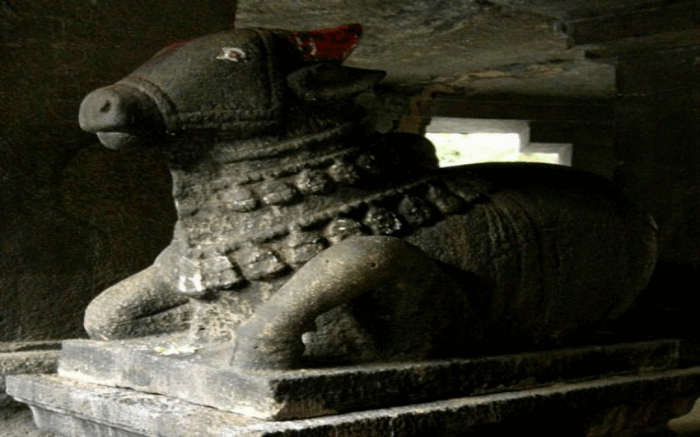 Panchaleshwar or Bhamburde Temple are the other names of Pataleshwar Temple. According to the legends, the temple was built in just a few hours by the Pandavas when they were out in the exile and needed a shelter. The seating arrangements for tourists inside the small temple rooms have been designed to perfection so you can sit and marvel at the true grandeur that the temple is.
What makes Pataleshwar Cave Temple special?

The temple looks like a true beauty with all the finely crafted pillars, giant circular stones, and rotunda roof. Nandi Mandapa, another specimen of fine craftsmanship, sits beneath the roof. The sound of the bells is also unique.
Taking a closer look you will find similarities between the architecture of Pataleshwar temple and Elephanta Caves.

Apart from the fine carvings on the black temple rocks, there is something really tiny that makes a great attraction; a grain of rice. The grain, which is kept in the museum inside the caves, has 5000 letters inscribed on it and has been mentioned in the Guinness Book Of Records. You can also find the idols of other Hindu gods as Ram, Lakshman, Sita, Ganesh, and Lakshmi inside the temple complex.
Suggested Read: 17 Best One Day Picnic Spots Near Pune In Summer
Map of Pataleshwar Caves
How to Reach Pataleshwar Cave Temple
By air: Pune airport, which is well connected with major airports across the country, is the nearest airstrip to the Pataleshwar Cave Temple. Take a taxi or an auto and head towards Jungli Maharaj Road where the temple is located.
By rail: Pune Railway Station is the nearest railhead from the Pataleshwar Cave Temple. Take the Wellesley Road and reach Jungli Maharaj Temple from there. Local buses, taxis, and autos ply from the railway station to the caves.
By road: Pune has good road connectivity with most of the cities in North and Central India. Mumbai is 147 km far while Nashik is 208 km from Pune.
Pataleshwar Caves Timings: 8 am – 5:30 pm
Entry is absolutely free
Popular places to visit near Pataleshwar Cave Temple

If you are one a Pune city tour and have wrapped up the Pataleshwar Caves, there are a couple of things more you might consider visiting near the temple. There are a few more religious and historical places near Pataleshwar Cave Temple that are a must-visit when you are around. Rajiv Gandhi Zoological Park has a wide variety of animal species to tend to keep you thrilled. Take a look!
Jangali Maharaj Temple
Vishrambaug Samaj Mandir
Vishrambaug Samaj Mandir
Rajiv Gandhi Zoological Park
Shaniwar Wada
Must Read: 8 Insanely Gorgeous Destinations Near Pune That Managed To Remain Hidden Till Now
Reviews of Pataleshwar Cave Temple

Fascinating as the temple looks, it has left many bewitched. Taking you through some of the reviews on TripAdvisor left by enchanted travelers as they took the trip to Pataleshwar Caves!
"The temple was hewn out of a rock, and it makes you wonder how many hours, days, months, or even years it took to achieve everything. It's a very quiet place, and the electric lights are jarring because they seem to be inappropriate for the ambient. You are asked to remove your shoes before entering the temple itself; outside, you can keep them on…"
"This is a truly hidden gem, an ancient cave temple located in the middle of the modern metropolis. the pataleshwar temple, which literally means lord of the underground is located below ground level, dug out in the solid black rock. it is quite an interesting visit…"

"Silent Cool Peaceful place. Very nicely carved ancient temple State of the art and excellent place showing our ancient skills and culture Located in the city but as you enter the premises you feel you are away from the rush of the city and is a very quiet and peaceful place…"
Read more on TripAdvisor
Further Read: 50 Awesome Weekend Getaways Near Pune
Plan a visit to this one of the most astonishing creations of nature in the heart of Pune. Pataleshwar Temple Cave Temple is a must explore!
Frequently Asked Questions About Pataleshwar Cave Temple
How old is Pataleshwar Cave Temple?
Pataleshwar Cave Temple is almost 1300-year-old. It was excavated and further built during the reign of the Rashtrakutas.
Are Pataleshwar caves one of the best tourist spots in Pune?
Yes. Pune has some beautiful temples, of which Pataleshwar Cave Temple is quite famous. Sinhagad, Parvati Hill, Mulshi Dam, Mahatma Phule Museum, and Shaniwar Wada are some of the other tourist spots in Pune.
What is the best time to visit Pataleshwar Cave Temple in Pune?
Pune is a year-round destination, where the climate is equable and the temperature stays between 19-33 degree Celsius throughout the year. You can plan a visit to Pataleshwar Cave Temple any time of the year.