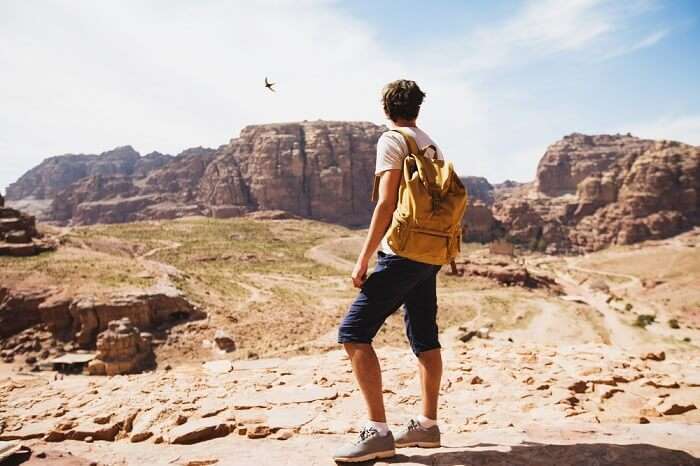 Pays Dogon, Mali is unlike the usual places which come to people's minds when they think of trekking. Also known as Dogon Country, it is an isolated area which is situated in eastern Mali and it is not that far from the Burkina Faso border. The Dogon people reside in villages constituted of mud brick houses on rock faces that rise to up to 500 meters. This place is remote and rugged, the best place to be explored by foot. While the rest of Mali is predominantly Muslim, Dogon people are animists and ceremony or rituals still play a major role in their lives. A UNESCO World Heritage Site, the culture of this place is unlike anything else. Trekkers will get to take in everything from the green luscious onion fields to the red mud huts and high cliffs. The food available is mainly made out of millet and the carved windows and doors of the residents is an unspoken highlight of the tour.
Best Time To Trek

The summers around May are brutal and definitely a time you should avoid as temperatures are in the 40s then. The cooler months of November/ December are much better as the days are warm but the nights are cold. Going in the hot season means you avoid the hoard of tourists, but it's up to you to decide if the heat is worth straggling in. You can also visit during the rainy season, but the sun exposure will still be there and you will feel it for sure.
Must Read: Churches In South Africa: 10 Places Of Worship That Will Fill You With Divine Bliss
Trek Route

The journey to Pays Dogon begins from your arrival in Bamako, Mali If you decide to go with a travel guide and groups, then you will be picked up from the airport before being taken to a hotel for an overnight stay in Bamako. Tip: There can or cannot be meals so make sure to buy your dinner.
The next day, the stop is at Sevare which is 630 km and takes about 9 to 10 hours. You will have to camp overnight at Sevare.The pays Dogon Mali trek on the following day will see you fake a day trip to Djenne using a bush taxi. Djenne was actually one of the very first commercial centers of the Sahel region and it is the weekly marketplace where villagers come from miles far to sell and buy.
The next stop is at Dogon Country which is 120 km far. You will reach there via a bush taxi to the Kani Kombole Dogon Village. The night will be spent camping in here.
The Pays Dogon trek 'officially' begins you will begin with the villages of Ende, Tely, and Yabatalu which will constitute for about 14 km of trekking.
The next day will cover the villages of Konsogoule, Koundourou, and Guimini, which will together be a distance of 15 km.
On day seven, you will get to see the villages of Nombori and Yawa, which will take to be around 17 km of trekking.
Next comes a 15 km trek through the villages of Komo Kani, Idyeli and Tireli. You will also get the chance to see the traditional Dogon Mask Dance.
Next up is a 16 km trek through the villages of Banani, Amani, and Ireli.
The following day is an 11 km trek through the villages of Koundou, Ibi and Neni.
Next day, you will travel through the villages of Yenduma, Sangha, Yuga, and Arou which makes for about 19 km and marks the end of trekking.
Next up is a visit through Sangha, Songo, and Mopti; at a distance of 120 km. You will have to leave Dogon using a bush taxi, but there is one last Dogon village which is a must-see and that is Songo, which is famous for its circumcision grotto full of beautiful rock paintings.
period of about 13 days.
Suggested Read: Best Waterparks In South Africa – Get A Little Splashy & Live The Childhood Dream!
Things To See While Trekking

There are lots of things to see while trekking in Pays Dogon,
Don't miss out on the highlight of the whole trip, which is the Bandiagara Escarpment, a 500-meter high and 150-kilometer long line of mighty cliffs which cuts through the Sahel that is on the edge of the Sahara.
While in Djenne make sure to see the oldest houses there which date from the XIIth century.
See the Great Mosque, which is the largest mud brick architecture in the world and was built in the 13th century. It is also one amongst Unesco's World Heritage sites.
While in Mopti look out for the Komoguel Mosque, the bustling and vibrant marketplace where Mali's ethnic groups come to trade, the fishing port
Enjoy seeing the beautiful green fields of onion against the sun is the dry yellow desert sand. Look out for the large calabashes which are hollowed out shells of gourds that serve as an all-purpose bucket or bowl throughout Mali.
Notice the little things, there are no shops there and if anything is needed, then they either make it, grow it or buy it at the weekly market. The tiny mud huts are topped up with a cone hat which is made from thatch.
Meet the locals, the medicine men. Notice the beautiful exterior walls, which are studded up with fetishes and various other parts of dead animals. Also pay your respects to the spiritual leader of the village, Hogon.
See the Tellem houses which resemble caves and are situated high up on the cliffs and are also used as burial chambers sometimes.
Pay attention to the stunning and ornately carved out window shutters, doors and more which tell a mythological story. But the most famous masks are those worn during Dama, which is a ceremonial funeral dance. Many depict animals, hunters or spirits.
You will also see that idols are everywhere and they are in different poses- some with a mother and her child or some with their arms raised above, praying for rain. They all represent the way of life of this place.
Suggested Read: 5 Enchanting Castles In South Africa You Will Not Want To Leave From
---
Planning your holiday but confused about where to go? These travel stories help you find your best trip ever!
Real travel stories. Real stays. Handy tips to help you make the right choice.
---
Cost And Duration Of Trek
The duration of the trek can range from anywhere between 5 to 12 nights depending on what you want to see and what tour you book. For some tour packages, every tour is given as private and so the dates of travel are of your choice. Most tour groups will take groups of any size, but the cost will depend on the month of travel and the number of people in the group. The more there are, the more value you will get out of the services. But you can still consider your prices to range from $4600 to $6165 per person for a trip.
Suggested Read: 7 Most Popular Airports In South Africa That Are Boosting The Nation's Tourism Industry
What To Pack?

The pump water available there is a high quality, but mineral water is rarely available, the chances of finding it gets dimmer as the villages get more remote. So just filter hour own water.
Take electrolyte tablets because no matter when you go, the sun will always be there and you will sweat out much minerals and water.
Take a trekking umbrella instead of a hat which just shades your face
A sleeping bag- for cold nights and for the situations when the mattress won't be so clean.
Robust battery packs- While you will get to charge off the solar panels at camps, but it is better to carry a battery pack to charge your phone when you need it.
Take two to three changes of clothes
Take basic toiletries like toilet paper, sunscreen, sanitizers and such.
Carry small snacks.
Suggested Read: Don't Miss These Food Festivals In South Africa If You Call Yourself A Foodie
Tips To Remember

Take small change or be prepared to wait for long periods as they try to get it.
Bring sun protection, this cannot be stressed enough.
Pack light.
Respect the local culture of the place.
Be friendly and talk to the locals.
Facilities found over there are basic so don't expect running water, electricity or even much in terms of sanitation.
Use water sparingly.
Be prepared to sleep on ground mattresses and in a small tent.
Further Read: 15 Best South African Cuisines That'll Add A Variety Of Delicious Flavors To Your Next Holiday
Le Pays Dogon and by extension, Mali isn't a place for inexperienced campers, but the beauty of this place and sheer uniqueness of it makes people come back again and again to this beauty. So if you're planning a holiday to Africa anytime soon, then make sure to enjoy a fascinating trekking experience here.
---
Looking To Book A Holiday Package?
Book memorable holidays on TravelTriangle with 650+ verified travel agents for 65+ domestic and international destinations.
---