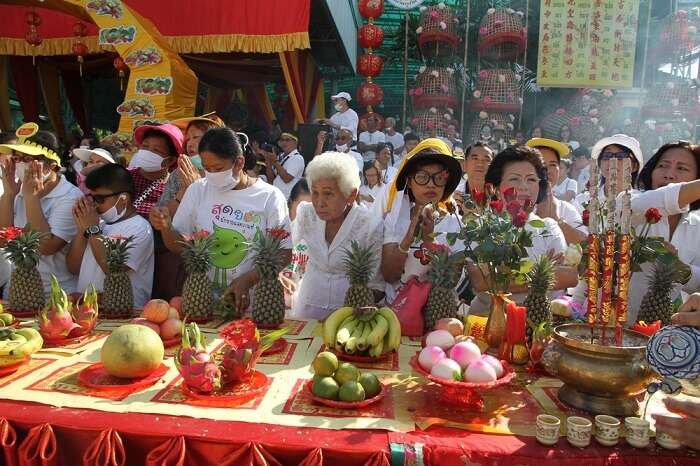 Travel buffs with curious minds are often guided to a gamut of celebrations and festivals that occur in cities and islands across the world. Each one of them has their share of exuberance and enigma; all having unique attractions that allure tourists from everywhere. One such breathtaking festival is the Phuket Vegetarian Festival which has a lot more to offer than just the vegetarian fare (as the name suggests). So, if you are geared up to see the extraordinary, then you are in the right place and at the right time as this vegetarian food festival has it all to leave you wide-eyed and enthralled.
About Phuket Vegetarian Festival

While Phuket has a spectrum of festivals being celebrated by the aboriginals, one of the prime one which you should attend is the Vegetarian Festival In Thailand 2022. This festival usually occurs around the ninth month of the lunar calendar followed by the Chinese. It is an annual affair that goes on for a few days and is celebrated in the honor of Nine Emperor Gods, by the Chinese community essentially. Occurring in and around the month of September or October, this festival attracts the natives as well as the foreigners who come to this island to witness, all that they have only read or heard about.
This name of this vegetarian food festival can be misleading as more than a visual delight of a vegetarian food galore, it is all about abstaining from non-vegetarian foods like meat etc. and also about offering unnerving rituals that involve gory body piercing, and self-mutilating practices to express their obeisance to their almighty Gods.
Must Read: No More Layovers! Direct Flights To Phuket And Male From Delhi And Mumbai Are Finally Here

Origin Of The Phuket Vegetarian Festival, Thailand

While there are several theories and stories regarding its existence, the most credible one of the Phuket Vegetarian Festival history is that it was initiated by a bunch of Chinese Opera wanderers in the 19th century. When they were riddled by Malaria ( it was a fatal disease then ) and were succumbing to it, the survivors took to a rigorous vegetarian diet as a form of worship and prayed ardently for a complete recovery with blessings for good health to the Nine Emperor God. Lo, behold! Their prayers were answered. So when they were completely healed, they held massive celebrations as an expression of gratitude to the Gods and to honor them with utmost reverence. These celebrations were repeated thereafter year after year, during the same period and were soon heralded as a prominent festival in Phuket. Ever since it has been expanding and shaping up into a remarkable annual occasion that is gaining popularity with people participating from all parts of the world especially Asia.
Suggested Read: 18 Surreal Islands Near Phuket You Should Definitely Explore In Thailand In 2022
Phuket Vegetarian Festival Schedule

This festival is celebrated on the roads in the form of mammoth processions that have all the participants displaying their endurance of pain by piercing and self-mutilating their bodies in various ways using razor-sharp weapons like blades, swords, iron rods and so on to name a few. It goes on for approximately 9 days and the processions proceed from one shine to another throughout the town.
This vegetarian festival begins with an opening ceremony, while the first and the most important ceremonies are the Lantern Pole Raising ceremony. Tourists from all around the world especially come to attend the Phuket Vegetarian festival parade. A schedule of all these including invocation ceremony, fire walking ceremony and other important ones too like bladder ladder climbing, children's wrist tying, fire walking, oil bathing, etc. are always available for the spectators and visitors. These details and the schedules of the procession and other activities are mostly accurate.
Suggested Read: Best Spa In Phuket: 10 Places For Rejuvenating Your Mind, Body & Soul Like Never Before

Phuket Vegetarian Festival 2022

Phuket Vegetarian Festival schedule for the year is from 25th September to 5th October in Phuket and holds a plethora of ceremonies and includes the participation of most of the shrines. While planning a vacation in Thailand, you can always opt for this part of the year so as to get the opportunity to participate in this festival as an astounded spectator.
Food Options At The Phuket Vegetarian Festival

It is basically a Taoist festival and is thus celebrated by a majority of the Thai and Chinese population residing in Phuket, who participate whole- heartedly. The rules in this Phuket Vegetarian Food Festival have to be strictly adhered to, primarily being absolute abstinence from meat and other non-vegetarian foods so vegetarian food in the form of spring rolls, memos, stewed rice and a lot more is definitely available for those set of vegetarians who may have aspired for a galore of vegetarian food in this vegetarian food festival. Food stalls with vegetarian fare are often spotted along the areas where the demonstrations proceed and near the shrines and other temples.
Suggested Read: 7 Best Water Parks In Phuket That Are Perfect For A Family Trip

---
Planning your holiday in Thailand but confused about what to do? These Thailand travel stories help you find your best trip ever!
Real travel stories. Real stays. Handy tips to help you make the right choice.
---
Things To Keep In Mind At Phuket Festival

The most spectacular thing to note about this festival is that though it is a festival wherein the participants are dressed in white, yet it spreads an aura of colorfulness. Here, more than the fun and frolic, there is a lot of reverence wherein celebrations involve tolerance of pain than pleasure.
A word of caution for all the vegetarians who are drawn to this festival. Please fasten your seat belts and muster your courage to witness the bloodshed and bewildering scenarios that involve incredible skin piercings, fire walking, etc. The Astonishing sights of burning coal and walking on it barefoot, tongue slashing, and other extremities that the participants perform leave even the brave heart spectators baffled and gasping for breath.
All the piercings and other mutilations occur under the expert guidance of medical staff that is already present in the temples. This vegetarian festival in Phuket, Thailand is one of the most revered festivals in South East Asia attracts not only participants from all over Asia but also a bevy of tourists who have the mettle to see it all and take it in their stride.
Performing in this festival is the expression of the devoutness of the religious minded Chinese and South East Asians, who can go to any extreme to demonstrate their reverence. When they participate in fire walking or ladder climbing or piercing with weapons like knives, razors, guns, etc. they ensure that these performances are carried out without the use of anesthesia or analgesics. It is their endurance of the pain occurring from these gory practices that enact as offerings to their deities.
Suggested Read: 20 Romantic Things To Do In Phuket In 2022 For An Enchanting Beach Vacay With Your Loved One!
Masong At Phuket Vegetarian Festival

The bachelors and spinsters who participate in this festival are known as Masong. These people are under a stupor as they perform the treacherous acts and are bound by stringent commitments wherein they not only avoid meat but also alcohol. Another necessity for performing this act requires the masong to maintain utmost purification, that includes both mind body and soul. They are instructed to dress in pristine white or yellow and often assisted by volunteers who help them and support them to dress wounds or carry out the act of piercing etc. Amongst devotees, those who are pregnant or menstruating are not allowed to participate or volunteer in this festival.
Further Read: 12 Exciting Water Sports In Phuket You Should Not Miss On Your 2022 Thailand Trip
Vegetarian food festival enthusiasts looking for unusual festivals around the globe should make Phuket Vegetarian Festival, a priority on their wish list as well, as it is one of the most unusual and bizarre festivals that one can witness in their lifetime. If you are planning a trip to Thailand around the time of the festival and have the heart to experience something like this, then you should really go and check out the festival.
---
Looking To Book An International Holiday?
Book memorable holidays on TravelTriangle with 650+ verified travel agents for 65+ domestic and international destinations.
---