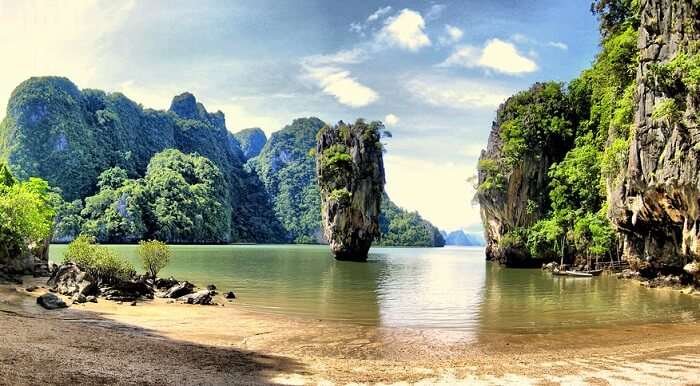 Phuket gets thousands of visitors every year owing to its many exquisite beaches, fun club scene, and diving spots off the coast where you can see beautiful coral reefs and all kinds of marine life, including turtles, fish and even sharks. Of course, there is so much more to the province of Phuket than the beaches, for instance, the islands near Phuket. In the Andaman Sea and the Phang Nga Bay, these islands are some of the most scenic places in the tropics. These nice islands near Phuket will sweep you off your feet with their scenic beauty, and hole-in-the-wall shacks that serve delicious seafood.
Top 15 Islands Near Phuket
Here is a list of best islands located near the state of Phuket that you must visit on your trip to Thailand with family or friends. We've shortlisted these 15 islands near Phuket
based on various parameters, such as distance from the city and more:
1. Koh Phi Phi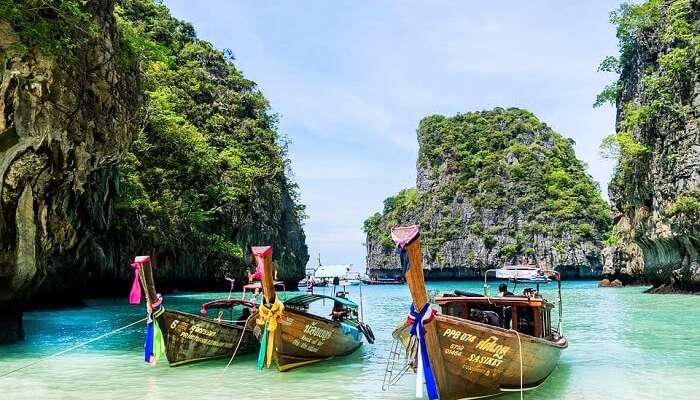 One of the most popular islands near Phuket, this place rocketed to fame when it was featured in the movie – The Beach. It is part of the Phi Phi Islands, completely surrounded by emerald waters on all sides, with abundant white sandy beaches that will take your breath away. The Maya Bay is a group of nice islands near Phuket. It is surrounded on all sides by cliffs and other rock formations may very well be counted as a natural wonder of the world. The island is a national park, so you will be treated to some of the best marine life in Thailand.
How to reach: Ferries from Phuket to Phi Phi Islands take about two hours.
Must Read: 8 Patong Beach Resorts For A Laid Back Vacation In Phuket
---
Planning your holiday in Thailand but confused about what to do? These Thailand travel stories help you find your best trip ever!
Real travel stories. Real stays. Handy tips to help you make the right choice.
---
2. Koh Lanta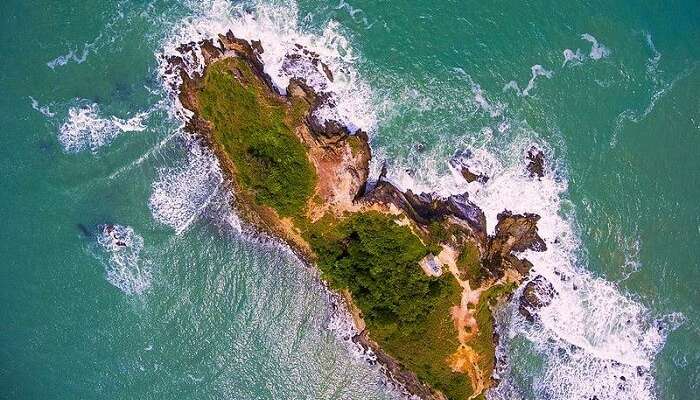 Image Source
One of the best islands near Phuket, this place had its beach once announced as the best beach in the world by critics. Still, the place remains kind of a hidden gem. The emerald waters and the white sandy beaches are only made better by the extensive corals that can be found just off the shore and the towering limestone outcrops. You'll experience one of the best diving experiences in these nice islands near Phuket. The waters are clear here. You can spot turtles and octopuses in addition to all kinds of fish.
How to reach: Ferry from Phuket will take around two hours.
Suggested Read: 25 Places To Visit In Phuket In 2019 For A Sparkling Vacation
3. Khao Phing Kan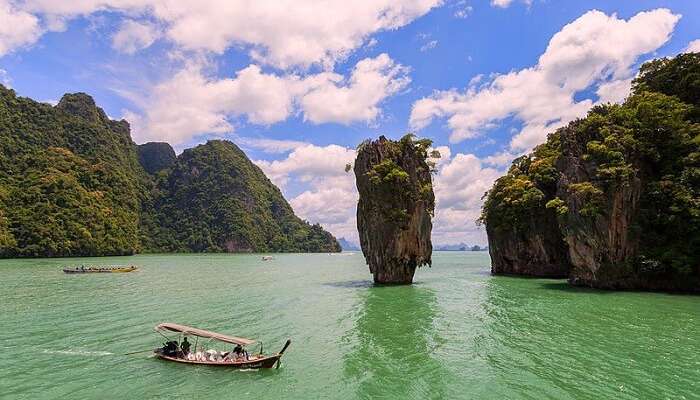 Image Source
Popularly known as the James Bond Island (for obvious reasons – it features in the movie The Man With The Golden Gun), Phing Kan is counted among the quiet islands near Phuket. It is popular for its limestone formations, especially the funnel-shaped rock that is the perfect setting for the perfect shot. The mangrove forests and calm waters are also popular for trekking expeditions here and kayaking. The Khao Phing Kan islands near Phuket map is easily available online as well as in many departmental stores in Phuket.
How to reach: Only minutes away from Phuket, several day tours and boats leave from Phuket.
Must Read: 12 Exciting Water Sports In Phuket You Should Not Miss On Your 2019 Thailand Trip
4. Similan Islands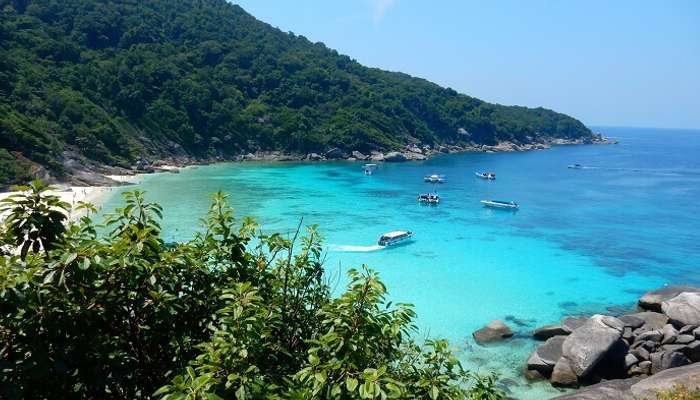 Image Source
This group of quiet islands near Phuket is a popular diving destination for all the professionals. If you do go scuba diving here (for which you can only get certified in Phuket) you will know why. The water here is clear and the beautiful coral deposits are objectively some of the best in the world. It is one of the best islands near Phuket to visit. It is also distinct for the massive boulder deposits atop the hills here, perfect for pictures. The Similan Islands are not visited by many people, and you can chill on the eerily clear beaches here for a peaceful vacation.
How to reach: One hour from Phuket by speedboat.
Suggested Read: 10 Exciting Things To Do In Phuket
5. Koh Yao Noi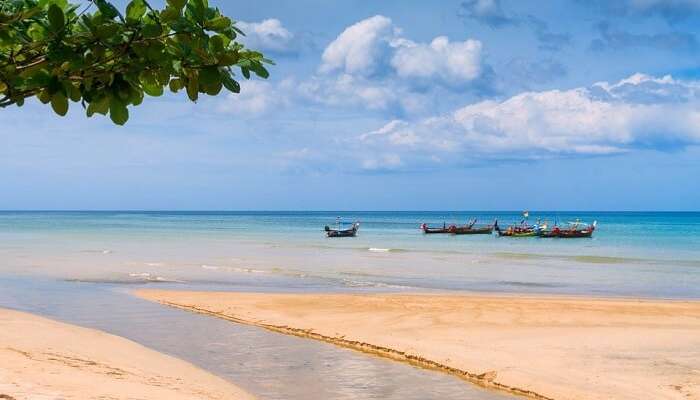 Image Source
These are the typical quiet islands near Phuket to go to if peace and seclusion are on your mind. Simply get off your boat, tie a hammock up between two coconut trees and read a book. The topography is distinct. There are trees all around. The sand here almost gives off a golden sheen with light blue waters. You can book a two-wheeler to go around the island. Else, swimming, kayaking or diving are always options. It is one of the most superb islands near Phuket to visit.
How to reach: One hour from Phuket by slow boat.
Suggested Read: Top Things To Do In Thailand On Honeymoon For A Perfect Start
6. Surin Island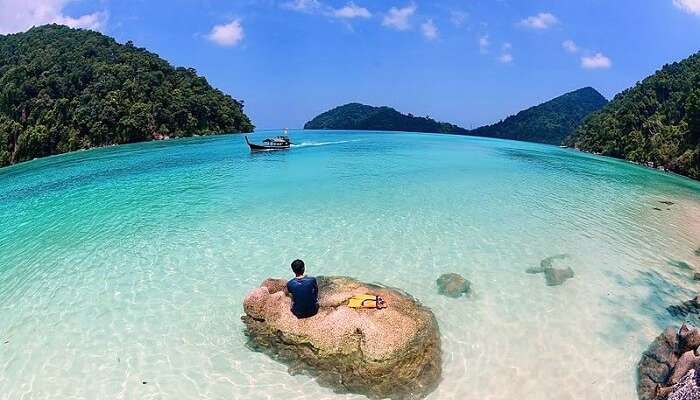 Image Source
Close to the Similan Islands, the Surin Island is in the Mu Koh Surin national park. One of the few islands near Phuket resorts, Surin Island is most famous with visitors for its whale sharks, which are found just off the coast here. These enormous aquatic creatures can be as much as 12 metres long, yet they do not pose a danger to humans. In fact, the sharks are pretty friendly to the fishermen who live in villages here. Shark sighting diving tours are common, and seeing these animals in the wild is certainly an experience of a lifetime. The Surin islands near Phuket map is easily accessible in Phuket.
How to reach: 30 minutes ferry from Phuket
Suggested Read: 10 Best Hotels In Phuket That Reflect The Hip Culture Of This City
7. Racha Islands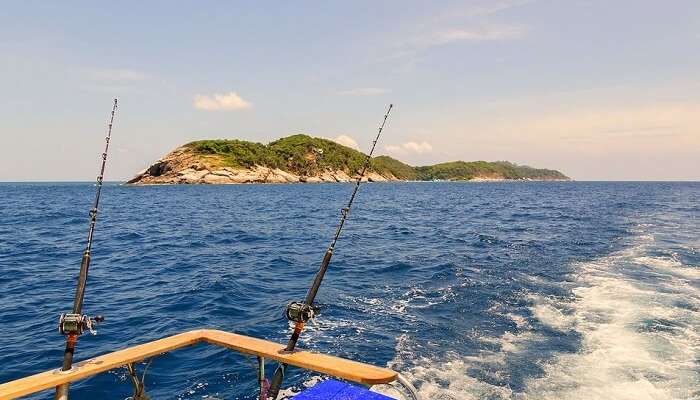 Think crystal clear blue waters and white beaches, and you have the twin Racha Islands. Out of the two, Koh Racha Yai is the bigger one while Koh Racha Noi is the smaller one. Yai serves as the more popular tourist destination with its sandy beaches and great resorts, while Noi is uninhabited and a bit rockier. Ao Tawan Tok is the most famous beach here which gets a little too crowded towards the evening.
How to reach: Take a ferry. It's an hour away from Phuket.
8. Koh Hae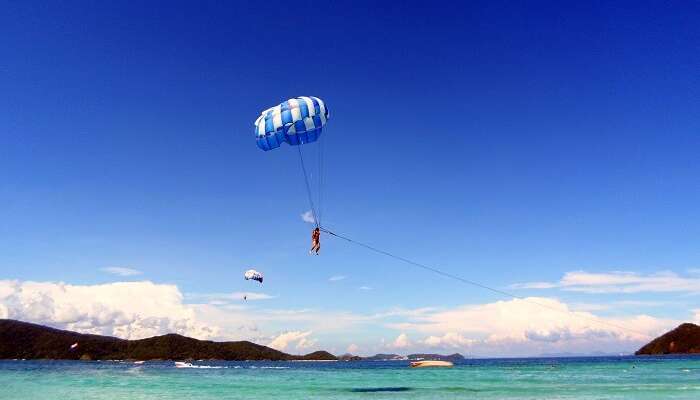 Image Source
The island, more popularly called the Coral Island, is one of the few islands near Phuket resorts that you get to from Phuket via speedboat. However, because of its proximity, Long Beach here is extremely crowded. With rows of speedboats from lined up at one end, it looks like a Sundance festival. However, there is the Banana beach at the other end of the Coral Island, which you can get to by walking to the end of Long Beach and onwards for about fifteen minutes. It is touted as the most accessible islands near Phuket to visit.
How to reach: 15 minutes speedboat from Phuket
Suggested Read: 10 Indian Restaurants In Phuket For The 'Desi Food'
9. Koh Bon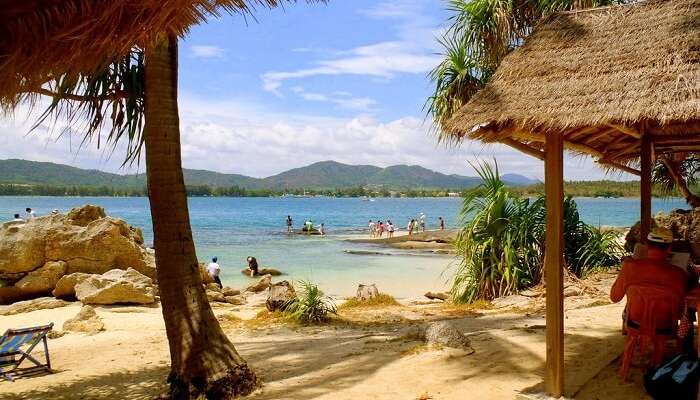 Image Source
The Koh Bon island is relatively quiet even though it is quite close to Phuket, a fate not reserved for other islands around Phuket. The island is known for its extensive forests and crab beaches – yes, you can sunbathe here while hundreds of crabs run around the beach. The island is also known for its different cuisine, and you can find quite a many restaurants inland for some Thai food with a spin. The island is among the few islands near Phuket resorts.
How to reach: 15 minutes from Phuket by ferry
Suggested Read: 10 Idyllic Beach Resorts In Phuket For An Awesome Vacation In 2019
10. Koh Khai Islands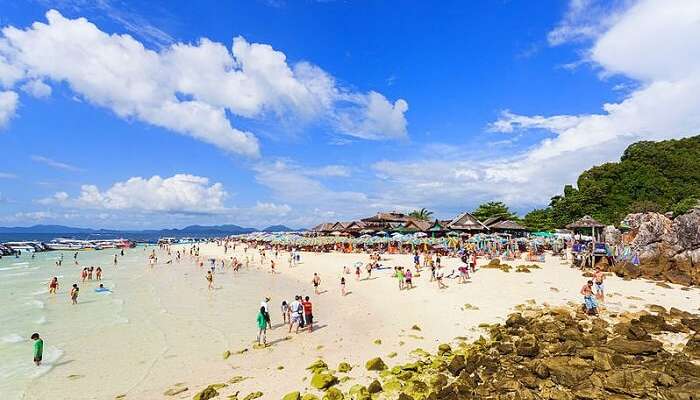 This beautiful islands next to Phuket is extremely close to Phuket, but even the locals are not exactly aware of it. Essentially three islands grouped together, you will find a lot of exotic fishes here. The exciting part is the fishes are not scared of humans. Wanna get that perfect click with fishes all around? This is the place to go to. You can also dive or go for snorkeling. If all that does not appeal to you, simply sunbathe on the beach and take in the beauty that this island possesses.
How to reach: it will take about half an hour by the ferry from Phuket.
11. Maiton Island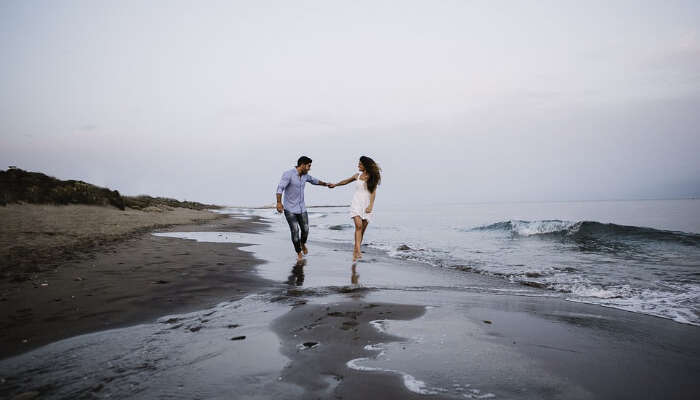 Maiton island is a cluster of islands next to Phuket. It is 15 minutes south of Phuket. It is an incredible spot for a picnic and snorkeling. Sometimes referred to as Maithon or Mai Ton, it is dotted by palm trees and known for its remarkable variety of coral reef. You will encounter turtles, cuttlefish and an array of other colorful tropical sea life at Maiton Island. Make sure to stop by here.
How to reach: it will take about 15 minutes by the ferry from Phuket.
12. Koh Panyi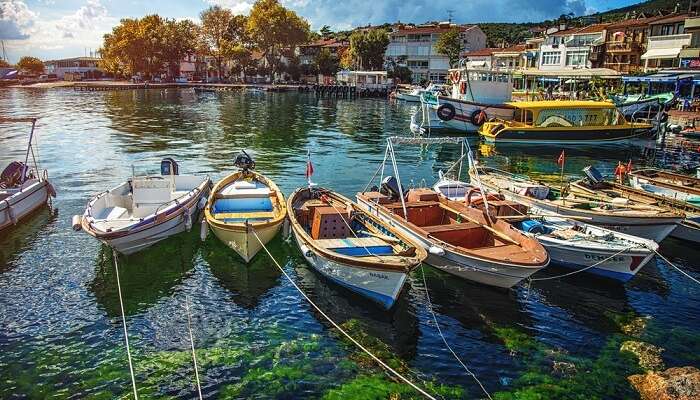 Koh Panyi islands next to Phuket are entirely built on stilts. This village is an unusual and exciting place to visit. We suggest you visit the island either early morning or during the twilight hours. The island boasts of a grandiose mosque that serves as the meeting point for the Muslim community. Despite the rise in tourism, Ko Panyi's economy depends majorly on agriculture and fishing.
How to reach: it will take about 30 minutes by the ferry from Phuket.
13. Koh Hong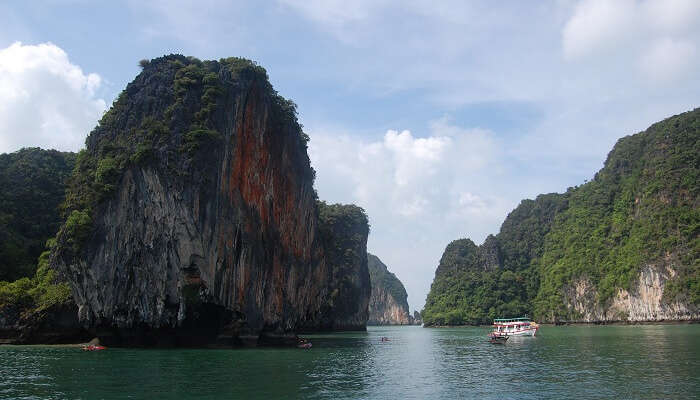 Koh Hong is one of the four islands that are visited together. A full day tour of the island is always recommended. The island belongs to the national marine park. It offers picturesque views, options for a great Island hopping experience and much more.
How to reach: Ferry takes two hours from Phuket.
14. James Bond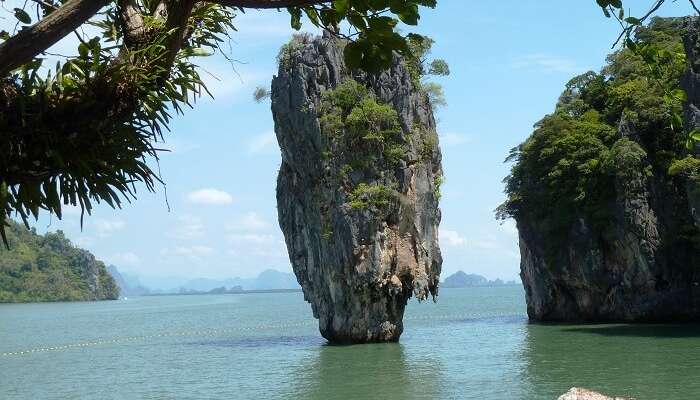 The island offers great views that are perfect for surreal pictures. It became famous after few scenes of the old James Bond movie were shot here. You can enjoy cruising, eat delicious food at the beach and buy souvenirs.
How to reach: Ferry from Phuket takes an hour
15. Rang Yai Island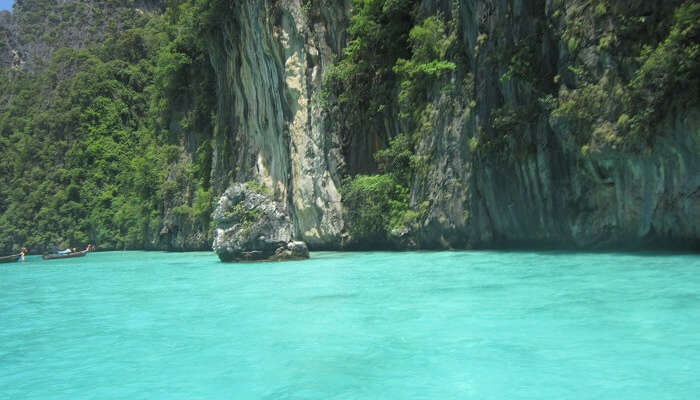 From kayaking to camping, this beautiful island near Phuket offers adventure that will sweep you off your feet. It is dotted with Bamboo bungalows that would make you feel like staying in paradise. Life is simply beautiful here at this island.
How to reach: Ferry takes two hours
Further Read: Nightlife In Phuket: 10 Bustling Hotspots You Must Check-out
These islands near Phuket are some of the most beautiful places you will see near Thailand. No trip to Phuket will be complete without visiting at least some of these. So, book your Thailand trip right away for the amazing experiences Phuket has to offer! Make sure to plan this trip with your family or your loved ones for an immersive experience. You will have the time of your life here. We promise you won't be disappointed.
Frequently Asked Questions About Islands Near Phuket
Q. Which islands are close to Phuket?
A. There are a number of islands near Phuket that one can explore on their Phuket vacation but these are the best islands that one cannot afford to miss – Koh Racha Yai, Surin Island, Koh Bon, Koh Lanta, and Similan Islands.
Q. How far is Similan Island from Phuket?
A. The distance between the Similan Islands and Phuket turns out to be around 85 kilometers that can be covered easily.
Q. Which is the most beautiful beach in Phuket?
A. A traveler planning a vacation to Phuket cannot miss out on the famous Freedom Beach which is blessed with white sand and clear waters and thus it is one of the most beautiful beaches in Phuket.
Q. How far is Coral Island from Phuket?
A. If you are looking for Coral Island then you will be happy to know that it is located only 10 kilometers away from Phuket. Coral Island is famous for its colorful reefs and white sand beach.
Q. How far is Krabi from Phuket?
A. The distance between Krabi and Phuket is 180 kilometers and if you are planning to cover the distance by sea then it is better.
Q. How many islands are there in Phuket?
A. There are more than 15 islands in Phuket that one can explore on their vacation.
Q. Is Phuket expensive for tourists?
A. Yes, Phuket is one of the expensive places to visit in Thailand.
Q. How much does a meal cost in Phuket, Thailand?
A. A basic meal costs around 90-150 baht in Phuket. The rates might increase if you are planning to lunch at a lavish restaurant.
---
Looking To Book An International Holiday?
Book memorable holidays on TravelTriangle with 650+ verified travel agents for 65+ domestic and international destinations.
People Also Read:
Islands In Thailand For Honeymoon Islands In Thailand Philippines Islands
Comments
comments