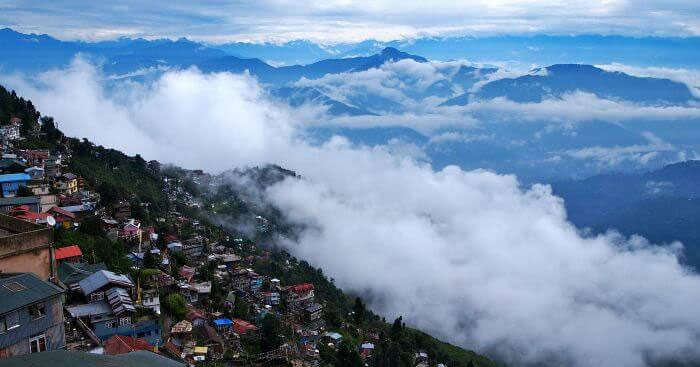 Creative writer Sukanya Sen takes you on a quick and captivating journey to the picturesque land of white orchids, tallest peaks, lush forests and beautiful monasteries, with a picture postcard trip to Kurseong & Darjeeling.
Day 0: Bon Voyage
Sealdah station seemed dirty, sloppy and excessively over-crowded in the evening. It was a challenge to manage a less-than-enough place to settle the luggage as we waited for the train to arrive in the platform!
"Good lord…! Are all these people travelling to New Jalpaiguri?" I was amazed and quite irritated with the space paucity and over-population. The station digital clock blinked 21:30 hours as Darjeeling mail entered platform number 8. We were off to our planned holiday – a much-awaited trip to Kurseong and Darjeeling and Ghum – the land of 'laughing Buddhas'.
The train took close to 10 hours to reach NJP and passed through several stations. Some of them were small, unnoticed and passed in complete midnight darkness, but some were big and crowded like Bolpur Junction and Malda Town. The train didn't have any pantry service so we carried our dinner and ended the meal with authentic and delicious Sitabhog (white-colored popular Bengali sweet, tastes somewhat similar to meetha chawal) from Barddhaman Junction station.
Day 1: Land of White Orchids
As soon as we woke up the next day, it was time to wrap up for deboarding. We sipped the morning tea in Bhanr (Bengali word for Kulhad) and soon the train reached New Jalpaiguri Junction – the doorway to the hills and forests of North Bengal.
We grabbed a quick breakfast in Siliguri before starting the journey. Our first destination was Kurseong. As we ascended up the slope, the tranquility of Sukna forest area and Rohini mesmerized us along with swift hairpin bends, streamlets dripping by the slope and small hilly scattered settlements. It took us an hour and 30 minutes to reach Kurseong; precisely Cochrane Palace, our address for the next two days.
Places To See In Kurseong
Cochrane Place: Located in the outskirts of Kurseong, the hotel is one of its kind. The exclusiveness lies with the Chai Country or the Tea Bar, which serves freshly boiled tea combined with anything and everything. You name the ingredient and the special tea will served in few minutes!

Kurseong Toy Train Station: It was lunch time followed by a small tour of the Land of White Orchid (the meaning of Kurseong in Lepcha Language). Post lunch we visited Kurseong toy train station, where the toy train reminded me of so many Bollywood numbers! Wish life was as filmy as it is in my thoughts.

Eagle's Craig: The train headed towards Darjeeling and we towards Eagle's Craig, a panoramic viewpoint. We enjoyed the sunset from Eagle's Craig along with the fascinating views of the myriad landscapes, misty mountains, rivers and Siliguri plains.
After some trivial retail therapy, we reached Cochrane Palace dead tired and dozed off right after dinner.
Must Read: 18 Beautiful Train Journeys In India In 2022 That Will Compel You For A Ride!
Day 2: Kurseong Contd…
Next day was hectic; rather chaotic. We had plans to visit few local areas, have lunch and leave for Darjeeling. After finishing breakfast with Paan and Tandoor Tea, we checked out.
Dow Hill: Our next stop was Dow hill. The forest was quite serene and moist while the adjoining Dow Hill School stood boasting legacy and glory. As soon as our driver started narrating some haunted stories about the area, I decided to leave the place and head to Chimney.

Chimney: A remote settlement of Kurseong, Chimney offers breath taking view of surrounding valleys and terraced mountain slopes. As it was April, we could manage to see the blended colors of Rhododendron throughout. Highly recommend the lunch at Kurseong Tourist Lodge, where we overate and licked every bit till the last drop. Then left for Darjeeling by 3 in the afternoon. On the way we visited blooming tea gardens of Ambootia and Makaibari and it was 7-ish when we reached Darjeeling and retired for the day.
Day 3: Summer Resort of British Raj

We woke up early morning to view the Kanchenjunga. The caretaker of the PWD bungalow (our address in Darjeeling) had assured us the complete view of the world's third highest peak from our hotel room. But he forgot to add the footnote about the clear sky. The morning was foggy and cloudy, hence losing all hope we got ready for the day.
Places To See In Darjeeling
Keventers: Our first day in Darjeeling could not start without having breakfast at Keventers. It is a 100 years old restaurant and serves state-of-the-art English breakfast. We indulged ourselves with ham and bacon sandwiches plus delicious coffee and straight away headed to the highest meter gauge station in India – Ghum.
Ghum: Ghum is a small town and known for vibrant monasteries. We visited few monasteries like Yiga Choling Gompa, the most famous one, Guru Sakya Gompa, Druk Sangak Choling Gompa and Samten Choling Gompa. Had piping hot momos and soup at the last one before we set for Batasia Loop.

Batasia Loop: A railway loop built with superb intelligence is a fascinating viewpoint also. Along with the surrounding misty ranges and War Memorial, constructed in the memory of Darjeeling people who died in different wars, we also witnessed the toy train meandering through the Batasia Loop.
Mall Road: We were quite full so decided to skip lunch and head towards Mall road. I had plans for shopping whereas my husband wanted to click some pictures of local people. After picking few woolens and boxes of Darjeeling First and Second Flush, we returned to the guest house late in the evening for dinner.
Day 4: Homebound
We had kept Tiger Hill for the last day. Though we reached their before dawn, the weather disappointed us. Being not able to see any of the ranges, we returned to hotel for breakfast and check out. As we entered the room for final packing, to our utmost surprise, viewed Kanchenjunga from the room. What a clear and spectacular sight! With all these happy memories we started descending to the plains for homebound journey with a bag full of cherished memories.
Further Read: 11 Travel Tips For Himachal Pradesh That Will Come In Handy For Your Trip In 2022
---
Looking To Book A Holiday Package?
Book memorable holidays on TravelTriangle with 650+ verified travel agents for 65+ domestic and international destinations.
---