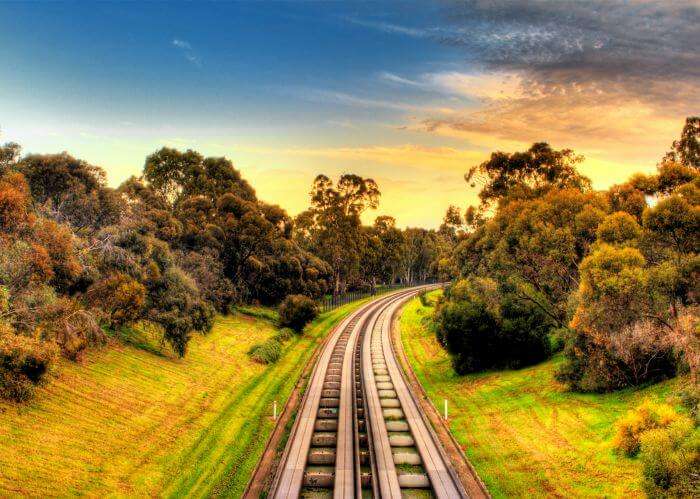 Planning a vacation rarely encompasses a train expedition nowadays. But if it does, it certainly takes us back to the childhood days when holidaying meant traveling in a train. It also meant admiring the changing landscapes as the train passed through towns and villages; playing cards or memory game; chitchatting over warm tea in earthen cups (locally called Kulhad); yummy munchies and lot more! This time round, we take you on some of the most fascinating train routes in India that cover absolutely enthralling and diverse landscapes – steep mountain slopes, narrow valleys, and wide seas.
18 Most Beautiful Train Journeys In India
Go through the list of these most beautiful train ride in India and make sure you head to one of them, the one that you find to be truly out of this world.
Jammu – Baramulla
Pathankot – Jogindernagar
Kalka – Shimla
Jaisalmer – Jodhpur
Mumbai – Goa
Hubli – Madgaon
Matheran – Neral
Karjat – Lonavala
Ratnagiri – Mangalore
Tamil Nadu – Rameshwaram
Mettupalayam – Ooty
Vishakhapatnam – Araku Valley
Bangalore – Kanyakumari
Hassan – Mangalore
Bhubaneshwar – Brahmapur
New Jalpaiguri – Darjeeling
Alipurduar – Jalpaiguri
Guwahati – Silchar
1. Jammu – Baramulla
Kashmir Railway Gifts you Travel Charisma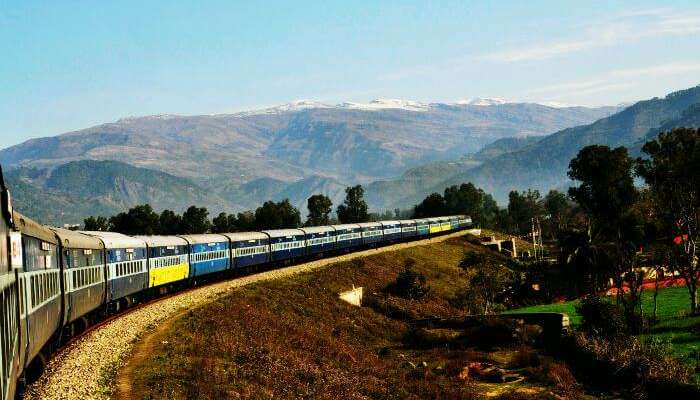 The railway track connecting Jammu, Udhampur, Srinagar and Baramulla is not only picturesque and enthralling but also one the most challenging railway projects. It is located in the high earthquake intensity zone with undulating and rugged terrain and extreme cold temperature.
Must Read: 10 Unbelievably Beautiful Places To Visit In Kashmir
---
Looking To Book A Holiday Package?
Book memorable holidays on TravelTriangle with 650+ verified travel agents for 65+ domestic and international destinations.
---
2. Pathankot – Jogindernagar
Mystics of Kangra Valley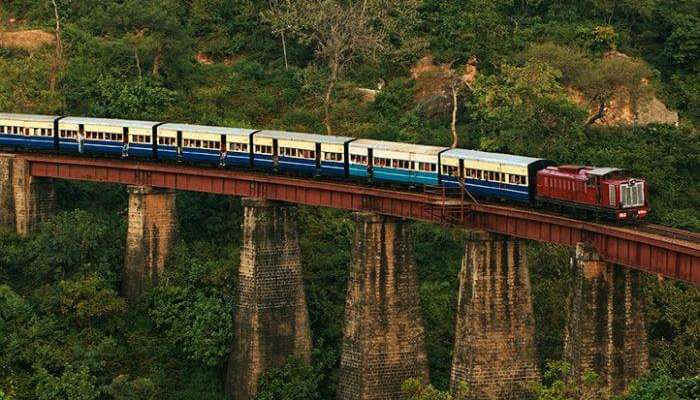 Image Source
If you want to enjoy the thrills of Kangra Valley, the river bridges, deep gorges and exclusive flora, enjoy the pleasant but quite slow ride of 164 kms from Pathankot to Jogindernagar in Himachal Pradesh.
3. Kalka – Shimla
A Spellbinding Journey to the Summer Capital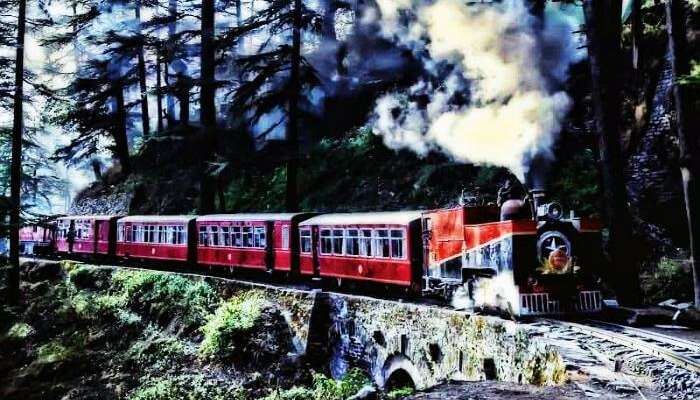 If you want to cherish picturesque valleys, steep pathways and foggy meadows, travel to Shimla in the narrow gauge train. This little toy train, now considered as World Heritage Site by UNESCO, starts from Kalka and travels 96 km upslope through 102 tunnels: (the longest tunnel located at Barog), 82 bridges, deep valleys, steep curves, rolling bends, forests of deodar and rhododendron, pine and oak.
Few trains like Siwalik, Kalka-Shimla, Himalayan Queen, Rail Motor and Siwalik Queen ply on this route. The journey is truly enchanting but at a slow pace as the train ascends the slope rhythmically through stations of Dharampur, Solan, Kandaghat, Tara Devi, Barog, Salogra, Totu, and Summerhill to reach the summer capital. It is one of the best north Indian train journeys.
Must Read: 10 Best Places To Visit In Shimla To Relax And Unwind
4. Jaisalmer – Jodhpur
Xerophytic Route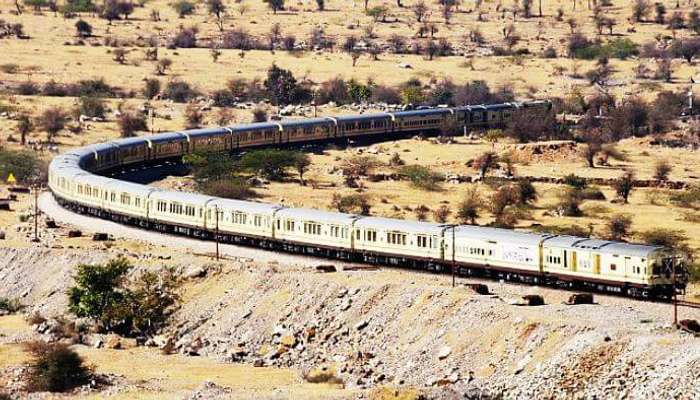 Image Source
The Rajasthan trip which is otherwise full of colours, can have an extra bright shade if you travel to Jaisalmer from Jodhpur in Delhi Jaisalmer Express. The travel time in the train called the 'Desert Queen' takes close to 6 hours to reach the destination.
The journey is not at all monotonous. In fact you see diversified topography like typical desert landscape with xerophytic vegetation, yellow soil, dunes, grazing camels and scattered settlements of the desert inhabitants. The passengers will surely get a feel of the desert safari before reaching the land of the Golden Fort.
5. Mumbai – Goa
Journey through the Enigmatic Ghats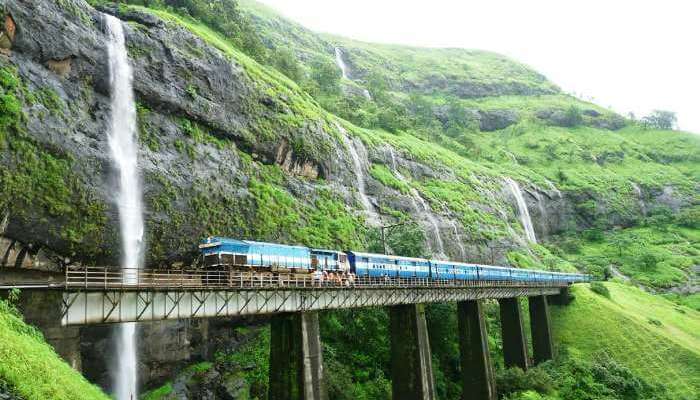 Image Source
The journey from Mumbai to Goa intersecting through the gorges of Sahyadari and fringes of Arabian Sea is equally or perhaps more thrilling than the holiday. Mandovi Express, as a part of the Konkan Railway network, travels between Mumbai and Goa.
The route is full of scenic landscapes, ranging from tunnels, bridges, coastal peripheries, steps of Western Ghats (other name for Sahyadari), innumerable small rivers, seasonal streams and lush green meadows. Do not forget to take out your handicam or camera and capture the highlights of stunning Indian train journey.
---
Planning your holiday but confused about where to go? These travel stories help you find your best trip ever!
Real travel stories. Real stays. Handy tips to help you make the right choice.
---
6. Hubli – Madgaon
Vasco da Gama Route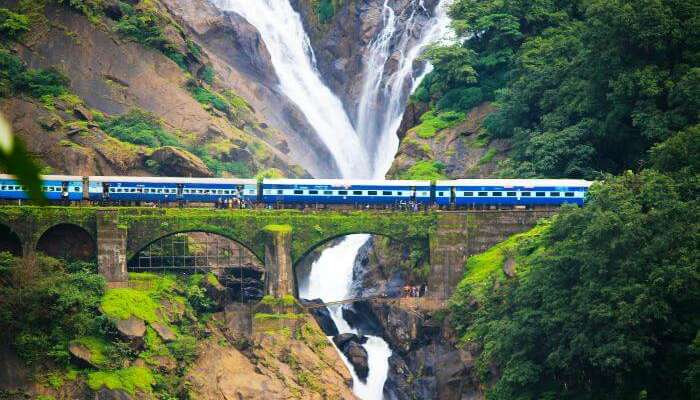 Image Source
While travelling from Hubli to Madgaon, experience one of the most thrilling and enchanting train journeys in India. The train passes through the gigantic and most magnificent Dudhsagar waterfalls gushing out from a 300 metres in full vigor.
Once the train reaches the waterfall, you will be amazed at the cascading beauty and force. If you decide to enjoy it closely, quickly get down at Londa junction, which is the nearest station to Dudhsagar falls.
7. Matheran – Neral
Heritage of Maharashtra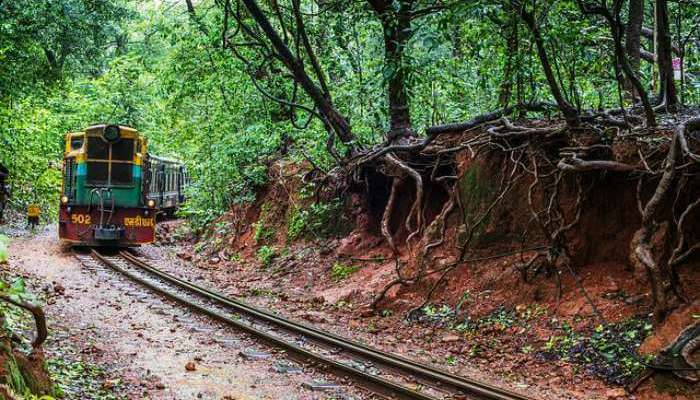 The narrow gauge railway running between Matheran and Neral passes through the rugged terrains of the Ghats and has gained immense tourist attraction. This only Heritage railway of Maharashtra running a distance of 20 km is surely included in the list of India's best train journeys.
Must Read: The Definitive Weekend Getaway Destinations For Mumbaikars
8. Karjat – Lonavala
Monsoon Trip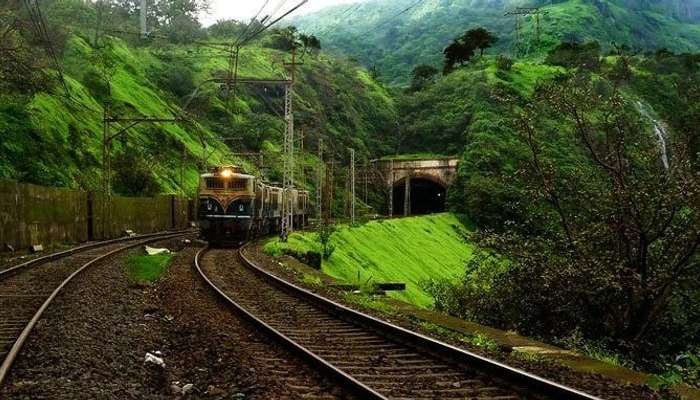 Image Source
The journey from Karjat to Lonavala through Thakurwadi, Monkey Hills and Khandala is mystic and witnesses wide range of biodiversity on all sides of the Western Ghats. Monsoon season is recommended because of the lush green views and beautiful rain scenery that it offers.
Must Read: 13 Hill Stations Near Mumbai To Soothe Your Senses
9. Ratnagiri – Mangalore
Charming Konkan Railway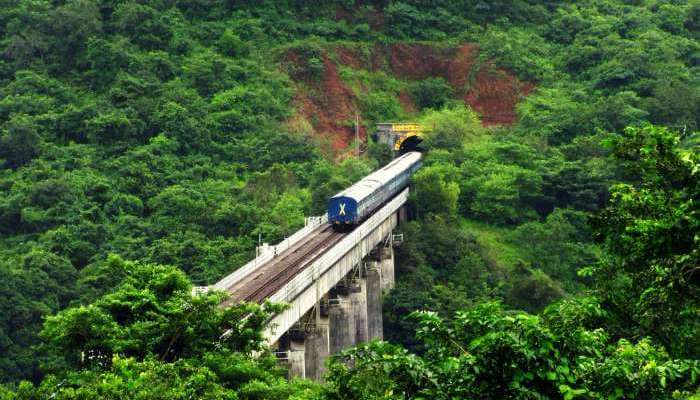 Image Source
One of the most mesmerizing railway tracks lies in the Konkan Railway network, in the Ratnagiri to Mangalore sector.
The is one of the most scenic train journeys in India which is truly absorbing and wherein the dense forests, mighty Western Ghats, deep tunnels, river bridges, sharp bends and innumerable seasonal streams will leave the travelers spellbound and hypnotized.
Must Read: 20 Road Trips Every Biker Ought To Take This Monsoon
10. Tamil Nadu – Rameshwaram
Journey Intersecting the Ocean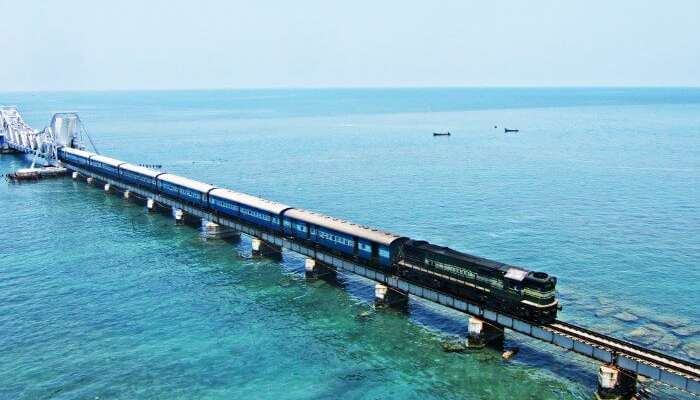 Image Source
Besides thrill and adventure, train travel from Mandapam in Tamil Nadu to Rameshwaram on Pamban Island oozes calm and serenity. It is certainly one of the top ten best Indian train journeys.
One of the most beautiful train routes in India, it passes over the second longest bridge of India, the Palk Strait, which is the only route that connects mainland India to Pamban Island.
11. Mettupalayam – Ooty
Voyage in Landscapes of Nilgiris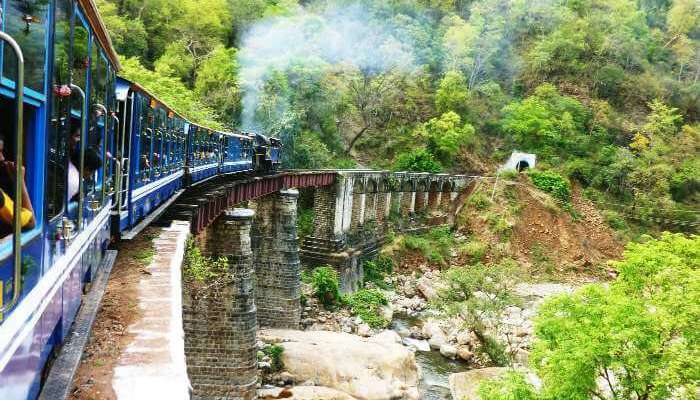 Image Source
Running since 1908, 'Nilgiri Passenger' still runs on steam engine, going from Mettupalayam to Ooty. As the train ascends the Nilgiri Mountain, thick pine, oak and eucalyptus forests, bends, curves and tunnels, it moves along Asia's steepest track with maximum gradient of 8.33 percent.
Nilgiri Passenger travels 26 km up the slope in almost 5 hours via stations like Kallar, Adderly, Hillgrove, Kateri, Runneymede, Kateri, Coonoor and Lovedale.
Must Read: 15 Mesmerizing Hill Stations in South India
12. Vishakhapatnam – Araku Valley
The Tunnel Topography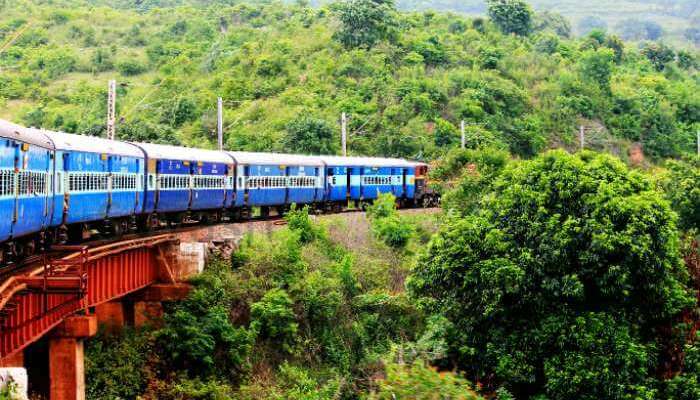 Image Source
The journey from Vishakhapatnam to Araku Valley through innumerable tunnels and sharp loops is quite an interesting one. Started as a mode to transport iron ore and other minerals to Vishakhpatnam from Chhattisgarh, this railway route in India is a treat for the eyes as well as the soul.
13. Bangalore – Kanyakumari
The Malgudi Voyage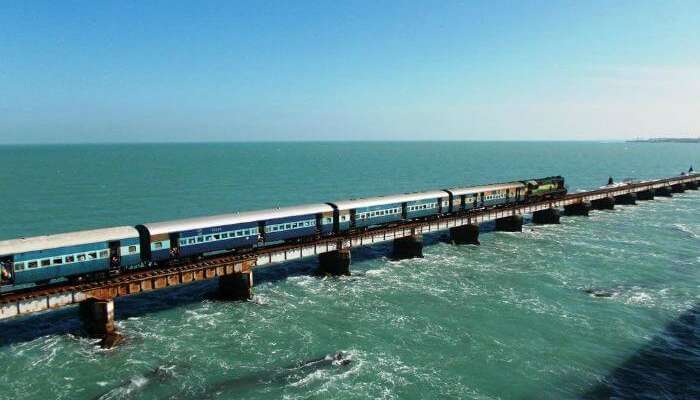 Image Source
Another scenic journey through the typical landscape of South India – the picturesque villages, plantations, meadows and water bodies is from Bangalore to Kanyakumari. The Island Express travels 944 km in about 19.5 hours and surely take you the land of 'Malgudi Days', undoubtedly paving its way to the list of best train journeys in India.
Must Read: 21 Road Trips From Bangalore You Must Plan With Your Friends
14. Hassan – Mangalore
Magical Malnad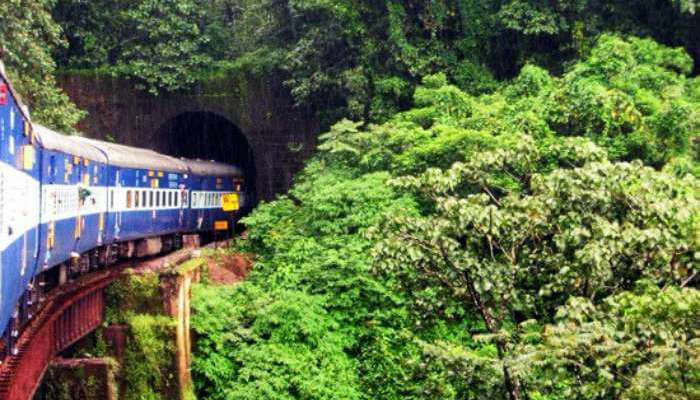 Witness a pleasant train journey through scenic waterfalls, lofty mountains, palm plantations and rice meadows from Hassan to Mangalore. Railway voyage along this stretch of the Malnad region is truly refreshing and perfect delight for travelers.
15. Bhubaneshwar – Brahmapur
The Serene Journey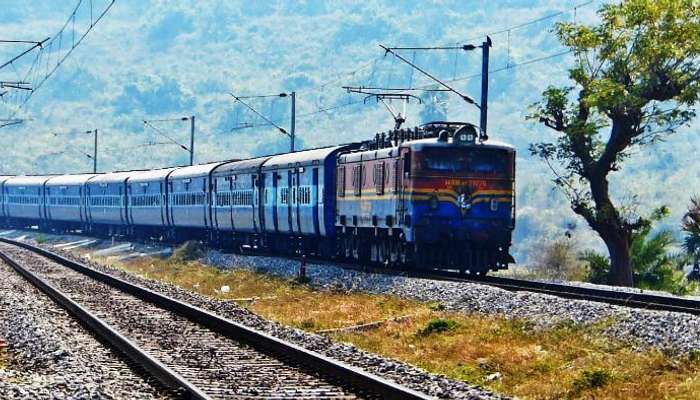 Image Source
Another of most beautiful train journeys in India is from Bhubaneshwar to Brahmapur, with lush green Malyadri on one side and serene Chilka Lake on the other. You may be lucky enough to see lots of migratory birds, so don't forget your camera.
16. New Jalpaiguri – Darjeeling
The Heritage Voyage to the Summer Resort of British Raj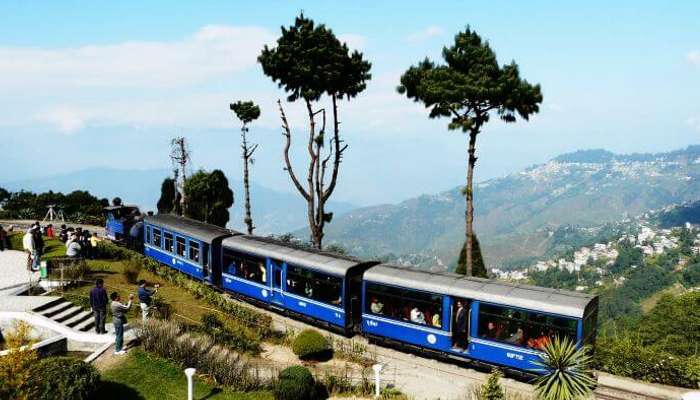 Image Source
A pleasant upslope journey from the foothill region through loops, turns and bends can be experienced from New Jalpaiguri to Darjeeling. The 78 km long quaint journey takes almost 8 hours and passes through Siliguri Town, Siliguri Junction, Sukna, Rangtong, Tindharia, Mahanadi, Kurseong, Tung, Sonada, Ghum, Rongbul, Jorebunglow and Batasia Loop.
Though the journey, now a UNESCO World Heritage Site, is sluggish but certainly leisurely. The surrounding hill-valley topography, especially from Ghum (the highest narrow gauge railway station in India) and Batasia Loop, adds extra flavours of delight to your trip.
17. Alipurduar – Jalpaiguri
Jungle Safari on the Wheels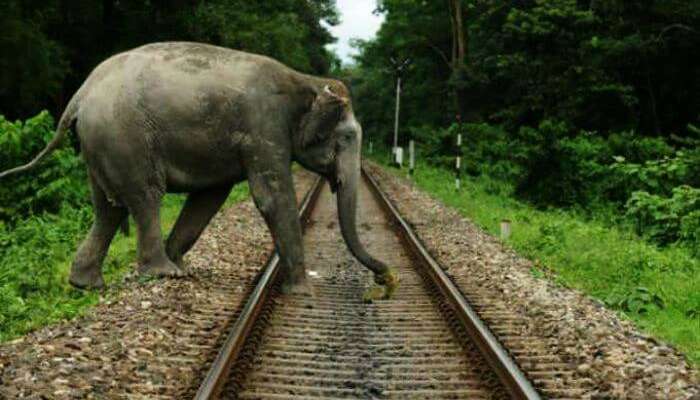 Want to pass through dense forest and see elephants and rhinos while passing by? Plan a train journey in the foothills region of North Bengal.
Travelling to Alipurduar, Jayanti, Moorti, Samsing, Baux and Jalpaiguri will take you through the reserve forests of Gorumara, Jaldapara, Mahananda and Buxa while crossing seasonal streamlets.
18. Guwahati – Silchar
Awes of Assam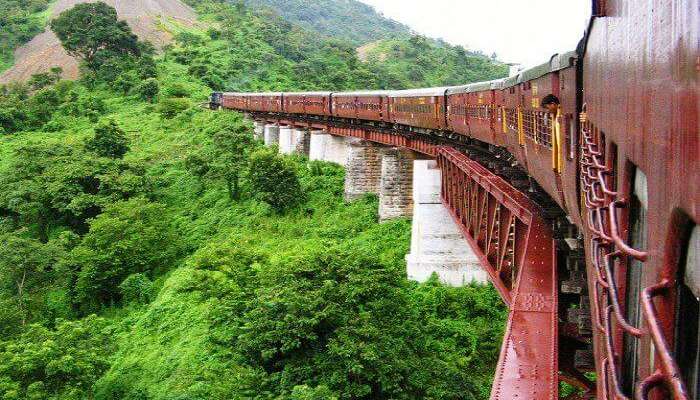 Image Source
This journey meanders through river Jatinga, lush green Assam Valley, tea plantations and undulating Haflong valley. The route from Guwahati to Silchar via Lumding and Barak Valley makes it one of the most beautiful train journeys in India.
Further Read: 23 Types of People You Meet While Travelling in an Indian Train
Aren't all these routes, absolutely stunning? If you have more to the list, share us with them in the comments below, and let the word spread. But for now, plan your holiday in India with TravelTriangle to experience these wonderful train rides. We have no doubt that these rides will sweep you off your feet and make your heart skip a beat.
Frequently Asked Questions About Beautiful Train Journeys In India
Q. Which is the best train of India?
A. This is no definite answer to this because of the way you define best. It could be in terms of service or the route it runs on. If you have to pick one, Samjhauta Express would be the best train of India as it connects India and Pakistan displaying the amazing coordination between the two countries with communal tensions. It connects Amritsar with Lahore.
Q. Which is the luxury train in India?
A. Maharaja Express is one of the luxurious trains in India. There are others like Palace on Wheels, Deccan Odyssey, Royal Rajasthan on Wheels, and Samjhauta Express.
Q. Which is the long-distance train in India?
A. Vivek Express is the longest distance train in India that connects Dibrugarh in Assam with Kanyakumari in Tamil Nadu. The train runs weekly and takes about 79 hours to complete a journey of 4234 km. It has 57 intermediate stoppages. Whoa! Imagine the journey that would be on this train.
Q. Which are the dangerous train routes in India?
A. Chennai-Rameshwaram route is considered to be the most dangerous train route in India. It is ironic because it is also a pilgrimage route. So, your faith in God is put to test when you travel on this train. The 2.3 km long stretch of this train runs over ocean fighting strong winds and tides that make this journey dangerous and testing.
Q. Which are the best train journeys from Bangalore?
A. The train journey from Bangalore to Kanyakumari is the most scenic one. Ditch the car ride and take the train instead if you want to enjoy the scenery.
Comments
comments