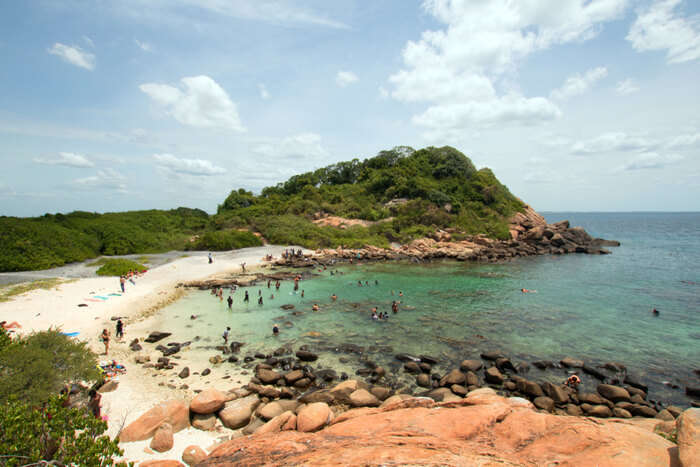 Sri Lanka is popular for its two marine national parks, out of which the Pigeon Island national park has always been the crowd puller. The Pigeon Island National park is spread around an area of 470 plus hectares and was classified as a sanctuary in the early 1960s but changed to a national park in 2003 – making Pigeon Island National park 17th national park in Sri Lanka. The national park got its name after rock pigeons/doves that inhabit in the national park itself.
Getting To Pigeon National Park

The famous Pigeon Island National Park is located just 1 km off the coastal town of Nilaveli in Eastern Province. There are many different ways to reach the town. If you are an international traveler, you land at Colombo airport in Sri Lanka, and you can take a 1.15 hours long flight to Nilaveli airport. If you are a budget traveler, you can take a night train as low as 10 USD, but you are most likely to miss the scenery of Sri Lanka because of the night travel. The day train is around 30-40 USD and shows you more of Sri Lanka or you can even rent a taxi for a bit more money.
Best time to visit Pigeon Island National Park

You can visit the Pigeon Island National Park Sri Lanka in both summer and winter season. However, the best time to visit the island would be in summer during June.
Summer Season
Best to visit the island national park is between May – October. Nilaveli is amazing in summer. You can enjoy the calm sea with beautiful bright weather. If you are looking for some water sports, summer is the best time to visit. According to the locals, the best time to visit the Pigeon Island National park is in June.
Winter Season
Best to visit the island national park is between November – April. The venue overall is less crowded in winter. The sea is slightly rougher compared to the summer but Pigeon National park is still a good place to visit in order to get away from a deserted beach.
Things to do in Pigeon Island National Park
1. Pigeon Island beach

The pigeon island national park comprises of two islands – the large pigeon island and the small pigeon island. The best thing about any island has to be the beach, and it is no different with the Pigeon Island National Park. The twist to the plot is the coral reef that extends 200m long and 100m in width. So, you can see plenty of sea life within the reach of the beach. The small pigeon island is has a rocky islet surrounding on its coral rich habitat. The rocky outcrops and the islets is a breeding and feeding ground for over 300 species coral reef fish keeping the colorful underwater symphony alive. You can just chill, like in any other beach but, make sure you wear your slippers all the time. Coral cuts are a real thing here.
Must Read: 7 Most Haunted Places In Sri Lanka That'll Make You Face Your Darkest Fears
2. Snorkeling at its best

The Pigeon Island is a heaven for people who are looking for a good snorkeling spot. The clear water makes the snorkeling easy and safe starting from 1 ft of water to 6-7ft. You can witness a variety of underwater life ranging from Trumper fish, angel fish, parrot fish, eels, coral gardens, and other colorful fishes, etc. There is also a high chance of seeing huge sea turtles and even blacktip sharks. You do need a rent a boat and rent some snorkeling gear, but that is a small sacrifice for the experience you get. It is recommended to ask for a guide while you book the boat trip as there are a few restricted areas. If snorkeling is not enough, the Pigeon Island resort also offers deep-sea dives for the adrenaline junkies. The resort has different packages for safe dives for children. You can take different deep and night dives with underwater photography with a certified diver.
Suggested Read: The Definitive Guide To National Museum Of Colombo In Sri Lanka
3. Other water activities to do

If snorkeling does not fall under your topic of interest, the speedboat ride is worth a trip itself. You can enjoy swimming to the other side of the island or go even fishing in the ocean. Windsurfing is another secondary activity you can do at the Pigeon island beach but you have to be lucky enough for the waves.
Suggested Read: Sri Lanka In January: Places To Visit And Things To Do On Your Vacay
Places Near Pigeon Island National Park
1. Koneswaram temple

With just about 40 minutes drive from the Pigeon Island National park lies the Koneswaram temple, one of the closest points of interest from the island. The ancient Hindu temple is located on the top of the hill with a big statue of the Hindu God. You can see inscriptions in the walls that the temple was made in the 17th century and like in most Hindu temples, you have to walk barefoot inside, but for most of us, this is an experience in itself. If you are looking to blend into the Sri Lankan culture or trying to get some peace during your trip, this is a perfect spot. You can take a good evening tour as you walk up the temple to enjoy the breeze and the view of the great Indian Ocean.
Suggested Read: Viharamahadevi Park: A Handy Guide To Explore This Nature's Paradise In Sri Lanka!
2. Kanniya Hot Springs Well

Another close excursion from Pigeon Island National park, the Kanniya Hot Springs is just 35 minutes drive from the island. This popular attraction of Trincomalee consists of 7 hot water wells (each with a slight difference in temperature) and is believed to have healing powers and can cure illness through its therapeutic abilities. This place also carries a great mythological significance, as it is believed that King Ravana created these wells for his mother. It is a great place to visit for a refreshing bath and connecting with the locals.
Suggested Read: 10 Mountains In Sri Lanka That Will Put You Under A Cast With Their Mesmerizing Beauty
Pigeon Island National Park entrance fee

For locals, the admission fee is as low as Rs. 350, but the rates go up to Rs. 2000 per person(10 to 13 USD) for foreigners. You can rent the snorkeling gear for about Rs. 600 (4 to 6 USD). The boat rides can however vary. The boats are usually Rs. 2000 (11 to 13 USD) for 5 people, but people have even paid up Rs. 5800 (32-35 USD) for the same trip. It is best that if you book a hotel including both the snorkeling gear and the speedboat ride. The island is open from 8 am in the morning to 5 pm in the evening all 7 days a week. If you need any information, here's the pigeon island national park contact number: +94 112426900 (Sri Lanka Tourism Head Office in Colombo).
Further Read: These Spice Gardens In Sri Lanka Will Take You Through An 'Aromatic' Experience
Located north from the Trincomalee, the Pigeon Island National park is one of the few protected areas after being affected by the Indian Ocean tsunami in 2004. However, it is one of the best places you can visit in Sri Lanka. The scenery and serenity you find here are hard to discover anywhere else making the island a great place for your next vacation. So why not give the Pigeon national park a try on your trip to Sri Lanka? After all, the great Italian explorer Marco Polo said that Sri Lanka is "the best island of its size in the world".
People Also Read:
National Parks In India Hikkaduwa National Park Horton Plains National Park
---
Looking To Book An International Holiday?
Book memorable holidays on TravelTriangle with 650+ verified travel agents for 65+ domestic and international destinations.
---