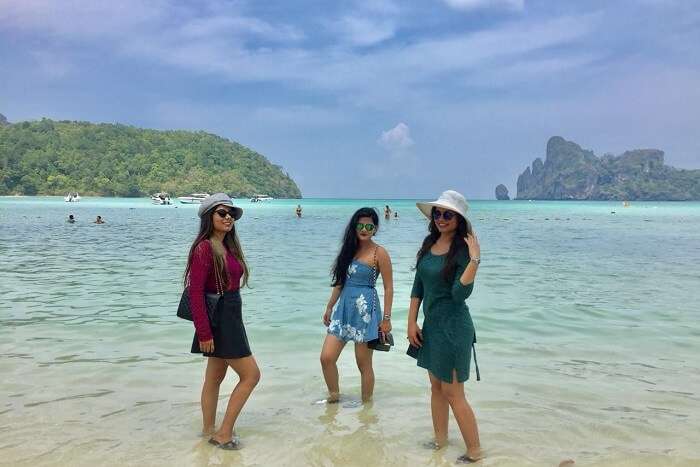 Thai beaches paint a scenic image in our minds while the famous islands have been featured in many hollywood movies too. Thailand is undoubtedly the most unique destination that any traveler can explore but it is also one of the best places that will leave you craving for more. From the serene temples and grand palaces to pristine beaches and breathtaking islands, Piu's friends trip to Thailand will give you major friendship goals for sure!
At first, I and my other 2 friends were confused between Thailand and Sri Lanka for out trip. Our last trip to Singapore was a great hit and since then, we had decided to take another one with just us three girls. We chose Thailand because it is a perfect place where you can have a bachelorette party and given the fact that we might be getting married soon, what better way to celebrate! I was a little inclined towards Thailand from the beginning due to the exceptional shopping experience, the friendly locals and their vibrant culture I had enquired about.
A month long research really helped the three MBAs to opt for this gorgeous paradise. If it is anywhere in the world that you can find crystal clear water and an amazing nightlife experience, it is Thailand. Not to forget, the locals are quite helping here adding more to your experiences bit by bit. Here's what we discovered from our fun packed all-girls trip!
Must Read: 5 Best Nude Beaches In Thailand That One Cannot Afford To Miss In 2022
Details On Our Friends Trip To Thailand
Trip Type: Friends Trip
Cost: INR 39,200/-
Travel Agent: Breakbag Holidays
Duration: 6 Days
Inclusions: Sightseeing, Phuket City Tour, Airport transfers,
Exclusions: Visa, Airfare, Breakfast, Travel Insurance,
Reasons why our friends trip to Thailand was a fun getaway
Soothing Massage Therapies



Massages are what makes your entire being relaxed putting your mind, body and soul at ease. There are many options for massages in Thailand. Some of these massage parlours have set up their stalls and rate cards right on the street. Especially when it comes to Bangkok, you can see a number of places to get an authentic Thai massage from. There's also a choice between foot massages, back and body massages, and all of them vary in duration too.
A Wild Shopping Spree


Thailand vacation never goes without a shopping adventure. We shopped from every place we stayed at, be it Phuket or Bangkok. The kind of designs and fabric you get in the markets in Thailand are surely one-of-a-kind and a must have for every woman out there. Since it was just us girls, we don't have much idea about shopping for guys. From Thai candies, bags, clothing, watches and other edibles to travel bags, accessories and electronics, you can get it all right here in Thailand.
Suggested Read: Top 15 Restaurants In Thailand For Indians Who Don't Want To Rely Solely On Thai Cuisine
Serene Krabi Beaches






One of the best tourist places in Thailand that every traveler must explore are the beaches of Krabi. This is one place that lets you forget everything else in the world and you can simply unwind on the beach with your pals sipping some of your favourite drinks. You can also opt for snorkeling just like I did. I had a pass for snorkeling and the guide helped me see all the beautiful underwater creatures.
Grand Palaces And Fascinating Temples






If you're fond of architectural work and the magnificent beauty that lies in the giant creations of temples and palaces, then you must check out the ones in Thailand. We went to Reclining Buddha temple and Grand Palace on our 5th day in Thailand. Even though it was a little far from our stay and we had to take a cab, the view was totally worth it! The charming jewels instilled in these structures cannot go without noticing for sure!
Suggested Read: Full Moon Party In Thailand In 2022 Is Going To Be Beach Madness At Its Loudest!
A Foodie Paradise





The kind of authentic cuisine that Thailand has in store, any foodie like us would definitely not miss out on this experience. Due to this reason, me and my friends had mostly street food while we're to taste the uniqueness of this land. The coconut ice-cream in Bangkok will make you crave for more with a special presentation as it is served in a coconut shell itself. The various dishes made of rice accompanied by cocktails and the local beer Chang was a perfect combo for us. We also had Pad Thai rice there. Even the McDonalds menu is Thailand has unlimited options for non-vegetarians, with beef burger topping the list.
Our Customized Itinerary For A Thailand Vacation
Day 1: Arrive in Phuket. Day at Leisure.
Day 2: Phi Phi Island tour including Monkey beach.
Day 3: Chicken Island and Poda Island tour including Phra Nang Cave and Lunch
Day 4: Day at leisure.
Day 5: Day at leisure.
Day 6: Departure
Dos and Don'ts For A Thailand Trip
For a Thailand trip to be perfect, what you must do is research. Like a lot of it. We had to do it for ourselves for about one month and during that period, I also approached a few travel agents to get a good deal. You really have to set your mind as to what all you wish to cover on your trip. There's a lot that Thailand has to offer and given a specific budget, you have to be really thorough with your research. We also asked a couple of friends and relatives about their experience while deciding. What you must try to avoid here is to have at least a minimum number of 7 days in Thailand for a relaxed vacation.
Tips For Future Travelers
As far as I know, people don't explore Bangkok in particular. They simply head to Phuket or Pattaya straight away and then stop by at the airport in Bangkok to go back home. I would recommend touring this magnificent capital city as there are a number of good experience like nightlife, and shopping waiting for you.
If you have to choose between Phuket and Pattaya, you must pick Phuket according to me. From what I've gathered, Phuket has a good crowd comparatively. You can also grab a packed food item from one of the many 7/11 stores in Thailand in case you wish to save more and have a good meal in no time. You just need to warm this food a little and it's good to go.
This is if you don't wish to try any of the amazing restaurants that this land has in store!
Experience With TravelTriangle
I clearly remember the name of my agent, Gaurav Mukherjee. He was very helpful and responded to each and every doubt I had during my trip. Be it about prices, accommodation or anything of the like, he was very helpful. My experience with TravelTriangle has been really good. I got a decent package with all the necessary inclusions that I wanted. Although our stay in Phuket had a poor WiFi which didn't enable us to upload our pictures, I know it's not TravelTraingle's fault. But, I just wanted to raise this so that it doesn't happen with any other traveler in the future.
Frequently Asked Questions About Friends Trip To Thailand
Q. What time is the best to visit Thailand?
A. According to me, from the month of November to February, it is an ideal time to explore Thailand. The weather is good and it is the peak season. After March, there's more humidity and a sun tan as grave as the one around that time will take longer to wear off for any Indian.
Q. How much does it cost for a vacation in Thailand?
A. It depends from one person to person. Whichever place you choose to stay or the kind of flight you wish to opt for. If for an upper middle class person, minimum 60-70,000 should be your budget including hotel and everything. If you can cut down on your stay and flights, then you can manage it with 50,000 too.
Q. What is the best place to stay in Thailand?
A. In Phuket, you can stay at Bangla road. I stayed in Jirapon Hill Resort. It was totally isolated from the main market. You must stay near the main market area so as to enjoy everything including beaches, markets, street food etc. In Bangkok, you should stay at Khao San road. From our hotel this road is only 10 minutes away.
Q. What's famous in Thailand for shopping?
A. Thai candies. There's a lot of stuff of things that you can buy from Thailand. From bags, clothing, watches etc. You can also buy a lot of eatables. You must try street food while you're here. A number of essential oils, candles luggage bags and electronic items such as Television etc are also bought by many travelers from here. Comparatively, many believe that electronics are cheaper in Thailand and the overall shipping and customs doesn't amount to much.
Q. How do you get around in Bangkok, Thailand?
A. Airport transfers were included in our package. While going to the market, we covered most places on foot since our place was close to the markets. Whenever we had to commute, we took the local cabs over there which were a little expensive. We also took tuk-tuk on our vacation. While visiting the Reclining Buddha temple, we booked a cab for our commute. You should pick a stay at the main market so as to cover major places on foot only.
Further Read: Ao Nang Thailand: Things To Do And Where To StayAo Nang Thailand: Things To Do And Where To Stay
A vacation is not a vacation without your favourite travel folks. Be it the mesmerizing islands or a fascinating nightlife, there's something in store for everyone in this paradise for sure. So, while you make up your mind, plan a trip to Thailand for an ultimate holiday experience just like Piu's girls vacay!