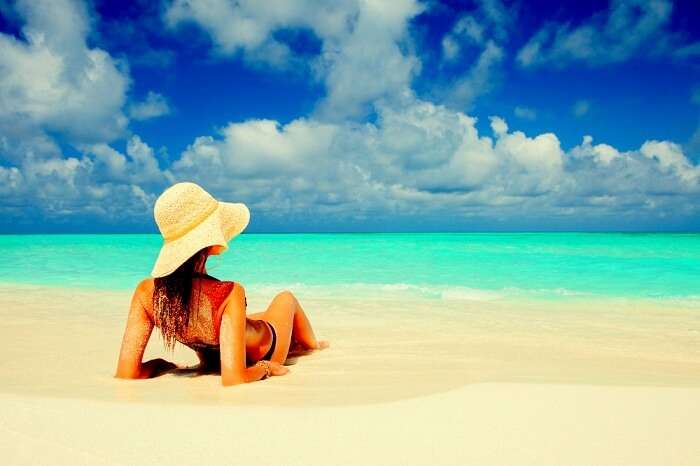 Planning your next vacation in Thailand? Then make sure you include some of these best nude beaches in Thailand on your list to explore this Asian hidden gem like never before. A destination renowned worldwide for its quixotic beaches, crystal clear waters, and glamorous lifestyle, there is no way for a traveler to miss out on a destination like this in the new year. Thailand is one of the very few countries that allow guests to connect with nature at such unexplored sites. And while the destination is full of pristine beaches, get going to explore these hidden gems which can be a lot more than just being fun. They give you a chance to drop your inhibitions and get closer to nature. So, what are you waiting for? Dive into the list of Thailand nude beaches now!
Top 5 Nude Beaches In Thailand
Take a look at some of the best nude beaches in Thailand that offer the much-needed break and relaxation to all the travelers on a laid-back beach vacation. Unwind amidst azure water, smooth sand, cool breeze, and mesmerising landscapes:
Nui Beach – A Serene Beach
Mai Khao Beach – A Peaceful Beach
Big Buddha Beach – An Exotic Beach
Leela Beach – A Pristine Beach
Cosy Island Beach – A Stunning Beach
1. Nui Beach- A Serene Beach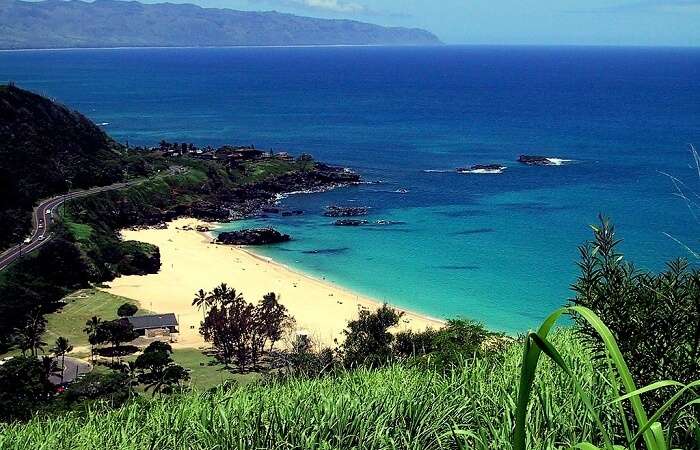 Head towards the southernmost tip of Phuket and you will reach Nui beach – a beautiful private cove where you can shed your clothes and enjoy a spot of nude sunbathing. While there are a lot of adventure activities in Thailand, this beach is also ideal for kayaking and surfing, yes topless or nude. This one of the most beautiful nude beaches in Phuket is tucked away from the hustle and bustle of the city and can be accessed by a 4-wheel drive or quad bike as the road that leads to the beach is just gravel. If you wish to save time commuting to and from your hotel room and the beach, you can check in to Lemon Tree Resort, merely a few meters away from these spectacular Thailand nude beaches.
Timings: 10 Am – 6 Pm
How To Reach: Nui Beach is located 51 kms away from Phuket Airport and you can hire a taxi from the airport.
Location: Karon, Mueang Phuket District, Phuket 83100, Thailand
Things To Do: Snorkeling, Beach Volley, Sea Kayaking
Dining options near Nui Beach: Some of the best dining areas are SeaSky Restaurant, Relax Lanta Bar & Restaurant, Anda Pearl Restaurant, and Cliff Sunset Restaurant.
Accommodation near Nui Beach: Katathani Phuket Beach Resort, Naiharn Beach Resort, Shanti Estate, and Ya Nui Beach Villas
Must Read: 10 Fascinating Places To Visit In Chiang Rai, Thailand's Unspoilt Paradise
---
Thailand Holiday Packages On TravelTriangle
---
2. Mai Khao Beach – A Peaceful Beach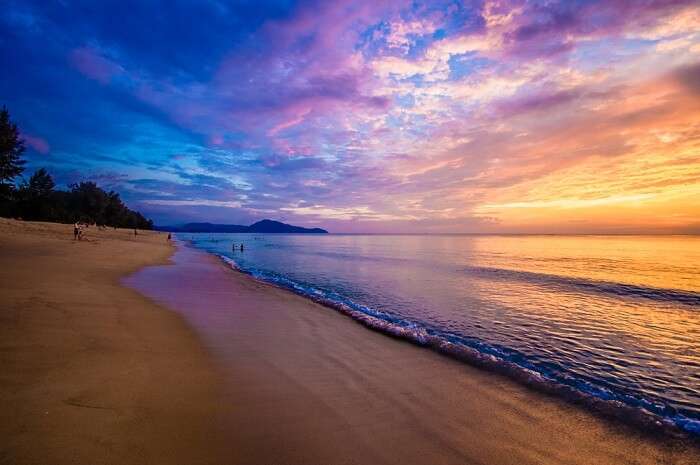 This gorgeous beach on Phuket Island is called Mai Khao Beach and is located at the north western tip of the island. You cannot reach this beach via boat. However, it is easily accessible by road. The beach is over five and a half miles long and one of the longest nude beach in Thailand. This is one of the few blessedly untouched and best beaches in Thailand where you can enjoy nature at its very best. There are a few restaurants on the shores where you can grab a bite should you get hungry. Mai Khao is a peaceful getaway that certainly qualifies to be the world's best nude beach in Thailand.
Timings: NA
How To Reach: Mai Khao beach is located 7 kms away from Phuket airport and you can easily reach it by hiring a taxi.
Location: Phuket, Thailand
Things To Do: Swimming, Shopping
Dining options near Mai Khao Beach: Mama Restaurant, La Sala, Sea.Fire.Salt, The Coffee Club, and Ginja Taste
Accommodation near Mai Khao Beach: Micky Monkey Beach Hotel, Holiday Inn Resort, Maikhao Home Garden Bungalow, OYO 538 Bungalow at Maikhao
Suggested Read: 10 Global Festivals You'd Never Want To Attend
3. Big Buddha Beach – An Exotic Beach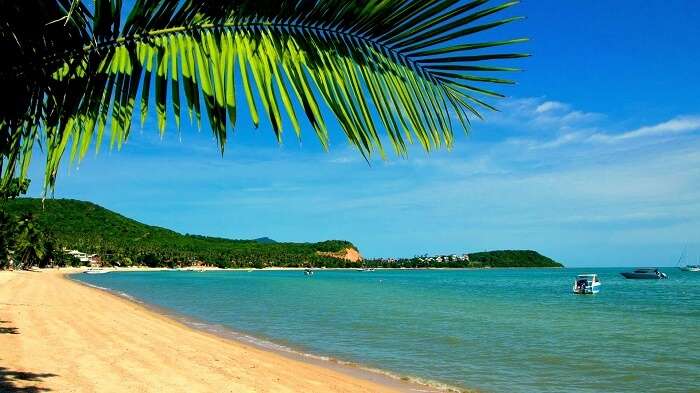 Though this doesn't officially qualify as a nudist beach, you will find many tourists walking and swimming in the nude at the beach. This golden beach is located on the west coast of Koh Phra and faces the Andaman Sea. This Thailand nude beach is rather isolated and stretches over 10 kilometers. This is one of the most stunning coastlines in Thailand where you can enjoy a spot of topless sunbathing. And it is one of the top things to do in Koh Samui. If you do happen to get a quiet, private spot, you could also bare your butt! Be sure to cover up, should you see any staff from the nearby resorts pass in your direction! Be sure to pay this nude beach in Thailand a visit when holidaying in the country.
Timings: 7 Am – 11 Pm
How To Reach: Big Buddha Beach is located 6 kms away from Koh Samaui and you can hire a taxi from the airport.
Location: Bo Put, Ko Samui District, Surat Thani 84320, Thailand
Things To Do: Swimming, Spas
Dining options near Big Buddha Beach: Karma Beach, Sunset by Angelina, Noi Friendly Restaurant, and Shambala Restaurant
Accommodation near Big Buddha Beach: The Privilege Hotel Ezra Beach Club, Kohkoon Beach Resort, and The Boardroom Beach Bungalows
Suggested Read: Kanchanaburi Travel Guide: A Handy Note On A Quaint Historical Town In Thailand
4. Leela Beach – A Pristine Beach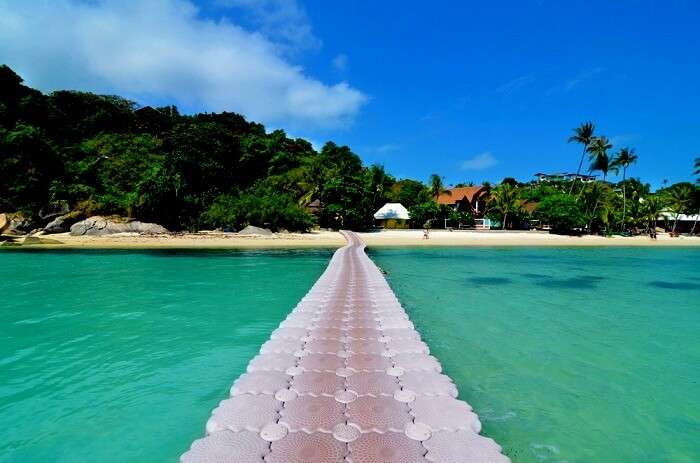 Set in a beautiful and tranquil sanctuary on the spectacular Koh Phangan Island is yet another unofficial nude beaches in Thailand, where you can spend a few hours, sunbathing topless. On a lucky day, you can get away with some nudity. This Thailand nude beach is a great place to relax under palm trees on the soft white sandy shore, even if you cannot take your clothes off! There are a number of bungalows lining the beach if you decide to spend the night around this most spectacular nude beach in Asia.
Timings: NA
How To Reach: You can reach Leela beach by taking a flight to Koh Samui and the boarding a bus or ferry to Koh Phangan district.
Location: Koh Phangan Suratthani – Ko Phangan, Ko Phangan, 84280, Thailand
Dining options near Leela Beach: Foods & Roots, The Sea Terrace, Pure Joy Restaurant, and Cocohut Restaurant
Accommodation near Leela Beach: Suncliff Resort, Cocohut Beach Resort & Spa, Rin Beach Resort, and Sarikantang Resort
Things To Do: Swimming, Sunbathing
Suggested Read: 15 Spectacular Festivals In Thailand That Are All About Love, Lights, And Legacy!
5. Cosy Island Beach – A Stunning Beach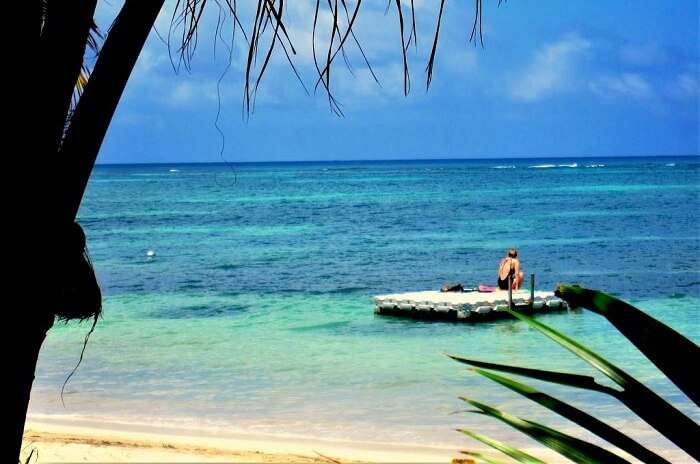 Those of you who wish to let your spirits soar high like a bird, and go skinny dipping into the magical blue waters, must head to Cozy Island – a relatively undisturbed island. This island can be easily accessed if you are lodging at one of the best resorts in Thailand, the Lemon Tree Resort. It is a 10-minute drive followed by a 15-minute long tail boat ride into the sea to get to this island. You will love every minute spent on this private nude beaches in Thailand where you can watch local fisherman busy at work while tiny crabs will gawk back at you!
Timings: NA
How To Reach: You can reach Cosy Island Beach by taking a flight to Phuket and then hiring a cab.
Location: Thailand
Accommodation near Cosy Island Beach: Lima Coco Resort, Cosy Beach Hotel
Things To Do: Swimming, Sunbathing, Witness Sunset
Dining options near Cosy Island Beach: Italiano Bar & Restaurant, Ruan Thai, Pad-Thai Restaurant, and Buffalo Head Bar
Further Read: 10 Top Things To Do In Ayutthaya For Witnessing The Lesser Known Side Of Thailand
Mesmerized much? Get going to explore some of these nude beaches in Thailand on your next Thailand trip, and gear up for a tropical vacation like never before! Plan your trip via TravelTriangle for the best deals on a customised tour and a comfortable holiday experience in the tropics.
Frequently Asked Questions About Nude Beaches In Thailand
Are beaches open during Covid-19?
Yes, most of the beaches are open for tourists to enjoy. But while touring these gorgeous beaches make sure you strictly adhere to the precautionary measures given by the government for Covid-19. Read the latest updates and follow social distancing as much as you can.
Can you swim at Thailand beaches?
Yes, you can swim at several Thailand beaches like Kata Beach which is calm usually and perfect for swimming. This beach is perfect for children and inexperienced swimmers.
What is the most beautiful beach in Thailand?
It is difficult to point at one beach in Thailand which is beautiful so here are some of the most popular beaches – Kata Beach, Railay Beach, Phra Nang Beach, Phi Phi Don, Patong Beach, and Karon Beach. Apart from these, there is Leela Beach which is famous as a nude beach in Thailand.
Does Thailand have a beach?
Yes, there are umpteen beaches where one can head to and indulge in activities. The most popular one is Patong Beach which is also the largest one in Thailand.
What's the best month to visit Thailand?
The climate in Thailand remains moderate all year round which makes it suitable to visit at any time of the year. You can travel to this place according to the season you like. From November to April, the weather remains cool and dry for sightseeing thus tourists prefer to explore this place during this time period.
What is the coldest month in Thailand?
December marks as the coldest month in Thailand whereas April is the hottest month and the wettest month is September.
Is Thailand expensive to visit?
Expenses in Thailand totally depends on your living style. If you are planning a budget trip then 825-1150 BHT ($25-$35)will be required on a daily basis. But if you are looking for a luxurious retreat then cost per day will be 3,300-5,000 BHT ($100-$150).
What should I buy in Thailand?
Some of the most popular things to buy in Thailand are elephant pants, Thail silk scarves, soap carvings, fairy lights, and tribal handicrafts.
---
People Also Read: