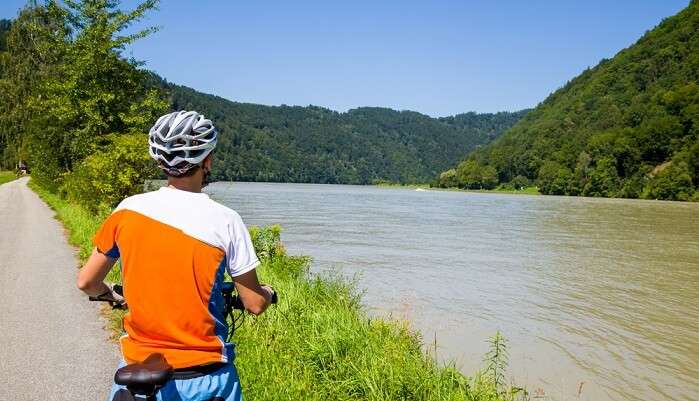 Vienna is the hometown to a lot of famous personalities who have had a major impact on the world of science, literature, art and history. Vienna was one of the most important cities in the world for many centuries and was always the hotbed for revolution or any historic event. The position of Vienna in world history can be felt even now.
If you are planning to explore the rich heritage and culture of the city, then Vienna will surely provide an ethereal experience. But, apart from that there are some amazing adventure activities in Vienna which you can do as well. Take a look at them in this section and check out which ones intrigue you the most.
7 Thrilling Adventure Activities In Vienna
Here is a list of all the adventure activities that you can choose to participate in Vienna apart from exploring the arts and cultural side of Vienna.
1. Boat Tours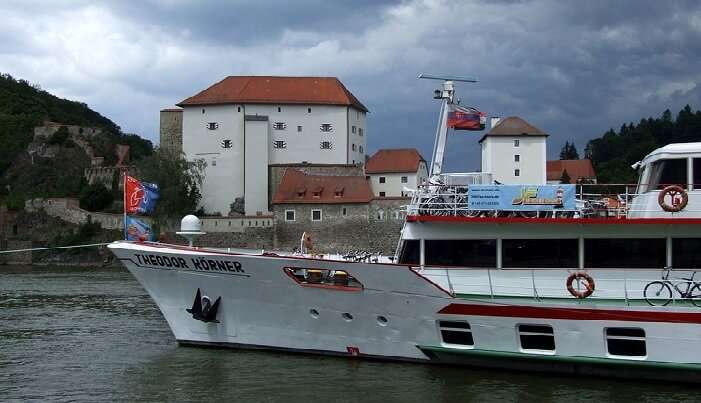 Image Source
Boat tours in Vienna are the best way to experience some first-hand adventure in the city. Take an organized boat tour of Vienna on the Danube River that will take you from one pristine destination to another. The boats can carry a group of people together and thus making it an amazing way to spend the day with your friends and family.
You will be served delicious food and drinks on the boat as well. Keep your camera ready and click some amazing photographs of the beautiful rivers through which you will be able to witness the Vienna cityscape in the most mesmerising manner.
Must Read: Indian Restaurants In Vienna: A Taste Of Home In The Heart Of Europe
2. Snorkeling & Scuba Diving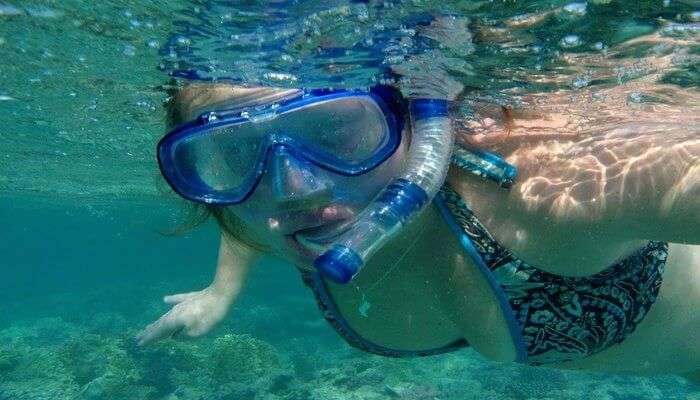 The Danube river offers the tourists in Vienna with several activities which provide them with an adventurous ride. From deep sea diving to snorkeling, you will be able to enjoy a great deal of fun and enjoyment in Vienna. What makes this experience unique from others is that in Vienna, you get to enjoy river snorkeling and scuba diving.
Kagran is the hub of such activities in Vienna. There are several tour operators who can provide you with brilliant water sports packages at affordable pricing. Participating in water sports is one of the most adventurous things to do in Vienna.
Price: INR 8,000 onwards
Suggested Read: 20 Vienna Hotels That Offer Much More Than Luxury And Comfort!
3. Kayaking & Canoeing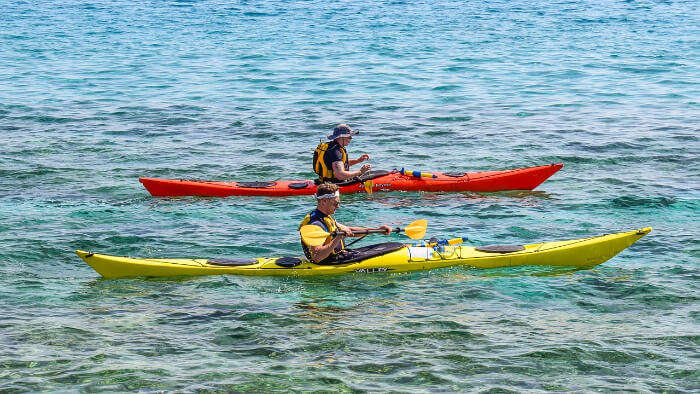 Image Source
If you love kayaking, then Vienna is a brilliant destination to do so. The clear waters of the Danube, allows you to enjoy a day out with your friends or partner, kayaking through different points of the river. Both kayaking and canoeing trips gives an amazing opportunity to experience the thrill and adrenaline when you speed past through the water, enjoying the warm sun over your head and getting to see several landmarks of Vienna. You will be guided by professional kayakers throughout your trip while in the river.
Price: INR 7,000 onwards
Suggested Read: 10 Things To Do In Vienna For A Memorable Austrian Vacation
4. River Rafting & Tubing in Vienna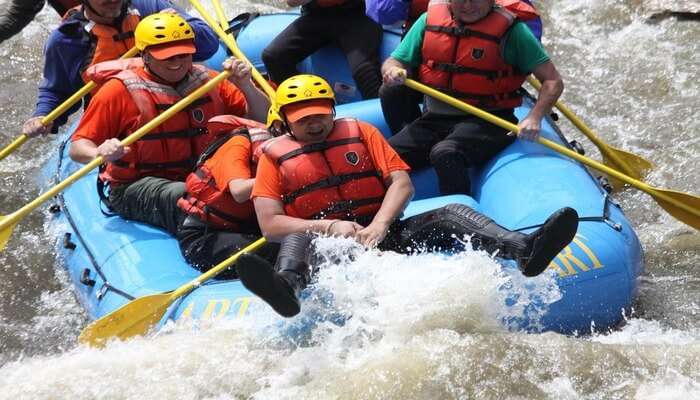 Image Source
If you want to experience fast paced adventure in Vienna, then river rafting is the best way to get it. You will be sitting on an inflated disks down a river and attached to a speed boat, you will need tk control the inflated disk. It is great fun to do both Rafting and tubing but they are really scary for many people as well. So, make sure to decide carefully before getting into the boat.
Price: NA
Suggested Read: Top 20 Places To Visit In Vienna On Your Next Trip In 2022!
5. Nature Walk At Lainz Game Reserve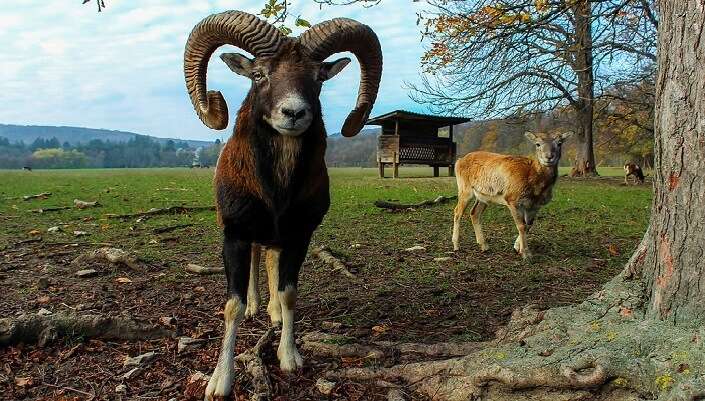 Image Source
Sprawling across an area of 2450 hectares, Lainz Game Reserve used to be the former hunting grounds of the imperial house. It is now open to the public where they can enjoy their time amidst nature. The park offers bounty of flora and fauna. It is an amazing place for bird watching as you can spt woodpeckers, salamanders, and bats if you get lucky. You could also enjoy a day picnic with your family in one of the forest playgrounds.
Price: Admission is free
Suggested Read: 2022 Day Trips From Vienna Remain Incomplete Without Visiting These 10 Places
6. Education Forest Trail – Schönbrunn Zoo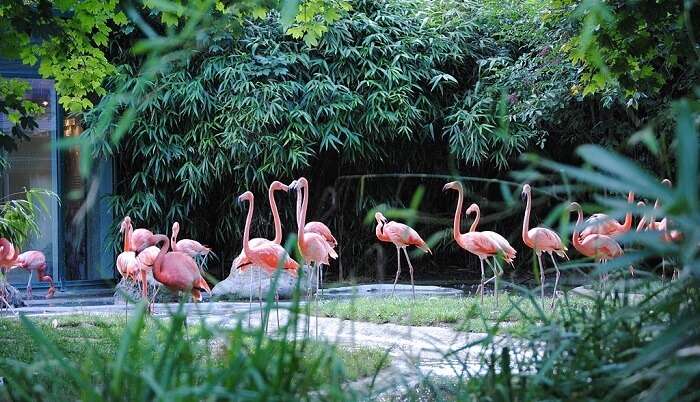 Image Source
The first and foremost reason why you should visit Schönbrunn Zoo is that it is the oldest zoo in the world. The zoo is home to a variety of unique animals and plants. You can familiarize yourself with the various species of flora and fauna while you enjoy spending time in nature. The green vegetation is responsible for maintaining the climate of Vienna. You will know more interesting facts like this on your nature walk.
Price: INR 2,00 for entry tickets to the zoo
Suggested Read: Vienna Nightlife: 10 Places To Let Loose In This Exciting City!
7. Hiking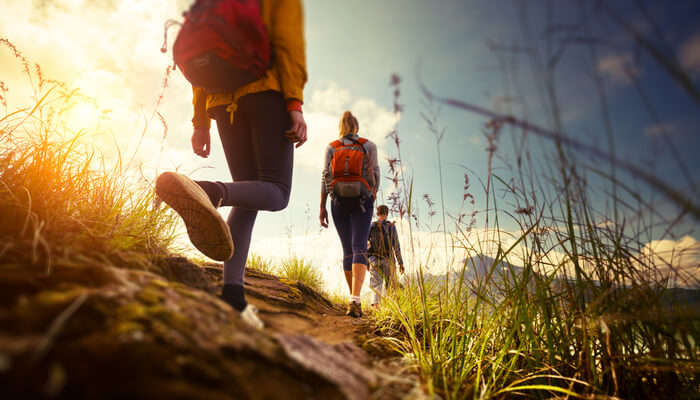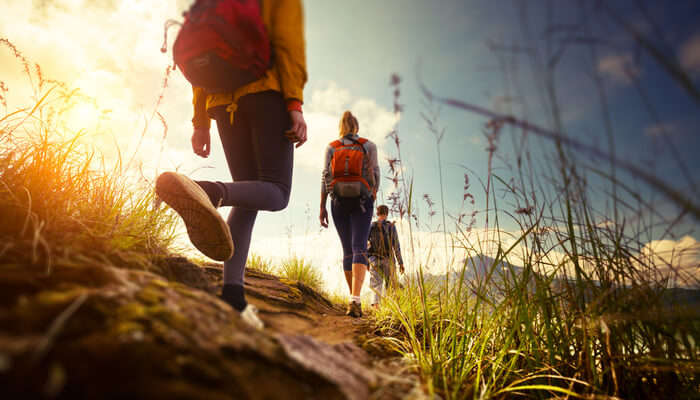 Image Source
If you have a penchant for mountains and hiking, then you should sign up for a hiking trip to Gutenstein Alps. It is one of the best ways to explore the countryside and immerse yourself into Austrian nature. He hiking activity takes about 7-8 hours. The tours are conducted by local guides. SO, you need not fear about getting lost. If you are joining a small group, then you may get a personalized experience.
Price: INR 9,000 onwards
Further Read: 35 Best Places To Spend Christmas In Europe 2022: Where Festivities Breathe Magic Into The Air!
So, here were the top Vienna adventure activities to participate in when you get tired of visiting museums. If possible, experience all of them for a mind blowing experience. These activities are surely going to provide you with an experience of a lifetime whilst your stay in Vienna.
---
Looking To Book An International Holiday?
---
People Also Read:
Adventure Activities In Phuket Adventure Sports In Manali Adventure Acticities In Karnataka
Comments
comments