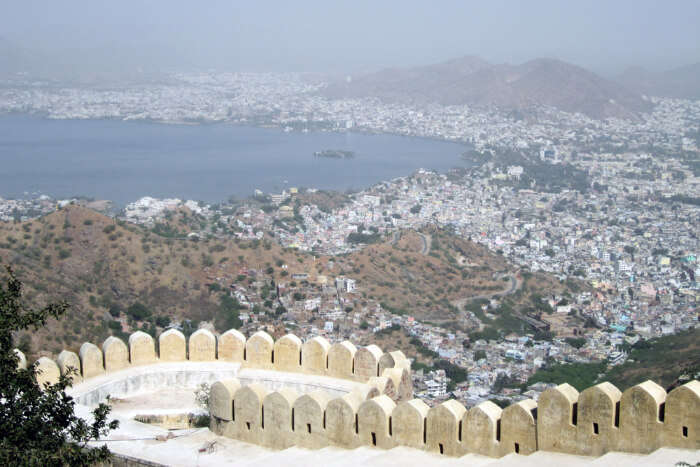 The name Ajmer comes from "Ajay meru" which can be roughly translated into "invincible hills." The name itself speaks volumes about the history of the city which was the epicenter of the Chauhan dynasty, and was founded by Raja Ajaypal Chauhan in the 7th century AD. Later, it became an abode of many dynasties like the Mughals as well as the Britishers
Revered by both Hindus and Muslims, the city stands as a symbol of unity, history, and beauty that one cannot miss. Hence, scan through this extensive list of 10 best places to visit in Ajmer that can be a vital part of your itinerary for your next trip to Rajasthan..
10 Best Places To Visit In Ajmer For The History Buffs
10. Foy Sagar Lake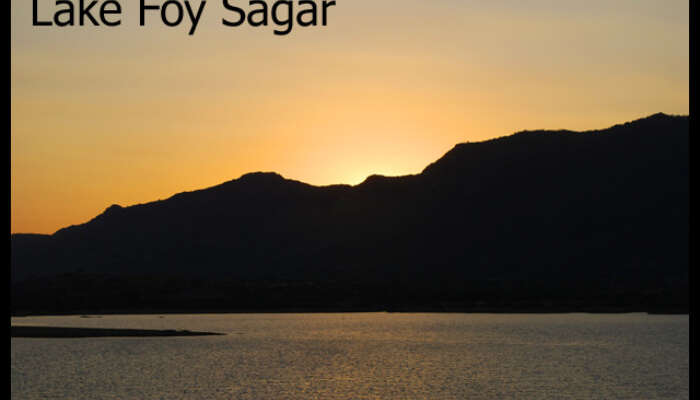 This beautiful expanse of water body was built in 1892 by an English engineer Mr. Foy as a mitigative means to combat famine. Offering a majestic view of the Aravallis, this tourist place in Ajmer also provides a glorious view of the sunset. Spend a leisurely evening embracing the tranquility of its still waters, and click some beautiful pictures on the exquisite banks of this serene lake.
Location: Foy Sagar Garden Road, Ajmer
Distance From Ajmer: 7 kilometers
Timings: All days – 6 am to 7 pm
Must Read: Embrace The Winter Chill At These 15 Best Places To Visit In Rajasthan In November!
9. Ana Sagar Lake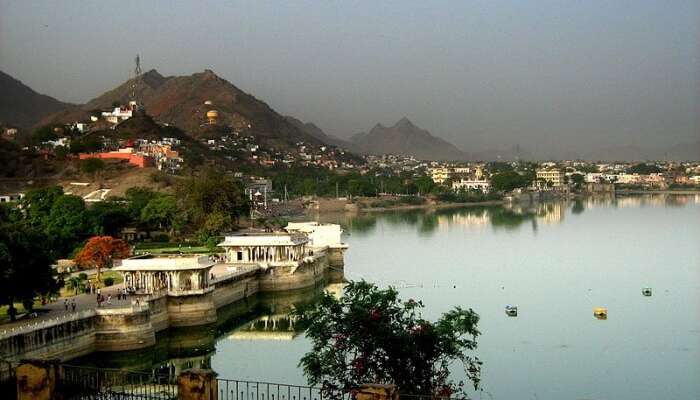 One of the most enchanting attractions among all the tourist places in Ajmer, this is yet another artificial lake, that is named after Prithviraj Chauhan's grandfather, Anaji Tomar. Dating back to the 12th century, this ideal tourist hub is much famed for its scenic beauty, and is ideal for spending some quality time with friends and family while overlooking a mesmerizing sunset.
Location: Anasagar Circular Road, Ajmer
Timings: All days – 8 am to 8 pm
Entry Fee: Free
Boating Charges: INR 160 per person for boating
Tips: The lake is an ideal spot for paddleboat rides
---
Rajasthan Holiday Packages On TravelTriangle
Explore Rajasthan, the land of Maharajas. Experience its royal cultural heritage, luxurious hotels, camel safaris, pristine lakes, and magnificent forts and palaces. Cover the best of Jaipur, Udaipur, Jodhpur, Jaisalmer, Pushkar and Ranthambhore at best prices with TravelTriangle.
---
8. Daulat Bagh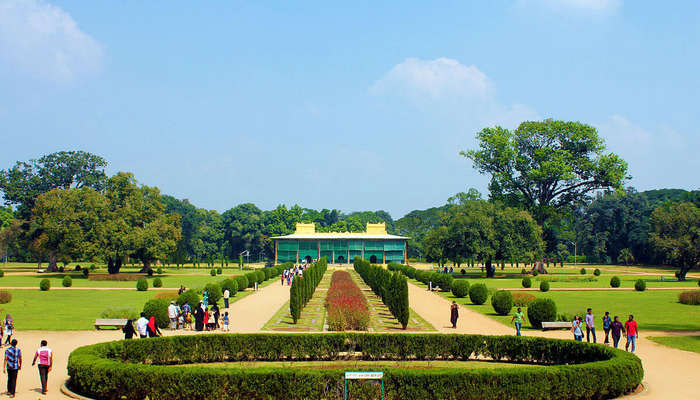 Adjoining the Ana Sagar Lake, the beautiful garden of Daulat Bagh was built by Jehangir that adds to the magnificence of the majestic lake. The marble pavilion built within the premises of the garden is a vital part of your Ajmer sightseeing experience, and is ideal for a nature retreat.
Location: Ganj, Ajmer
Timings: All days – 9am to 9pm
Suggested Read: Top 10 Summer Festivals In India You Shouldn't Miss In 2019
7. Mayo College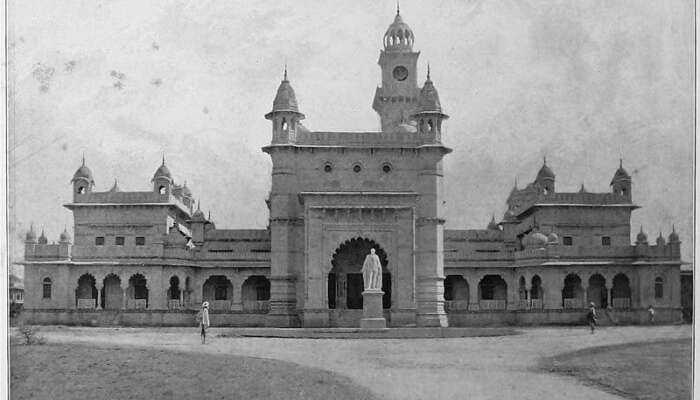 Popularly known as the "Eton College of the East", Mayo College is the oldest public boarding school in the country, and was founded by Richard Bourke – the sixth Earl of Mayo, in 1875. Known for its breathtaking architecture, this college is a home to the Danmal Mathur Museum which showcases invaluable antics, and an armoury section. For those looking for an adventure into the past, this is one of the best places to visit in Ajmer.
Location: Mayo College, Shrinagar Road, Ajmer
How To Reach: Hop onto a mini bus that shuttles across the city or hire an autorickshaw from city center
Suggested Read: 20 Things To Do In Rajasthan That Make It The Ultimate Vacation Destination
6. Nareli Jain Temple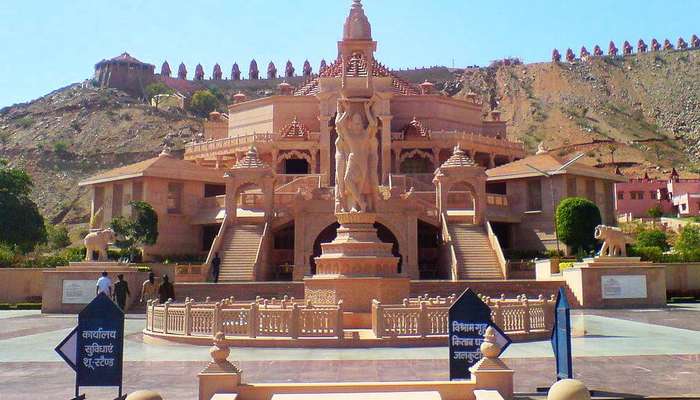 Situated on the outskirts of Ajmer, this beautiful marble edifice is a perfect blend of contemporary and traditional architectural styles. Also known as the Shri Gyanodaya Tirth Kshetra, it is an important pilgrimage site for the Digambara Jains. This beautifully carved temple offers an aura of peace and calm, and is one of the most beautiful places to see in Ajmer.
Location: Nareli, Ajmer
Distance From City Center: 7 kilometers
Timings: All days – 6.30 am to 7 pm
Suggested Read: 15 Things To Do In Ajmer In 2019 That Prove It's A Paradise For Every Type Of Traveler
5. Akbar Palace And Museum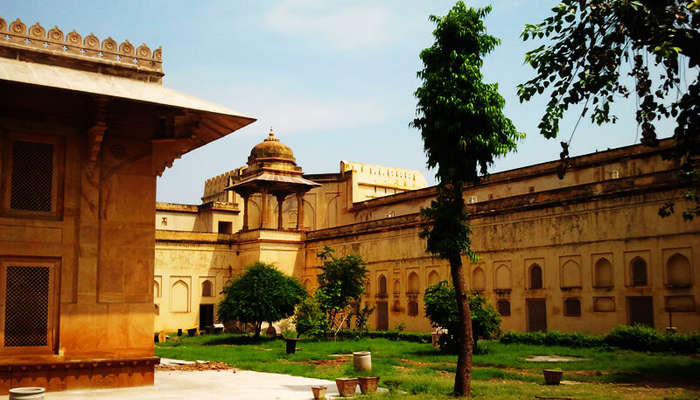 Constructed in 1500 AD, this magnificent palace is a pleasure retreat for history enthusiasts. This tourist magnet houses a Government museum that showcases several aspects of Mughal and Rajput lifestyle, and has an assortment of rich artefacts, medieval armoury, stone sculptures, and exquisite paintings of the Maharajas of Bharatpur on display.
Location: Ajmer Village, Ajmer
Timings: Tuesday to Sunday – 10 am to 5 pm; Closed on Mondays
Entry Fee Per Person: INR 10 for Indians, and INR 50 for foreigners
4. Soniji Ki Nasiyan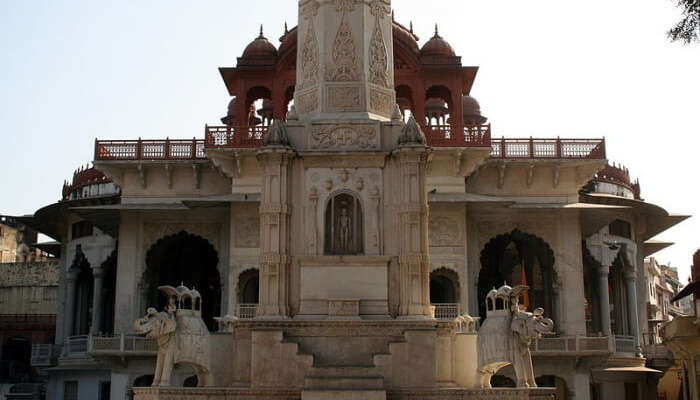 Constructed in the late 19th century, this ornate temple is gold plated and exhibits impeccable carvings from Jain mythology. Dedicated to the first Tirthankara, this architectural marvel finds a special mention in Kurt Titze's "Jainism: A Pictorial Guide to the Religion of Non-Violence."
Location: Adarsh Nagar, Prithviraj Marg, Ajmer
Timings: 8:30 AM- 4:30 PM
Entry Fee Per Person: INR 10 for Indians, and INR 25 for foreigners
Suggested Read: 50+ Amazing Places To Visit Near Delhi For Your Weekend Escapes
3. Adhai Din Ka Jhonpra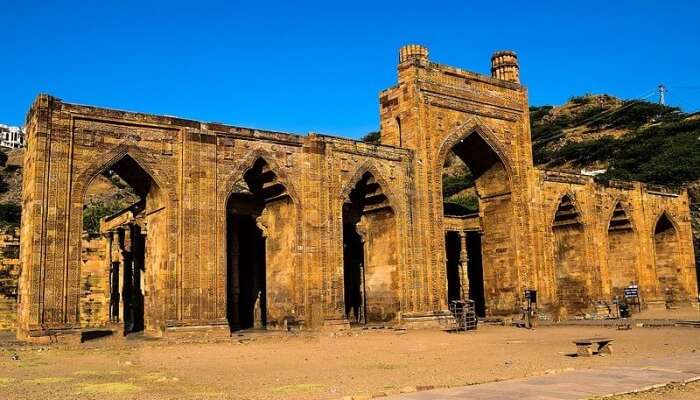 Adorned with calligraphic inscriptions, this mosque was built by Qutub-ud-Din-Aibak – the first Sultan of Delhi in 1198 AD. The mosque derives its unique name from a legend according to which it was constructed in two and a half days. Exhibiting the perfect blend of Indo-Islamic architecture, the structure was further embellished by Sultan Iltutmish in 1213 AD. Visit this splendid mosque on your Ajmer sightseeing escapade as it is one of the best places in Rajasthan to be explored.
Location: Ander Kote Road, Ajmer
Timings: All Days – 9 am to 6 pm
2. Taragarh Fort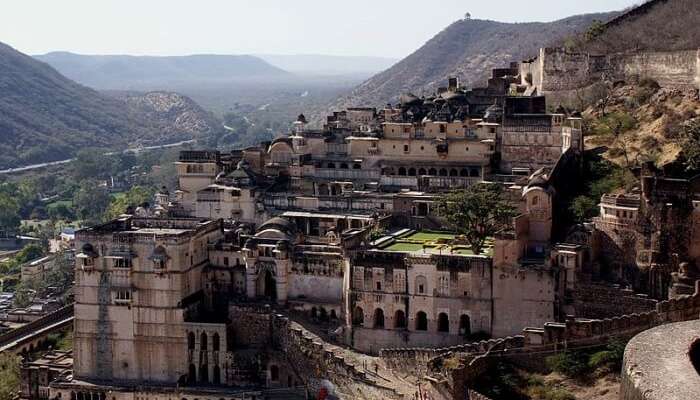 Established by the Chauhan dynasty, the ancient Taragarh Fort in Ajmer – also known as the Star Fort, was described as "more the work of Goblins than men" by Rudyard Kipling. The fortress echoes with the bravery of Miran Saheb, the governor of the fort who sacrificed his life, in an encounter, in 1210. Perched on top of the Aravallis, this imperial site offers a panoramic view of the entire city. The awe-inspiring effect of this scenic location makes it a major tourist attraction of Ajmer.
Location: Taragarh Road, Ajmer
Distance From Ajmer Sharif Dargah: 10 kilometers
Timings: All Days – 9am to 7pm
How To Reach: Hop on a State run mini bus or hire an autorickshaw from city center.
1. Ajmer Sharif Dargah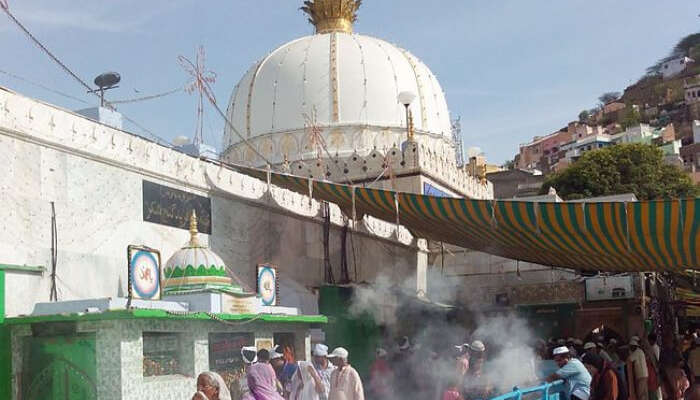 The holy shrine of Ajmer Sharif Dargah was erected in the honour of Garib Nawaz, the propagator of Sufism among masses. This final resting place of Ajmer Khwaja Garib Nawaz, also serves as an emblem of harmony, and spirituality. Enveloped by an aura of tranquility, this shrine urges one to embark on a path of spirituality. The Persian inscriptions adorned by the sacred site as well as the three gates – the Nizam gate, the Shah Jahan gate, and the Buland Darwaza are architectural wonders that make this attraction all the more alluring. Also, the Dargah is encircled by many budget hotels in Ajmer that makes one's visit to Ajmer Sharif, a hassle-free experience indeed.
Location: Faiz Manzil, Dargah Sharif, Ajmer
Timings: All Days – Summer: 4 am to 10 pm; Winter: 5 am to 9 pm; Break: 3 pm to 4 pm
Further Read: 10 Beautiful Lakes In Rajasthan You Must Visit On Your Next Trip
With such beautiful places to visit in Ajmer, one can witness the amalgamation of cultures not only in the pilgrimage centres but also in the quaint forts, museums, and lakes that adorn this city. Hence, customize your own thrilling Rajasthan Tour Package with Travel Triangle, and make sure you don't miss out on any of these must-visit attractions in Ajmer.
Frequently Asked Questions About Best Places To Visit In Ajmer
Q. How to reach Ajmer?

A. The Sanganer Airport in Jaipur is the nearest airport which is 135 kilometers away from the city. The airport is well-connected to all the major cities including Delhi, Kolkata, and Mumbai. Upon reaching the airport, hire a cab for your journey to Ajmer.

The Ajmer Junction Railway station is also well connected to Delhi, Mumbai, Allahabad, Kolkata, and Jaipur. Ajmer Shatabdi, and Ajmer Rajdhani are two popular trains that run daily on this route. Apart from this, the state-run deluxe and non-deluxe buses, function frequently from nearby cities like Delhi, Jaipur,Jodhpur, Jaisalmer, and Udaipur to Ajmer.
Q. What is the best time to visit Ajmer?

A. Even though Ajmer is a year round destination, October to March can be considered the best time to visit the city. The average temperature ranges from 15 to 18 degree Celsius and it results in mild winters which proves to be ideal for sightseeing.

June to September are usually considered the off-season months but the monsoon season enlivens the city due to its close proximity to the Aravallis. Hence, it provides a unique experience of the rain-clad mountains surrounding the city of Ajmer.
Q. How to get around the city of Ajmer?

A. One can easily commute within the city using taxis, and autorickshaws. One can also get around the city via open-carriage horse rides called tongas for a unique experience of traversing through the busy Ajmer roads. Besides these, walking is ideal for exploring the city, and its exquisite culture.
Q. What unique culinary delights one can try in Ajmer?

A. Rajasthani cuisine forms an essential part of the culture in Ajmer. Dal Baati Choorma, Bajre ki roti, Ghewar, and Gatte ki sabzi can not be missed when in Rajasthan. The Mughal cuisine is also dominant in this part of Rajasthan. Trying out Laal maas, biryani, and Sula kebabs in the Dargah Bazaar are a necessary part of your Ajmer sightseeing experience. For desserts, try the delectable Sohan halwa to treat your taste buds.
Q. Where to go shopping in Ajmer?

A. The Dargah Bazaar offers plenty of shopping opportunities and one can easily collect souvenirs from its narrow lanes. Jodhpuri jutis, Ittar, and Bandhani sarees are other items which are unique in Rajasthan.
---
Looking To Book A Holiday Package?
Book memorable holidays on TravelTriangle with 650+ verified travel agents for 65+ domestic and international destinations.
---
People Also Read
Places To Visit In Udaipur Places To Visit In Gujarat Places To Visit In Bhopal
Comments
comments