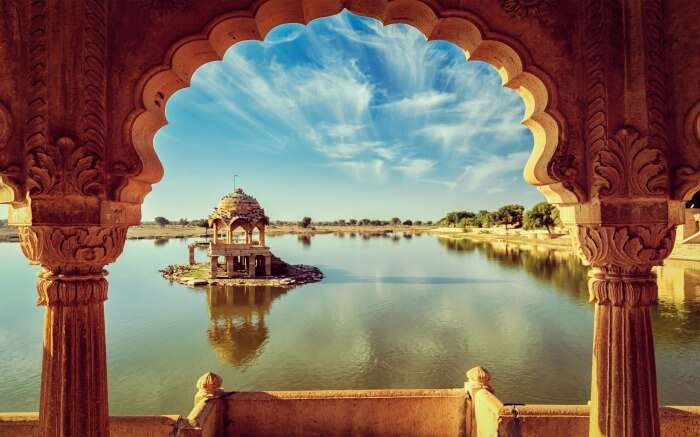 Rajasthan, the state where history blends with modernity, opens its arms wide and welcomes travelers from across the world. There are palaces, gardens, museums and forts in this colorful Indian state, but the lakes in Rajasthan – their charm is unmatchable.
Ruins of grand palaces, enveloping Aravalli Hills, and surrounding piles of striking white salt make the lakes more beautiful. Add a dash of dazzle to your next trip to Rajasthan by visiting some of the most mesmerizing lakes in Rajasthan.
Lakes in Udaipur
1. Lake Pichola – The jewel of Udaipur, the city of lakes in Rajasthan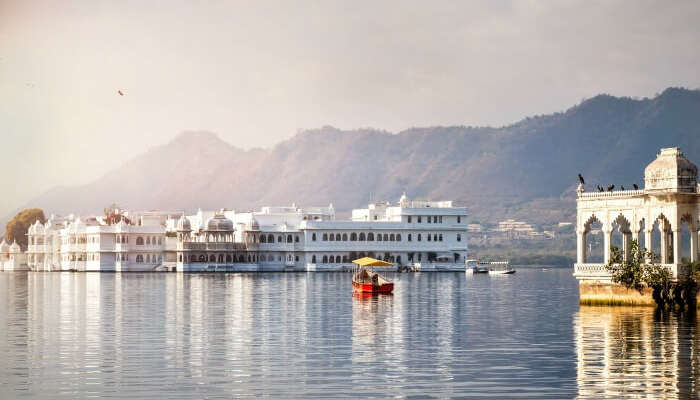 One of the most popular lakes in Rajasthan, Lake Pichola is embedded with architectural gems and iconic landmarks of Udaipur. It dates back to 1362 AD, and has two islands namely Jag Niwas and Jag Mandir. Most of the popular tourist attractions in Udaipur, the City of Lakes in Rajasthan, are located in close proximity to this lake.
Places to visit near Lake Pichola: City Palace, Bagore Ki Haveli, Lake Palace, Jag Mandir and Ambrai Ghat
2. Fateh Sagar Lake – Surrounded by mesmerizing Aravali views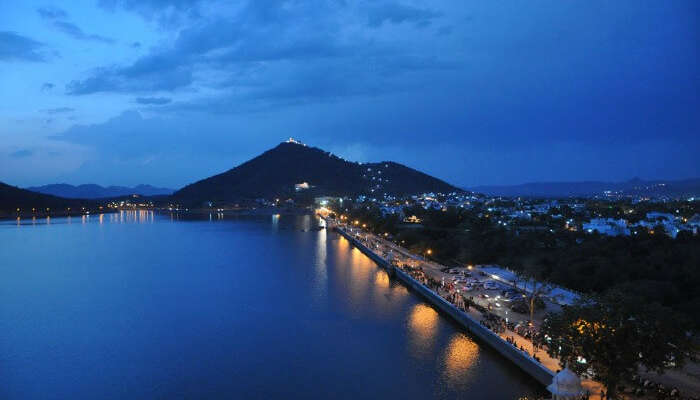 Created in 1680s, Fateh Sagar Lake is surely among the most popular lakes in Rajasthan. There are three islands in the lake, including Udaipur Solar Observatory and Nehru Park – a popular picnic spot with an iconic fountain.
The lake boasts of three islands, including Udaipur Solar Observatory and Nehru Park, a popular picnic spot featuring an iconic fountain. Embraced by verdant hillocks, this azure-colored gem is the reason why Udaipur is called 'The Second Kashmir'.
Take a boat ride around sunset and find your own little heaven as the ripples play around and the sky changes its color.
Places to visit near Fateh Sagar Lake: Maharana Pratap Memorial, Nehru Park, Udaipur Solar Observatory and Saheliyon Ki Bari
3. Jaisamand Lake – The second largest artificial lake in India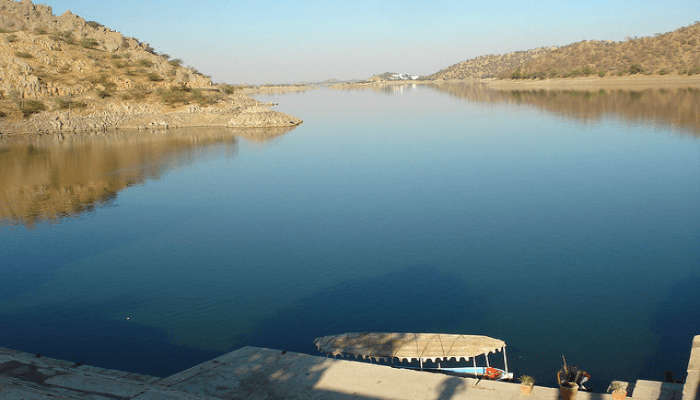 Covering an area of 36 km sq, Jaisamand Lake is the second largest artificial lake in India. The embankment is decorated with ornate cenotaphs with immaculate carvings. The palace on its northern side is alluring as well. If you decide to chill in the palace's courtyard, just prepare yourself for a dazzling view of the Jaisamand Lake.
Jaisamand today is one of the loveliest lakes of Rajasthan and has its history dating back to 1685, when Maharana Jai Singh commissioned the project, along with building a dam on Gomti River.
Places to visit near Jaisamand Lake: Jaisamand Sanctuary, Jaisamand Island Resort, Shiva Temple, Dhebar Lake Marble Dam and summer palaces of the queens
Must Read: 10 Exclusive Stays In Rajasthan That Will Leave You Spoilt
Lakes in Jaipur
4. Mansagar Lake – Where Jal Mahal enjoys its isolation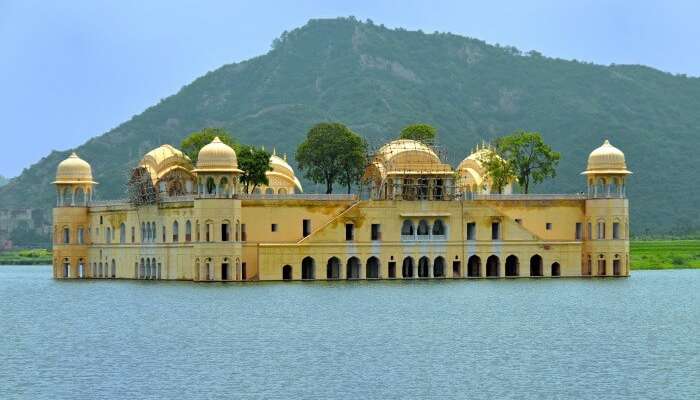 With the backdrop of Nahargarh Hills, Mansagar Lake allures with the historic Jal Mahal. In fact this is among those Rajasthan lakes where boating is not allowed, however, an observation point on its embankment allows a soulful panoramic view of the area.
Many migratory birds – such as blue-tailed bee-eaters, grey heron and wagtails – can be seen here. Pick an accommodation that let's you enjoy the beauty of the lake whenever you want.
Check out the best resorts in Jaipur and find the most suitable stay according to your budget!
Places to visit near Mansagar Lake: Amer Fort, Hawa Mahal, Nahargarh Fort and Jabaj Vrindavan Park
5. Sambhar Salt Lake – The largest inland salt lake in India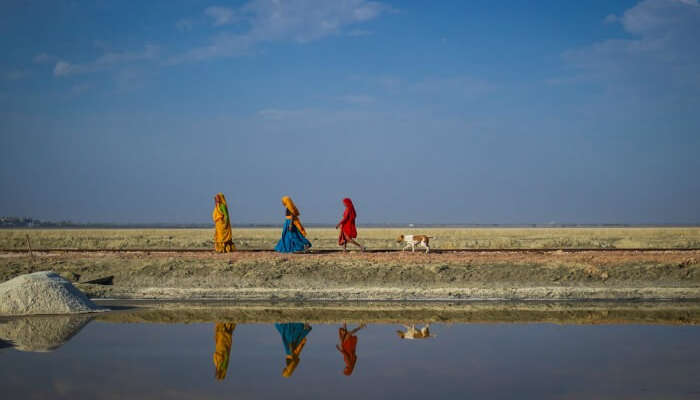 Made up of water is saltier than seawater, Sambhar Salt Lake is a little different from other Rajasthan lakes. This is the largest inland salt lake in India, renowned for housing the largest salt production house in India. Also, it is historically an important lake that finds mention in the Mahabharata.
Since Sambhar Salt Lake is among the lesser known lakes in Rajasthan, whoever visits the region gets to witness the real ethnicity and culture. However, many people visit the lake to enjoy birdwatching, safari and other sightseeing attractions.
Places to visit near Sambhar Salt Lake: Sambhar Wildlife Sanctuary and Shakambari Devi Temple
Suggested Read: 20 Magnificent Tourist Places In Jaipur
Other beautiful lakes in Rajasthan
6. Ana Sagar Lake, Ajmer – The largest lake in Ajmer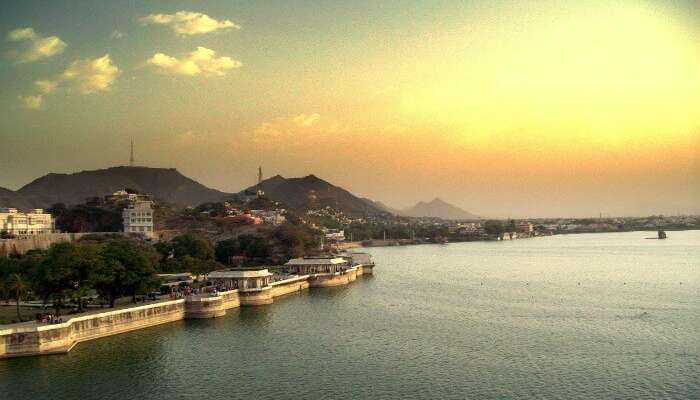 Spanning over an area of 13 km sq, Ana Sagar Lake in Ajmer dates back to 1135 AD, when it was commissioned by the grandfather of Prithvi Raj Chauhan, Anaji Tomar. The island on its center is accessible by boat rides, and the embankments have pavilions and gardens which escalate the beauty of Ana Sagar, one of the prettiest lakes in Rajasthan.
Places to visit near Ana Sagar Lake: Daulat Bagh, Khobra Behroon Temple, Tarahgarh Fort and Adahi-Din-Ka Jhopra
7. Gadsisar Lake, Jaisalmer – The only source of water in Jaisalmer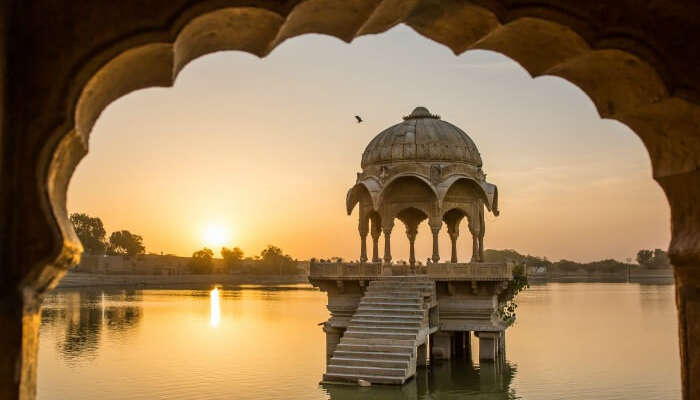 A lake right in the lap of a desert, encircled with historic monuments is nothing less than a delight. Gadisar Lake is named after Maharaja Gadsi Singh, who commissioned the lake to fulfill all the water requirements of this desert city, Jaisalmer.
Today, though it doesn't any longer serve that purpose, it still happens to allure tourists with its scenic charm. Don't forget to grab a pair of binoculars to catch a view of the flocks of migratory birds chirping their own melody.
Places to visit near Gadisar Lake: Tilon Ki Pol and Desert Cultural Centre are among the popular places to visit in Jaisalmer near Gadisar Lake
8. Pushkar Lake, Pushkar – Embraced by pious shrines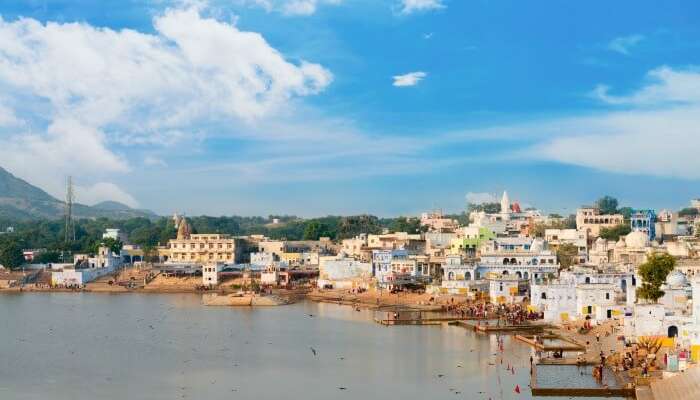 Perhaps not many people know, but Pushkar Lake is a Hindu pilgrimage spot. And as per Hindu scriptures, this place is Tirtha Raj (most important water-body pilgrimage spot). The main highlight of the lake is the temple of Lord Brahma, along with 500 other temples.
Pushkar lake has 53 bathing ghats, and the water is believed to have medicinal properties. If you're planning to visit this spiritual hideout, pick from the most amazing resorts in Pushkar for a memorable stay.
Places to visit near Pushkar Lake: Brahma Temple, Man Mahal, Savitri Temple and Old Rangji Temple
Must Read: 9 Scintillating Places To Visit In Pushkar
9. Nakki Lake, Mount Abu – The lake of love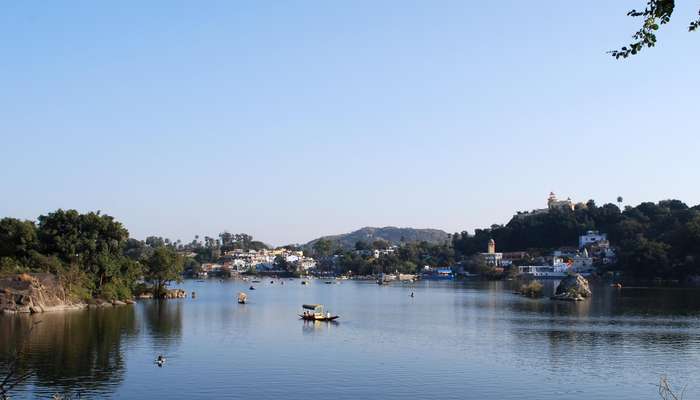 Nakki Lake is nestled in the beautiful hill station, Mount Abu. Nakki, which means nails in local dialect, got its name from the popular story in the region that suggests that the lake is dug out from nails.
The scenic backdrop weaves a perfect hideout for couples, and this is why it is also known as the "Love Lake of Mount Abu". Also, Nakki Lake is considered sacred for the Garasia tribe, who worship the lake in remembrance of their ancestors.
Places to visit near Nakki Lake: Temple of Rasiya Balam and Kunwari Kanya, Dilwara Jain temple, Shri Raghunathji Temple, Maharaja Jaipur Palace and Toad Rock
Planning a trip already? Check out the best hotels in Mount Abu
10. Balsamand Lake, Jodhpur – Enjoy both nature and luxury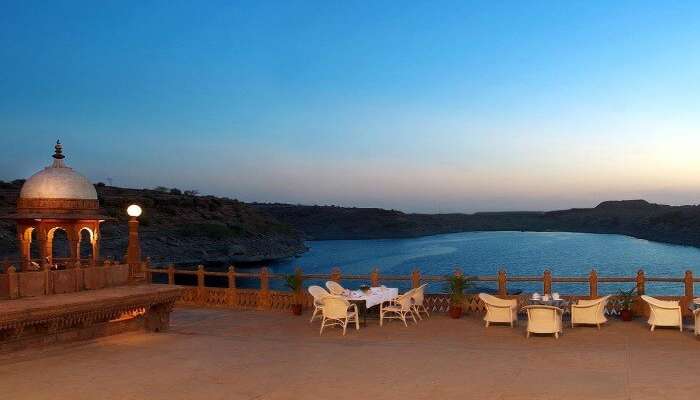 A popular picnic spot and a perfect getaway in the lap of Rajputana grandeur, this is among the few lakes of Rajasthan that allow you to unwind and soak yourself in utter luxury.
Balsamand Lake was built in 1159 AD, and is embraced by lush gardens comprising of pomegranate, guava and mango trees. Peacocks and other species of birds and animals can be found in the region. When planning a trip and deciding on a stay, do consider the opulent Welcom Heritage Lake Palace for an unforgettable holiday.
Places to visit near Balsamand Lake: Mehrangarh Fort, Jaswant Thada, Welcom Heritage Lake Place and Mandore Gardens are among the many places to visit in Jodhpur.
How many of these lakes in Rajasthan have you visited? Do you know about any more such lakes of Rajasthan which deserve to be on this list of lakes in Rajasthan? We'd love to know!
Further Read: 18 Palaces & Forts In Rajasthan That Speak Of A Glorious Past
Frequently Asked Questions About lakes In Rajasthan
Q. Which is the lake city of Rajasthan?
A. The word 'Udaipur' literally translates into the 'city of lakes'. It is truly Rajasthan's gems. Udaipur is an ideal destination for all kinds of trips. From boating to sightseeing, there are several things to do in Udaipur.
Q. Which is the largest lake in Rajasthan?
A. The largest lake in Rajasthan is Sambhar Salt Lake. It is also India's largest inland salt lake. The lake is 22.5 km long and its width varies from 3 to 11 km.
Q. Which lake in Rajasthan is a major source of salt production?
A. Sambhar Lake in Rajasthan is known to be a major salt producer. It surrounds the ancient Sambhar lake town. The lake is located 80 km southwest of Jaipur. Without the lake, India's salt production would be drastically affected.
Q. How many lakes are there in Jaipur?
A. There are 6 lakes in Jaipur city. They are: Chandlai Lake, Sambhar Lake, Ramgarh Lake, Man Sagar Lake, Sagar Lake, and Maota Lake. These lakes are the gem of Jaipur. Though Jaipur is widely known for its architecture, its lakes are often overlooked.
Q. Which is the lake city of India?
A. There are 7 city of lakes in India. They are: Udaipur, Bhopal, Shillong, Kodaikanal, Nainital, Thane, and Srinagar.
Q. Which is the highest point in Rajasthan?
A. Boasting a staggering height of 1,722 m, Guru Shikhar is the highest peak of Rajasthan. It is situated in Sirohi district.
Q. Which lakes are in Udaipur?
A. Lake Pichola and Udai Sagar lake, Fateh Sagar Lake, and Doodh Talai Lake are some of the many lakes in Udaipur.
Q. Which state has the largest number of salt lakes in India?
A. Rajasthan has the largest number of salt lakes in India.
Comments
comments