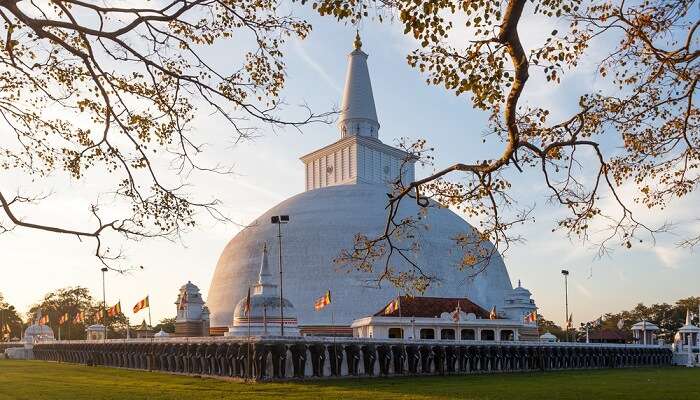 Adorned with dagobas (stupas), Anuradhapura is Sri Lanka's most evocative place to explore. Most of the ruins of Anuradhapura remain as temples or holy places in today's time. This ancient city is home to not only temples but also pools and budget accommodation places. Your trip to Anuradhapura for 2 days might turn into 4 or even 5 when you get along with the relaxed paced lifestyle of theirs. Make sure that you cover the top places to visit in Anuradhapura as they will give you a glimpse of the history of this place.
Best Time To Visit Anuradhapura, Sri Lanka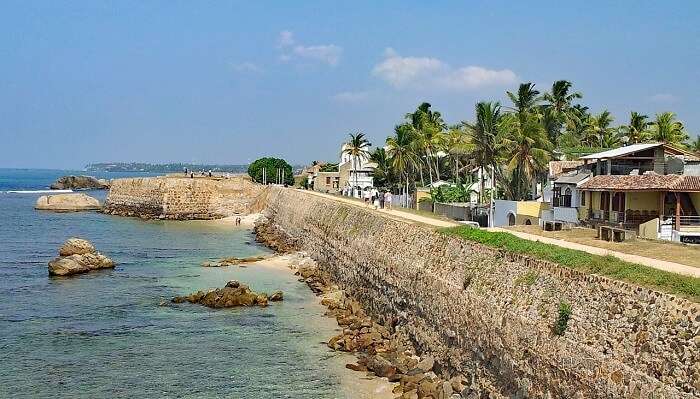 Although the weather in Anuradhapura remains the same throughout the year, the best time to visit Anuradhapura has been recorded to be April and September. During these months, the city receives less rainfall and it is a dry season which makes it perfect for sightseeing. So, if you want to explore this place without any hassle then you know when to plan your trip.
10 Best Places To Visit In Anuradhapura
This list of the top places in Anuradhapura will help you plan a better holiday. So, do not miss out on any of the listings if you want to have fun as well as know more about this city.
Tissa Wewa
Thanthirimale
Padeniya Raja Maha Viharaya
Wilpattu National Park
Abhayagiri Dagoba
Sri Maha Bodhi
Ruwanwelisaya
Jetavanaramaya
Archaeological Museum
Lovamahapaya
1. Tissa Wewa

Nature lovers and especially those willing to spend some time in the parks in the company of lovely animals can't miss Tissa Wewa near Kataragama in Sri Lanka. Located near Anuradhapura, this popular artificial lake is worth visiting. The reservoir is a great spot to come close to nature. Built in the 3rd century by Devanampiya Tissa, the primary aim of Tissa Wewa was to ease the supply of water in the nearby region. Current Tissa Wewa embankment boasts of 3.2-kilometer length and 7.6-meter height. The royal gardens in Tissa get water supplied from this reservoir itself. Visitors witness the presence of several rare birds at this place while they spend time here.
Location: Anuradhapura, Sri Lanka
Best known for: Rare birds and wildlife
Distance from Colombo: 200 km
Things to do: Birdwatching, wildlife spotting
Read More: 7 Places To Visit In Kataragama In 2022: To Know The Lankan Town Culture
2. Thanthirimale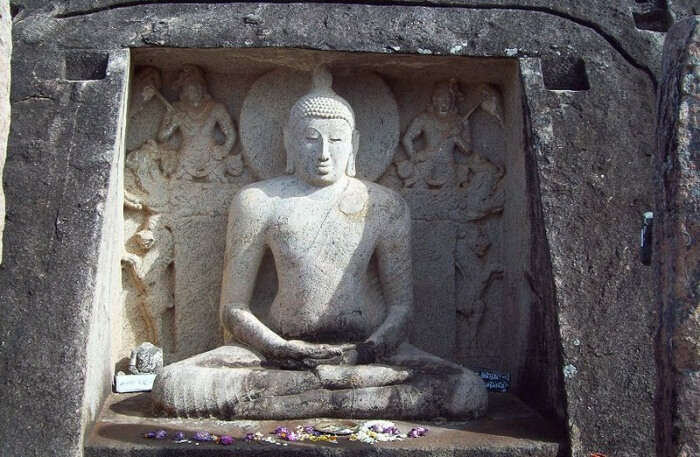 One of the best places to visit in Anuradhapura, Sri Lanka, the old village of Thanthirimale or the Tantirimale is sought after by the tourists, especially Buddhists who are seeking to explore the ancient Buddhist temples.
Its location near the rocks makes this place sought after amongst the tourists. Besides the old village, Thanthirimale Stupa and Sri Maha Bodhi plant to Bo Tree et al are great places for exploration as a tourist and a devoted Buddhist. So, how about trying one of the most unique places to visit in Anuradhapura.
Location: Anuradhapura, Sri Lanka
Best known for: Buddhist architecture
Distance from Colombo: 237 km
Things to do: Pray, visit the Bodhi tree
Read More: 10 Places To Visit In Mannar That Are Microcosms Of Sri Lanka In 2022
3. Padeniya Raja Maha Viharaya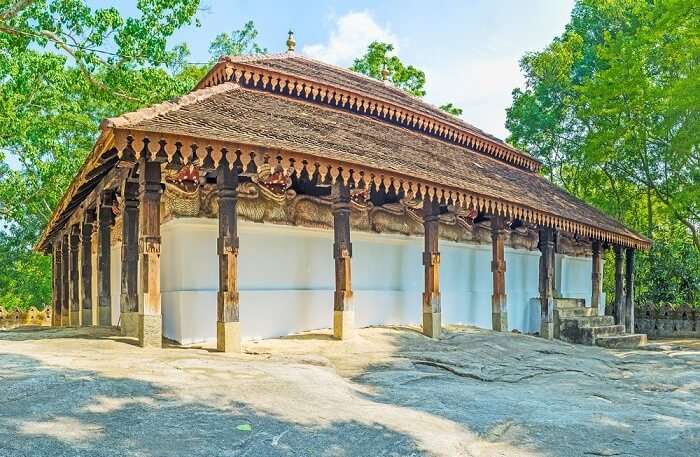 This Viharaya is located in the North Western Province of Sri Lanka. There are many fascinating antiques in this place. Kurunegala city is known to be the birthplace of many interesting legends in the world. The Buddhist temple has been preserved and maintained very well. Due to this reason, there are more and more local as well as foreign travelers visiting this Viharaya.
It was the royal capital of Sri Lanka in ancient times. The temple was the home of a legendary giant, Therapuththabhaya who later on became a Buddhist monk. He was among the 10 giants of the army of Great King Dutugemunu.
Location: Anuradhapura-Padeniya Highway, Galgamuwa, Sri Lanka
Best known for: History and antiques
Distance from Colombo: 125 km
Things to do: Witness the antiques, explore the temple
Read More: 8 Best Places To Visit In Kurunegala To Witness The Breathtaking Landscapes Around The City
4. Wilpattu National Park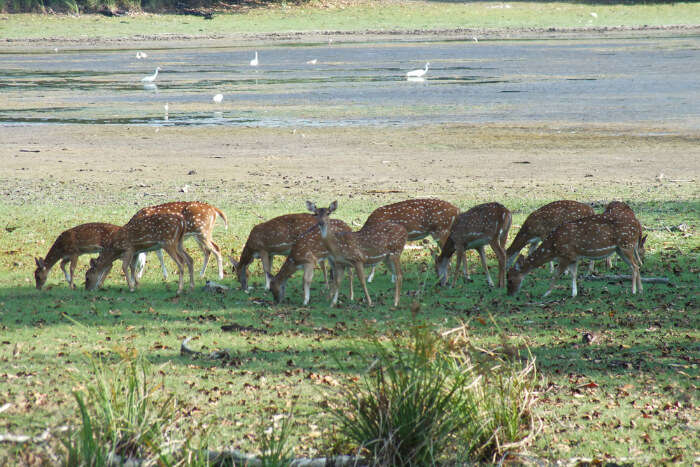 Wilpattu National Park is the largest park, located in the Northwest coast of Sri Lanka. What makes this park unique is the existence of "Willus" – natural lakes that have different degrees of salinity. The park was closed for 15 years, so that the wildlife had space and time to recover to its former abundance, and was reopened in 2003. Now that it has been opened again, make sure that you explore it as it is one of the best places to visit in Anuradhapura.
Location: Wilpattu National Park, Sri Lanka
Best known for: Sloth bears
Area covered: 1, 317 sq kms
Distance from Colombo: 169 km
Things to do: Travers the ancient city of Anuradhapura, especially the the 2,000 year old sacred Bodhi tree
5. Abhayagiri Dagoba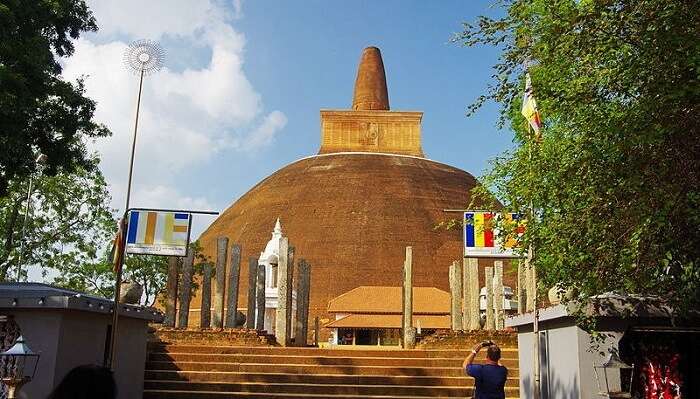 Leaving Anuradhapura without exploring any dagobas is like a sin that you might not want to commit. This colossal dagoba can be dated back to the 1st century BC. The original height of Abhayagiri Dagoba was 100 meters owing to which it was one of the greatest structures in the world then. After reconstruction and preservation of this place, the height has been restored to 75 meters. The name of this place literally translates into the 'Fearless Hill' or 'Hill of Protection'. You will find a slab with Buddha's footprint and some moonstones.
Location: Watawandana Rd, Anuradhapura, Sri Lanka
Best known for: Massive structure and Buddha's footprints
Distance from Colombo: 203.7 km
Things to do: Find peace!
Read More: 10 National Parks in Sri Lanka That Bring You Face-To-Face With The Incredible Nature In 2022
6. Sri Maha Bodhi

Image Source
Jaya Sri Maha Bodhi is among the most ancient trees in Sri Lanka that even today are thriving in the Mahamewna Gardens of Anuradhapura. This special tree is said to have grown out of a cutting that was brought here from Bodh Gaya in India. It is believed that it has been brought from the very same place where Gautama Buddha had attained enlightenment, thus making it one of the most popular places to visit at Anuradhapura for pilgrims and spiritual souls. It was cared for by the ancient kings and queens of Sri Lanka, as well as many Buddhist leaders. Flourishing even in the harshest of conditions, this tree is said to have such tranquil beauty that it instills a sense of calm and peace in visitors.
Location: Thuparama Dagoba, Anuradhapura, Sri Lanka
Best known for: Incredibly long life and peaceful aura
Distance from Colombo: 200 km
Things to do: Spend a day amidst the purest form of nature!
7. Ruwanwelisaya

Image Source
Ruwanwelisaya Stupa is among the largest stupas (also called dagobas) in Sri Lanka and one of the most prominent places to visit in Anuradhapura, Sri Lanka. Built long ago by King Dutugamunu, this beautiful stupa is nestled right in the heart of the heritage city of Anuradhapura. Also called Maha Stupa, this adorned structure is over 338 feet tall and has large paved courts as well as platforms that all add a unique architectural touch to this magnificent structure. Recent renovations have earned this shrine the privilege of being one of the most revered sanctums of worship in Anuradhapura.
Location: Abhayawewa Rd, Anuradhapura, Sri Lanka
Best known for: Overwhelming structure and architecture
Distance from Colombo: 200.6 km
Things to do: Admire the structure, seek blessings
8. Jetavanaramaya

Image Source
The monastery of Jetavanaramaya is one of the largest monasteries in Anuradhapura. In fact, it was once the third-tallest structure in the whole world. The legend surrounding this ancient sanctum is that it's the same place where Buddha's sash or belt was tied and preserved for a long time, and that is what fascinates worshippers and history geeks from around the world and brings them here in large numbers every year. Luring in travelers with its enchanting historical significance, Jetavanaramaya still remains one of the largest holy structures in the world and is home to about 10,000 monks.
Location: Anuradhapura, North Central Province, Sri Lanka
Best known for: It's massive height
Distance from Colombo: 202.2 km
Things to do: Learn about Buddhist culture
9. Archaeological Museum

Image Source
The Archaeological Museum Anuradhapura holds tremendous historical significance owing to the range of ancient artifacts, intricate carvings, and age-old domestic items extracted after excavations in Anuradhapura and other parts of Sri Lanka it has on display. Established in 1947, this museum is one of the best places to visit in Anuradhapura for history geeks and those who love the culture and heritage of Sri Lanka. Some of the items on display here are as old as the pre-Christian era when Sri Lanka was home to the Sinhalese civilization. Other items to see here are Buddha statues, inscriptions, paintings, drawings, coins, and Lankan antiques.
Location: Anuradhapura, Sri Lanka
Best known for: Timeless antiques and artifacts
Distance from Colombo: 200 km
Things to do: Learn about Sri Lanka's history and culture, see ancient artifacts
10. Lovamahapaya

Image Source
Also called the Brazen Palace, Lovamahapaya is almost 2000 years old palace and was built by King Dutugemunu in the 2nd century B.C. The most striking feature of this palace is its bronze tiles that add a dashing touch to the roof. The other prominent and attractive features of this palace include the 1600 stone columns that are as tall as 150 feet and support 9 stories with about 1000 rooms. It was initially used as a residence for Buddhist monks who would use it on the days of the "Poya" festival. And though it now lies in ruins, this massive palace is still a testament of a bygone age that speaks volumes about its rich culture and heritage.
Location: End of Trincomalee Rd, Anuradhapura 50000, Sri Lanka
Best known for: Bronze tiled roof
Distance from Colombo: 199.5 km
Things to do: Admire the architecture
Rushing everyday to the office and slouching over your laptop, you must be wondering what are you doing in your life. What is all this worth for? Why am I even earning? If these questions hover in your mind everyday then these are signs of exhaustion. If you are burnt out with daily work, then this is a sign that you need a break. A break from the routine, work, responsibilities, target, and all the other things that are stressing you out. It is time to take out your bucket list and travel to new places. If Sri Lanka has been lingering in your itinerary for too long now, then pick that destination and get ready to explore the top places to visit in Anuradhapura. To get a hassle-free trip then plan your getaway to Sri Lanka with TravelTriangle and get a personalized itinerary according to your budget.
Disclaimer: TravelTriangle claims no credit for images featured on our blog site unless otherwise noted. All visual content is copyrighted to its respectful owners. We try to link back to original sources whenever possible. If you own the rights to any of the images, and do not wish them to appear on TravelTriangle, please contact us and they will be promptly removed. We believe in providing proper attribution to the original author, artist or photographer.
Please Note: Any information published by TravelTriangle in any form of content is not intended to be a substitute for any kind of medical advice, and one must not take any action before consulting a professional medical expert of their own choice.
Frequently Asked Questions About Places To Visit In Anuradhapura
What is Anuradhapura famous for?
Anuradhapura is famous for being the ancient capital of Sri Lanka. This place is also famous for having the ruins that are preserved really well of the Sinhala civilization. So, this place has a lot of historical significance. And not only that, this place also has the famous Maha Bodhiya that increases its spiritual significance as well.
What are the best places to visit in Anuradhapura?
The best places to visit in Anuradhapura are Sri Maha Bodhiya, Sri Maha Bodhiya, Lovamahapaya, Abhayagiri Stupa, Twin Ponds, Ruwanweli Stupa, Aukana Buddha Statue, Thuparamaya, Elephant Pond, Isurumuniya, Mihintale.
Why is Sri Maha Bodhiya famous?
Sri Maha Bodhiya is one of the best attractions in Anuradhapura. It is believed that this tree was planted in the 249 BC and was brought by the daughter of Asoka and it is the oldest surviving tree in the world.
What are the best things to do in Anuradhapura?
Tourists can enjoy a lot of things in Anuradhapura such as get enlightened about Buddhism, visit the temples, the history enthusiasts can rejoice at the archeological sites. There are also some great options for shopping in Anuradhapura such as shopping for souvenirs.
What is the best time to visit Anuradhapura?
The best time to visit Anuradhapura is from April to October. This is the time when the weather is pleasant and you would be able to make the most of your trip.
How can I go to Anuradhapura via air?
You can easily visit Anuradhapura by air as you reach the Colombo airport which is the nearest airport to Anuradhapura and is 183 km away. The tourists can easily get buses/ cabs to reach from there to Anuradhapura.
---
Looking To Book An International Holiday?