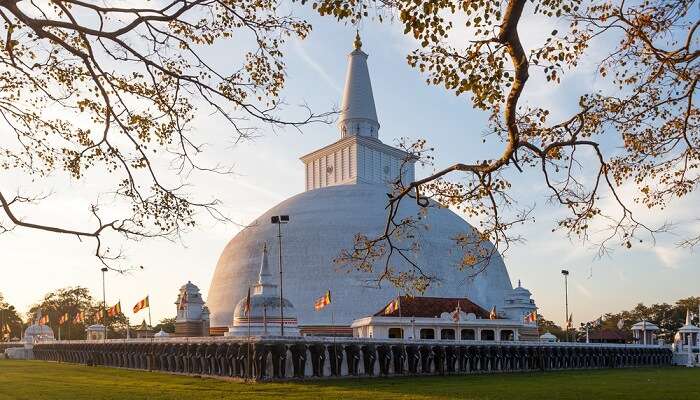 Adorned with dagobas (stupas), Anuradhapura is Sri Lanka's most evocative places to explore. Most of the ruins of Anuradhapura remain as temples or holy places in today's time. This ancient city is home to not only temples but also pools and budget accommodation places. Your trip to Anuradhapura for 2 days might turn into 4 or even 5 when you get along with the relaxed paced lifestyle of theirs. Make sure that you cover the top places to visit in Anuradhapura as they will give you a glimpse of the history of this place.
Best Time To Visit Anuradhapura, Sri Lanka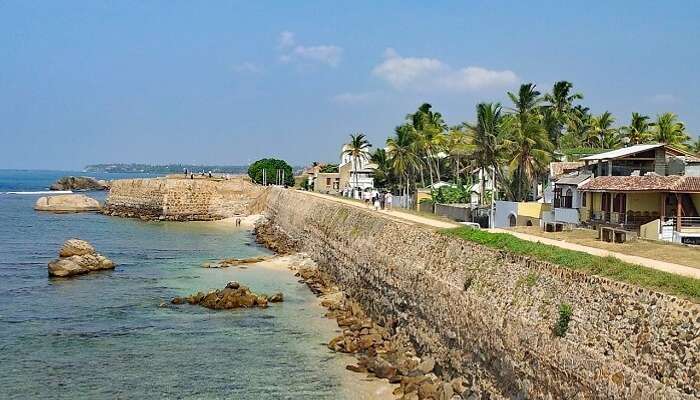 Although the weather in Anuradhapura remains the same throughout the year, the best time to visit Anuradhapura has been recorded to be April and September. During these months, the city receives less rainfall and it is a dry season which makes it perfect for sightseeing. So, if you want to explore this place without any hassle then you know when to plan your trip.
5 Best Places To Visit In Anuradhapura
This list of the top places in Anuradhapura will help you plan a better holiday. So, do not miss out on any of the listings if you want to have fun as well as know more about this city.
1. Tissa Wewa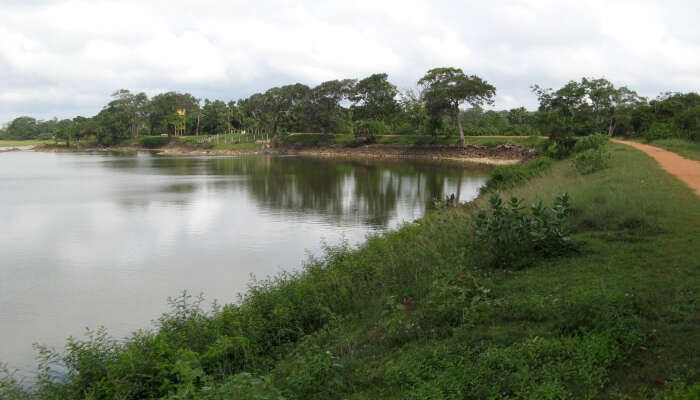 Nature lovers and especially those willing to spend some time in the parks in the company of lovely animals can't miss Tissa Wewa near Kataragama in Sri Lanka. Located near Anuradhapura, this popular artificial lake is worth visiting. The reservoir is a great spot to come close to nature. Built in the 3rd century by Devanampiya Tissa, the primary aim of Tissa Wewa was to ease the supply of water in the nearby region. Current Tissa Wewa embankment boasts of 3.2-kilometer length and 7.6-meter height. The royal gardens in Tissa get water supplied from this reservoir itself. Visitors witness the presence of several rare birds at this place while they spend time here.
Location: Anuradhapura, Sri Lanka
Read More: Places To Visit In Kataragama
2. Thanthirimale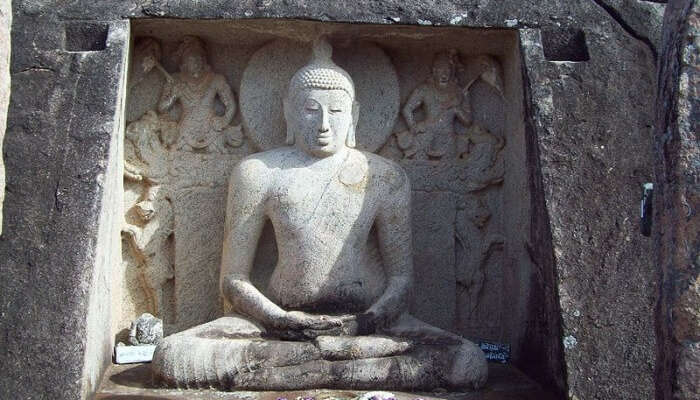 One of the best places to visit in Anuradhapura, Sri Lanka, the old village of Thanthirimale or the Tantirimale is sought after by the tourists, especially Buddhists who are seeking to explore the ancient Buddhist temples.
Its location near the rocks makes this place sought after amongst the tourists. Besides the old village, Thanthirimale Stupa and Sri Maha Bodhi plant to Bo Tree et al are great places for exploration as a tourist and a devoted Buddhist. So, how about trying one of the most unique places to visit in Anuradhapura.
Location: Anuradhapura, Sri Lanka
Read More: Places To Visit In Mannar
3. Padeniya Raja Maha Viharaya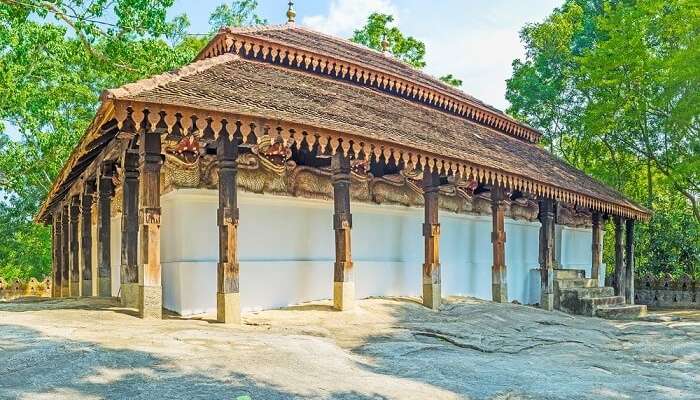 This Viharaya is located in the North Western Province of Sri Lanka. There are many fascinating antiques in this place. Kurunegala city is known to be the birthplace of many interesting legends in the world. Th Buddhist temple has been preserved and maintained very well. Due to this reason, there are more and more local as well as foreign travellers visiting this Viharaya.
It was a royal capital of Sri Lanka in ancient times. The temple was the home of a legendary giant, Therapuththabhaya who later on became a Buddhist monk. He was among the 10 giants of the army of Great King Dutugemunu.
Location: Anuradhapura-Padeniya Highway, Galgamuwa, Sri Lanka
Read More: Best Places To Visit In Kurunegala
4. Wilpattu National Park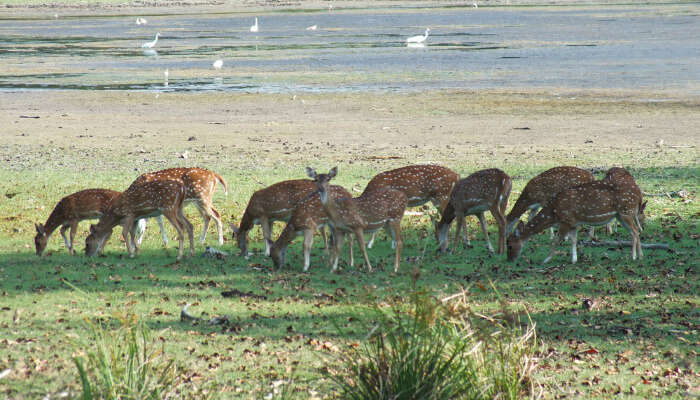 Wilpattu National Park is the largest park, located in the Northwest coast of Sri Lanka. What makes this park unique is the existence of "Willus" – natural lakes that have different degrees of salinity. The park was closed for 15 years, so that the wildlife had space and time to recover to its former abundance, and was reopened in 2003. Now that it has been opened again, make sure that you explore it as it is one of the best places to visit in Anuradhapura.
Location: Wilpattu National Park, Sri LankaBest known for: Sloth bears
Area covered: 1, 317 sqr kms
Distance from Colombo: 4 hours drive
Things to do: Travers the ancient city of Anuradhapura, especially the the 2,000 year old sacred Bodhi tree
5. Abhayagiri Dagoba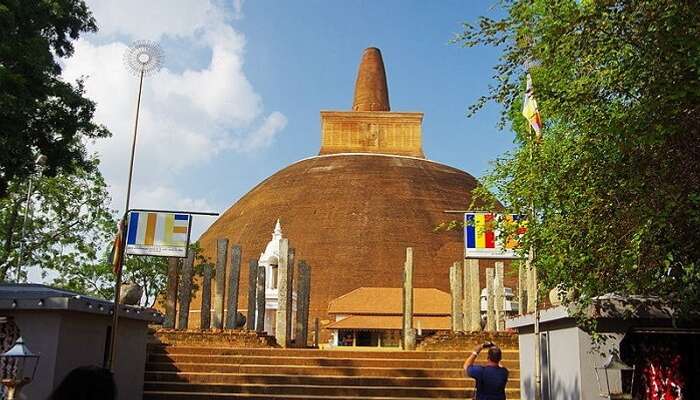 Leaving Anuradhapura without exploring any dagobas is like a sin that you might not want to commit. This colossal dagoba can be dated back to the 1st century BC. The original height of Abhayagiri Dagoba was 100 meters owing to which it was one of the greatest structures in the world then. After reconstruction and preservation of this place, the height has been restored to 75 meters. The name of this place literally translates into the 'Fearless Hill' or 'Hill of Protection'. You will find a slab with Buddha's footprint and some moonstones.
Location: Watawandana Rd, Anuradhapura, Sri Lanka
Read More: Best National Parks In Sri Lanka
Rushing everyday to office and slouching over your laptop, you must be wondering what are you doing in your life. What is all this worth for? Why am I even earning? If these questions hover in your mind everyday then these are signs of exhaustion. If you are burnt out with daily work, then this is a sign that you need a break. A break from the routine, work, responsibilities, target, and all the other things that are stressing you out. It is time to take out your bucket list and travel to new places. If Sri Lanka has been lingering in your itinerary for too long now, then pick that destination and get ready to explore the top places to visit in Anuradhapura. To get a hassle-free trip then plan your getaway to Sri Lanka with TravelTriangle and get a personalized itinerary according to your budget.
Comments
comments