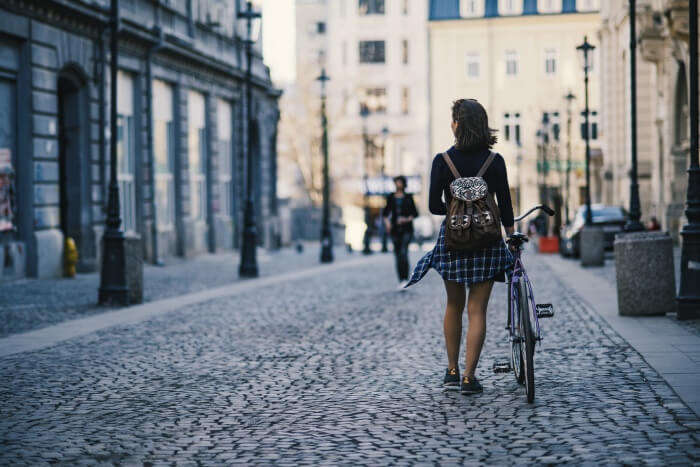 Serving as the capital of Romania, Bucharest is not just the industrial and financial but also the cultural hub of the country. It truly justifies the title of being the most prosperous city in Romania with its alluring city vibes, picturesque landscapes, awe-striking architecture, insta-worthy cafes, and friendly locals. No wonder, It is known as the 'Little Paris of the East'.
Blessed with the European influence, the places to visit in Bucharest are rich in historical culture, glinting a hint of the Victorian era through their colourful narrow lanes and artistic historical monuments. The equable climate, well-maintained transport system, and welcoming vibes make Bucharest one of the safest and most likeable tourist destinations places in the world.
11 Amazing Places To Visit In Bucharest
There's a lot to see in and learn from this capital city of Romania and some of the places here should never be missed during your exploration. So, here is a list of some of the best places to visit in Bucharest you should consider whenever you plan to come to this city!
Herastrau Park
Stavropoleos Church
Palace of Parliament
Spring Palace
Victoriei Street
Cismigiu Garden
Grigore Antipa Natural History Museum
Hanul Lui Manuc
Romanian Peasant Museum
Romanian Athenaeum
Dimitrie Gusti National Village Museum
1. Herastrau Park

Located around Herastrau Lake, it is the largest park in Bucharest. It features a Japanese garden and an open-air theater to keep you entertained with various performances with mesmerizing views as the backdrop. It is a famous place to simply chill around or hangout with your family and friends.
It is the ideal escape from the city hustle as you get to experience peacefulness and the serene ambience of this place will make you forget everything. Take a stroll through the lush green trails or rent a bicycle to explore this park. You can also go for boat rides and give yourself a blissful memory to cherish.
Location: Bucharest, Romania
2. Stavropoleos Church

This beautiful historic church is located in the Old City. Built in 1724, this church is an epitome of awe-inspiring art and architecture. The whole church is dominated by the bewitching Brancovan architectural motif and hence is famous all over the city for its uniqueness.
Witness the beautifully carved doors and windows, supported by the soothing coloured walls featuring the 18th and 19th century painting hanging on the walls. You can get to see the Lord Nicolae Mavrocordat throne, which is one of the most interesting artifacts of the city.
Location: Strada Stavropoleos 4, București 030167, Romania
Must Read: 17 Spots For Snorkeling In Europe Every Underwater Enthusiast Must Visit In 2022
3. Palace of Parliament

Being the second largest administrative building in the world, Palace of Parliament is not just the pride of Bucharest but of the entire Romania. This huge building is the parliament of Romania and its architecture is based on the exquisite Stalinist style.
The decor is based on the neoclassical theme, housing more than 3000 rooms with ultra-lavish facilities. Make sure you buy tickets to visit this place and experience the luxury lifestyle and political ambience of Romania.
Location: Strada Izvor 2-4, București, Romania
Contact: + 40 733 558 102
4. Spring Palace

This palace in Romania screams the richness of their culture from every corner. As you walk though this place, you get to witness the lifestyle of the Former Romanian president Nicolae Ceausescu who lived here with his wife as it was his residence.
As you enter into this luxury mansion, you get to see some renowned works of art hanging on the wall in the form of painting and even sculptures. This 80-room mansion features swimming pools, serene gardens and all things luxury. So visit this place and dive into their luxurious lifestyle and the historical era of Communist regime of Romania.
Location: Bulevardul Primăverii 50, București 014192, Romania
Contact: +40 21 318 0989
Suggested Read: 10 Cafes In Prague: Enjoy Croissants, Sausages And More In A Perfect European Fare
5. Victoriei Street

For all those who would love to blend into the local culture of Bucharest, this is one of the best places to go in Bucharest. This street has the majority of tourist attractions like George Enescu Museum, the National Museum of Art of Romania, Odeon Theatre, Revolution Square, and Kretzulescu Church! This street is the best known thoroughfare of Bucharest, as it is a hub for most of the tourist spots of the city.
The vibe of this place is electrifying and full of enthusiasm. Along with that, you can also come here to shop and try the local food delicacies in some of their best known restaurants. You can avail some good accommodation facilities, as they have got some of the best hotels in town.
Also, if you come to Bucharest, make sure that you experience the nightlife of this city by coming to this street. At night, the locals of the city come and gather here to party, have dinner, or enjoy some music concert. This is basically the heart of the city.
Location: Bucharest, Romania
6. Cismigiu Garden

This park is themed on English style garden which is a great option for people who want to escape the ever-bustling city life for a while. This peaceful park features monuments, fountains, and a famous boating lake. Being the oldest public garden in Bucharest, it reflects rich European influence through the structure of monuments.
With more than 30,000 tree and plants, this is the perfect park for those who love nature and have an affinity for greenery. It also has a café, restaurant, and refreshments kiosk with the area of the park itself so that you can satisfy your hunger in the midst of nature.
Location: Bulevardul Regina Elisabeta, București 030167, Romania
Contact: +40 21 224 5860
Suggested Read: Shopping In Czech Republic: To Add A European Touch To Your Wardrobe
7. Grigore Antipa Natural History Museum

Opened in 1834, this museum gives you an insight of the history of Romania. It showcases more than 2000 exhibits, including dinosaur fossils, minerals, and the native Romanian plants and animals.
To add much to your delight, they also have the largest butterfly collection in the world. Other than that, they have interactive displays that help in enriching your knowledge. So, this is one of the best places to visit in Romania, Bucharest.
Location: Șoseaua Pavel Dimitrievici Kiseleff 1, București 011341, Romania
Contact: 40 021 3128826'
8. Hanul Lui Manuc

It is the oldest operating hotel which was built in 1806. It is popular because it has been the location for so many historical important events like the peace treaty that ended the Russo-Turkish war in 1812.
This awe-inspiring cultural landmark is a three-storeyed building showcasing facets and important documents that led into shaping the modern-day Romania. It is the ideal place for all those people who are interested in knowing the political transforms that happened in Romania.
Location: Strada Franceză 62-64, București 030106, Romania
Contact: +40 730 188 653
Suggested Read: 6 Museums In Italy Across 6 Cities. Which One Will You Choose For Your European Adventure?
9. Romanian Peasant Museum

This iconic museum in Bucharest houses a collection of textiles, ceramics, icons, historic sculptress, awe-inspiring painting and a lot more. Here, you will get to see the artifacts that represent rich and pleasant lifestyle of the Romanian empire.
This is a must-visit place for all those who are a sucker for art, as it will take you into the cultural depth of the city.
Location: Șoseaua Pavel Dimitrievici Kiseleff 3, București 011341, Romania
Contact: +40 21 317 9661
10. Romanian Athenaeum

This landmark is one of the best-known examples of the stunning neoclassical domed building in the entire country. Opened in the year 1888, this place acquaints you with the Albert Galleron style architecture, which is a splendid work of art.
This historic building houses the George Enescu Philharmonic Orchestra, so you also get to attend the annual international music festival featuring some phenomenal performances by world renowned artists.
This building houses 800 guests at a time and is a must visit. So, if you ever come to Bucharest, make sure you visit this place and witness the largest cultural fest in Romania.
Location: Strada Benjamin Franklin 1-3, București 030167, Romania
Contact: +40 021 315 8798
Suggested Read: 35 Best Places To Spend Christmas In Europe In 2022
11. Dimitrie Gusti National Village Museum

Also known as the Village Museum, this place was opened in 1936. This is an open-air museum that features several historic houses, farms and other artifacts that belong to century's old timeframe. Some of these structures showcase the artifacts of the 19th century which were rebuilt on this place taking inspiration from other parts of the Romania.
Also, since it is located on the shores of located on the shores of Lake Herastrau, it presents a picturesque view that can leave you spellbound for days. This museum gives an opportunity to dive into the history of Romania and get familiar with the rich culture.
Location: 28-30, Șoseaua Pavel Dimitrievici Kiseleff, București 011347, Romania
Contact: +40 21 317 9103
Further Read: 8 Restaurants In Hungary That Can Match Any European City For Culinary Travel
Whenever you come to Romania, make sure you make a visit to Bucharest and discover most of these places listed above. These places to visit in Bucharest will take you on a journey of the rich Romanian culture. When planning for a vacation in Europe, don't forget to add Bucharest in your list to have some of the best experiences of your lifetime.
Frequently Asked Questions About Places to Visit in Bucharest
What are the top attractions to visit in Bucharest?
The following are the top tourist attractions in Bucharest - Herastrau Park, Stavropoleos Church, Palace of Parliament, Spring Palace, Victoriei Street, Cismigiu Garden, Grigore Antipa Natural History Museum, Hanul Lui Manuc, Romanian Peasant Museum, Romanian Athenaeum, Dimitrie Gusti National Village Museum, etc.
What are the most popular things to do in Bucharest with children?
If you are traveling to Bucharest with kids then you can indulge in sightseeing and explore museums & art centers, historical sites, parks & theme-based gardens, etc.
Is it safe to visit Bucharest during Covid times?
You need to follow all the mandatory travel guidelines mentioned by the authorities to ensure a safe travel experience. Complete both doses of vaccination before planning your visit and get an RT PCR test done as you may have to produce it at the entry and exit points. Maintain social distancing and remain masked while stepping out. Avoid visiting crowded places and gatherings. Keep sanitizing your hands regularly after touching surfaces.
What is the most visited place in Romania?
The following are the most visited places in Romania - Bucharest, Constanța, Brașov, Timișoara, Sibiu, Alba-Iulia, Cluj-Napoca, Sighișoara and Iași. If you are a nature lover then you must plan a visit to the Danube, the Carpathian Mountains, and the Black Sea.
What are the best places to visit near Bucharest?
Mogosoaia Domain and Palace, Zumbaala Wake Park, Stirbey Domain and Palace, Snagov Natural Park, Snagov Club, Artha Park, etc. are the popular attractions near Bucharest.
What is the best place to hang out in Bucharest?
The following are the hang out places in Bucharest that are popular amongst tourists - Shoteria, Mojo, Food Hood, NOMAD Sky Bar, Bicicleta, J'ai Bistrot, Quantic Pub, Dianei, and more.
Which is the most beautiful city in Romania?
It would be quite difficult to state the most beautiful city in Romania, however, the following are the popular choices amongst nature lovers - Sibiu, Timisoara, Brasov, Suceava, Cluj-Napoca, Busteni, and Sighisoara.
Why is Bucharest called Little Paris?
Bucharest is known as the 'Little Paris' because of its elegant architectural marvels, and purveys an exclusive vibe that will remind you of your days in Paris.
People Also Read:
Places To Visit In Moldova Places To Visit In Latvia Places To Visit In Budapest
---
Looking To Book An International Holiday?
Book memorable holidays on TravelTriangle with 650+ verified travel agents for 65+ domestic and international destinations.
---