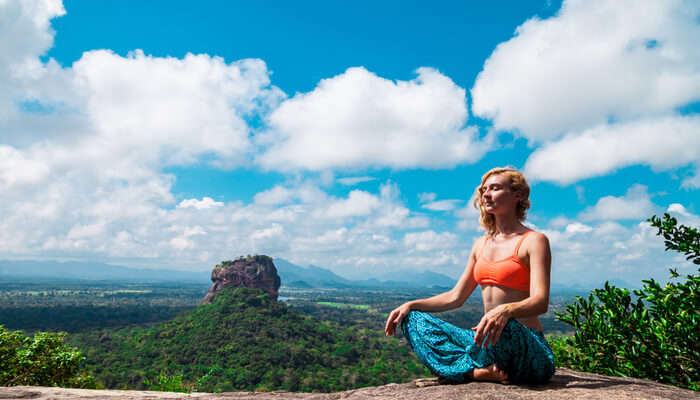 Sri Lanka, the Pearl of the Indian Ocean, is a destination that is known for its beaches, temples, timeless ruins, tea plantations, and magnificent elephants. Offering something to do for anyone and everyone, Sri Lanka is home to hundreds of districts, provinces, towns, and cities. One such town is Dambulla that is sitting in the Matale District of the Central Province of Sri Lanka. Dambulla is one of the most-visited and most popular cities in Sri Lanka that reeks of ancient and old-world charm. For those who are seeking to engage in some authentic and genuine Sri Lankan experience, Dambulla is surely the place to be. Blanketing numerous places to visit in Dambulla Sri Lanka, this island nation makes sure that no traveler gets bored or disappointed when visiting the land of the ancient civilizations. Cave temples, Rose mountain, Buddha temple, elephant safari, and ancient ruins of Ritigala combine to form the stunning destination of Dambulla. Dambulla is an ideal place to witness for those who are seeking some roads less traveled. Go through this list of the best places that one should visit in Dambulla when traveling to Sri Lanka.
Best Time To Visit Dambulla, Sri Lanka

Being centrally located in the usually tropical rainforest climate, Dambulla is an all-year destination that welcomes travelers with extremely pleasant weather throughout the year. Although, being a tropical region, the showers pouring down are quite unpredictable, hence, it is always better to have the rainfall essentials ready. Months from June to September are the dry months of this destination and ultimately, the best time to visit Dambulla. One might get to experience the usual tropical humidity, no matter the month they travel in. It is better to avoid the wettest months from October till December.
Top 5 Places To Visit In Dambulla Sri Lanka
The ancient city of Sri Lanka, Dambulla is one of the most popular places to visit in Sri Lanka by virtue of some of the breathtakingly beautiful architecture and historic monuments covering its floors. Go through this list of top places to visit in Dambulla Sri Lanka and make sure you get to visit every nook and corner of the city.
Madukanda Vihara
Nuwara Eliya
Habarana
Dambulla Cave Temple
Sigiriya
1. Madukanda Vihara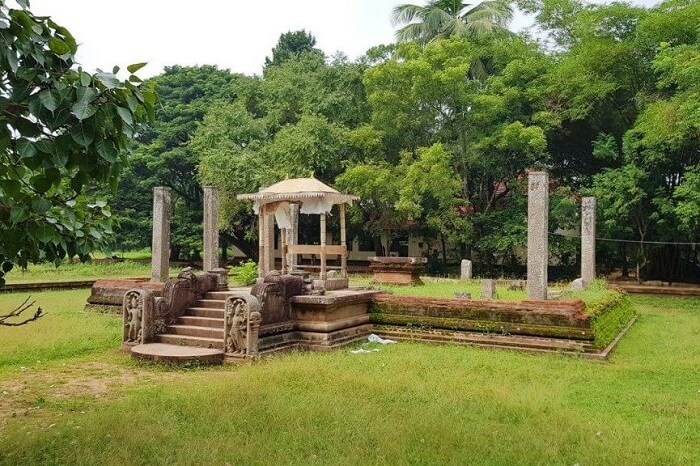 Also known as Madukanda Sri Dalada Viharaya, Madukanda Vihara is a historic Buddhist temple. The historic religious site is located within the Madukanda village, which is at a distance of 4 kilometres from Vavuniya. The Madukanda village and the sacred temple date back to at least 4th century AD.
As per the historians, during the journey of the holy Buddha's tooth relic, Madukanda was the 4th resting point. It also happens to be the first location where the first Dalada Maligaya (House of the Sacred Tooth Relic) was founded. Pilgrims who intend to follow the original trail often stop at Madukanda Vihara for rest.
Madukanda Vihara is the relic house where the sacred tooth was venerated until the temple in Anuradhapura was built. One can witness fine craftsmanship in the form of intricate carvings made on the granite stepping stones. In addition to the temple, one can even visit the Stupa nearby which lacks the adornments as compared to the Vihara but is of equal historical value.
As per a local legend, the giant Nandimithra, a top ranking official in King Dutugamunu's army was born here. Also, one can also visit the former residence, Madukanda Walawwa of a famous Sinhalese chieftain who lived there during the British reign.
Traveling to the Madukanda Vihara is easy. Getting to central Vavuniya costs about Rs. 250 for a ride on a three-wheeler. Additionally, the temple offers free accommodation and basic amenities to those visiting the Madukanda Vihara.
10 Places To Visit In Vavuniya To Know Sri Lankan Culture And History
2. Nuwara Eliya

Little England of Sri Lanka, this lovely city is up in the Hill Country. Staying here will give the newlyweds a feel of the colonial culture with lush green slopes, red brick houses and country house-like clubs. With many romantic views to offer, it is amongst the best honeymoon destinations in Sri Lanka for a romance filled start.
Spend some time amidst nature with each other on your Sri Lankan honeymoon. After all, Adam and Eve spent all their time in nature and look how great a couple they were.
20 Honeymoon Places In Sri Lanka In 2022 That Will Sweep You Off Your Feet
3. Habarana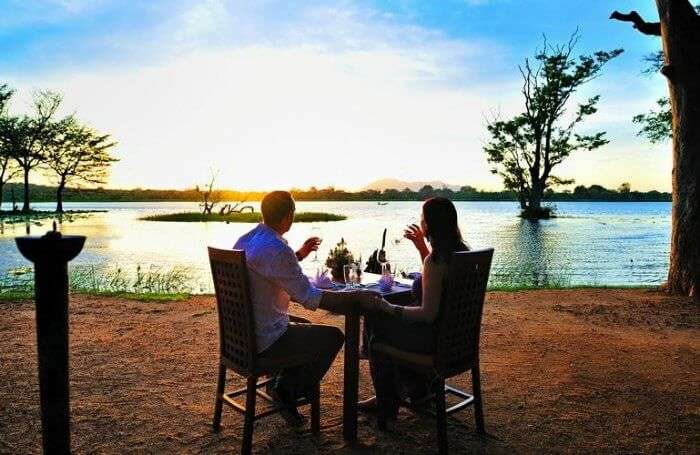 Sometimes one desires best of both worlds- to be in the lap of mother nature as well as ultimate intimacy. Habarana packs in both these with aplomb. Its a great place for jungle safari (Minneriya National Park) and is amongst the best places in Sri Lanka for honeymoon.
Special for Honeymooners: Aside of the safari , newlyweds can choose to explore a village in a bullock cart or go kayaking on the Habarana Lake. If you are upto it you could go up in a hot air balloon over the Minneriya National Park and sweep the jungle with your eyes.
20 Honeymoon Places In Sri Lanka In 2022 That Will Sweep You Off Your Feet
4. Dambulla Cave Temple

Towering above the plains of Dambulla is this awe-inspiring UNESCO World Heritage site, the Dambulla Cave Temple Complex. This ancient Buddhist pilgrimage is the largest and best preserved cave temple complex in Sri Lanka. The five major caves are dotted with 150 plus stunning Buddha statues (and a few depicting Sri Lankan kings, gods and goddesses) as well as huge cave paintings & murals making this is one of the must-visit Dambula tourist places. The intricate cave paintings, serene statues of Buddha and the sacred vibes makes these caves a beautiful spiritual sanctuary.
13 Best Places To Visit In Dambulla In 2022 That Showcase Its Spiritual And Natural Charm
5. Sigiriya

While you cover the major places to go in Dambulla, a day trip to this sprawling national park just about 50-minutes drive away from the town is worth adding to your itinerary. One of the best places to see wild elephants, the beautiful park is a nature lovers delight. Jeep safaris through the dense forest are thrilling; the park opens up near the water tank where you can witness hundreds of elephants, especially during the dry season (April-October). Early morning safaris are great for bird viewings while late afternoon ones are best for elephant sightings.
Dambulla, the city that oozes out old-world charm is one of the most popular places to visit in Sri Lanka. There is no dearth of places to visit in Dambulla Sri Lanka which makes this city even more exciting and fun-filled. Mysterious cave temples, tranquil Buddha museums, intriguing rose mountains, and many more such places combine to form the little town of Dambulla. Plan your escape to Sri Lanka and witness what an absolute vacation looks like for yourself!
---
Looking To Book An International Holiday?
Book memorable holidays on TravelTriangle with 650+ verified travel agents for 65+ domestic and international destinations.
---