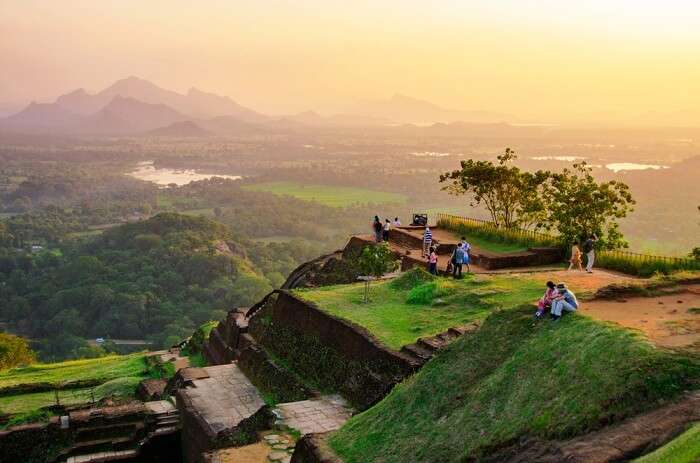 Tucked in the Central Province of Sri Lanka, the humble town of Dambulla is a treasure trove of historical monuments that are definitely worth a visit. Of all the places to visit in Dambulla, the amazing Dambulla cave temple complex must be first on your list. It is the largest and most beautiful one in the country, with spectacular sculpture & painting strewn all over.
Dambulla is also home to the largest rose quartz mountain in South Asia and the Rangiri Dambulla International Stadium. Equally worthy of time and attention are the majestic Sigiriya fort and the Minneriya national park located close by.
10 Incredible Places To Visit In Dambulla In 2019
From ancient temples to panoramic views from sky high rocks, choose the best places to visit in Dambulla and experience Sri Lanka like never before.
1. Dambulla Cave Temple
Towering above the plains of Dambulla is this awe-inspiring UNESCO World Heritage site, the Dambulla Cave Temple Complex. This ancient Buddhist pilgrimage is the largest and best preserved cave temple complex in Sri Lanka. The five major caves are dotted with 150 plus stunning Buddha statues (and a few depicting Sri Lankan kings, gods and goddesses) as well as huge cave paintings & murals making this is one of the must-visit Dambula tourist places. The intricate cave paintings, serene statues of Buddha and the sacred vibes makes these caves a beautiful spiritual sanctuary.
Timings: 7AM-7PM (ticket counter closes at 5PM)
Entry fee: LKR 1500/adult
Dress code: Shoulders and knees must be covered and hats need to be take off.
Suggested Read: 9 Best Things To Do In Dambulla To Have Unlimited Fun On Your Vacation In Sri Lanka In 2019!
---
Sri Lanka Holiday Packages On TravelTriangle
Book your Sri Lanka trip from TravelTriangle: Inclusive of Hotels, Sightseeing, Transfers, & Meals. Best Prices Guaranteed. Get Customizable Package & Free Guidance From Destination Experts. Book Now!
---
2. Minneriya National Park
While you cover the major places to go in Dambulla, a day trip to this sprawling national park just about 50-minutes drive away from the town is worth adding to your itinerary. One of the best places to see wild elephants, the beautiful park is a nature lovers delight. Jeep safaris through the dense forest are thrilling; the park opens up near the water tank where you can witness hundreds of elephants, especially during the dry season (April-October). Early morning safaris are great for bird viewings while late afternoon ones are best for elephant sightings.
Timings: 6AM-6:30PM
Jeep Safari Cost: Approximately LKR 4000/jeep (can be negotiated)
Park Entry fee: LKR 3600/adult; half-price for children between 6-12 yrs
Suggested Read: 10 Top Villas In Dambulla To Have An Enthralling Sri Lankan Holiday With Absolute Comfort!
3. Pidurangala Rock
In addition to Dambulla tourist attractions, this rock outcrop in Sigiriya which is an easy half an hour drive away, is a wonderful trip for those looking for a taste of adventure. A 30-minute hike along steep steps and boulders rewards you with sweeping views of the surrounding area and the best view of Sigiriya Lion Rock. The hike through dense forest is thrilling, and the mesmerising views at the top make it worth all the effort. You need to go through an ancient Buddhist temple before beginning the ascent. A sunrise hike is recommended for the breathtaking views and tranquil setting.
Entry fee: LKR 500/adult
4. Sigiriya
One of the most important historical places in Sri Lanka and a UNESCO World Heritage site, the Sigiriya Lion Rock is a magnificent fortress and temple complex atop a high volcanic plateau. Locally also called the eighth wonder of the world, this stunning site features high on the list of places to visit in Dambulla and Sigiriya. The main entrance is shaped like a huge stone lion, whose feet survive till date. The palace complex, which also served as a monastery for many years, is surrounded by beautiful landscaped gardens and unique water & boulder gardens. Sigiriyas western wall is adorned with beautiful frescoes.
Timings: 7AM-7PM
Entry fee: LKR 5000/adult
Suggested Read: Top 10 Things To Do In Kandy For Couples That Assure Ultimate Fun In Sri Lanka!
5. Pophams Arboretum
One of the most fascinating places to visit in Dambulla Sri Lanka, Pophams Arboretum is a paradise for nature lovers. This amazing man-made forest created by an English man will delight you with its variety of trees, birds, butterflies and dragonflies fluttering by in their natural habitat. Just strolling through the tranquil nature trails over winding paths and pretty streams with wooden bridges is an invigorating experience for the senses. There is accommodation available for those who would like to spend some time in the lap of nature. The night walk through wilderness is an experience to remember.
Entry fee: LKR 1500/adult
Tip: Best to take the night-walk around 7PM for good sightings of the nocturnal animals like the Slender Loris.
6. Dambulla Dedicated Economic Centre
One interesting addition to Dambulla places to visit list is this bustling produce market in the heart of the town. Its an interesting farmers market that gives you a glimpse into the variety of local produce from the entire island. Being the largest wholesale fruits & vegetable market in Sri Lanka, it is a fun place for its colourful sights, sounds and bustle of farmers. The harvest from surrounding farms is collected here every day and sorted for redistribution across the country.
7. Buddhist Museum & Museum of Wall Paintings
Even before you begin the steep ascent for reaching the Dambulla rock temple, you will be awed by the sight of a huge golden Buddha statue that marks the entrance to the Dambulla Museum. This majestic sculpture is considered to be Asias largest Buddha statue in the Dhyan Chakra mudra. To its right is a row of monk sculptres shown approaching the enlightened one with offerings. The path leads up to a terrace where you can spend some quiet moments in Budhhas serene presence. You can take a quick walk through the museum, which is free of charge. There is also a small museum of wall art for those interested in Sri Lankan art.
Suggested Read: Sri Lanka Travel Tips: 16 Dos And Don'ts For A Memorable Vacation
8. Ibbankatuwa Megalithic Tombs
This little known yet important pre-historic site is a worthy contender for historical places in Dambulla that you must include in your itinerary. Dating back to the Iron Age, visiting this site would give you as well as your curious school-going kids a glimpse into the life and times of people inhabiting Sri Lanka eons ago. The well-maintained site in a picturesque setting also has a small museum with the findings from burial grounds (clay pots, urns, copper & gold jewellery, gemstones) have been displayed. This ancient burial site belongs to the megalithic prehistoric and proto-historic period of Sri Lanka.
Timings: 9AM-6PM (Mon-Sat); 9AM-5PM (Sunday)
9. Rangiri Dambulla International Stadium
Nothing can beat watching a live game of cricket for sports enthusiasts the world over, especially at an international level cricket stadium in a beautiful setting. All cricket fans must add a visit to the Rangiri Dambulla International Stadium to their list of places to visit in Dambulla. Spread over 60 acres, the 30,000-seat cricket stadium is located near the Dambulla reservoir and has the distinction of being Sri Lanksa only dry zone cricket ground. You can imagine the thrill of watching an international match from the stands, while the cool breeze from the reservoir keeps the heat at bay.
Ticket Cost: LKR 3000/adult for Grand stand level 3
10. Kalu diya Pokuna
Literally meaning pond with black water, this hiking trip is a rewarding experience for adventure & nature lovers as well as those seeking some quiet hours after theyve covered the touristy places to visit in Dambulla. Almost an hours hike takes you to the top of the hill with sweeping views, a small pond and ruins of an ancient Buddhist temple. You can also spot caves where Buddhist monks are said to have meditated year ago. The serene place is also great for spotting birds & butterflies while you soak in the natural beauty.
Further Read: Sri Lanka In August: A Guide To Treat Yourself With The Magic Of Monsoon!
Now that you know everything about this paradise, we hope you'll be including them all in your Sri Lankan holiday. And just in case you've already visited this place, do let us know how your experience was in the comments section below.
---
Looking To Book An International Holiday?
Book memorable holidays on TravelTriangle with 650+ verified travel agents for 65+ domestic and international destinations.
---
Comments
comments