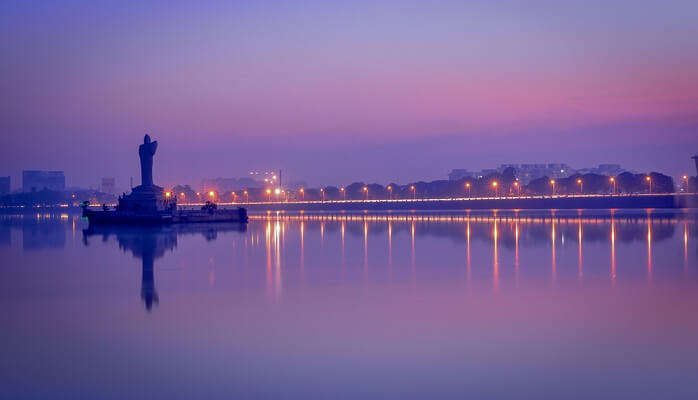 Hyderabad, the capital city of Telangana, located along the banks of the River Musi on the Deccan Plateau, features a unique amalgamation of Nawabi culture and modern-day lifestyle. From architectural marvels to buzzing streets and world-famed local cuisine, Hyderabad city is known for its leisure vibe. The dynamic Pearls City of India has fun-filled days and lively nights. Whether interested in visiting iconic tourist attractions during dusk or wishing to spend an electrifying night at a club, there are an array of places to visit in Hyderabad at night. Continue reading to know the best nightlife experiences of Hyderabad.
Top 8 Places to Visit in Hyderabad at Night
The night-out scenes in this former imperial capital include partying, shopping at night markets, and even exploring the archaeological heritage. Here are the best things to do in Hyderabad at night.
1. The Forts Tour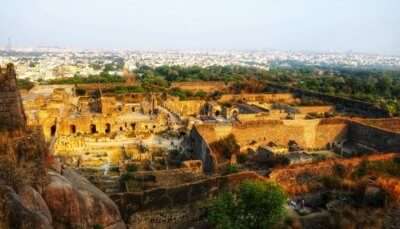 The Golkonda Fort and Warangal Fort in Hyderabad host light and sound shows that start from evenings. You can attend the narration covering historical events in the voice of eminent artists, and the illuminated vistas of the architectural marvels are admirable. You can visit both the forts on an evening tour and understand the glorious stories of the bygone era.
Timings: 6:30 p.m. – 9:00 p.m.
20 Exhilarating Things To Do In Hyderabad: The City Of Pearls Has A Lot To Offer In 2022!
2. Charminar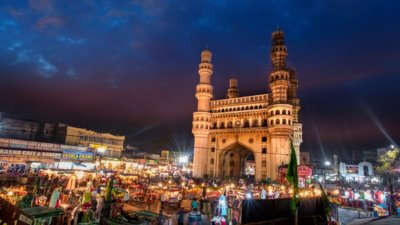 The lightened-up sights of Charminar are worth exploring at night. You can witness the imposing structure of this iconic destination located in the heart of the city. Charminar is located in an active region and remains crowded during day hours. However, if you visit during late hours, you can capture unmatchable glimpses of the outer structure.
Timings: Anytime
3. Hard Rock Cafe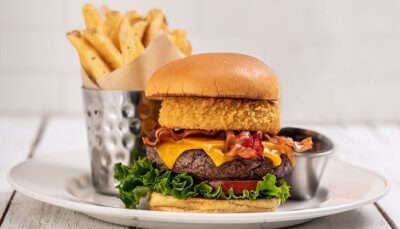 Image Courtsey: Hard Rock Cafe
Are you interested in a live band performance that comes with delicious burgers and a variety of beverages? Hard Rock Cafe in Banjara Hills features an exclusive rock n roll theme where you can enjoy all-time American classics while supping up your favourite drink. This cafe is a perfect place for those who wish to enjoy food, music, and vibe. Weekends are packed, so make sure that you have the booking done in advance.
Timings: 12:00 p.m. – 12:00 a.m.
17 Weekend Getaways From Hyderabad That Are Perfect To Escape The Life Back Home For A Bit In 2021
4. Shamshabad Go Karting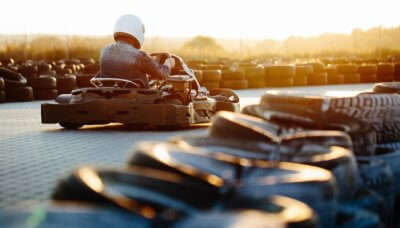 Go Karting at Shamshabad airport remains open till midnight. Being an exciting place to visit in Hyderabad at night, the site purveys an exquisite liveliness with friends and families speeding up their karts and challenging each other. It is ideal for adventure and fitness enthusiasts who wish to escape the mundane with an unconventional fun-filled activity.
Timings: 11:00 a.m. – 4:00 a.m.
5. Necklace Road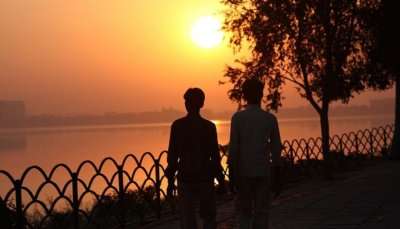 Image Courtsey: Diham for Wikipedia
Currently known as PV Narsimha Rao Marg, the famous Necklace Road of Hyderabad is a boulevard that connects NTR Gardens to Sanjeevaiah Park. If you wish to go on a romantic late-night drive with your significant other, then take any route that leads you to the Necklace Road and enjoy the serene vistas of the Hussain Sagar Lake.
Timings: Anytime
20 Best Restaurants In Hyderabad That Are Bound To Turn You Into A Foodie In 2022!
6. Moula Ali Hill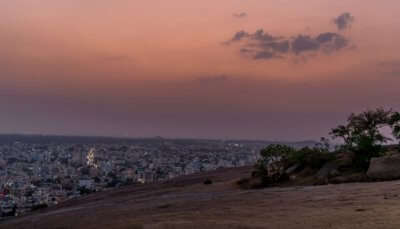 Moula Ali Hill is a dome-shaped elevation that is famous for being home to the Moula Ali Dargah. You can trek to the hilltop during sunset and enjoy the magical aerial views of this hi-tech city with its Nawabi charms enhancing the ambiance. Locals believe that the dargah at the site features an imprint of Ali, the son-in-law of Prophet Muhammad.
Timings: 5:30 a.m. – 10:00 p.m.
7. Begum Bazaar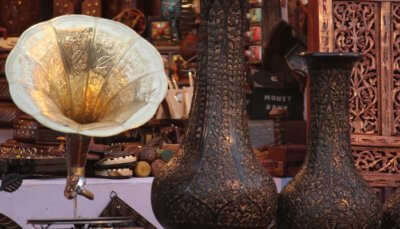 Begum Bazaar in the Old City is the biggest commercial hub in Hyderabad and offers a variety of products. You can buy exclusive pearl accessories, kitchen items, perfumes, clothing, etc. The market once served to be the famous bazaar of the Qutub Shahi dynasty. You can visit late at night to grab some handsome deals on your favourite items as the vendors are eager to clear off their collections.
Timings: 10:00 a.m. – 11:00 p.m.
14 Waterfalls Near Hyderabad That You Can Visit In 2021 For A Jaw-Dropping Experience!
8. The Moonshine Project

The Moonshine Project in Jubilee Hills is another high-grade place to plan your dinner in Hyderabad. It is a lounge cafe and resto-pub that features live music nights. You can party here with a group of friends or reserve elegant dining with your special ones.
Timings: 12:00 p.m. – 11:30 p.m.
There are numerous places to visit in Hyderabad at night; however, your best one depends upon the experience you wish to encounter. The city offers almost everything that can make your night memorable. We hope that the mentioned places will help in bringing more colours to your nights in the city. You can also book your Hyderabad getaways with TravelTriangle and have an enthralling experience.
For our editorial codes of conduct and copyright disclaimer, please click here.
Frequently Asked Questions about Places to Visit in Hyderabad at Night
What can we do in Hyderabad at night?
There are numerous interesting things to do in Hyderabad at night. The following are the most popular amongst them:
1. Attend the light and sound show
2. Capture glimpse of Charminar from outside
3. Trek to Moula Ali Hill
4. Visit cafes and clubs
5. Indulge in go karting
Can we go out at night in Hyderabad?
Hyderabad features electrifying and elegant pubs & bars, lounges, clubs and a lot more places to plan a night out. You can also sneak peek at the historic sites and shop at the night markets.
Which are the best places to visit near Hyderabad?
Ananthagiri Hills, Nagarjuna Sagar, Srisailam, Horsley Hills, Lambasingi, Dandeli, Araku Valley, Ooty, etc. are the popular getaways from Hyderabad. You can plan 1 or 2 days to escape to these places while staying in the city.
What is the best time to visit Charminar?
Charminar in Hyderabad is open from 9:30 AM to 5:30 PM. This architectural marvel can be visited throughout the year, however, between October to March, the weather remains pleasant making sightseeing a comfortable experience.
People also read:
Places to Visit in Hyderabad at Night Places to Visit in Mumbai at Night Places to Visit In Jaipur at Night