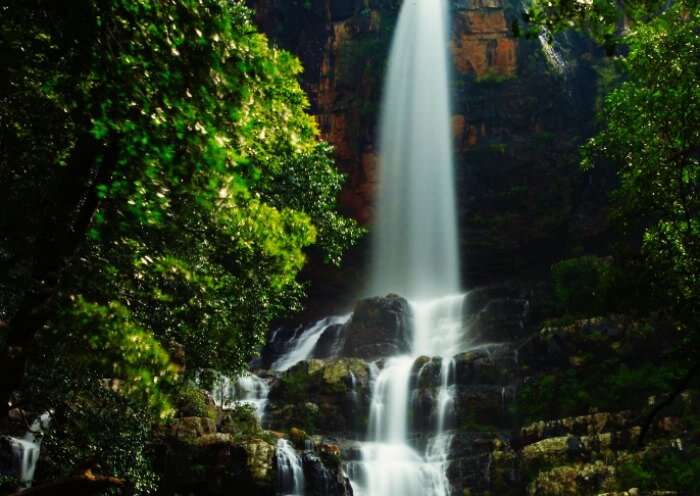 Hyderabad, the capital of Telangana is a culturally rich city. This beautiful and bustling city is the hub of Information Technology and development. There are a plethora of popular tourist attractions in the city, including the Golconda Fort, Charminar, Hussain Sagar Lake, Ramoji Film City, Birla Mandir, Chilkur Balaji Temple, NTR Gardens, Laal Bazaar and many more. And while you explore all these places before your vacation comes to an end, you would also want some place to relax. With many denizens looking to relax and unwind on the weekends, we have compiled a list of the best waterfalls near Hyderabad to chill and escape the city madness!
11 Popular Waterfalls Near Hyderabad
There is something uniquely special about waterfalls. Listening to their noise will put you at peace and getting drenched in their freely falling water will not just refresh your soul, but your body too. Here are the top 11 waterfalls near Hyderabad:
Ethipothala Falls
Mallela Theertham Waterfalls
Pochera Falls
Kuntala Falls
Talakona Waterfalls
Kapila Theertham
Tadimada Waterfalls
Kaitiki Waterfalls
Kanakai Waterfalls
Sahastrakund Waterfalls
Bogatha Falls
1. Ethipothala Falls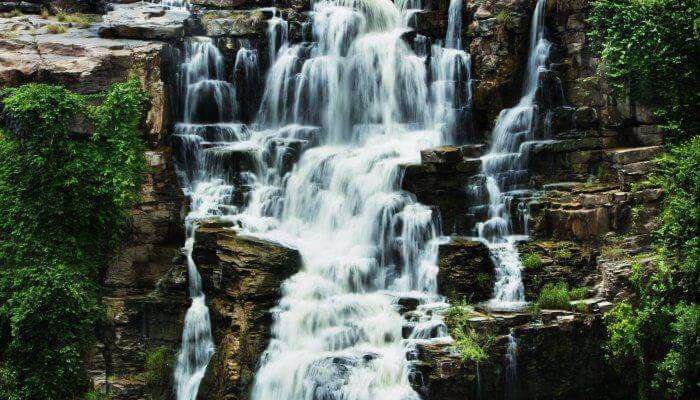 Image Source
Ethipothala waterfalls are one of the most striking waterfalls around Hyderabad on River Chandra Vanka. The falls are located in a beautiful locality surrounded by greenery on all the sides. It is possible to climb down to get close to the falls.
Distance: Near to Nagarjuna Sagar, Guntur district, 14 Kms from Nagarjuna Sagar & 176 Kms from Hyderabad
Best season to visit: Ethipothala Falls should be visited immediately after the monsoons, best month is July and February.
Places to visit in: Nagarjuna Sagar Dam, Crocodile Breeding Centre, Ranganatha Temple, Dattatreya Temple, Macherla, and Anupu.
Must Read: 26 Reasons Why I Would Rather Be From Hyderabad Than Anywhere Else
---
South Weekend Holiday Packages On TravelTriangle
A trip to South India has a lot to offer – from tranquillity of forests to charm of sizzling beaches and from lost kingdoms to chills of a hill station. Visit Kerala, Coorg, Ooty, Mysore, or Kodaikanal. Book holiday packages inclusive of airport transfers, cab, resort, sightseeing, and meals.
---
2. Mallela Theertham Waterfalls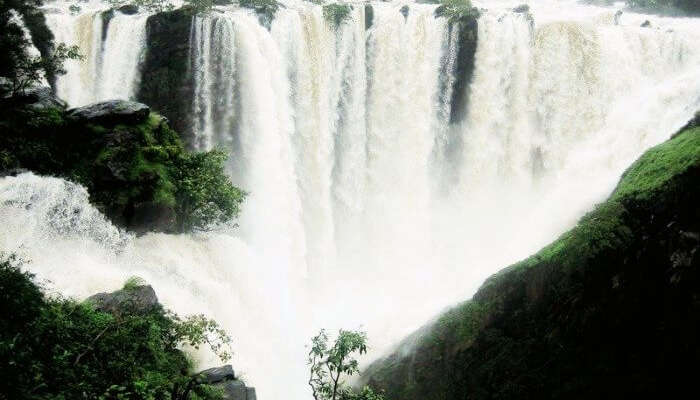 Image Source
The Mallela Theertham waterfall is an enchanting fall on the River Krishna. During monsoons, rainwater does not percolate because of volcanic rocks and generally run off the mountains into the Gundlakamma River which is the largest river to originate from these mountains.
Distance: Located in dense Nallamala forest, 58 Km from Srisailam and 185 kms from Hyderabad
Best season to visit: October to March
Places to visit: Mallikarjuna Temple, Sakshi Ganapathi Temple, Paladhara and Panchadhara and Patalaganga Dam.
3. Pochera Falls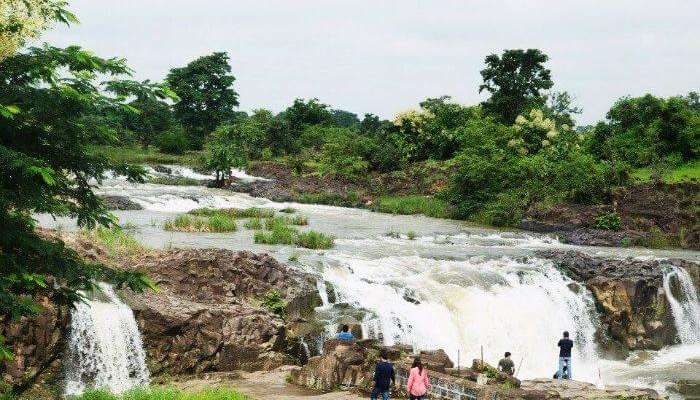 Image Source
The water flows through rocky bed over several steps to finally descend into a big pool from a height of about 40 feet in 2 steps. You could drive down to these picturesque waterfall near Hyderabad.
Distance: 257 km from Hyderabad
Best season to visit: Monsoons and post-monsoons are the best seasons to visit, i.e., July to December
Place to visit: Basar Saraswathy Temple, Nirmal, Kawal Wildlife Sanctuary, Pranahita Wildlife Sanctuary, and Suvarnapuri.
Tip: It is not recommended to get into bottom of the falls during peak monsoons. Pochera Falls is close to Kuntala Falls (22 Kms).
Suggested Read: 10 Mesmerizing Hill Stations Near Hyderabad Waiting To Be Explored
4. Kuntala Falls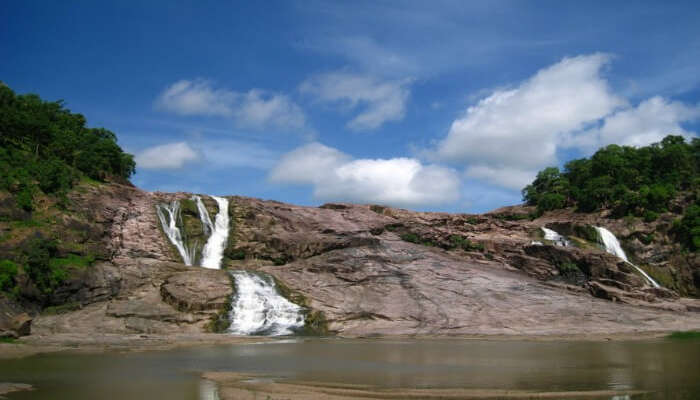 Image Source
Kuntala falls cascades down through two steps and can be seen as two separate adjacent falls after the peak rains. It is one of the famous one day outings from Hyderabad. The gentle breeze and the fresh scent of theSource: fauna in the air is really an exhilarating experience.
Getting there: nearest railway station is at Adilabad, which is 57 kms. from Kuntala waterfall and the nearest airport is the Rajiv Gandhi International Airport at Hyderabad which is 280 kms.
Best season to visit: during July, August and September when there are rains
5. Talakona Waterfalls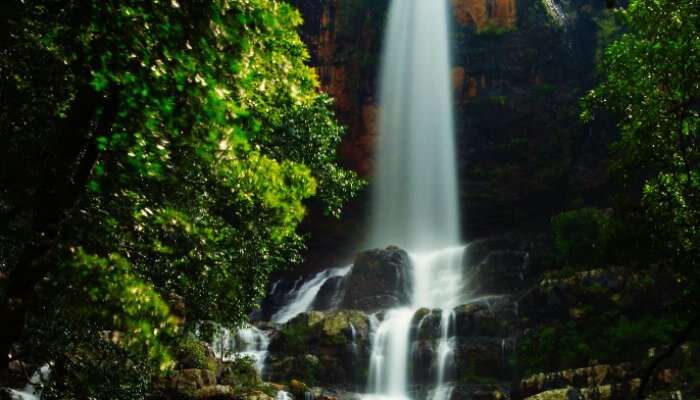 Image Source
The waterfalls are placed amidst dense forest surrounded by natural beauty and greenery. It is believed that the water of Talakona Falls is enriched with herbs with healing powers. The National Park has a core area which is a biosphere declared in 1989 and the waterfall is surrounded by a dense jungle and the wildlife in the Park is very rich and diverse.
Getting there: Talakona Waterfalls is 49 kms from Pileru and 58 kms from the holy city of Tirupathi.
Best season to visit: September to January
Places to visit in: Sri Siddeshwara Swamy Temple, Tirumala Temple, Sri Kalahasti, Tumbhuru Theeretham, Deer Park, and TTD Garden.
Suggested Read: 10 Best Beaches Near Hyderabad For A Relaxing Vacation With Your Loved Ones
6. Kapila Theertham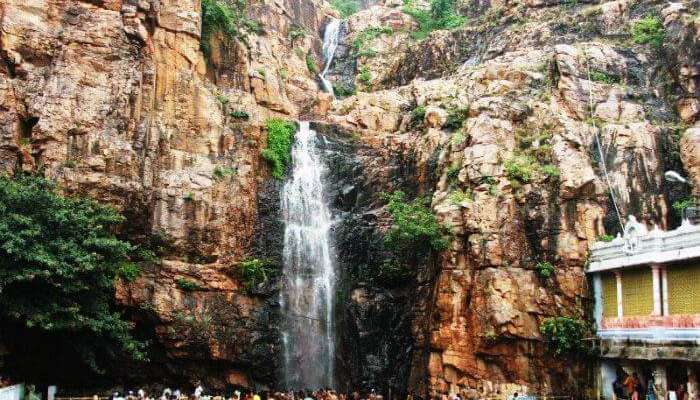 Image Source
This is a unique waterfall is beside a temple dedicated to Lord Shiva. Being a pilgrim site, the waterfall receives a lot of visitors throughout the year.
Getting there: The waterfall is located about 1 km from Alippiri and about 4 to 5 kms from Tirupathi railway station and the bus station
Best season to visit: November to February
Places to visit in: Gudimallam Parashurameshwara Temple, Parasareswara temple, Thiruchannoor Padmavathi Temple, the famous Sri Kalahashteeswara Temple and the Dakshineswara Temple.
Suggested Read: 38 Most Colorful Places In India That Will Make Your Heart Skip A Beat
7. Tadimada Waterfalls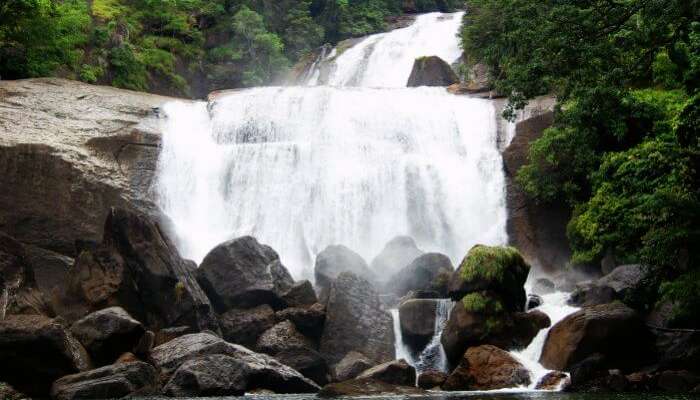 Image Source
With a height of about 100 feet, these falls offer best views in monsoon season. The best way to reach these waterfalls is by trekking from Anantagiri.
Getting there: 30km from Araku, 3km from Anantagiri village and 645 km from Hyderabad.
Best season to visit: July to September
Tip: SUVs are preferred on the way to the falls. It's advisable to walk to these falls from Anantagiri-Araku main road (for about 1-2 Kms) which takes about 20 minutes.
Suggested Read: 52 Best Hill Stations In India In 2019 That You Must Explore At Least Once In Your Life
8. Kaitiki Waterfalls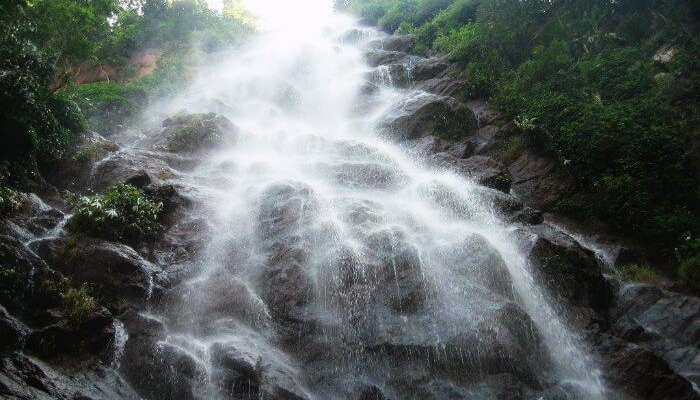 Katiki waterfall is on the Gosthani River. The name of the falls is derived from the name of the village nearby. It is amongst the most pristine waterfalls near Hyderabad.
Getting there: The ride from Borra Caves to the waterfalls is on a 7 kms stretch of a rough road. There are jeeps that take visitors to a place one kilometer short of the waterfall. To reach the waterfall, visitors will have to make it on foot.
Best season to visit: August till December
Places to visit: Borra caves, Araku Tribal Museum, Tyda Park, Padmapuram Botanical Gardens, and Matsyagundam.
9. Kanakai Waterfalls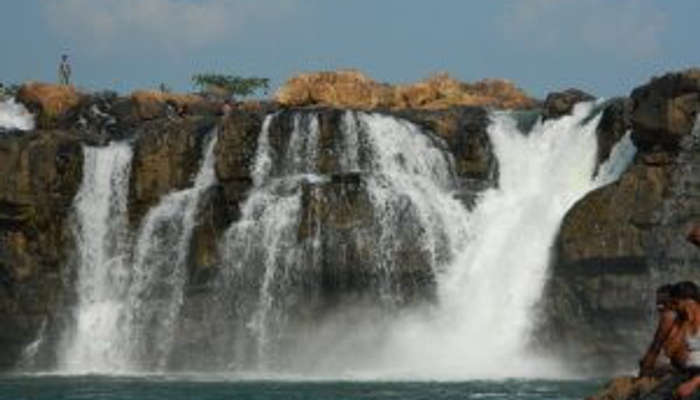 Located on the Kadem River, Kanakai Waterfalls is a cascade in the Adilabad District of Telangana. Also known as Kanakadurga, the waterfall cascades down from a height of 30 feet with a width of 100 feet. There are 3 falls at Kanakai including Bandrev waterfall and Cheekati Gundam. The waterfall is surrounded by lush vegetations and unique rock formations.
Getting there: Kanakai Waterfalls is located 282 km from Hyderabad and 51 km away from Adilabad (NH7). Take a private vehicle or hire a taxi near the waterfall. The vehicle can go only up to a point from where the base of the fall is 15 – 20 minutes walk away.
Best season to visit: September to October
Places to visit: Kawal Wildlife Sanctuary, Kunthala Waterfalls, Mahatma Gandhi Park, Jainath Temple
10. Sahastrakund Waterfalls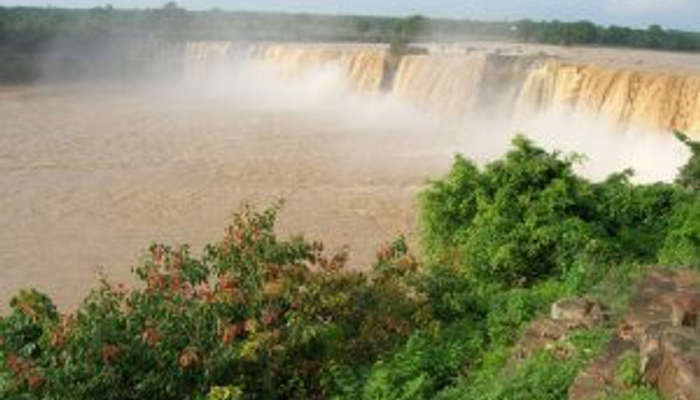 Sahastrakund Waterfalls is located in the Murli Village flows on a tributary of the River Godavari, called Penganga River. The fall is from a height of 50 feet. A highlight of this waterfall is the special block rock formations surrounding it as they look like metal when water flows upon it. You can witness the breathtaking view of the fall standing on the ramp that is constructed near it. At a short distance from the fall, there is also a bridge on the river.
Getting there: Sahastrakund Waterfalls is located 282 km from Hyderabad and 60 km away from Nirmal. There is public transport available to reach here but it is not much reliable. It is recommended that you either take a private vehicle or travel through the train. The nearest railway station is Sahastrakund Railway Station which is 5 km away from the fall. It connects with the cities of Hyderabad, Nagpur, Nanded and Adilabad.
Best season to visit: August to October
Places to visit: Shyamgad Fort, Venkateshwara Temple, Pulsi Fort
11. Bogatha Falls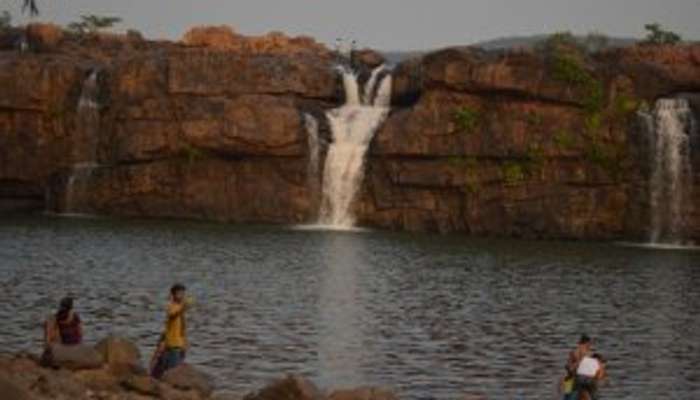 Also known as Chikupally Falls, Bogatha Waterfalls is located near Chikupally village in Khammam district of Telangana. The waterfall is surrounded by thick vegetation and drops from a height of 30 feet in many parallel streams. All the streams together form a wide pool at the bottom of the fall. This place is a popular picnic spot among the locals and visitor.
Getting there: Nearest airport is Hyderabad airport (330 km). Nearest railway head is Bhadrachalam Road Railway Station (120 km). One can hire a taxi from the station to the waterfalls. The Bogatha Falls is well connected by road with places including Hyderabad (330 km), Eturnagaram (30 km), Bhadrachalam (120 km), Warangal (140 km), and Khammam (200 km). You can easily hire a taxi to the falls from here.
Best season to visit: June and November
Places to visit: Pakhal Lake, Thousand Pillar Temple, Ramappa Temple, Warangal Fort, Eturnagaram Wildlife Sanctuary,
Kakatiya Rock Garden
Further Read: 10 Waterfalls in India You Need to Explore This Summer
Imagine the white waters gushing down the rocky cliff-edges, surrounded by lush green vegetation. Are you willing to witness this breathtaking sight? If yes, then plan a trip to Hyderabad and head out for a wild and refreshing holiday along with your family or friends. Make sure that you visit as many waterfalls near Hyderabad as you can.
---
Looking To Book A Holiday Package?
Book memorable holidays on TravelTriangle with 650+ verified travel agents for 65+ domestic and international destinations.
---
Comments
comments