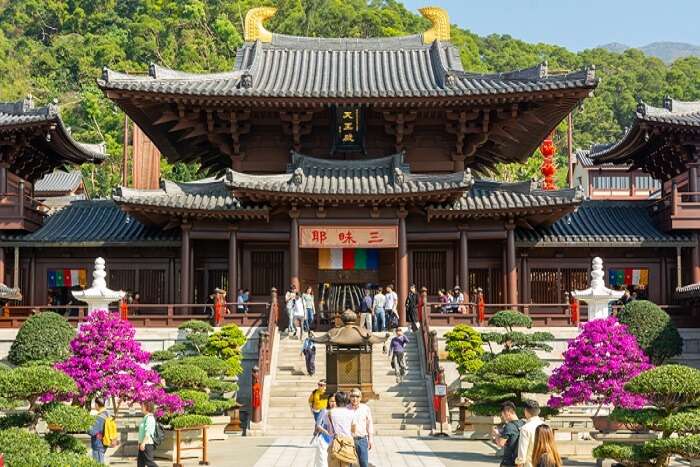 Forming the not-so-glamorous part of Hong Kong is the bustling district of Kowloon. It might not have the charm and the mesmerizing aura of places like Victoria Peak, Disneyland, and Lantau Island, but the places to visit Kowloon are definitely worth exploring that take travelers towards the less commercialized and more authentic and deep-rooted side of this island country. The place Kowloon derives its name is from the eight mountains that surrounds this most densely populated part of Hong Kong.
8 Places To Visit In Kowloon
As with the intensity of population, travelers can expect a vibrant nightlife, a plethora of restaurants, and a multicultural melting pot to explore.
Victoria Harbor
Avenue of Stars
Sky 100 Observation Deck
Wong Tai Sin Temple
Clock Tower Hong Kong
Hong Kong Space Museum
Chi Lin Nunnery
Lion Rock
1. Victoria Harbor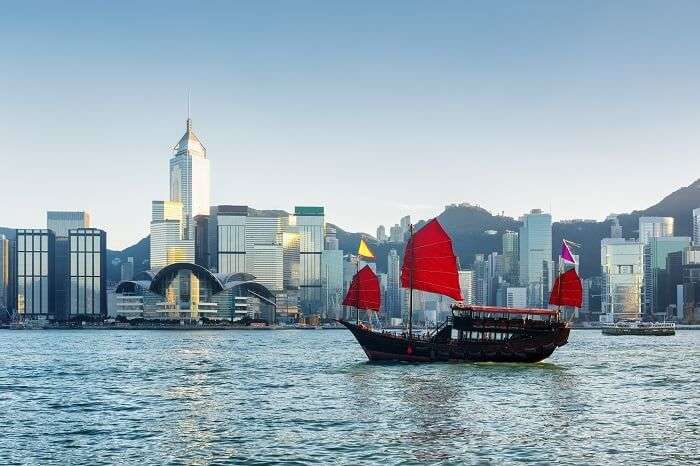 Probably one of the most iconic places to visit in Kowloon, Victoria Harbor is an ever-standing rock like establishment in the whirlwind of changes and modernization Hong Kong has gone through. As the harbor connects mainland Hong Kong to South China Sea and the outside world, this elusive harbor was a main reason why centuries ago the British established Hong Kong as a key trading port.
From yearly firework displays, sound and light shows, trending concerts, to skyscrapers erected on either side of the harbor- this place has always been on the top of any Kowloon attractions map. Tourists often visit the harbor during the night to marvel at the glittering skyline in Hong Kong or come at sunset to enjoy a ferry ride to the other side of Hong Kong.
Suggested Read: Hong Kong Wetland Park: Here's Everything You Should Know Before You Visit
2. Avenue of Stars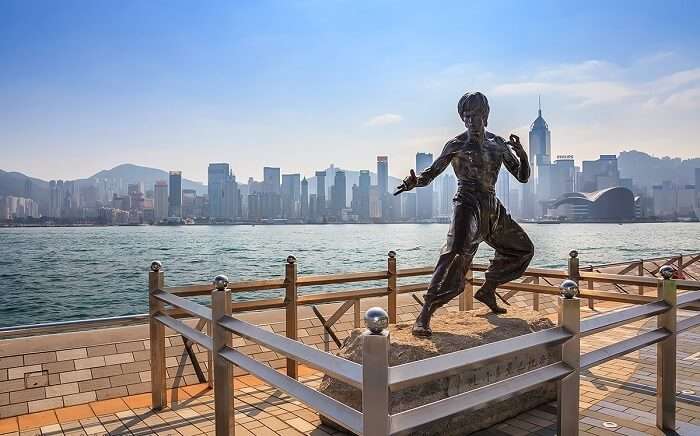 Built by taking inspiration from the Hollywood Walk Of Fame, the Avenue of Stars is one of the recommended places to visit in Kowloon. A promenade was built along the harbor honoring the famous stars of Southeast Asia. Statues and or stars of popular personalities like Jet Li, Bruce Lee, and Leslie Cheung can be found on this famous stretch of land.
Suggested Read: 10 Fun Things To Do In Tsuen Wan That Draw Travelers To Hong Kong
3. Sky 100 Observation Deck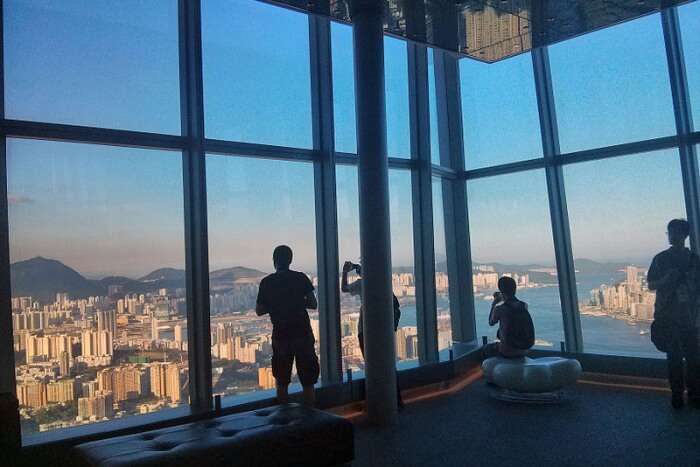 With an humongous skyline that sets the standard in architectural brilliance, travelers easily feel lured into the idea of enjoying the Hong Kong skyline from a panoramic view. Sky 100 Observation Deck is one of the best places to visit in Kowloon. Located on the 100th floor, Sky 100 is the highest indoor sightseeing observation deck in Hong Kong. Travelers can enjoy a drink as they look over the gleaming Victoria Harbor or savor the millions of twinkling lights that light up the Hong Kong surface at night on ground level.
Timings: Sunday to Thursday (10 am to 8:30 pm); Friday and Saturday (10 am to 10 pm)
Entry Fee: INR 1565 (for adults); INR 1100 (for children between 3-11 and elders above the age of 65)
Suggested Read: Top 10 Places To Visit In Tsuen Wan To Experience The Best Of Hong Kong
4. Wong Tai Sin Temple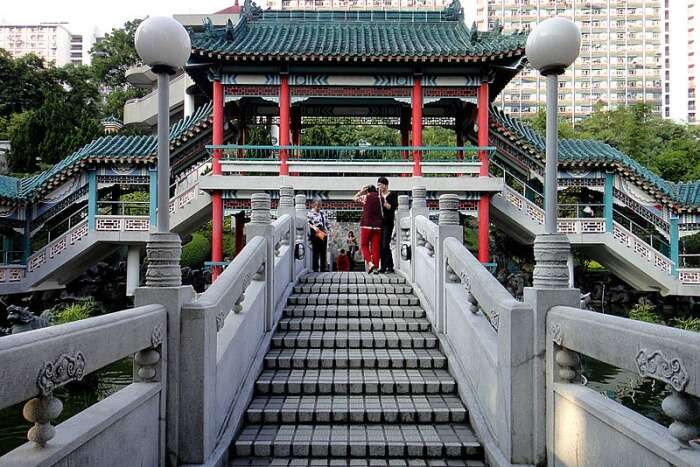 A popular shrine and tourist attraction in Hong Kong, Wong Tai Sin Temple is a place of religious devotion dedicated to Taoism. Among believers, the temple is known to fulfill and answer wishes of its faithful devotees. This temple is a key stop during Kowloon sightseeing for travelers who are willing to understand the DNA and the history of this fabulous metropolis.
Timings: 7 am to 5 pm
Entry Fee: INR 900 (Entry to the Tai Sui Yuenchen Hall)
Suggested Read: Hong Kong UNESCO Global Geopark: A Guide To Explore The Nation's Geoheritage
5. Clock Tower Hong Kong
An iconic landmark that is located on the southern side of Tsim Sha Tsui district in Kowloon, the Clock Tower is the only remaining part of the erstwhile Kowloon District Railway Station. A 44-metre tall tower, it received a monument status from the Hong Kong government in 1960s.Since then, the iconic Clock Tower has become a big tourist attraction and landmark in Kowloon after the construction of a beautiful water garden in the foreground and many places to shop and eat in and around the area.
6. Hong Kong Space Museum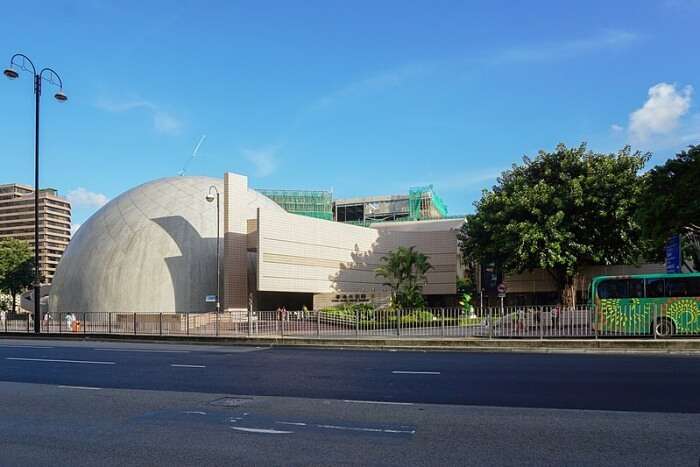 Another beautiful attraction situated on the Tsim Sha Tsui Waterfront- the Hong Kong Space Museum is a museum dedicated to astronomy and science. A particularly popular visiting spot for locals, and young travelers- the astute exhibition within the halls of this dome provide hours of intrigue, entertainment, and fascination for those who love to learn and know more about the cosmos.
Timings: 12 noon to 8:45 pm (Monday, Wednesday-Friday); 10 am to 8:45 pm (Saturday-Sunday); Tuesday closed
Entry Fee: INR 95 (standard); INR 65 (group); INR 225 (Omaxe 3D Show)
Additional Info: The major attractions inside the museum are the Stanley Ho Space Centre, Hall of the Cosmos, and the Hall of Space Exploration
Suggested Read: 5 Enchanting Monasteries In Hong Kong To Attain The Eternal State Of Nirvana!
7. Chi Lin Nunnery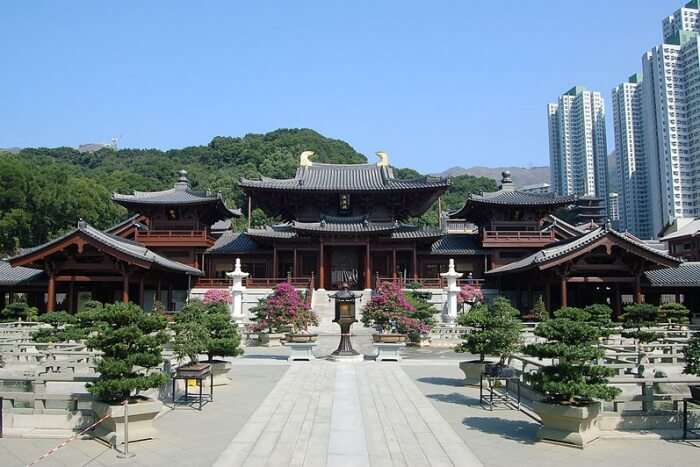 Chi Lin Nunnery is a tribute to the cultural melting pot that not only exists but thrives in the heart of Hong Kong. One of the revered religious places to visit in Kowloon is the Chi Lin Nunnery- a sanctuary built 80 years ago dedicated to Buddhism. What makes the architecture of this building unique is that it is the largest handmade wooden building in the world. The building not only has a praying hall, but also a school, and a library for its monks living inside.
Timings: 9 am to 4:30 pm (all days)
Entry Fee: Admission is free of charge
8. Lion Rock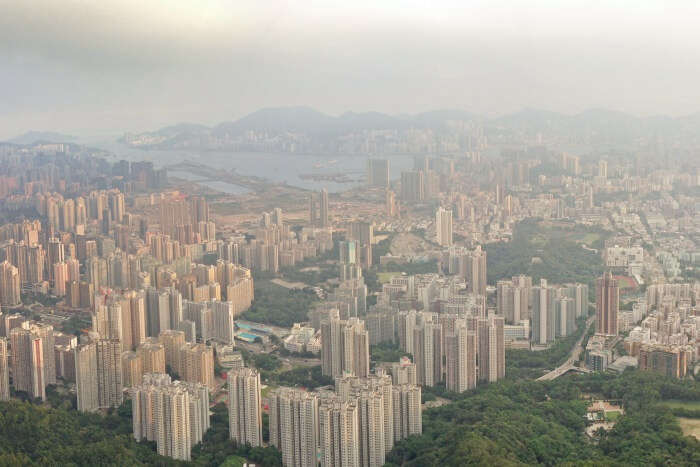 There are more than one ways to gaze and marvel at the stunning skyline of Hong Kong. For those who like to rough out the elements and challenge nature, Lion Rock is one of the popular Kowloon points of interest for you.
After arriving at Lion Hill County Park, travelers can begin their 45 minute hike up the hill that has rocks perched on the top that resembles a lion. The hike is easy to follow as they are sufficient markers that guide you correctly towards the top of the hill. Once people reach the top, they can enjoy the stunning view of the Hong Kong skyline and reap the rewards of their work put in to climb this rocky mountain.
Additional Info: As the peak is mostly made of granite and shrubs located at an altitude of 495 metres above sea level, it is often advised to go prepared with a jacket and some emergency equipment as wind gusts, or sudden change in weather can make hiking difficult.
Further Read: Know How To Explore Hong Kong On A Budget, And In A Hassle-Free Manner!
Kowloon might not be as publicized as the other half of Hong Kong, but it sure does make for an incredible cultural experience that helps you cherish your holidays even more than ever. Without any hesitation, book a holiday to Hong Kong now at competitive prices for a memorable vacation on this tropical haven.
Frequently Asked Questions About Places To Visit In Kowloon
Q. What can you do in Kowloon?
A. 1. Make a wish at Wong Tai Sin Temple.
2. Meet macaques in Kam Shan Country Park.
3. Head to the top of Hong Kong's tallest building.
4. Travel Across Victoria Harbour By Star Ferry.
5. Explore Temple Street Night Market.
6. Chi Lin Nunnery and Nan Lian Garden.
7. Stroll along Hong Kong's Hollywood Walk of Fame.
Q. Is Kowloon in Hong Kong or China?
A. Kowloon is an urban area in Hong Kong comprising the Kowloon Peninsula and New Kowloon.
Q. Is Kowloon safe?
A. Kowloon is generally considered a safe city. But avoid carrying large amounts of cash, credit cards or travellers cheques with you as you would do in other big cities.
Q. Is Kowloon Walled City still there?
A. Kowloon Walled City. Kowloon Walled City was a largely ungoverned, densely populated settlement in Kowloon City, Hong Kong. Some historical artefacts from the walled city, including its yamen building and remnants of its southern gate, have been preserved there.
Q. Is it better to stay in Hong Kong or Kowloon?
A. There are many reasons to visit Kowloon but most tourists will spend more of their time on the island. There are cheaper neighborhoods to stay in on Hong Kong Island than Central, such as the east of the north shore and areas out past North Point, but these are less convenient and less interesting than Tsim Sha Tsui.
Q. Why is Kowloon called the dark side?
A. Nicknamed the 'dark side', despite being permanently lit up in a fiery neon glow, Kowloon is restlessly trapped between Western idealism and Da Li (the Chinese mainland).
Q. What is the difference between Kowloon and Hong Kong?
A. There is no real difference between Kowloon and Hong Kong island. They are both busy city areas with shops, nightlife etc. Mongkok and Tsim Sha Tsui are both part of Kowloon. If you are after night life etc, then Lantau is mostly rural and will not suit what you are after.
---
Looking To Book An International Holiday?
Book memorable holidays on TravelTriangle with 650+ verified travel agents for 65+ domestic and international destinations.
---
People Also Read:
Places To Visit In Sikkim Places To Visit In Thimphu Places To Visit In Kazakhstan
Comments
comments