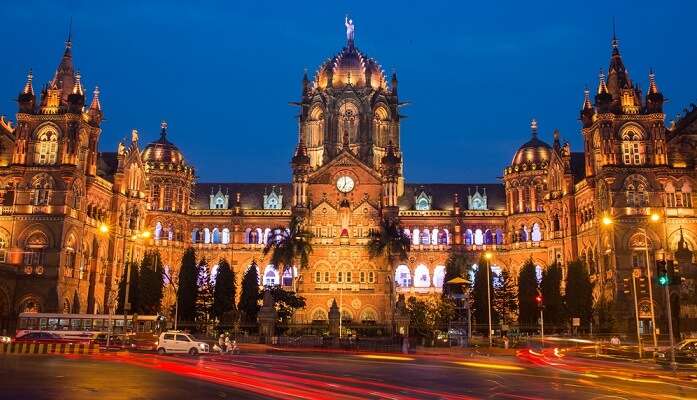 We all know how mundane and monotonous life can become when the constant hustle and busy schedules rule our lifestyle. That's especially true if you're in Mumbai as the city that never sleeps. Although you take out some time to spend peacefully with your partner, deciding where to go together can be a difficult challenge. There are plenty of romantic getaway locations where you can spend some quality time with your loved one in Mumbai. In case you are someone who finds it difficult to decide where to visit, here are the top 10 places to visit in Mumbai for couples and spend some quality time together.
Top 10 Places to Visit in Mumbai for Couples
There is something for everyone in Mumbai city, whether you wish to go out on a romantic date, experience a starlit night at the beach, or get your excitement levels high with adventures. Explore these romantic places in Mumbai for couples to restore freshness in your life after a busy week.
1. Nariman Point

Image Credit: Suhail Kazi for Unsplash
This famous site is situated at the southern tip of Mumbai, offering splendid views of the Arabian Sea. In addition to offering several pubs, lounge bars, and hotels to tourists, it is also known as one of the most lively nightlife hubs in Mumbai. It is one of the beautiful places in Mumbai for couples for a romantic date.
Location: Marine Drive, South Mumbai, Maharashtra
Things to do: Relax and enjoy the breathtaking views of the Arabian sea, experience this place's lively nightlife and enjoy a variety of foods at the local restaurants
27 Honeymoon Destinations Near Mumbai For Those Romantic Short Trips
2. Juhu Beach

The Juhu Beach in Mumbai is a famous and the most visited beach in the city. A stroll by the beautiful beach is the perfect place to share a heartfelt conversation with your loved one while watching the perfect sunset. Amid Mumbai's fast-paced lifestyle, this is one place where you can take a moment to yourself and enjoy some peace. It justifies being one of the romantic places to go in Mumbai for couples.
Location: Juhu Tara Road, Juhu, Mumbai, Maharashtra
Things to do: Take a walk along the sandy beach coast, enjoy exciting water sports at Juhu beach, taste the flavoursome street food at Juhu Chowpatty and visit the beautiful Iskcon temple
3. Marine Drive

Marine Drive is a c-shaped roadway that runs along the southern coast of Mumbai for more than a kilometre. There is no doubt that Marine Drive will be a part of any list of the most romantic places for couples to visit in Mumbai. No words can describe the beautiful backdrop of the Arabian Sea that you get to see and the soothing sea breeze that sweeps across your face on a gorgeous evening is an amazing experience.
Location: Netaji Subhash Chandra Bose Road, Mumbai, Maharashtra
Things to do: Experience the view of Mumbai's skyline, take an evening stroll, enjoy the sunset with your partner and savour local dishes like pav bhaji and bhelpuri served at roadside stalls
50 Super Amazing Things To Do In Mumbai On Your Next Vacay
4. Madh Island Beach

Image Credit: Nichalp for Wikimedia
Located in the North of Mumbai, Madh Island beach is a popular beach and among the best places in Mumbai for couples. It is a peaceful escape from the hustle and bustle of the city. It is surrounded by lush greenery and offers picturesque vistas. In addition to the island beach, this place is filled with many beautiful farmlands and palm trees that enhance its visual appeal. It also has private beaches where you can enjoy the peaceful sunset with your partner.
Location: Northern Mumbai, Maharashtra
Things to do: Explore the coastal communities nearby, experience the awesome sight of farmlands and villages and enjoy the music played by the beachside DJs
5. Bandra Fort

Bandra Fort is worth exploring if you and your partner enjoy visiting historical places. It is situated on the outskirts of Bandra. It offers a wonderful view of the Bandra-Worli coast and is a popular place for a romantic outing in Mumbai. The entire fort is dotted with palm trees which adds to its charm. If you are here during the evening, you can watch the Bandra-Worli Sea Link all lit up in the colour of the sunset.
Location: Byramji Jeejeebhoy Road, Bandstand Road, Mumbai, Maharashtra 400050
Things to do: Admire the picturesque views of the Bandra-Worli sea link, click pictures at the fort and get a better understanding of Bandra Fort's rich history
16 Spectacular Offbeat Places Near Mumbai To Be Explored In 2021
50 Super Amazing Things To Do In Mumbai On Your Next Vacay
6. Worli Sea Face

Image Credit: Amulya Agarwal for Unsplash
The Arabian Sea beachfront in Worli, Mumbai is popularly called Worli Sea Face due to its lashing waves and gushing waters. Visit here in the late evening for some peaceful time with your loved one in the tr
peacefulness of solitude. It is one of the most romantic places to go in Mumbai for couples with its serenity and picturesque backdrop. The mesmerizing view of Mumbai from this place is something you couldn't miss out on.
Location: Worli Sea Face, Worli, Mumbai, Maharashtra
Things to do: Watch the breathtaking view with your loved one, check out the cultural events at this place and visit the historic Worli Fort
7. Carter Road

Image Credit: Twist And Tell Photography for Wikipedia
Located next to the Bandstand seafront, Carter Road is among the most lively places in Mumbai. In addition to the surreal sea view, the calm breeze and the romantic atmosphere make this the perfect place for lovers. Sipping coffee and watching the sunset with your partner is a blissful moment and Carter Road provides the perfect setting for that.
Location: Sangeet Samrat Naushad Ali Marg, Bandra West, Mumbai
Things to do: Enjoy a leisurely walk across the street and savour the street food and drinks on its roadside stalls
20 Haunted Places In Mumbai And The True Stories That Are In The Ai
8. Hanging Gardens

Image Credit: A.Savin for Wikipedia
Hanging Gardens offers a spectacular view of the Arabian Sea from the top of Malabar Hill. The building was constructed in 1880 in memory of Pherozshah Mehta. Monsoon is the best time to visit this place as the grass is greener and the garden looks even more gorgeous. In the garden, you can engage in a variety of activities. The garden is spread over a vast, green area with many trees.
Location: Ridge Road, Simla Nagar, Malabar Hill, Mumbai
Things to do: Spend some time in the garden in the morning, come here with your loved one on a picnic
9. Chota Kashmir

Image Credits
Located in Goregaon, Chota Kashmir is surrounded by trees and is home to a lake where you can take a boat ride. As compared to other parts of Mumbai, it stays lush and green for most of the year. It is a great place to relax among the trees and enjoy each other's company. Chota Kashmir is one of the romantic places for couples to visit in Mumbai, as it offers tranquillity amid the bustle of the city.
Location: Aarey Milk Colony, Goregaon, Mumbai
Things to do: Enjoy a boat ride on Kashmir Lake with your loved one and enjoy nature's beauty as you stroll down the garden
8 Picturesque Lakes In Mumbai That Can Fascinate All Kinds Of Travelers!
10. Adlabs Imagica

Image Credit: Aaditya Bardhan for Wikipedia
Located on the Mumbai-Pune Expressway, this is the country's first international theme park, and it greets tourists with a delightful experience of entertainment, shopping, dining experience and other events. Adlabs Imagica is an ideal destination for thrill-seeking couples. The different zones of this park offer visitors a variety of themes. This adventure and entertainment spot is one of the best places in Mumbai for couples.
Location: Khopoli-Pali road, Near Lonavala, Mumbai
Things to do: Enjoy an exciting ride at Imagica, experience the thrill of water rides in Aqua Imagica and you can savour delicious food on-site in its restaurant
These were some of the best places to visit in Mumbai for couples where you can go with your partner and spend some amazing time admiring the gorgeous views, trying delicious food, indulging in exciting activities or simply having a cup of coffee by the bay. So, plan a trip to Mumbai and enjoy some wonderful experiences with your beloved one. A romantic getaway awaits you.
For our editorial codes of conduct and copyright disclaimer please click here.
Frequently Asked Questions about Places to Visit in Mumbai for Couples
Which are the best places in Mumbai for couples?
There are so many places in Mumbai that are ideal for couples. These include Nariman Point, Marine Drive, Adlabs Imagica, Hanging Gardens and Juhu Beach. You can visit these places to spend an amazing time with your partner.
Can I travel to Mumbai during the pandemic?
Yes, the state government has lifted the ban and now, travellers across the country can visit Mumbai. However, it is advised to stay updated at all times and while visiting the place follow all the Covid protocols. Don't forget to stay masked at all times when you're out.
What is the best time to visit Mumbai?
The best time to visit Mumbai is during the winter season in the months from November to February when the temperature ranges from 22°C to 33°C. Mumbai sees the highest number of travellers during the winter season as the weather in these months is dry and cool. One can enjoy a plethora of thrilling and exciting water sports on the beaches in Mumbai. If you are someone who loves rainfalls, it can also be a good time to witness the city decked with lush greenery during monsoons.
What are the best things to do for couples in Mumbai?
Some of the best things for couples to do in Mumbai include strolling and watching the sunset at Juhu Beach, admiring surreal views from Worli Sea Face, Shopping at the Carter Road and relaxing at Marine Drive.
Which are the best places for a romantic dinner in Mumbai?
Some of the best restaurants in Mumbai that serve delicious food and have an amazing ambience for couples are The Chambers' Terrace, Rike- Terrace Bar and Grill and Gadda Da Vida.
Which beach in Mumbai is best for couples?
Juhu Beach and Madh Island beaches are among the most famous beaches in Mumbai. Couples can enjoy water sports, stroll around the beachfront and try delicious street food at the eateries,
People Also Read:
Places to Visit in Delhi for Couples Places to Visit in Kolkata for Couples Places to Visit in Bangalore for Couples