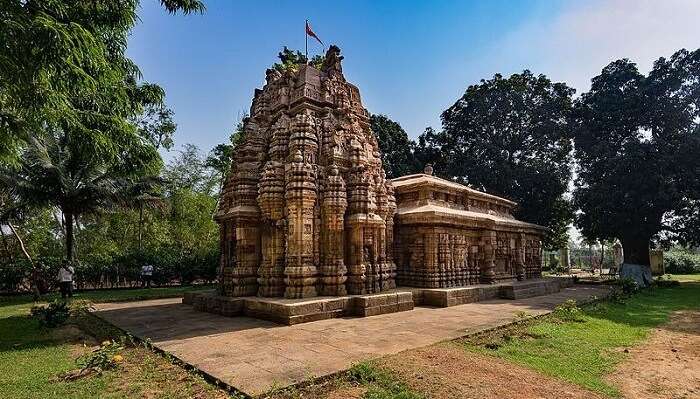 Cover Image Credit: Wikimedia
Odisha, formerly known as Orissa is located at the eastern fringe of the Indian Mainland. Packed with spectacular destinations, lakes, temples, and more importantly culture to reflect upon, the state can be named as the land of ancient heritage. The topography of the state is as varied as its culture. Each city in the state brings something new to the table every time and is a sure-shot revelation in itself. Whether it is Balasore, Sambalpur, Cuttack or Berhampur, all major cities in the state have a tale of their own. With so many exciting possibilities and varied options, the different places to visit in Odisha in June will surely leave a lasting impression on you.
7 Places To Visit In Odisha In June
If you are wondering about which are the best places to visit in Odisha in June then don't wonder anymore. We have curated a list of the best places that you can't miss out on your trip to the coastal destination. Check it out!
1. Chilika Lake
2. Daringbadi
3. Panchalingeswar Temple
4. Jiranga Monastery
5. Hari Shankar Temple
6. Deomali Peak
7. Khandadhar Waterfalls
1. Chilika Lake

Image Source
Did you know that Odisha is home to the largest brackish water lagoon in Asia? Apart from being famed as the largest lagoon in the continent, Chilika lake is also a thriving biodiversity spot in the state and one of the best places to visit in Odisha in June. The part marine, part brackish, and the part freshwater lagoon is dotted with islands around its perimeter and is guarded by hillocks at intervals. Infused with saline water from the Bay of Bengal, the lagoon supports rich aquatic life like the Irrawaddy Dolphins along with a varied range of migratory birds. The lagoon has boating activities for tourists and also has a famous temple of "Goddess Kalijai " towards the epicenter of the water body. A trip to Odisha is incomplete without stopping at this estuary.
Things to do in Chilika Lake: Sightseeing, Boating, pilgrimage
Ideal for: Adventure, families, friends
Must Read: 9 Romantic Places In Odisha To Explore With Your Partner In 2022
2. Daringbadi

It is the picturesque hill station of the state. Located in the Kandhamal district, Daringbadi is also known as "Kashmir of Odisha". Lofty hills, deep valleys, misty clouds, and abundance of nature is what makes this one of the top places to visit in Odisha in June. With the recent development around the region, the forest department has started activities like trekking, camping for the wanderlusts. Also, there is a tribal museum set around the hill view park of Daringbadi which offers a glimpse into the life of the primitive tribes here. Home to natural waterfalls like Putudi falls and Ludu falls, the hill station is in every way nature's abode in the heartland of the state.
Things to do in Daringbadi: Sightseeing, Trekking, Camping
Ideal for: Adventure, families, friends
Suggested Read: 10 Scenic Lakes In Odisha To Visit On A 2022 Vacation
3. Panchalingeswar Temple

Image Source
A shrine dedicated to Lord Shiva, Panchalingeswar Temple is in every way a masterpiece of nature. Sitting atop a hillock in the Nilgiri Hills, the place of worship gets its name from the 5 enshrined lingas dedicated to the Lord which are naturally installed inside. To reach the temple one has to climb the hillock and then bend over on a parallel rock to worship and touch the lingas, that lay immersed inside a pool of perennial water. With an abundance of mythological significance, the place also makes a great sightseeing option for nature lovers.
Things to do in Panchalingeswar: Sightseeing, Pilgrimage
Ideal for: Adventure, families, friends
Suggested Read: 5 Water Parks In Odisha For Those Looking For A Fun-Filled Trip
4. Jiranga Monastery

Image Courtesy: Tripadvisor
The state of Odisha is home to many architectural marvels still in oblivion from the rest of the country. Jiranga Monastery is situated amidst the wilderness and is one of the best places to visit in Odisha in June if you want to be close to nature. Tucked away from civilization, the monastery has a calmness in its atmosphere that lures travel-hungry souls towards it. Also known by the moniker "Padmasambhava Mahavihara monastery" the place was inaugurated by His Highness Dalai Lama way back in 2010. The temple houses a big idol of Lord Buddha in its core and is a sacred shrine to visit in the state.
Things to do in Jiranga Monastery: Sightseeing, pilgrimage
Ideal for: Families, friends
Suggested Read: 8 Best Resorts In Odisha Which Will Let You Set Back And Relax In A Homely Vibe!
5. Hari Shankar Temple

Image Courtesy: Wikimedia
Bewitching in every way, this beautiful shrine lies cuddled in the lap of nature and is one of the holy places to visit in Odisha in June. Located on the slopes of the Gandhamardan Hills, the temple is famous due to many reasons. The shrine is the only place in the state where both Lord Vishnu and Lord Shiva are offered prayers together. Several other temples dedicated to other primary deities of Hinduism are also present inside the vicinity of the temple. Blessed with nature from all around there is a significant waterfall located beside the temple which leaves a charming effect on onlookers.
Things to do in Harishankar Temple: Sightseeing, pilgrimage
Ideal for: Families, friends
Suggested Read: 10 Beautiful National Parks In Odisha To Spend Time In 2022 In The Wilderness
6. Deomali Peak

Image Source
The endless list of shining jewels in the state of Odisha hardly ever ceases. Deomali is the highest mountain peak in the state with a height of 5,485 feet above sea level. Located at the Pottangi block of Koraput the rolling mountain is home to several species of wild animals along with a wide variety of fauna. This natural beauty in the lap of the Eastern Ghats also has several small and big waterfalls in its vicinity with an additional option of adrenaline-pumping sports. A huge wake-up call for all adventure lovers out there, do try a hand at the aero-gliding and trekking expeditions in the area.
Things to do in Deomali Peak: Sightseeing, Trekking, Aero gliding
Ideal for: Families, friends
Suggested Read: 27 Places To Visit In Bhubaneswar For A Fascinating Journey To Odisha
7. Khandadhar Waterfalls

Image Source
It is another of the breath-taking places to visit in Odisha in June that is shielded away from the limelight. Khandadhar falls is not only one of the beautiful waterfalls in the state but also one of the highest. Encapsulated by thick forests from all around the river water cascades down from a height of 500 m creating a deep pool below. The uneven bed of rocks at the feet of the spring creates a roaring sound that pierces through the silence of the forests. Surrounded by mountains in all three directions, the waterfall is situated at a distance of 50 km from the Keonjhar town.
Things to do in Khandadhar waterfall: Sightseeing
Ideal for: Adventure, Families, friends
Further Read: 15 Spectacular Hill Stations In Odisha That Are Underrated But Probably The Best
The list of the marvels that lay hidden in the hinterland of the state does not end here. Encompassing a culture so diverse, Odisha is "India's Best Kept Secret". Sequestered between West Bengal and Andhra Pradesh, the burgeoning state boasts of a shoreline that spreads across 480 km. Woodlands, temples, lakes, beaches, cuisine, and hill stations everything is very beautifully nestled in the state making it an ideal destination in every way. An enigmatic locale in all aspects the best way to enjoy all of these is by planning a trip to this eastern province quickly. With a large spectrum of places to visit in Odisha in June, the best way to save yourselves from lock-jam is by booking right away for a delightful vacation in Odisha, nature's unexplored paradise.
Disclaimer: TravelTriangle claims no credit for images featured on our blog site unless otherwise noted. All visual content is copyrighted to its respectful owners. We try to link back to original sources whenever possible. If you own rights to any of the images, and do not wish them to appear on TravelTriangle, please contact us and they will be promptly removed. We believe in providing proper attribution to the original author, artist or photographer.
Frequently Asked Questions about Places to Visit in Odisha in June
Which is the coldest place in Odisha?
Daringbadi in Kandhamal district is the hill station of the state. Located at an elevation of 3000 feet above sea level, the place is also called "Kashmir of Odisha". Natural waterfalls and a wide variety of flora and fauna dot the region giving it a scenic appeal.
Why is Odisha famous?
The state has many picture-perfect destinations in its kitty that give it an endearing touch. From temple city Bhubaneswar, Spiritual city Puri, Silk city Berhampur to Steel city Rourkela, every place in Odisha has an added specialty to its name.
Is it safe to visit Odisha during covid times?
The Government of Odisha prioritizes public health, hence, have issued some safety guidelines such as social distancing, using face masks, applying hand sanitizers, and washing hands frequently, which must be adhered to by all visitors. Tickets should be booked online for contactless entry. Also, in some places for accommodation, visitors should provide their vaccination details for both doses for a hassle-free stay.
Why is Khandadhar fall famous?
The Khandadhar waterfall is the highest fall in the district of Keonjhar and cascades down from a height of 500 ft. Due to the vertical fall of water, it is named as "Khandadhar" and makes a great tourist hotspot.
What are the various things to do in Deomali Peak?
Deomali Peak is a famous destination and the highest peak in Odisha. Located in the Koraput district, a trip to the summit involves trekking and aero gliding activities that keep all adventure lovers engaged.
Is there snowfall in Daringbadi?
Yes, Daringbadi does witness a thin blanket of snowfall every year. This year also the lowest temperature recorded was 2 degrees Celcius and the area was covered in snow. If you want to experience snow in this area, make sure to visit during the winter months.
Where is Chilika Lake located?
Chilika Lake is the largest brackish water lagoon in Asia. It shares its boundaries with three districts Puri, Khordha, and Ganjam. Chilika Lake is considered as one of the major attractions in Odisha and experiences many visitors during the peak season.
How many days are required to explore Odisha?
Being a tropical destination, Odisha comprises some of the most mesmerizing attractions that you can explore during your visit. Spending 7-9 days in Odisha is adequate enough in order to experience some of the best attractions during your visit.
People Also Read:
Places To Visit In Goa In June Places To Visit In Rishikesh In June Places To Visit In Ooty In June