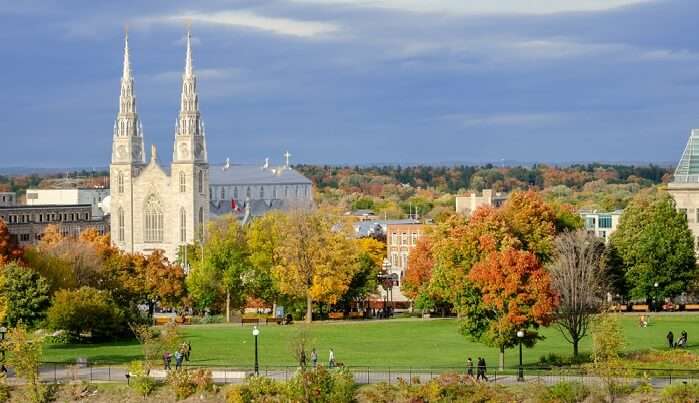 The capital city of Ontario, Ottawa is popularly known for its breathtaking Victorian architecture. The numerous places to visit in Ottawa make it a popular tourist destination. Situated alongside the Ottawa River, this city was once a popular trade route for transporting various natural resources extracted through mining from different sites in the city.
It is regarded as the highest educated city in Canada and is a much-loved tourist destination. On top of all, it is entitled a UNESCO World Heritage Site. From beautiful landscapes to ancient monuments and historic museums, Ottawa has everything on offer to lure the traveller in you. These best places to visit in Ottawa are perfect to learn about the revolutionary history of Canada.
11 Best Places To Visit In Ottawa
Check out the below list of important places to visit in Ottawa for an unforgettably delightful Canadian vacation.
1. Parliament Hill

Topping the list of the best places to visit in Ottawa is the grand Parliament building that also houses Canada's Government. This political masterpiece built between 1859 and 1927 features three imposing edifices (East Block, West Block and Centre Block). This iconic site is appreciated for its impressive Gothic-style architecture. The unrivalled 360-degree vistas of the city from the observation deck of the Peace Tower are a must-see for a spellbinding experience. Free tours are offered throughout the year for visitors while the tour times are subject to change depending on the month of your visit.
Location: Wellington St, Ottawa, ON K1A 0A9, Canada
Timings: 8:30 AM – 6 PM
Ottawa In January 2022: How To Make The Best Of Your Canada Trip
2. Rideau Canal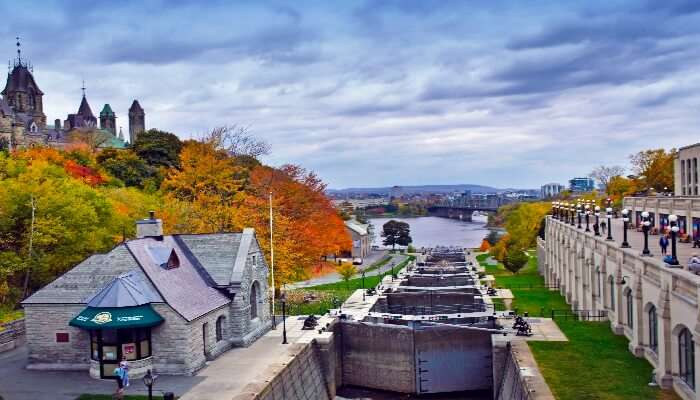 A world-famous UNESCO World Heritage site, Rideau Canal is 200-km long canal connecting Ottawa and Kingston. Constructed between 1826 and 1832, Rideau Canal is undeniably amongst the best places to visit in Ottawa in winter, when the canal water freezes completely, welcoming millions of visitors to indulge in skating rink. Rideau Canal's epic urban skating rink is the world's biggest skating trails and a must-try for a magical experience.
Location: Ottawa, Ontario, Canada
3. Canadian War Museum

Located just about a 5-minute walk away from downtown Ottawa, Canadian War Museum is yet another one of the most famous places to visit in Ottawa. This historic museum houses residues and leftovers from Canada's several epic military undertakings and vast collections of weapons & vehicles used in both World Wars I and II.
Apart from featuring around 3 million artifacts, the museum also draws attention through its informative displays and interactive presentations. Adolf Hitler's bullet-proof Mercedes-Benz limo heavily modified with extensive armour plating is an iconic crowd puller. This war museum is an excellent place to visit for history buffs, artifact lovers and travellers alike.
Location: 1 Vimy Pl, Ottawa, ON K1A 0M8, Canada
Timings: 9:30 AM – 5 PM
8 Interesting Things To Do In Edmonton On Your Canada Vacay In 2022
4. National Gallery of Canada

An award-winning masterpiece, National Gallery of Canada exhibits some of the world's largest Canadian collection from the 18th century. Explore some of the finest works of legendary artists that date of the 15th and 17th century.
The entire architecture of the gallery is a striking ensemble of pink granite and glass spires attracting tourists in huge numbers. Deep inside the sanctum of the gallery, there are two lovely courtyards and the stunning Rideau Street Convent Chapel.
This incredible wooden chapel is said to be 100 years old. After exploring the gallery, you can enjoy lunch at Cafe l'Entree or dine at Cafeteria des Beaux Arts, located within the gallery premises.
Location: 380 Sussex Dr, Ottawa, ON K1N 9N4, Canada
Timings: 10 AM – 5 PM
5. Notre Dame Basilica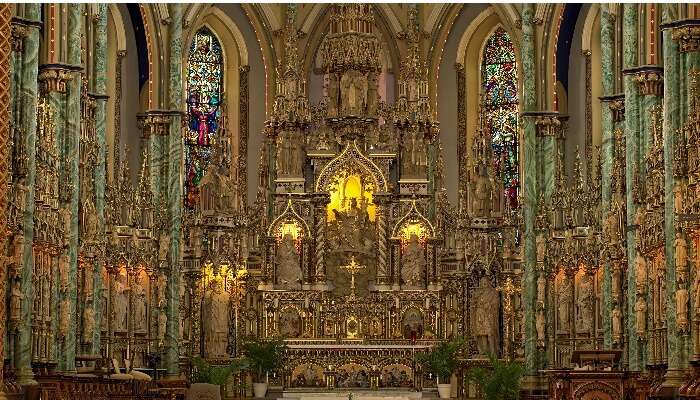 Ornamented with stained-glass windows with Biblical inscriptions and magnificent with arches and terraced galleries, the Notre Dame Basilica is the largest & oldest standing church in Ottawa. Built-in the 1840s, this church is a splendid example of Canadian religious art and Gothic Revival architecture.
Get ready to be spellbound with the two sparkling silver tin-topped steeples to the interior's soaring vaults and star-studded blue ceiling. The gorgeous altar will leave you mesmerised with its intricately designed interiors that include carved mahogany by Philippe Parizeau.
Yet another famous sight is the statues of prophets, apostles, and evangelists by Louis-Philippe Hébert. If you are considering top-rated places to visit in Ottawa, we recommend that you include Notre Dame Basilica in your list.
Location: 385 Sussex Dr, Ottawa, ON K1N 1J9, Canada
Timings: 9 AM – 6 PM
Ring In 2022 With A Bang At These 14 Best Places For New Year Parties In Canada!
---
Planning your holiday but confused about where to go? These travel stories help you find your best trip ever!
---
6. Canadian Museum of Nature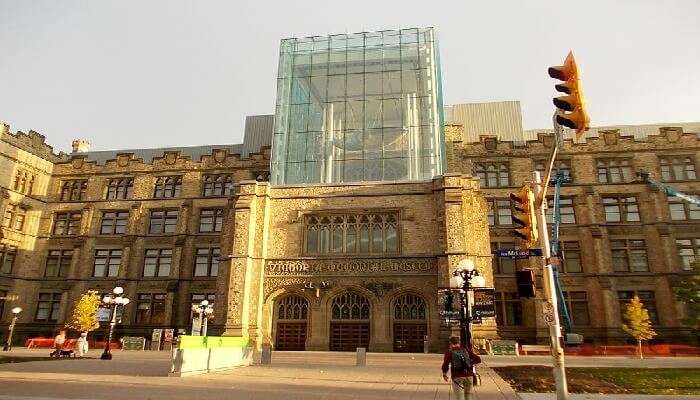 Boasting several world-class exhibition galleries, the Canadian Museum of Nature is best place to discover all of Canada's nature at its best. The museum features world-class galleries with dinosaur fossils, minerals, gemstones, iconic Canadian mammals, birds and an enormous blue whale skeleton. The museum features a number of 3D movies, special exhibitions, guided tours and workshops for visitors.
Located just moments away from Parliament Hill, this museum was once the prime headquarters of the Canadian government. The life-size specimens of bird and mammal demonstrating Canadian wildlife will leave you astonished. Canadian Museum of Nature is one of the best places to visit in Ottawa for family.
Location: 240 McLeod St, Ottawa, ON K2P 2R1, Canada
Timings: 9 AM – 6 PM
7. Canada Aviation and Space Museum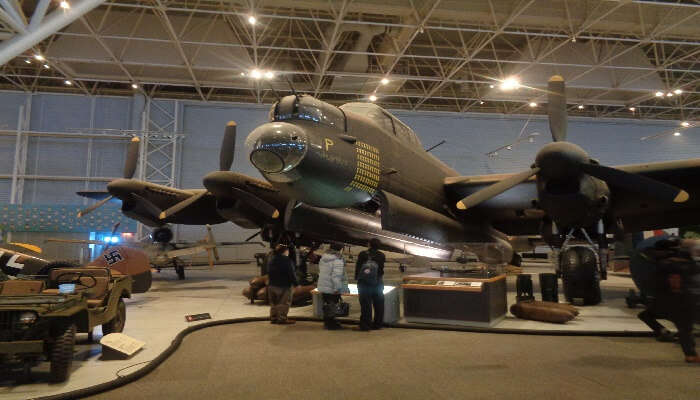 Housing more than 130 military and civilian aircrafts, this museum will take you on a journey through Canada's aviation and space history. This is the most respected and loved tourist places to visit in Ottawa. One of the major highlights here is the largest piece of the famous Avro Arrow and the Lancaster bomber from the IInd World War.
10 Best Restaurants In Toronto To Explore The Gourmet Scene Of Canada
8. National War Memorial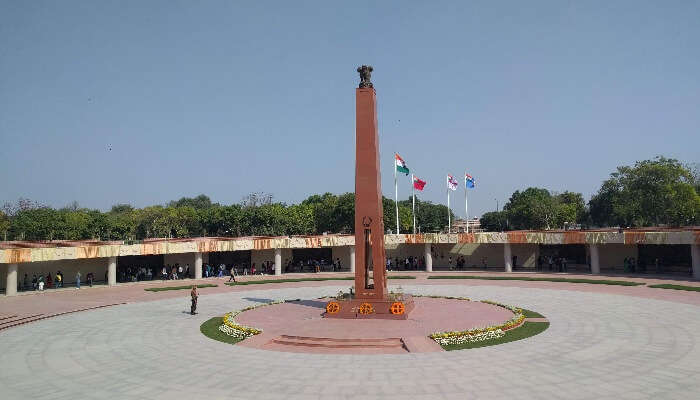 Built with an intent to honour the sacrifice of all Canadian Military Forces who served the nation in the 1st World War (1914-1918), the National War Memorial is an epitome of heroism and sacrifices. Rated top among places to visit in Ottawa, this historic cenotaph is captivating with twin figures represent freedom and peace.
Location: Wellington St, Ottawa, ON K1P 5A4, Canada
Timings: Open 24 hours
9. Royal Canadian Mint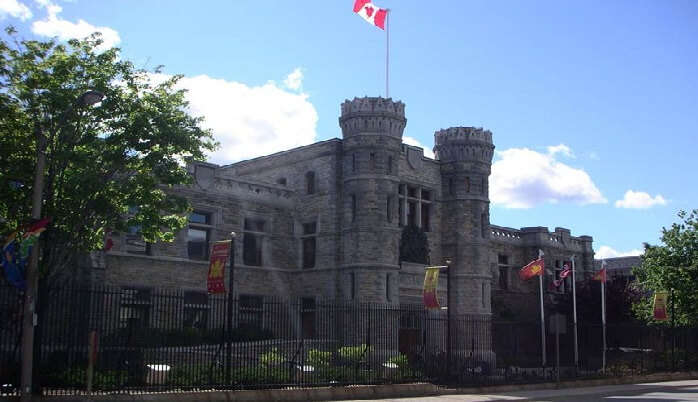 If you wish to take some gifts back home, Royal Canadian Mint is the place to visit. This is the place where the mint was first created in the year 1908. Today, the Mint produces world's finest hand-crafted collectible coins and medallions. The Mint is yet another famous places to visit in Ottawa for family.
Location: 320 Sussex Dr, Ottawa, ON K1A 0G8, Canada
Timings: 9:30 AM – 5:30 PM
9 Best Hotels In Toronto To Taste The Luxury On Your Canada Trip In 2022
10. Byward Market

Established in 1826, the ByWard Market is one of Canada's most seasoned and busiest public markets that you can explore for a hint of the regional culture. From cosy bistros to traditional eateries and bars, this is where you can wine and dine all day on your feet as you immerse yourself in the neighbourhood.
Location: 55 ByWard Market Square; Ottawa, Ontario; K1N 9C3
11. Dows Lake Pavilion

Dow's Lake in Ottawa, Ontario, Canada is a hidden gem near the Rideau Canal, just close to two kilometres north of Hog's Back Falls in Ottawa. If you find yourself anywhere near Preston Street, make your way towards Carling Avenue and marvel at this beautiful body of water amidst a serene location. Nearby is the Carleton University, you can also explore the Dominion Arboretum, at the edge of the Central Experimental Farm.
Location: 1001 Queen Elizabeth Driveway, Ottawa, ON K1S 5K7, Canada
Skydiving In Canada: A Must-Have Experience On Your Canadian Holiday
Located in the east of southern Ontario, Ottawa doesn't fall short to woo its visitors with state-of-the-art museums, stunning historical monuments and of course the world-famous UNESCO World Heritage site of Rideau Canal. Plan your Canadian vacation and visit these famous places to visit in Ottawa as these will certainly make your trip worth visiting.
For our editorial codes of conduct and copyright disclaimer, please click here. 
Frequently Asked Questions About Places To Visit In Ottawa
What is there to see in Ottawa?
There are numerous attractions in Ottawa like Parliament Hill, Canadian War Museum, Rideau Canal and ByWard Market.
What can you do in Ottawa for free?
Visiting the Parliament buildings and walk, biking or skating at the Rideau Canal, visiting museums in Ottawa are some of the famous things you can do in Ottawa for free. There are beaches as well in Ottawa which can be freely accessed from June to August.
What is there to do in Ottawa in the winter?
One of the best things to do in Ottawa in the winter is skating along the Rideau Canal when the water freezes completely.
Is entry to museums in Ottawa free?
The museums in Ottawa like the Canadian Museum of History, Canadian War Museum, Canadian Museum of Nature, National Gallery of Canada and The Aviation and Space Museum offer free tours at specific timings daily.
How many days do you need in Ottawa?
If you love to know about Canadian history and love to explore all the stunning museums of the city, then you need a minimum 2 or 3 days.
What is Ottawa famous for?
Ottawa is the capital city of Ontario, Canada is a renowned tourist destination among people who love exploring historic museums and ancient monuments. Ottawa is also best known for its Canadian Tulip Festival held every year in May and also houses the world's biggest skating trails at Rideau Canal.
---
People Also Read:
Places To Visit In Calgary Places To Visit In Toronto Places To Visit In Montreal