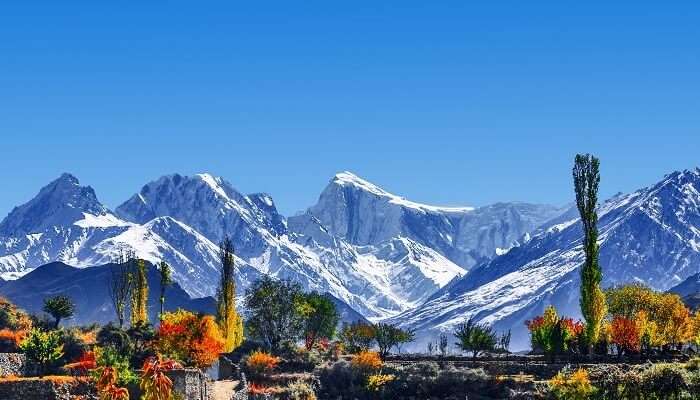 Stretching from the large mountains in the north to the vast Indus alluvial delta in the south, Pakistan is full of natural beauty and stunning mountains. In addition to bright deserts and some of the world's highest peaks, the country offers numerous attractions for sightseeing, hiking, mountain climbing and skiing. Pakistan's rich cultural heritage and ancient monuments continue to enchant visitors from all over the world. There are a lot of places to visit in Pakistan where you can have memorable experiences, have a look at these most beautiful places for your holiday in Pakistan.
10 Beautiful Places to Visit in Pakistan
Pakistan is gifted with a plethora of historical and natural treasures. A land full of breathtaking vistas and extraordinary places is a must-visit once in a lifetime. To guide you on your trip here is a list of the places to visit in Pakistan. Make sure you add some of these to your itinerary before heading to this destination.
1. Hunza Valley
2. Attabad Lake
3. Swat Valley
4. Naran Kaghan
5. Badshahi Mosque
6. Concordia
7. Neelum Valley
8. Deosai National Park
9. Mohenjo-daro
10. Piri Sohawa
1. Hunza Valley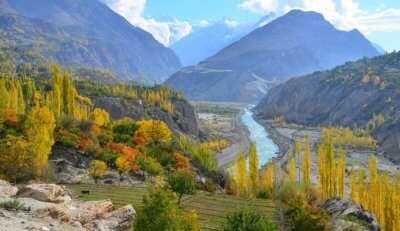 Located in Gilgit Baltistan, the Hunza Valley is one of Pakistan's hidden gems. This isolated valley is nestled between the Himalayas and the Karakoram mountain peaks. This is one of the best places to visit in Pakistan because of its lush farmlands. Here you can find markhors, ounces, ibexes, and red foxes. In this valley, a glorious view awaits you, and the locals are warm and friendly.
Best time to visit: April to September
10 Compelling Reasons To Visit Pakistan At Least Once In Life
2. Attabad Lake

This beautiful lake which provides tranquil waters was originated as a result of a landslide in January 2010 in Attabad Village. The lake has vivid blue waters that pierce through the hilly land of Hunza Valley The lake is one of the most popular tourist places in Pakistan, offering exciting experiences like skiing, boating, catching fishes and others.
Best time to Visit: March to June
How India And Pakistan Are Not So Different From Each Other
3. Swat Valley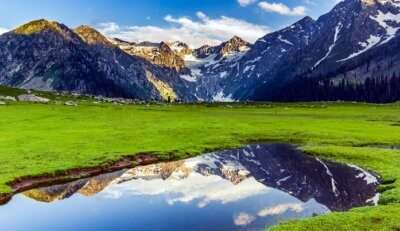 Despite its tragic history, Swat Valley's present situation is very promising. There's something fairytale-like about this spectacular valley in Pakistan's Khyber Pakhtunkhwa province. Being one the most beautiful places to visit in Pakistan among all other attractions, this valley has great weather and friendly locals. Visitors can enjoy trekking, hiking, backpacking, or simply enjoy in the natural environment.
Best time to visit: April to May
30 Best Places To Visit In August In India To Welcome Monsoons
4. Naran Kaghan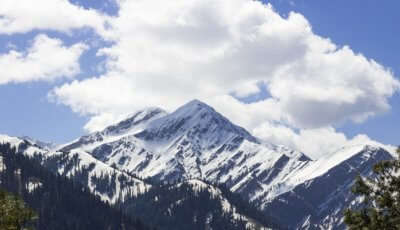 Naran and Kaghan are two amazing places to visit in Pakistan which are located in Khyber Pakhtunkhwa. They are amazing places to explore for those who love nature. You will find beautiful rivers, stretches of fields, snowcapped peaks, and picturesque lakes in these areas. Each year, thousands of tourists come to this valley from all over the world.
Best time to visit: April to September
16 Photogenic Valleys In India That Every Traveler Must Visit
5. Badshahi Mosque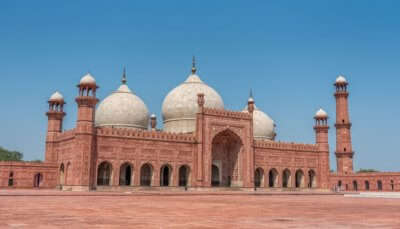 Originally built during the 1670s, Badshahi Mosque is a monument of the Mughal Empire, which ruled over the Indian subcontinent for nearly three centuries. Located in Lahore, this mosque is a great representation of Mughal architecture, with four minarets and three domes forming the courtyard. The mosque is a UNESCO World Heritage Site. The monument truly justifies being one of the beautiful tourist places in Pakistan.
Best time to visit: The monument can be visited the whole year round except for the hottest months here, which are June and July.
43 Famous Historical Places In India To Visit
6. Concordia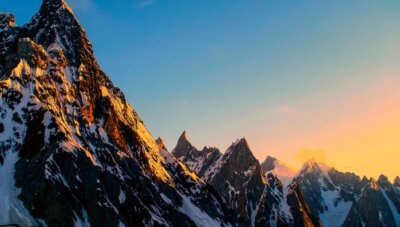 Concordia is one of the paradisiacal Pakistan tourist places for hikers and climbers. It is situated in the north of the country, around the Chinese border. Pakistan is home to five of the fourteen highest mountain peaks in the world. You can get an excellent view of four of these five highest mountains from Concordia. This makes Concordia an unmissable place for sightseeing in Pakistan.
Best time to visit: June to August
23 Best Trekking Places In India: Your Month-Wise Trekking Guide Is Here
7. Neelum Valley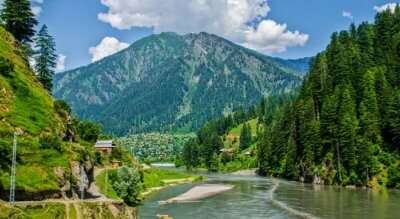 The Neelum Valley in northern Azad Kashmir is a bow-shaped valley situated between peaks that soar 13,000 feet into the sky, surrounded by verdant forests and flowing streams. Neelum Valley is one of the most beautiful places to see in Pakistan. This valley has pristine rivers, mirror-like lakes, and lush landscapes.
Best time to visit: March to October
10 Flower Valleys In India & Around The World That'll Make You Believe In Heaven
8. Deosai National Park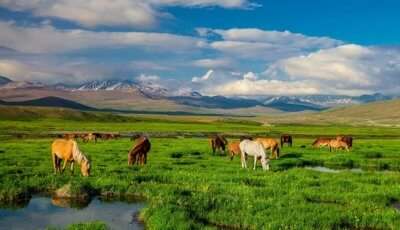 Deosai National Park, known as the Land of Giants, has a landscape of snow-capped mountains rising from the highland. This area has an astounding amount of biodiversity, including Himalayan wolves, Siberian ibex, red foxes, and yellow-bellied marmots. For someone who loves biodiversity and is seeking the best tourist places in Pakistan, Deosai National Park is an ideal place.
Best time to visit: July to September
Top 51 National Parks In India: A List You Just Can't Ignore!
9. Mohenjo-daro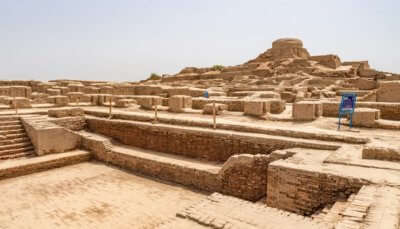 Mohenjo-daro, located in Sindh, a province in southeastern part of the country, that is among the famous places to visit in Pakistan. It is home to the Sindh people and a historical site dating back to 2500 BCE. The ruins and mounds were discovered to be part of an ancient civilization called the Indus Valley civilization. Those who love history will be fascinated by the engineering and urban planning that was far ahead of their time.
Best time to visit: The monument can be visited whole year round.
15 Best Places Of Indian Cultural Heritage You Must-Visit
10. Pir Sohawa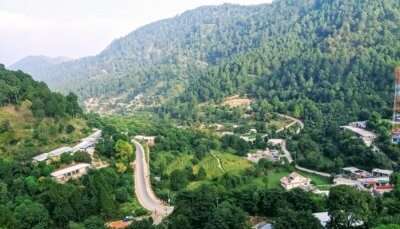 Pir Sohawa is located in the Margalla Hills, near Islamabad. Being among the best tourist places in Pakistan, there is more to admire about this tourist spot than just the breathtaking views. Located approximately 5,000 feet above sea level, this place is famous among tourists and locals for outings in the fresh breezes and admiring the stunning scenery.
Best time to visit: March to December
30 Unexplored Places In India That Will Totally Stump You
Now when you got this list of some of the most beautiful places to visit in Pakistan, make sure you add these to your bucket list on your trip to this beautiful country. Take a break from the busy pace of life and do unwind by spending some serene time in these beautiful locations. And for when you come back, do not forget to share your beautiful memories with us so that your trip could inspire others to witness the beauty on the other side.
For our editorial codes of conduct and copyright disclaimer, please click here.
Frequently Asked Questions About Beautiful Places to visit in Pakistan
Is it safe to visit Pakistan during Covid-19 times?
Make sure you are fully vaccinated before travelling to Pakistan. It is advisable to get your PT-PCR negative test report. We recommend staying updated with the most current information and travel guidelines of the country before travelling.
Which is the most beautiful city to visit in Pakistan?
Islamabad, which is the capital city of Pakistan is also a really beautiful city to visit. It is home to several historical monuments and other tourist attractions.
Which are the most visited places in Pakistan?
Some of the most visited places of Pakistan include Badshahi Mosque, Neelum Valley, Attabd Lake and Khagan Valley.
What is the best time to visit Pakistan?
The best time to visit Pakistan is from May to October. This is the best time to explore the beautiful valleys and magnificent mountain ranges that lie in the northern part of the country.
What are the best things to do in Pakistan?
As a tourist, you can visit the amazing valleys and admire the breathtaking landscapes they offer, experience the rich culture and history by visiting the ancient monuments, try various mouthwatering dishes of Pakistan and go for a trek in the stunning peaks.
People Also Read:
Places to visit in India Places to visit in Thailand Places to visit in Malaysia