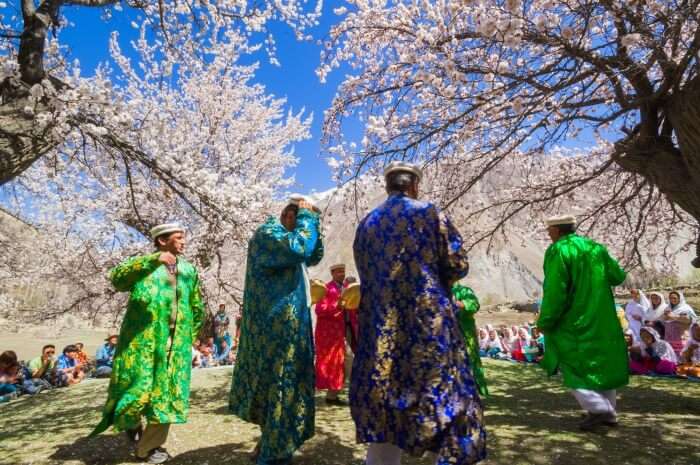 Pakistan is much like India, in many ways. This beautiful country is bestowed with diverse culture, magnificent landscapes, and music that can strike a chord. After browsing through the pictures itself, you surely would feel the urge to get going asap. Even though there are a thousands of it, but this list of ten reasons to visit Pakistan at least once in life will leave you inspired.
So, if you are looking for extending your travel bucket list, here is one destination that might get somewhere to the top of it!
1. It is home to 2 of the most talked-about cities of Indus Valley Civilization – Mohenjo Daro and Harappa

We've learned about these two iconic cities in our history lessons, but visiting these is an experience that will transfer you back to history, 2600 BCE. While Harappa is located is located near Lahore in Pakistan's Punjab region, Mohenjo Daro is located in the Sindh Region. Just a tour of the remnants will give you an insight to local lifestyle and architecture of the erstwhile era.
2. Pakistan has some of world's most glorious mosques that look nothing less than Islamic masterpieces

The Mughals appointed some of the most skilled craftsmen to come up with mosques that stand as an epitome of architecture and artistry. Shah Jahan Mosque in Sindh is made entirely using marble, and is yet another marvel commissioned by Shah Jahan. Gol Masjid in Karachi features a single massive dome, with minarets and intrigue calligraphy that weave together to form a treat to the eyes. Badshahi Mosque, Shah Faisal Mosque and Wazir Khan Mosque are other gems in Pakistan you mustn't miss visiting.
3. Being the land of Sufi Music, you get to witness soulful Qawwalis here

Sufi music sparks magic, and watching a live concert is an outlandish experience as artists from various rural and urban centers meet to create music that touches your soul. The tunes of flute, tabla and harmonium harmonizes to form sound and notes which have been known since more than thousand years.
Must Read: Reasons To Visit India: We Bet You Can't Resist Packing Your Bags Now!
4. The cultural diversity will leave you bewitched

Even though Pakistan is a relatively small country by size, the cultural diversity and the harmony among them will leave overwhelm you. Sindhi, Punjabi, Pashtun, Baloch, Kashmiri, and Hindko are among the major ethnic communities in the country, each with its own distinctive heritage. The cultural diversity also indicates an opportunity to not only interact with different ethnicities but also getting to attend various festivals around the year.
5. The intricately decorated colorful trucks and buses add on to the charm of its landscape

Pakistani trucks and buses steal the show with their colorful and intricate decoration. The decor speaks volume, boasting of Pakistan's rainbow-hued vibe. When a truck passes you, it will have all of your attention. Also, if you've convincing skills you can also plead the driver to get you aboard and give you a lift till your destination.
6. The Karakoram Highway connecting Pakistan to China will give you serious long drive goals

Also known to be the Eighth Wonder of the World, Karakoram is a 1300 kilometers long highway that begins from Punjab province of Pakistan to Khunjerab Pass in Gilgit-Baltistan, where it crosses China to become China National Highway 314. The altitude of the Karakoram range is 4,714 metres, which means the road is treacherous, but if that's what you've been dreaming of, you've found your way.
Suggested Read: Top 7 Reasons To Visit Jordan Right Now
7. The nature's splendour of Baltistan will make you weak in the knees

Surely, you've heard of this almost as many times you've questioned about the reasons to visit Pakistan. The Gilgit-Baltistan region looks like a paradise, with sky-soaring snow-capped peaks, babbling Gilgit and Hunza rivers. The unperturbed nature of this locale acts a magnet for someone wanting to go off the beaten track to explore beauty.
8. This is where you get to gorge on world's tastiest Biryani

All you Biryani lovers unite! An amalgamation of spices and herbs couldn't get more magical. You get to taste some of the most delicious biryanis while roaming around anywhere in Pakistan. In fact not just Biryanis, Pakistani food has created a buzz among the foodies around the world with its Chicken karahi, Pilaf, tikka, keema, and Chapli kebab, to name a few.
9. World's largest fort, Ranikot, is located in Pakistan

Located in Sindh Region of Pakistan, Ranikot is considered to be the largest fort in the world with a circumference of 32 km. Some of its parts have been compared to the Great Wall of China, due to the striking similarities, and thus it is also known as The Great Wall of Sindh.
10. You get to witness the Beating Retreat of Wagah Border from the other side

If you're an Indian you've probably watched the beating retreat that takes place in Wagah Border. It indeed is enthusiastic to be a part of such a patriotic crowd and hear the chants of 'Vande Mataram'. But attending the same ceremony from the other side will surely give you a different perspective.
Further Read: 7 Reasons That Will Compel You To Travel To Cambodia In Summer