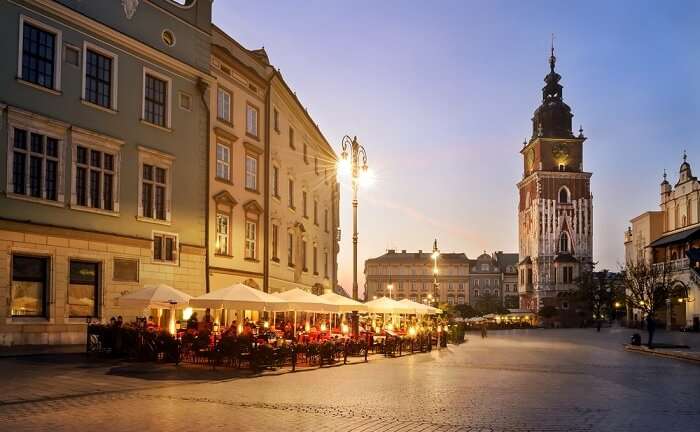 Poland is a country which has always attracted tourists from across the globe. People come here to take a break from their routine life and experience something unique and amazing. The blend of European culture with the modern lifestyle is what makes Poland a great country for the visitors. The infrastructure of the city is too good for the tourists to roam around and have some pleasant time for themselves.
Poland is not only famous for its beautiful castles, historical monuments and sunny beaches, but it has also got a vibrant nightlife which everyone is fond of and must experience. Below is the list of best places for witnessing the true Poland nightlife and to enjoy the after-dark culture that should be in your list if you are a party animal.
Nightlife In Poland: 10 Places For Enjoying Utmost
This list of the best nightclubs, bars, and restaurants will help you explore and witness the true charm of this country at night. Take a look and make sure you stop by for a memorable evening.
1. Jozef K

Jozef is one of the most unique places to have a drink in Poland because of its ambiance which is completely different from all the other bars you would have visited. The multi-colored light bulbs, trees planted in the flower pots and stained-glass windows are few things that make this place different. The drinks are priced reasonably and it offers coffee and cake as well if you want.
Address: Jozef K, ul. Piwna 1/2, Gdansk 80-831, Poland, +48 504 407 107
Open Till: Weekdays till 2AM and Fri, Sat till 4 AM
Cost for two: INR 1350
TripAdvisor Rating: 4.5/5
Trip Advisor Reviews
Must Read: 15 Best Places To Visit In Poland For A Thrilling European Vacay In 2022
2. The View- Warsaw

This place is a hyper posh rooftop and the best place to get stuck at night and to enjoy on your favorite DJ songs. If you are interested in watching 360-degree bird eye view of Warsaw's skyline then this is the place where you need to come. The burly bouncers and the red carpet, queue of two elevators is all that you have to cross and you will reach the club where you can enjoy your nightlife with drinks and DJ.
Location: Twarda 18, 00-105 Warszawa, Poland
Open Till: 4 am (Fri, Sat, Wed)
Cost for two: Rs. 2160
TripAdvisor Rating: 4/5
Trip Advisor Reviews
3. Brovarnia

It is a famous brewery in Gdansk and is mainly famous for its beer. The specialty of this place is three kinds of beer that includes pale lager beer, dark beer, and wheat beer. If you are a beer lover this place is best for you because it hosts the beer festivals such as (Oktoberfest) that takes place here throughout the year and also it works as a restaurant which is specialized in European cuisine.
Location: 9 Szafarnia, Gdańsk, pomorskie, 80-755, Poland
Open Till: 12 pm
Cost for two: Rs. 2340
TripAdvisor Rating: 4/5
Trip Advisor Reviews
Suggested Read: Christmas In Poland: Top 10 Places To Visit Before The 2022 Vacation Ends
4. Lordi's Club & Foo Foo Bar- Lodz

This place is popular amongst students, tourist, locals, visitors, celebrities and almost everybody. It is the biggest club in the city as the number of international DJ performers & celebrities keep on coming here for public entertainment. You will not find the people interacting with each other as this place is only to lose on and have a fun-filled night.
Location: Piotrkowska 102, 90-007 Łódź, Poland
Open Till: Thursday, Friday & Saturday (10 pm to 6 am)
Cost for two: Rs. 630
TripAdvisor Rating: 3.5/5
Trip Advisor Reviews
Suggested Read: What Makes Malbork Castle In Poland A Must Visit Attraction For The Tourists?
5. Pixel

The main goal of this place is to promote the cocktail culture in a fun and classic way. The walls of Pixel are decorated with the comic characters and the toilets have lighting option which is novel and has unique features. They offer you excellent drinks and all you need to do is ask them for a cocktail, suggest a spirit and let them work and serve it for you and they will make sure not to disappoint you.
Location: 22/1 Spichrzowa Street, Gdansk 80-750, Poland
Open Till: 4 pm to 3 am.
Cost for two: Rs. 2800
Trip Advisor rating: 4/5
Trip Advisor Reviews
6. Café Absinthe

This is a famous bar in the city and offers you an exciting Poland nightlife. The best nightlife in Poland can be experienced here. Although the place looks cool and calm during the daytime it is just opposite in the night. It is the very vibrant place for hanging out in Poland as it offers you an unconventional music and a large list of drinks. This bar is also famous for its dance floor and crazy parties which go on until the dawn.
Location: Świętego Ducha 2, 80-834 Gdańsk, Poland
Open Till: 3 pm to 4 am.
Cost for two: Rs. 630
Trip Advisor rating: 4/5
Trip Advisor Reviews
Suggested Read: 13 Frolicsome Beaches In Europe For All The Excited Beach Bums Across The Globe
7. Café Kamienica

It is a two level café and decorated with amazing boho style. Café Kamienica is famous for coffee during the daytime and for fun and joy during the night time. The strip wood floor & antique furnishing makes this place beautiful and special place for a glass of drink. In summers the terrace is opened for the fresh air and in winters the good beverage selection and a perfect cozy wine makes this place paradise on earth.
Location: 39, 37 Mariacka, Gdańsk, pomorskie, 80-833, Poland
Open Till: 11 am to 11 pm.
Cost for two: Rs. 630.
Trip Advisor rating: 4.5/5
Trip Advisor Reviews
8. High 5

It is located on the fifth floor of the Hilton Hotel and is a modern and classy terrace bar. The overall look and feel of the place will make you feel like you are in a Hollywood movie. You can enjoy a luxurious drink on the terrace with a view of the river Motlawa. This bar is specialized in exotic cocktails and also the price is very affordable and reasonable.
Location: High 5, ul. Targ Rybny 1, Gdansk, Poland
Open Till: 12 am to 11 pm.
Cost for two: Rs 400.
Trip Advisor rating: 5/5
Trip Advisor Reviews
Suggested Read: 17 Spots For Snorkeling In Europe Every Underwater Enthusiast Must Visit In 2022
9. Flisak 76

This bar includes a large cocktail list but maybe you will not find some traditional cocktails if you are looking for some. You will love the combination of creative ingredients of the drinks as well as the ambiance of this place. You can try a pie plant cocktail and rocket mojito which is a delicious and popular drink in this bar. This bar is situated in the basement and the cozy armchair is the ideal place to sit and enjoy your drink.
Location: 9 Chlebnicka, Gdańsk, pomorskie, 80-830, Poland
Open Till: 6 pm to 1 am.
Cost for two: Rs 630.
Trip Advisor rating: 4.5/5
Trip Advisor Reviews
10. Klub Parlament

The fancy bar which is designed to give you a mind-blowing experience whenever you enjoy your drink. The wonderful ambiance of the bar and the wide variety of cocktails make it a unique place to drink and relax. The club is graded as one of the best clubs in the country and has hosted many international music concerts as well as film premieres and fashion shows. This place is best for anyone really wanting to experience the nightlife of Poland.
Location: Klub Muzyczny Parlament, Świętego Ducha 2, Gdansk, Poland,
Cost for two: Rs. 1350
Trip Advisor rating: 4/5
Trip Advisor Reviews
Further Read: 31 Festivals In Europe That Will Up The Fun Factor Of Your Euro Tour In 2022
If you are a party animal and get active after dark, the above places in Poland are the best places to hang out with your friends and family. You must visit all of these to have a wonderful nightlife experience. Hope these Poland nightlife tips will help you when you plan your Europe trip with TravelTriangle!
People Also Read
Germany Nightlife Sweden Nightlife Russia Nightlife
---
Looking To Book An International Holiday?
Book memorable holidays on TravelTriangle with 650+ verified travel agents for 65+ domestic and international destinations.
---